Why SUP is an Ideal Sport for Seniors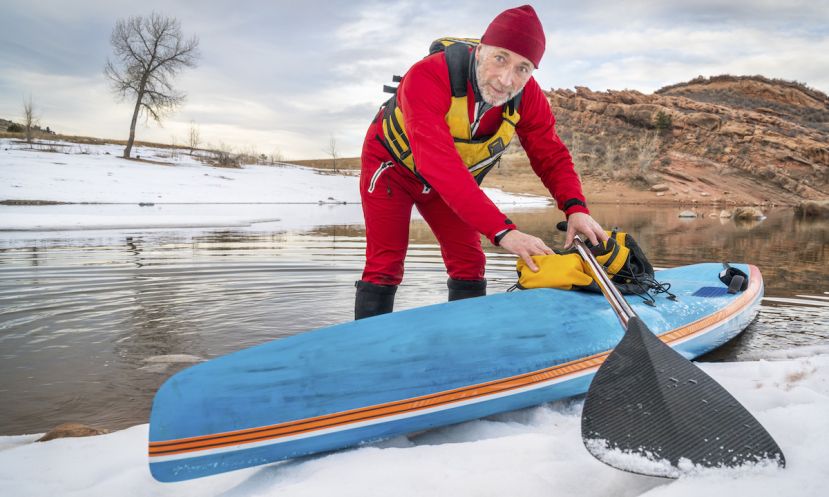 Senior male paddler in drysuit and a racing stand up paddle board on lake in Colorado. | Photo Courtesy: Shutterstock
Staying active and taking part in different types of exercise are important for all human beings; they boost our health health and immunity, keep obesity at bay, and improve flexibility. When it comes to seniors, exercises like paddle boarding, which can be adapted to all levels, are especially important to pursue, because bone and muscle loss can lead to frailty, falls and fractures. Moreover, heart disease and many types of cancer, which can often be prevented by a healthy lifestyle, tends to be more prevalent in those aged over 65. Exercise also has powerful effects on our mental health; it helps battle stress, anxiety, and depression, improves cognitive function, and lifts our mood. Many seniors are forced to face stressful situations, including loss of loved ones and chronic illness. Being out on the water can bring them a sense of calm and support they may not otherwise achieve.
Benefits of Paddle Boarding for Seniors
Even seniors who may not be used to regular activity, can benefit from being out in the water. It is important for them to learn the right technique with the help of their instructor, who will also ensure that they do not over-exert or injure themselves. Paddle boarding can take a short time to get the hang of, which can be very encouraging for newbies, who quickly feel more confident on the board. Those who are insecure can simply sit or kneel on the board, slowly working their way up to standing in the water. On a physical level, paddle boarding is an ideal activity for mature beginners. This form of exercise increases muscle and bone strength, yet because it is a non-impact sport, it keeps joints safe and sound.
Photos Courtesy: Shutterstock
The Mental Benefits of Paddle Boarding
There are numerous benefits to SUP. Firstly it enables seniors to form part of a community, which helps battle isolation, anxiety, and depression. Study after study has shown that nature in the Great Outdoors wields specific benefits, including the reduction of stress hormone levels, improvement in mood, and the sharpening of cognitive skills. Keen SUP practitioners know that when you are out in the water, the sensation of peace and energy, especially when you enter 'the Zone', is unbeatable.
Paddle boarding, a sport which seems gentle but requires hard work and thought, brings all the benefits of mindfulness – being 'in the here and now' – which research has shown to help with even the most challenging mental conditions, such as PTSD and severe depression. These effects are boosted further when yoga is brought into the equation, since yoga in itself is a powerful anti-stress therapy used in a variety of settings, including rehabilitation centers for substance abuse.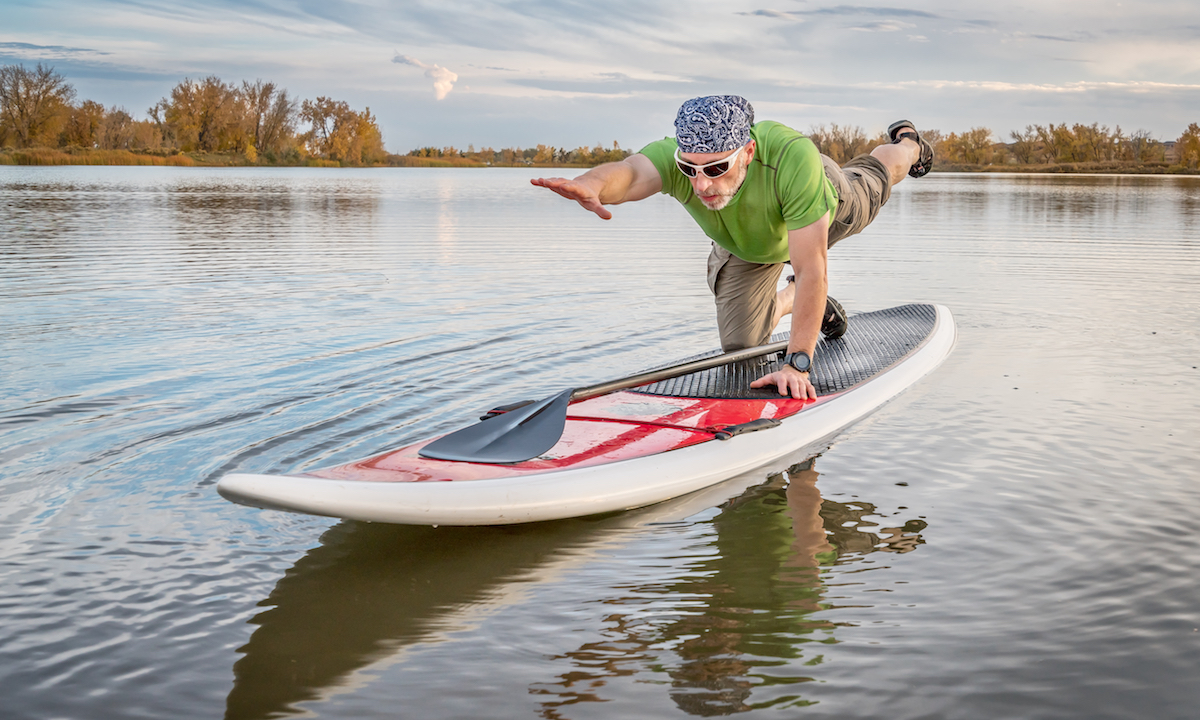 Practicing a bit of SUP yoga is a perfect form of exercise for seniors. | Photo Courtesy: Shutterstock
If you are a senior who would like to reap the benefits, both physical and mental, of SUP, make sure to do so with qualified instructors who can hone your technique and ensure that the experience is safe, fun, and adapted to your level. You will soon find that paddle boarding is one of the most addictive sports in existence, uniquely calming because it takes place in the sea, and a fantastic way to meet other fitness-minded people of all ages.
For more SUP Tips, click HERE.
© Supconnect.com Copyrighted Exclusive Content
Last modified onWednesday, 25 March 2020 16:15

Jennifer Dawson is an experience freelance writer who specializes in food and nutrition. Working in fitness marketing previously gave her a good feel for the industry and since going freelance she has been able to explore her preferred topic areas such as diet, nutrition and food. Outside of work, Jen enjoys traveling, swimming and spending time with her young family.
Email

This email address is being protected from spambots. You need JavaScript enabled to view it.