Webcast From Surftech Shootout Begins at 8am Today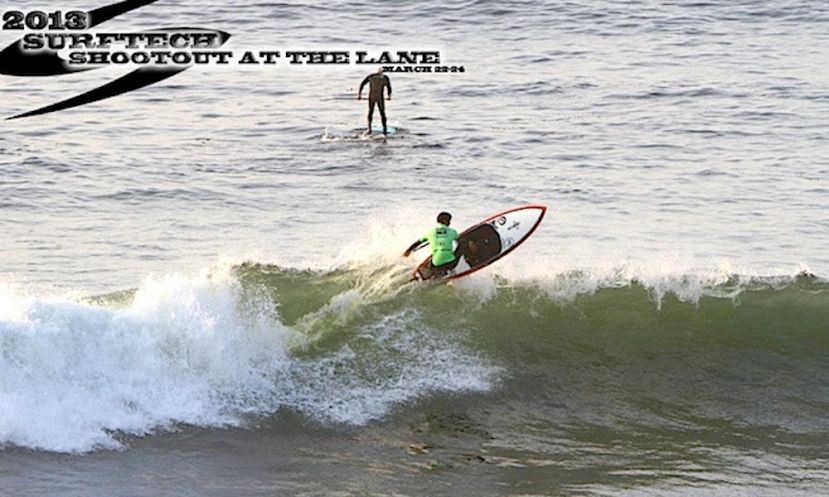 Dave Boehne found a rippable left just before the end of heat #2 - Watch the action NOW! - Click Here
SANTA CRUZ, California - Get ready for an extraordinary day! The LIVE Webcast from the Surftech Shootout and Surf & Sand Duel SUP Race begins at 8AM PST today.
Watch Here:
Watch the events here on Supconnect, on the Surftech SUP website or other participating websites as seen below.
The Webcast will begin at 8:00 A.M. PST on Saturday March 23 and continue through Sunday March 24th to cover all the action. There will be novel equipment used to bring you the main events and you can look forward to a wealth of information from the athletes about their sponsors, gear, favorite places to paddle and the best SUP advice they have ever been given.
No Excuses - Watch and Communicate Anywhere:
Don't miss a thing and communicate on social media using #SurftechSO13
Also, watch on the go with your cell phone by downloading the Ustream App and going to the Supconnect Channel.
EVENT SCHEDULE:
Thursday: Opening Ceremonies, Adventure Sports Unlimited, BBQ, beer & live music 5-7pm
Friday: Shootout Round 1, 7:00am - 5:00pm
Friday:·Competitors Party TBD
Saturday:·Surf & Sand Duel SUP Race check-in 7:00 - 8:00am·
Saturday:·Surf & Sand Duel SUP race start, 9:00am·
Saturday:·Cowells SUP Classic check-in 7:00 - 9:00am, Steamer Lane
Saturday:·Cowells SUP Classic Round 1, 10:00am - 4:00pm·
Saturday:·Race Day After Party & Awards!!, 6:00-10:00pm - location TBD·
Sunday:·Shootout Final Rounds, 8:00am - 3:00pm·
Sunday:·Cowells SUP Classic Final Rounds 10:00am - 3:00pm·
Sunday:·Shootout Awards Ceremony, 4:00pm

Supconnect would like to thank all of our sponsors and stand up paddle websites who have shared this webcast including Supthemag Magazine, The Standup Journal, Stand Up Paddle Surfing Magazine, SUP Gladiator and SUPracer.
.
Last modified onTuesday, 08 March 2016 17:31
Email

This email address is being protected from spambots. You need JavaScript enabled to view it.