The SUP 11-City Tour: One Of The World's Toughest Ultra-SUP Races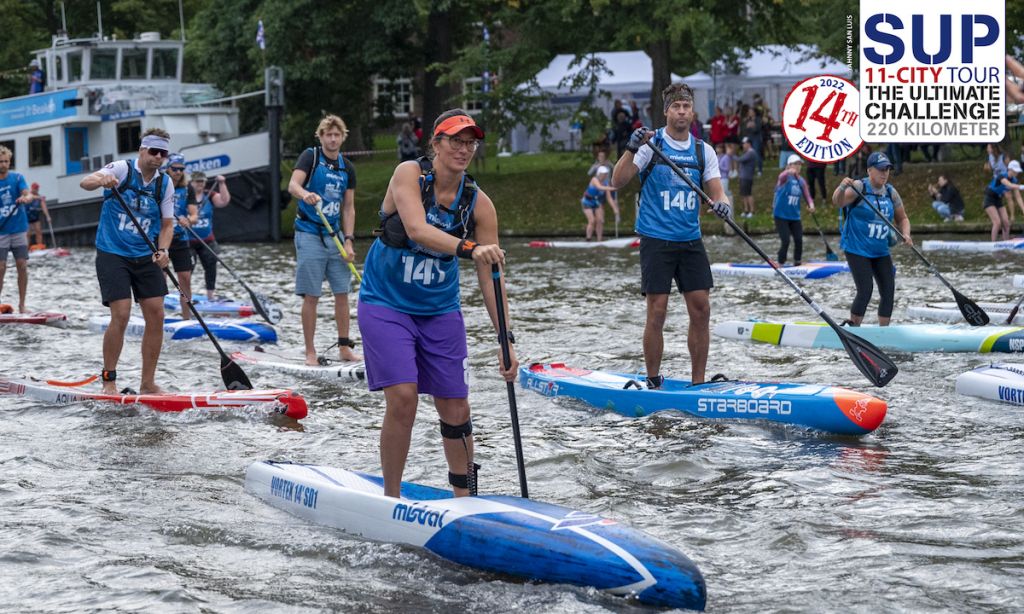 Image via Yahnny Adolfo San Luis.
The first day of SUP 11-City Tour 2022 - 48.8 km (30 miles) from Leeuwarden to Sloten.
NETHERLANDS - In 2008, Anne-Marie Reichman founded SUP 11-City Tour, one of the world's toughest ultra-SUP races, which follows the route of the Elfstedentocht. Athletes choose to race the non-stop, 5-day, or a combination of both races for 220 kilometers or 130 miles. The Elfstedentocht's format is mirrored for SUP 11-City Tour athletes—they collect stamps at designated spots (replaced by ringing a bell due to wet conditions), klun or run with their SUP from lock to lock, and receive the esteemed Elfstedenkruisje (Eleven Cities Cross).
Like Elfstedentocht, SUP 11-City Tour embodies Frisian heritage and pride for the community, athletes, and volunteers who return every year.
Left: Anne-Marie Reichman, founder of the SUP 11-City Tour. Right: A lovely couple who attends every year to cheer on the athletes and their niece who participated in the 2022 event. Images via Yahnny Adolfo San Luis.
Tanja Ecker, Champion Athlete & Volunteer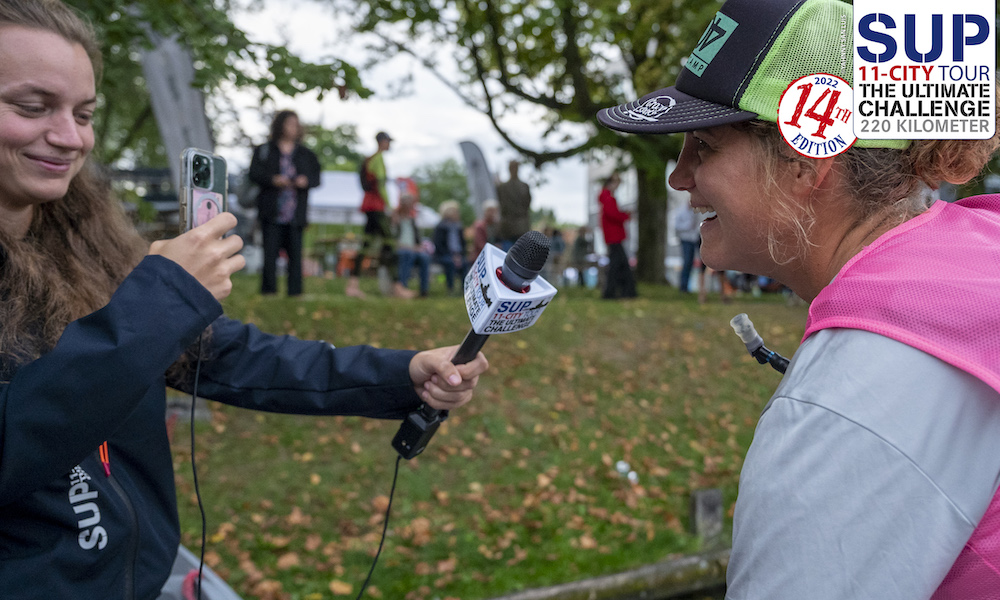 Nynke Bakker interviewing Tanja Ecker before the start of SUP 11-City Tour 2022. Image via Yahnny Adolfo San Luis.
Tanja Ecker competed in the European SUP Championships in Denmark and the International Canoe Federation SUP World Championships in Poland two weeks before traveling to Friesland. This year was the first time a German athlete won SUP 11-City Tour after placing fifth in 2018 and second in 2020 and 2021.
Ecker's win came after a full year of racing and training hard on the road while conducting clinics throughout Europe.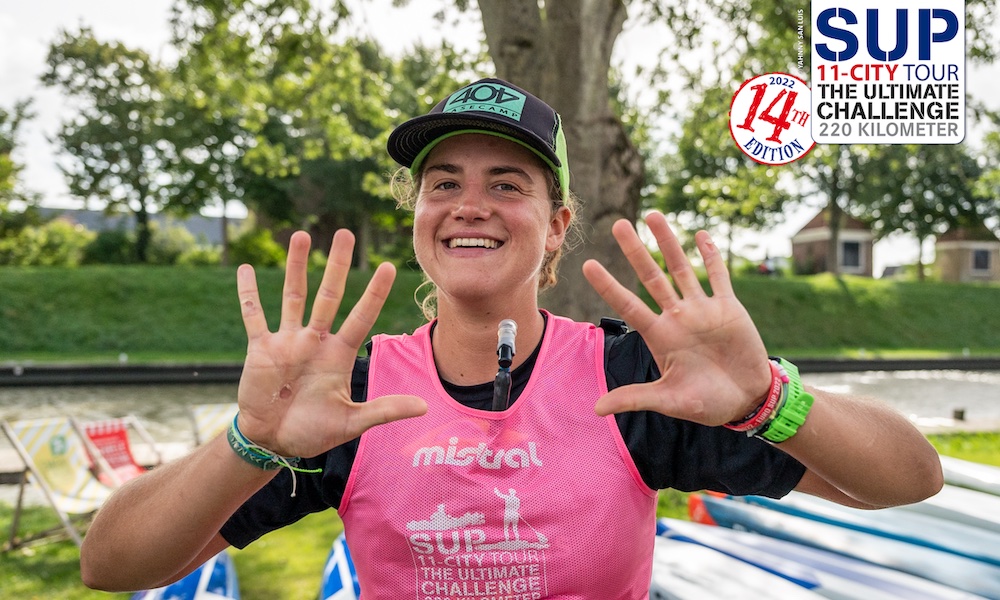 Tanja Ecker showing her blisters from padling at SUP 11-City Tour 2022. Image via Yahnny Adolfo San Luis.
"The SUP 11-City Tour means so much to me. It's like an addiction, once you do it, you want to come back every year and be part of it. Also, I'm involved with the whole event as part of the media crew working for the event all year round with an amazing team. This is what also connects me as an athlete, because I just like to paddle in the stunning Frisian landscape, out in the elements, and go beyond my limits. The SUP 11-City Tour is really one of the toughest races out there, so that makes me even more stoked to win. After being there five years and finally winning makes it so special. This year seems to be destiny: 5 years, sharing a boat with Anne-Marie again, my start number was my birth year, and the finish was a week before my 30th birthday."
Tanja turned 30 years old on Sunday, September 25 and her bib number was 92.
Everybody In The Same Battle
It is no surprise that SUP 11-City Tour attracts phenomenal athletes who return to defend their titles: 5x champion Bruno Hasulyo, 5x Dutch champion Petronella van Malsen, 8x finisher and this year's Grand Diva champion Tineke Merkus.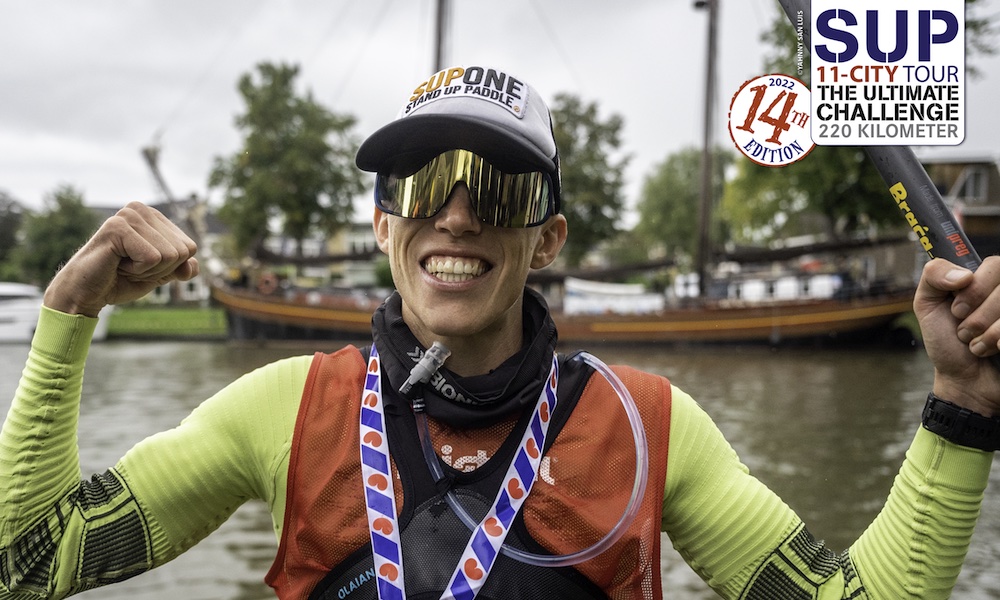 Bruno Hasulyo earning the Elfstedenkruisje for his fifth win of SUP 11-City Tour. Image via Yahnny Adolfo San Luis.
But in every corner are stories of unbreakable courage.
Ghislaine Cordier de Croust, a certified SUP and yoga instructor, felt good during the first three days of her 5-day race before fatigue, brutal winds, constant rain, and paddling an average of six hours each day took a toll. Cordier de Croust mustered what she had left in the tank on the final day with no sleep, one banana, and two painkillers. She fought hard for the 27 kilometer, or 16.7 mile, time trial in a paddling train powered by two competitors in the women's open division, Froukje Wichgers-Marien who placed sixth and Julia Georgi who placed eighth.
Ghislaine Cordier de Croust conquering the challenges of SUP 11-City Tour 2022. Image via Marloes Kaal.
When asked about her experience, Cordier de Croust who placed seventh said, "You truly get to know what you're capable of - you, your board, and your paddle. Everyone is in the same battle." After completing her first tour in 2021, her husband secretly signed her up for this year's race which he presented as a surprise birthday gift last November.
Old Friends & Soon-To-Be New Friends
For 2022, SUP 11-City Tour boasted 250 athletes and over 100 volunteers who work tirelessly from 5:30am to past midnight.
The media team rushed around, edited on the fly, updated social media, produced film, wrote daily reports, and poured through 1000's of footage. From athlete hospitality, catering, race timing, logistics, medical, and safety to certifications, finance, communications, and PR, volunteers are the backbone for the roving crew that seamlessly appeared and disappeared at 11 Frisian cities and its endless waterways.
SUP 11-City Tour is a year-round production that restarts as soon as the race ends. Seasoned volunteers like Mayola Dijksman is one of the foundational photographers who has been coming back every year to produce stunning race footage.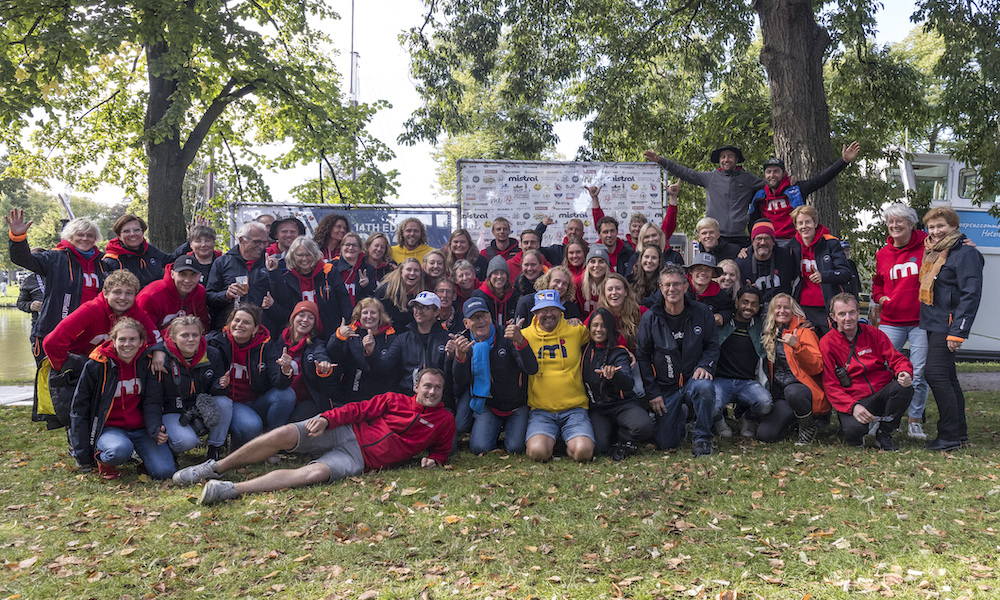 The SUP 11-City Tour 2022 crew, photo by Mayola Dijksman.
"Once a year I have the great privilege to tour through our beautiful Friesland and immerse myself in awesome vibes and positive energy with a group of beautiful people. Old friends and soon to be new friends - paddlers who sign up for a one-of-a-kind race challenging themselves to next levels every day again or for the first time, and volunteers who work hard challenging themselves to do even better each day and are always there to support anyone in need. We all 'go deep' together but never stop having fun too. I feel that creates a bond beyond anything."
In 2012, founder Anne-Marie Reichman asked Dijksman to join the crew to become an official photographer for the race.
History of Elfstedentocht and Elfstedenkruisje
In 1890, Elfstedentocht, or Eleven Cities Tour, the biggest ice skating event in the world was conceived by Willem 'Pim' Mulier. The first official race was organized by De Friesche IJsbond in 1909. The tour takes place annually and only when the ice is at least 15 centimeters or 6 inches thick. Athletes have to be at-the-ready within 48 hours of the announcement to race.
In the past 50 years, the Elfstedentocht has taken place only three times and is in danger of becoming extinct due to climate change.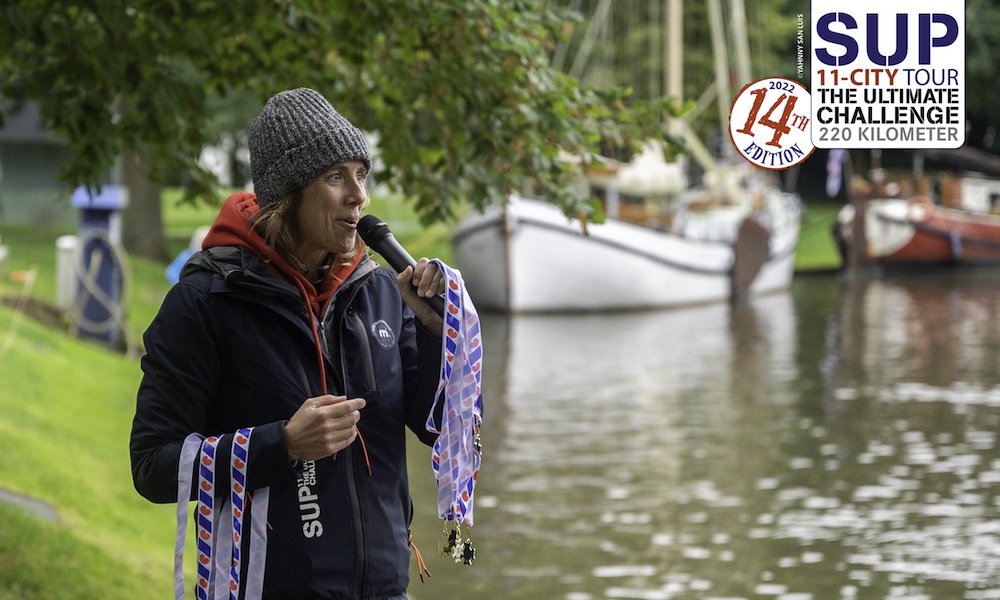 Head of PR and communications, Marije Elgersma, handing out the Elfstedenkruisje and finisher medals at SUP 11-City Tour 2022, photo by Yahnny Adolfo San Luis.
SUP 11-City Tour gives homage by maintaining elements of the Elfstedentocht such as collecting stamps at required check points (ringing the bell has replaced the stamps). On the fourth day, athletes must take their SUPs out of the water and klun from lock to lock. In West Frisian, klúnje means "to run on skates over a carpet," which is necessary where skaters have to run to the next stretch of ice. Athletes are awarded the Elfstedenkruisje, or Eleven Cities Cross, after completing the non-stop or 5-day race. It is similar to the cross that was awarded to 86,000 Elfstedentocht finishers up to the last one that was held in 1997.
Volunteer and official photographer, Edwin Westra, who remembers the last Elfstedentocht as support crew member for his friend Erik Bruining in SUP 11-City Tour 2013.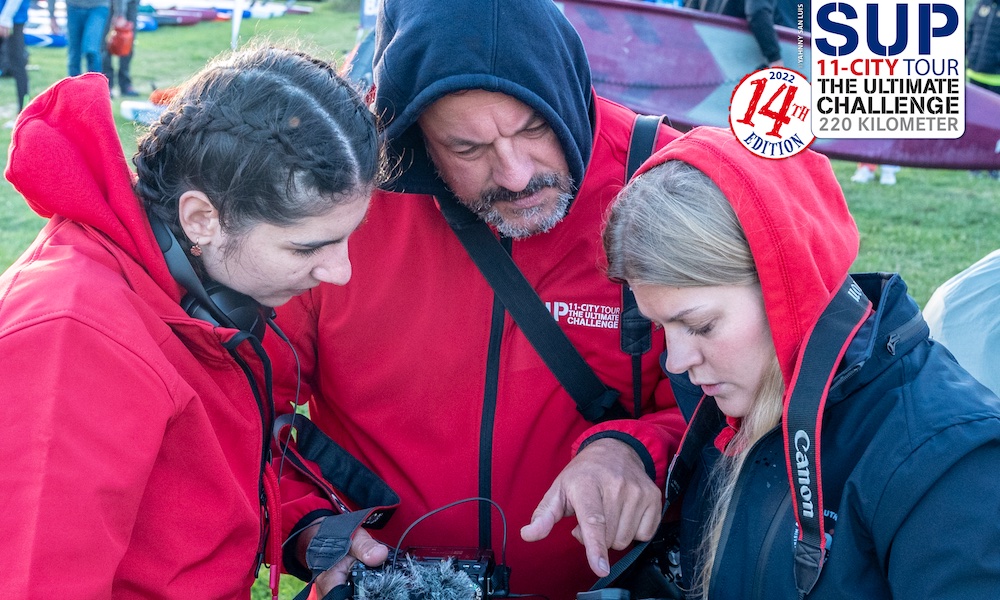 Media crew members Victoria, Edwin Westra, and Marieke setting up for the long day ahead at SUP 11-City Tour 2022, photo by Yahnny Adolfo San Luis.
"Erik could no longer stand on one leg at the famous tile bridge. Immediately a plan was forged, we had to splint his leg. I had gaffer tape in my car and someone else had an umbrella. Together with his fellow non-stopper Jeroen Labots, he crossed the finish line with the umbrella stuck to his leg and everyone was in a jubilant mood. I didn't do the race myself but I felt like I was part of the athlete's journey. Although it is important for many to win, participating in the SUP 11-City Tour is something you have to experience. Every year athletes from far and wide come for the first time, but often for a second or even more times to experience the feeling, and every time is unique. If it's not the weather, it's the people. I love it and I have already put it in my agenda for next year that I have to keep it free. See you next year."
Heroic stories like this keep the spirit of the Elfstedentocht alive.
What to expect for the 15th edition
2022 saw the biggest registration numbers in its history due to the growing popularity of SUP and the demand for endurance events.
Like running, cycling, and triathlon, the natural trajectory for any growing sport is to offer options for athletes who prefer endurance and ultra distances such as Yukon River Quest, MR340, and Great Alabama 650.
Athletes as young as 13-year-old Maximus Sijrier who competed in SUP 11-City Tour for the first time won the solo tour men's division. He is part of the next generation of paddlers influencing the endurance paddling scene. Rembrandt Joosten who paddled on one side with a modified paddle, one lung, artificial hip and knee proved that "can't" is not part of an endurance athlete's vocabulary.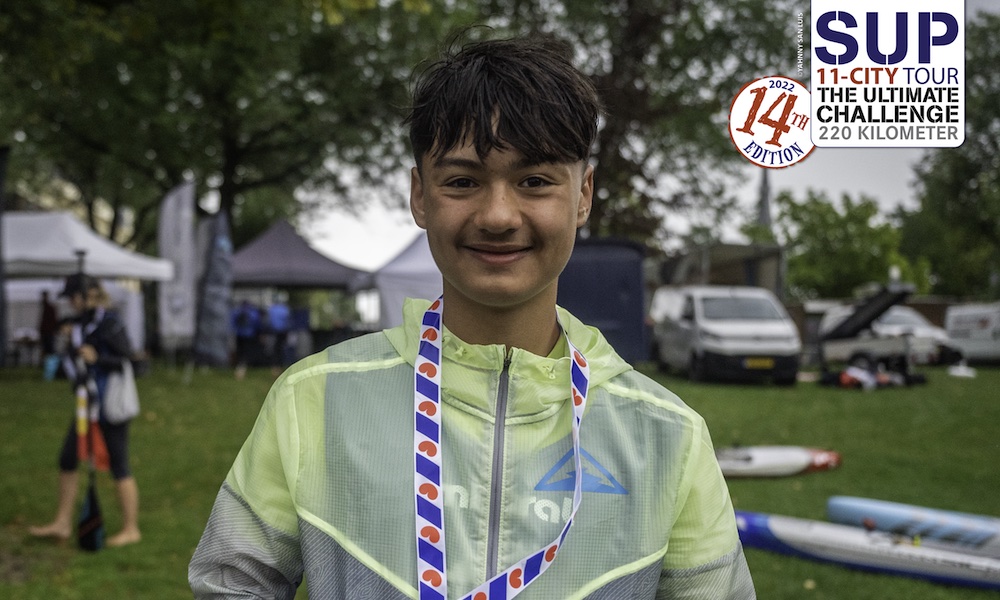 13-year-old Maximus Sijrier won the solo tour men's division at SUP 11-City Tour 2022, photo by Yahnny Adolfo San Luis.
Göran Gustavsson participated for the first time in 2017 and realized that this was more than a race. "I wanted to come back in 2018. In 2019, I wanted to race both the non-stop and 5-day for the challenge but also the experience of friends old and new." In 2021, Gustavsson participated in both the non-stop and 5-day, accomplishing back-to-back races for the same reason. "It's more than a competition. In 2022, it was only the non-stop due to time. But I will continue to come back as a competitor or volunteer. SUP 11-City Tour is more than a competition."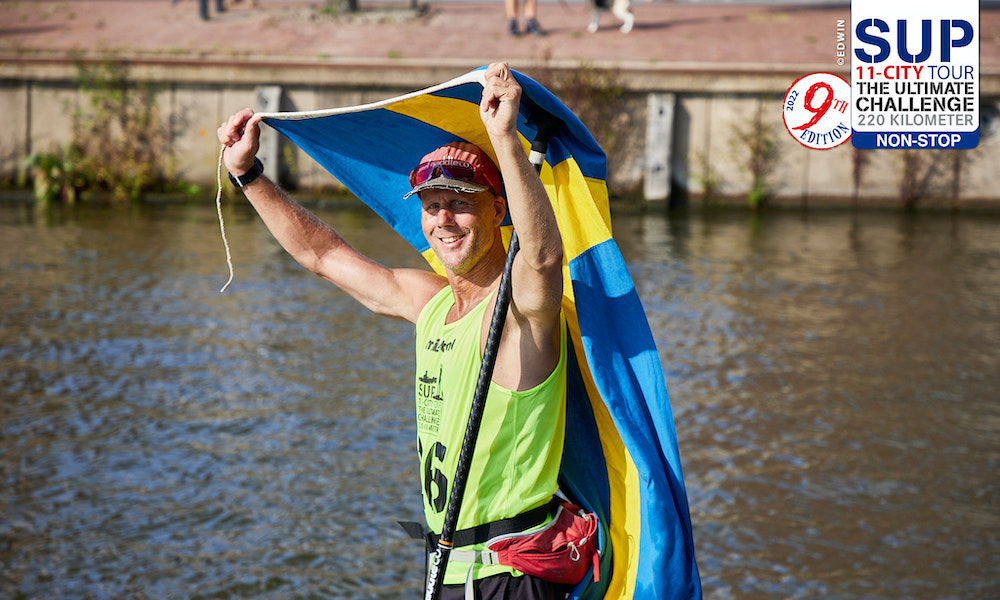 Göran Gustavsson at the finish of the non-stop race at SUP 11-City Tour 2022, photo by Edwin Westra.
Registration opens on October 15, 2022.
For more SUP news, click HERE.
Last modified onFriday, 30 September 2022 11:14

Yahnny Adolfo San Luis is a former professional endurance athlete turned professional sports and travel photojournalist who has traveled to over 50 countries solo. She is the founder of Hawaiʻi-based Yahnny Bly & Co.,which specializes in custom adventures all over the world, and president of Sweden-based Nomado, which specializes in paddling and off-road cycling events in the Nordics. She is an advocate for sustainable travel and Sweden's chapter leader for Impact Travel Alliance. You can find Yahnny training for her dream race, M20; on her bike venturing long distances; and volunteering as a mentor for young athletes, writers, and photographers.
Website: https://yahnnysanluis.com/
Email

This email address is being protected from spambots. You need JavaScript enabled to view it.