Best Beginner Stand Up Paddle Boards 2019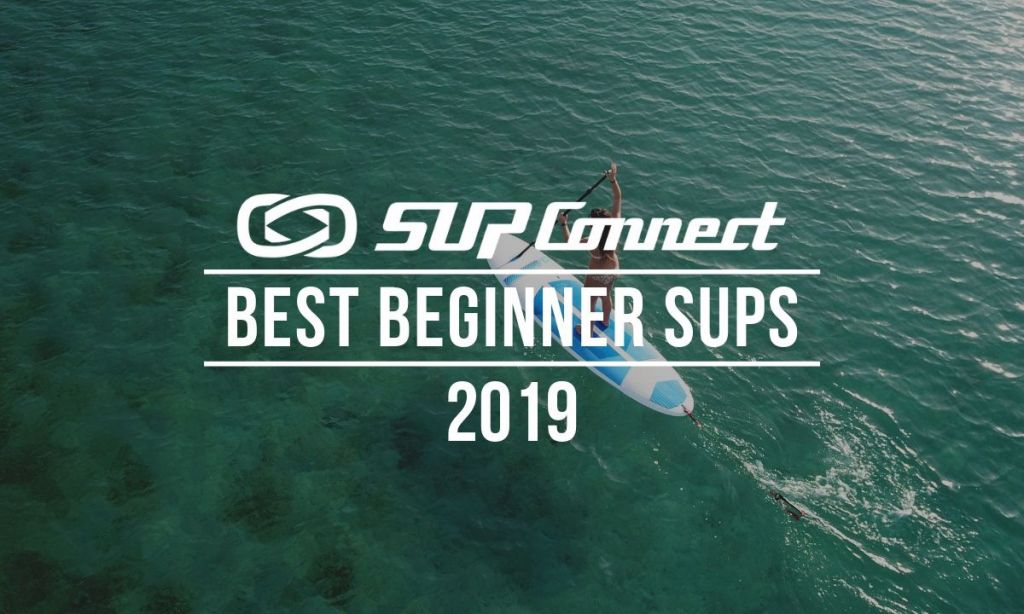 After personally paddling, weighing, and thoroughly testing 150+ boards, our expert staff has selected the best beginner stand up paddle board 2019 models. These are designated by the "A" grade and organized by categories (inflatable, all-around, touring, etc). The Supconnect team traveled across 3 states and spent 8 months individually assessing each one of the inflatable SUP boards below, counting a total of 23 metrics per board and consistently applying them across all products. The end result: simply the most comprehensive, consumer-friendly, value-added review platform in the standup paddle world. Click through each one of the reviews and find a consistent, in-depth assessment of each product listed.
Quick Answer:
The Best Beginner SUP Boards 2019
| | |
| --- | --- |
| | |
A Comparison
The Best Beginner Paddle Boards 2019
| | | | | | | | |
| --- | --- | --- | --- | --- | --- | --- | --- |
| Picture | Board | Weight | Price | Use | Skill | Build | Width |
| | Surftech Alta | 30.5 lbs | $999 | All Around | Beginner | Inflatable | 32 in. |
| | Body Glove Navigator Plus | 22.12 lbs | $999 | All Around | Beginner | Inflatable | 33 in. |
| | Body Glove Oasis | 24 lbs | $999 | Yoga/Fitness | Beginner | Inflatable | 34 in. |
| | Surftech Aleka | 22.11 lbs | $1,469 | All Around | Beginner | Non-Inflatable | 30 in. |
| | Surftech Generator | 25.14 lbs | $1,349 | All Around | Beginner | Non-Inflatable | 32 in. |
| | Surftech Promenade | 34.7 lbs | $999 | Touring | Beginner | Non-Inflatable | 31.5 in. |
Beginner Paddle Boards 101
3 Things to Consider to Find the Best Beginner Paddle Board
1. FLOTATION & STABILITY
General Rule: First and foremost, you need a stable board. For most people, a board 11-foot in length and 30-inches wide will offer plenty of stability. Now there are features of the board that can make it more or less stable, even if having the dimensions above. Nonetheless, most boards with those dimensions should fit the bill. The goal of your first paddle session is to have fun. And for that, you can't be struggling to keep the board stable.
More Precisely: For a beginner SUP board more tailored to your weight, use the volume of the standup paddle board as the guide. The board's volume should be about 2x your weight in kilos. Find your weight in KILOS, multiple it by 2, and replace the unit with LITERS. Say that I weigh 180 lbs (82 kg). Multiple it by 2 (82 x 2 = 164) and replace the unit with LITERS (164L). Your beginner board should be 164L minimum. Keep in mind, though, that simply using volume as a guide is not enough to get you the right board. The board may have enough volume to float you but it could be highly unstable if less than 30 inches wide. Chose the correct volume together with a minimum width of 30 inches, so you have a board that floats you but which also offers ample stability.
2. USE
The beauty of stand up paddle boarding (SUP) is that there are so many ways and situations where you can participate. Here at Supconnect we break down the different uses of a paddle board into 7 categories: All Around, Touring, Yoga, Fishing, Race, Surf and River. Each category has their own specific purpose and thus, a different shape/design is necessary for each. There are boards that fit into multiple SUP disciplines and can be used in a variety of ways. A brief breakdown of each category is as follows:
All Around: For multiple purposes but primarily for recreation
Touring: For cruising paddles beyond the shoreline and for expedition paddling
Yoga: For optimal stability as a floating yoga mat
Fishing: For stability to cast the line, with plenty of accessories
Race: For speed, coming with lightweight build
Surf: For maneuverability and wave handling
River: For rapids, river eddies and river wave riding
3. ADD ONS
Add-on's are accessories for a paddle board that add to your experience on/off the water. The quality of the bag/backpack and the air pump tend to be directly related to the board's price points. Aside from your paddle, bags and pumps are the most important add-on's to your board and can drastically improve your overall experience with the board, such as helping you more easily carry the board and/or pump it up more quickly. Other popular add on's include bungee cords, a minimalist way to haul things; Connexsup, which allows for all sorts of attachments, even fishing rods; and FCS II/Connect, for easy fin instal. Other add on's could be upgraded handles like the Liftsup & EZgrab and paddle holders for when you aren't using your paddle.
Best Beginner Paddle Board Reviews
SURFTECH ALTA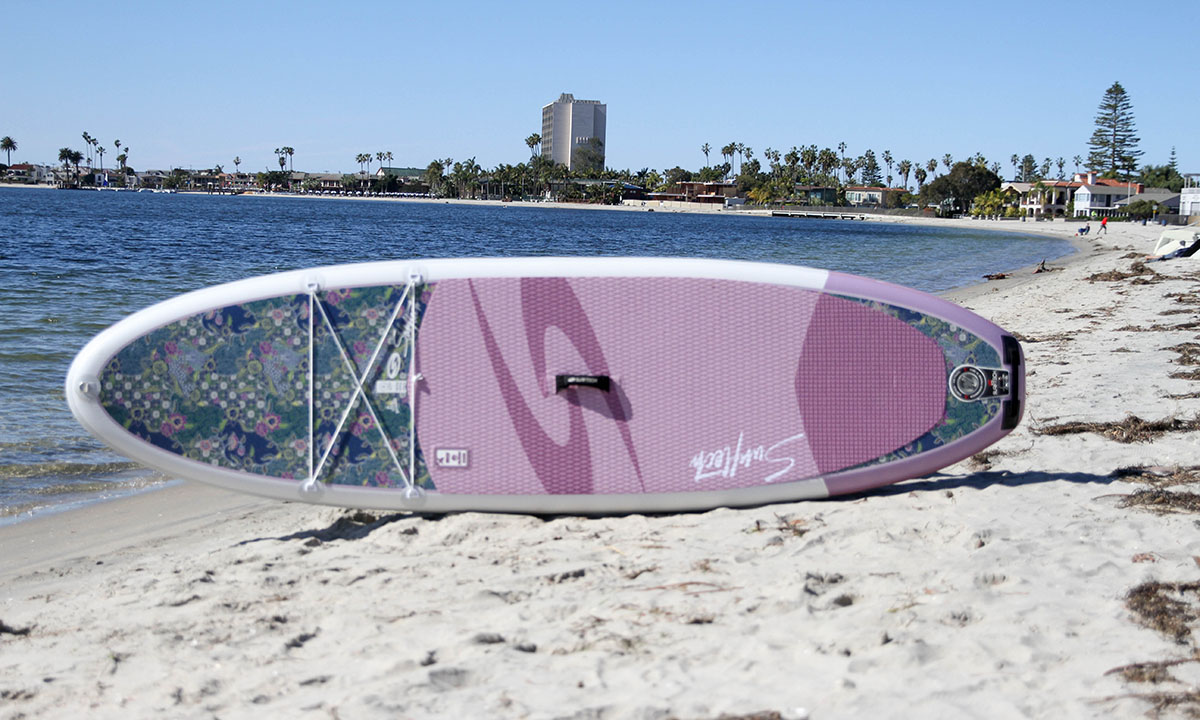 If you're looking for an inflatable paddle board that is under $1,000 and is geared towards the women's market then the Alta from Surftech is a solid contender. At $999 the Alta inflatable is offered in two unique set of graphics that have matching paddles and leashes and partner with prAna for matching apparel. The board is 32 in wide and utilizes BLOOM foam, giving it an eco-friendly twist. The board is best suited for recreational paddling that paddlers of all skill levels will enjoy.
| | | |
| --- | --- | --- |
| Price: $999 | Build: Inflatable | Weight: 30.5 lbs |
| Use: All Around | Skill: Beginner | Sizes: 10' |
BODY GLOVE NAVIGATOR PLUS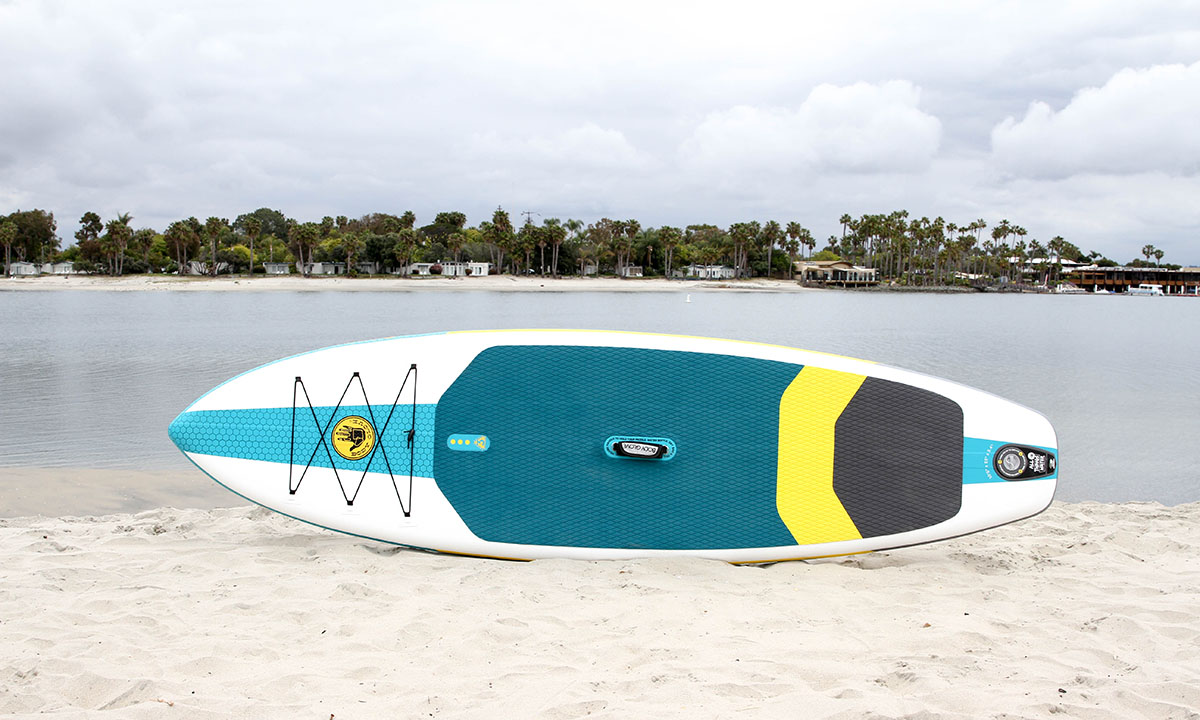 This board is hands down one of the best inflatable standup paddle board models for 2019. The construction is very strong with reinforced rails and stringer and feels stiff. This inflatable has the perfect amount of rocker so it glides incredibly well for an inflatable. The board is also very stable with the square tail helping add to that stability as you cruise along. The board features some really nice add on's as well with a comfortable handle that is nice when carrying the board but it also features as a paddle holder when you want to be hands free. The graphics are beautiful and have a really nice color coordination that is attractive to both guys and gals. The board also comes with a full setup, a paddle, leash and pump and a nice portable carry bag. The paddle blade also has nice graphics adding a nice touch to the overall package.
| | | |
| --- | --- | --- |
| Price: $999 | Build: Inflatable | Weight: 22.12 lbs |
| Use: All Around | Skill: Beginner | Sizes: 10'6" |
BODY GLOVE OASIS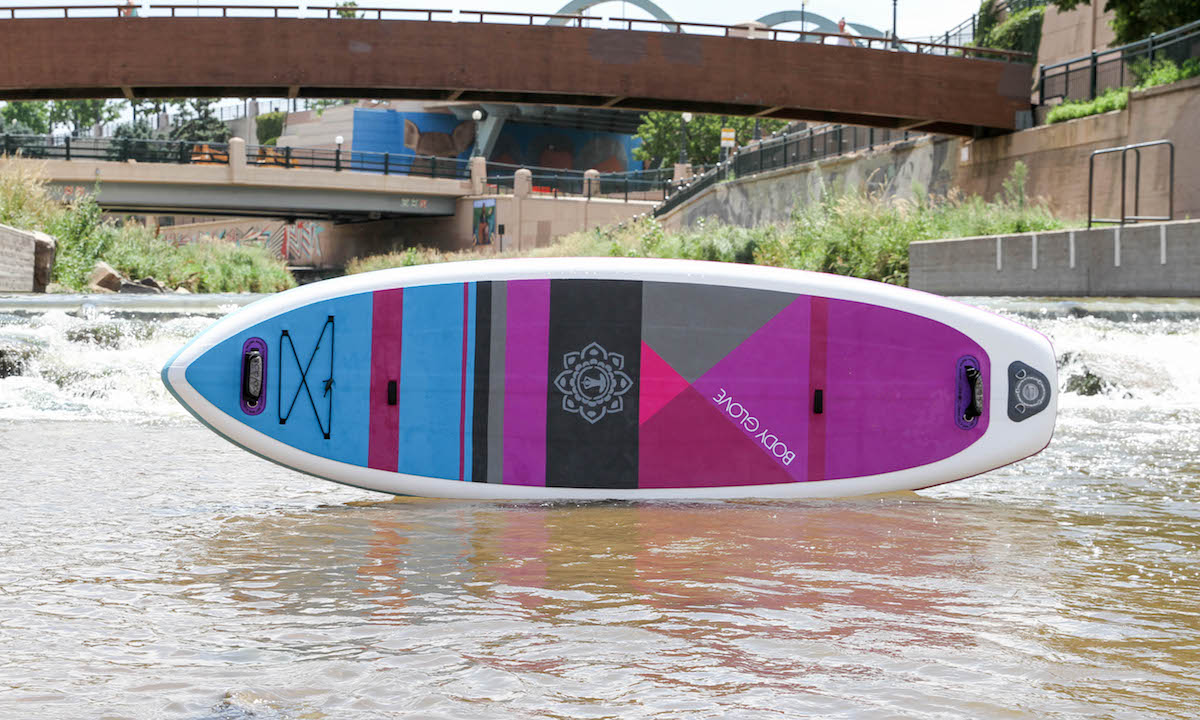 At $999 this inflatable is simply one of the most beautiful mid-price point inflatables that you can buy. The graphics are gorgeous and have a very thoughtful coordination of color scheme all throughout the board. The construction is just remarkable. In fact, it's quite surprising that at this price point you can find a carbon stringer with reinforced rails, comfortable handles on the nose and center of the board. The board is fairly stable. It's not the most stable on the market but is fairly stable and pretty average in terms of stability and it would make for an incredible gift for your wife, girlfriend, daughter, etc. who is looking for a board in the yoga space and wanting to have fun on a board that is at an affordable price point that looks good.
| | | |
| --- | --- | --- |
| Price: $999 | Build: Inflatable | Weight: 24 lbs |
| Use: Yoga/Fitness | Skill: Beginner | Sizes: 10' |
SURFTECH ALEKA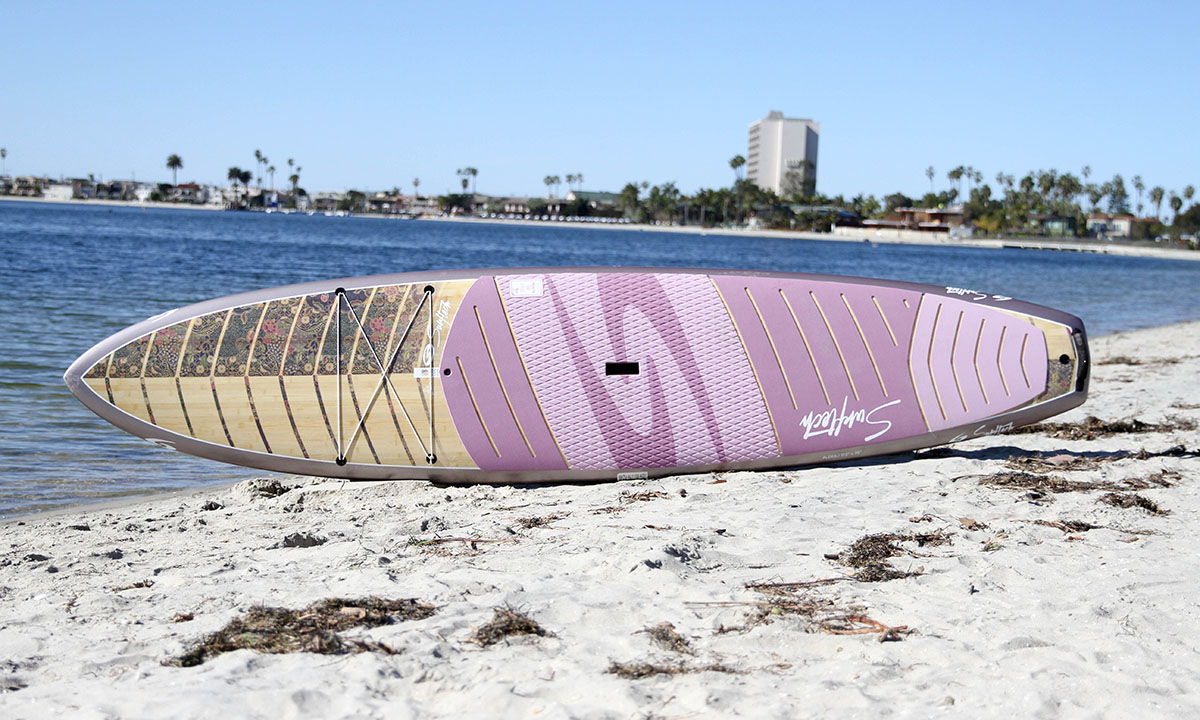 If you're looking for a board that is designed for women that is a stable, all around board to paddle short to mid-range distances then the Surftech Aleka is something to consider. This standup paddle board (SUP) retails starting at $1,499 and is offered in two different sizes: 10'4" and 11'2". The Aleka uses Surftech's Tuflite V-tech construction which makes the board strong and durable. At 29 and 30 inches wide the board is pretty stable and easy to carry, weighing just over 22 lbs. The Aleka is a hybrid all around / touring shape so it can be used in a wide variety of conditions whether you're looking to go for a quick paddle around the shoreline, catch a few waves, or go on a mid-range paddle the Aleka was designed to do it all.
| | | |
| --- | --- | --- |
| Price: $1,469 | Build: Non-Inflatable | Weight: 22.11 lbs |
| Use: All Around | Skill: Beginner | Sizes: 10'4", 11'2" |
SURFTECH GENERATOR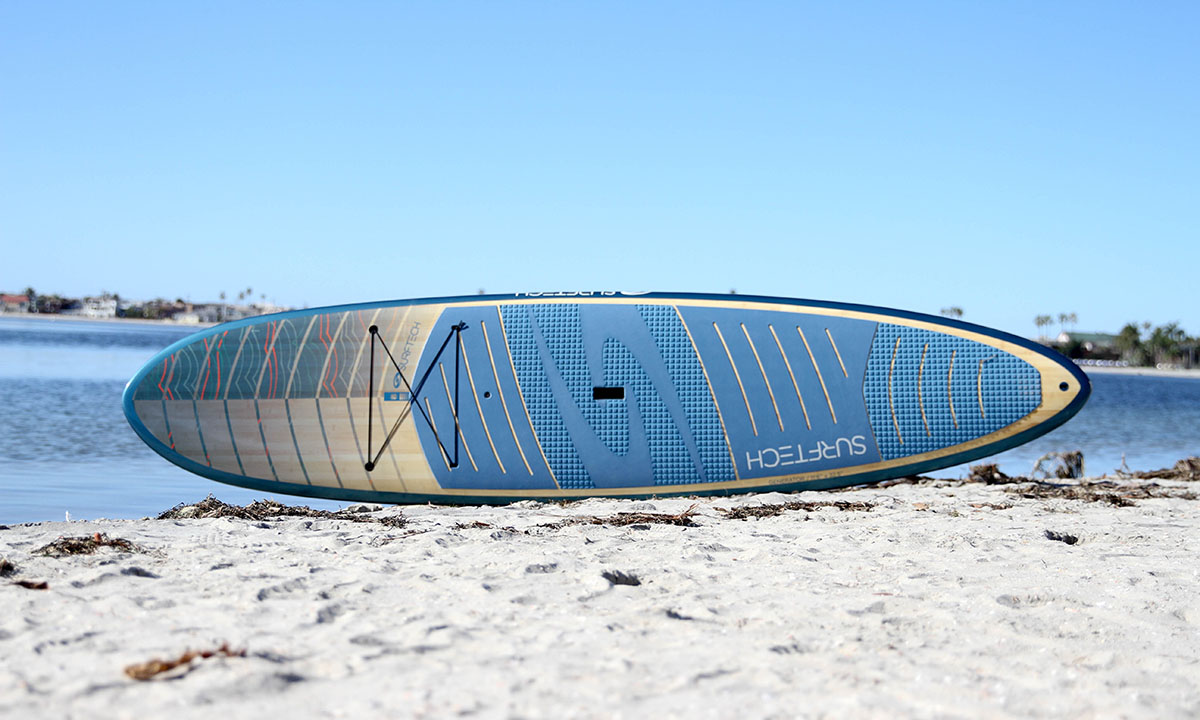 The Generator is a beginner, non-inflatable board, offered at a pretty affordable price but has a premium look. The board is very stable, lightweight and has some gorgeous looks, coming with an exceptionally beautiful play on color and graphics. The bamboo construction combined with either green or blue accent colors (depending on which size you get), make the board really stand out. The board is best suited for short-range paddling around the beach and dock and is a great board that the entire family can enjoy. Its premium look and lightweight feel alone warrant Supconnect's "A" grade.
| | | |
| --- | --- | --- |
| Price: $1,349 | Build: Non-Inflatable | Weight: 25.14 lbs |
| Use: All Around | Skill: Beginner | Sizes: 10'6", 11'6" |
SURFTECH PROMENADE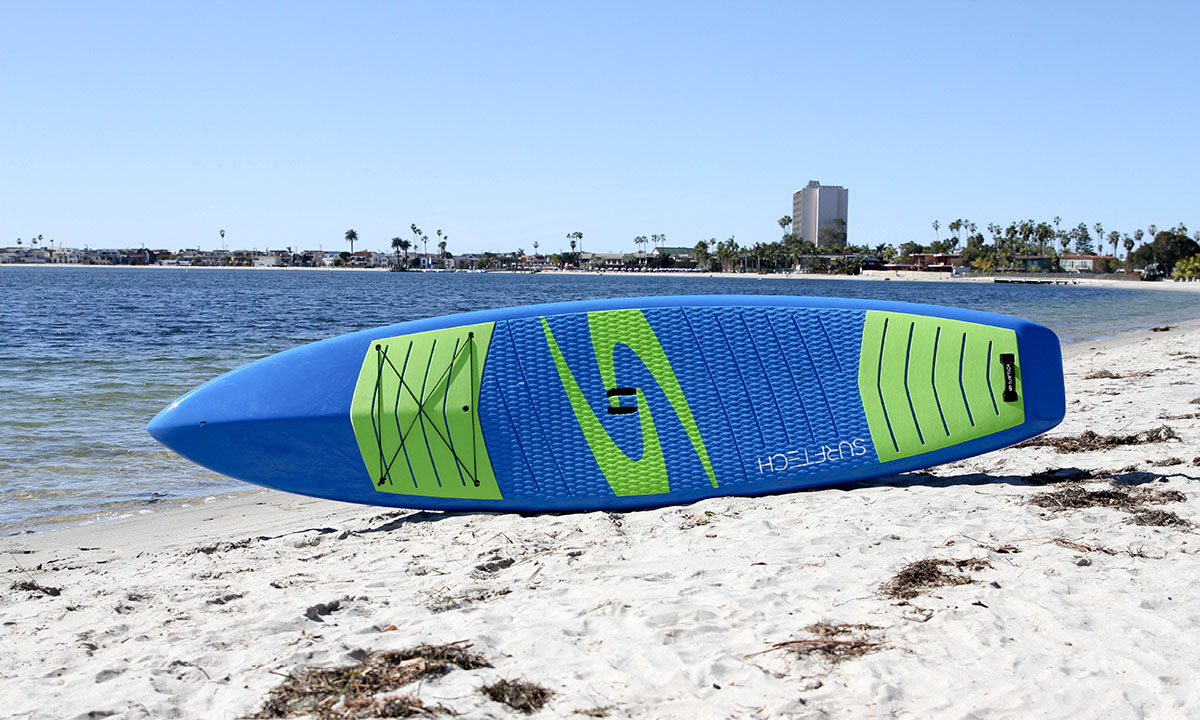 The Surftech Promenade is almost a category of its own. This board has the durability of most rental boards in the marketplace, but is actually fairly lightweight for how much volume it packs. The bottomline is, if you're looking for a price point board with incredible durability that can handle cruising, touring, going the distance, and maybe even racing, and is also incredibly stable, this is it. It's a rental board that is proving to be more of a touring board, capable of going long distances. The Surftech Promenade is truly a beater that can go the distance.
| | | |
| --- | --- | --- |
| Price: $999 | Build: Non-Inflatable | Weight: 34.7 lbs |
| Use: Touring | Skill: Beginner | Sizes: 11'6" |
Photo Gallery
A Look at Imagery from our SUP Reviews
More Resources
© Supconnect.com Copyrighted Exclusive Content
Last modified onFriday, 29 April 2022 16:43

Submit your news, events, and all SUP info, so we can keep promoting and driving the great lifestyle of stand up paddling, building its community, and introducing people to healthier living.
Website: supconnect.com