Paddle Logger Paddle Boarding App Is Perfect Way To Log Time On The Water
Paddle Logger is the easiest way to record your journeys on the water. | Photo Courtesy: Paddle Logger
SAN DIEGO, California - Looking for an app that can help take your paddling to the next level? Lucky for you, the Paddle Logger might just be the app that does it for you. The Paddle Logger is quite possibly the easiest way to record your journeys on the water for whatever watercraft you may be on.
Some features of the app include:
Tracking: At its simplest Paddle Logger is an easy to use, accessible tracking application that can be used for all sports.
Innovative Features: The unique delay feature allows you to start the tracker and stow your phone before getting on to the water or through surf.
Editable Notes: Each journey has a log, which you are able to edit the name of and add any trip notes which you may wish to remember.
Trip Map and Gallery: Each log has a route map and trip gallery. Everything recorded in the log can be shared via social media, text or e-mail.
We wanted to know more about the app and how it all came in to fruition so we caught up with app founder and creator David Walker to get the inside scoop. Check out what he had to say below:
Why did you decide to create the Paddle Logger?
A number of reasons really, particularly frustration. I have been paddling for a few years now and as a keen cyclist, I have seen the rise of tracking apps for land based sports. These are great, but nothing had been designed from the ground up for Paddlers that I felt was good enough to want to use. Nothing had features that were specifically designed with watersports in mind. When I started designing it was just before my summer break before my final year at university, naïvely I thought I may be able to get something off the ground in those few months and then give myself a bit more money for my final year! Of course after about a month I soon realised that it was going to take a lot longer to be done right. As it has evolved into a larger project I have become more impassioned with it and want to see it fully sustaining me at some point rather than as a side project. That is something that had never crossed my mind at the beginning.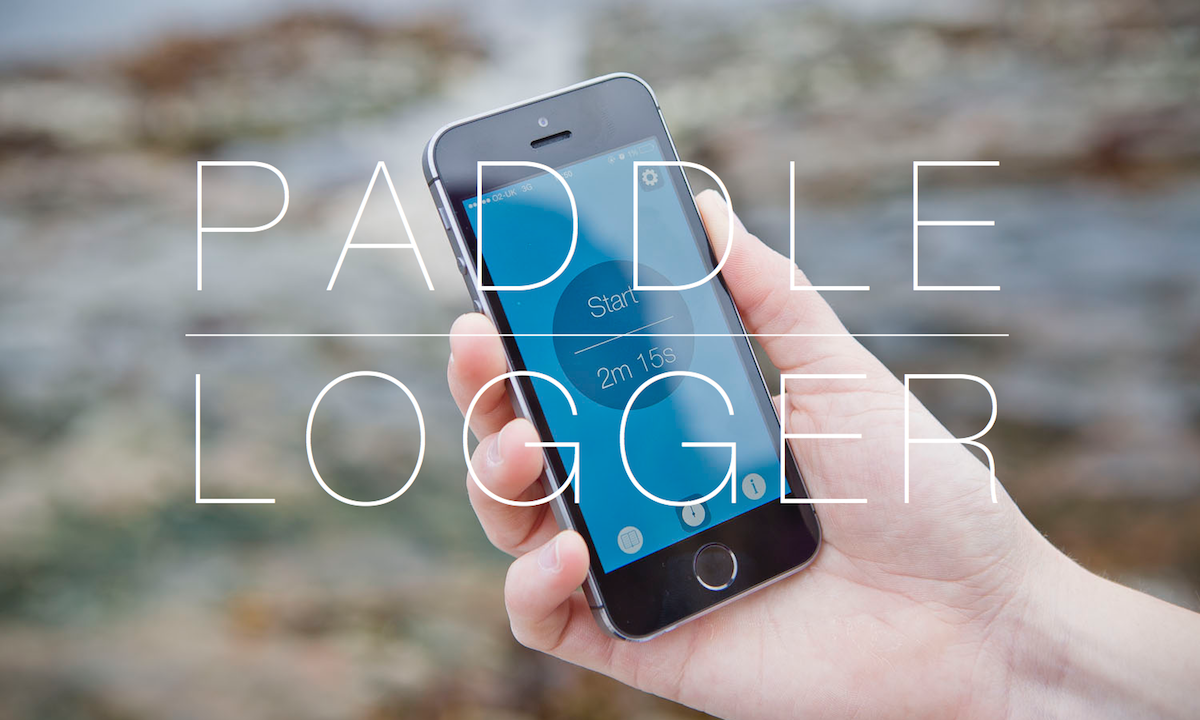 Paddle Logger provides all the functionality you need to record your journeys on the water, whatever your craft. | Photo Courtesy: Paddle Logger
Where did the idea for your app come from?
Last year, due to the aforementioned frustration and needing some form of income I started playing around with some ideas for a watersports app. I sounded out a few people in the industry as well as friends about what they thought. Most were positive but two good friends really spurred me to take what was at the time a terrifying plunge. Sean White (WeSUP) had just completed a week long trip around Cornwall - he came back and had been using various tracking apps to plan and record his journey. None of them were user friendly and all he said he needed was everything in one place, easy to use, record and share to his friends. Jon Gracey is a long term friend and entrepreneur, we had a long chat and I asked him what he thought, he just said 'do it, what have you got to lose?'. He put me in touch with a friend of his, Lewis Smith, who he thought might be able to help and has since done a lot of the coding for me. I started simply, created a design which had all the features which I knew that I wanted to have, regardless of anyone else. Once that base was established it was then very easy to keep growing and adding more complex features.
What was the inspiration behind the app?
Simplicity, accessibility and utility. A solid app that anyone can pick up and use and get something out of, whether you are an athlete/explorer/recreational paddler or complete novice. You turn your phone on, start the app, stow it away, and do not have to worry about it 'til you finish. It is the easiest way to track your journeys on the water. This has been the mission statement for me really.
What went in to building the app? What was the process behind it?
Once we had worked on the mechanics of how the app would work. I began designing the 'skin'. As a paddler myself I knew what I would find useful and started there really. Key design notes were simple and accessible, the large Start/pause button makes the app easy to use, for example. If you have ever tried to text with wet, sweaty or cold fingers you will know its nigh on impossible. When we submitted v1.0 to the app store Paddle Logger looked very different to what it does today, my model was to submit a simple app, feature light at a set price ($0.99/£0.79) and stick to it. This meant we could see what people felt was missing and what people wanted. There is not a huge team behind this app, it is myself and Lewis who puts my designs together. So we find it really helpful when and wanted customers come forward with ideas. Over the course of this year we had a run of updates adding both major features that I wanted to put in alongside some of those that customers wanted to see. This model has allowed the app to grow organically and to a certain extent, led by the consumer. The relationship that we have fostered with consumers is something I am very proud of.
Who is the app best suited for?
Anyone who makes journeys on the water. I have had sea swimmers come up to me and say how they love the easy to use interface with cold hands. Sailors have used the digital logbook element of the app, which I designed with expeditions in mind, as an easy way to log their hours for courses. One of my favourite uses that I have come across has been for marine surveys. What started as an easy way to test the long term capabilities (going out with a friend on a marine life tour) has opened the door to use of the app as a conservation tool.
While I SUP, many of my friends kayak or canoe and it is these sports which I initially aimed Paddle Logger at. I am first becoming aware however that it has uses far beyond just paddling. The recent comprehensive filing system has transformed the app into a digital logbook, which makes training diaries and expedition tracking far easier. As well as this, the addition of a dynamic track which changes colour depending on your speed compared to your journeys average has allowed athletes to quickly visualise and assess how effective certain paddle strokes and techniques are up and downwind.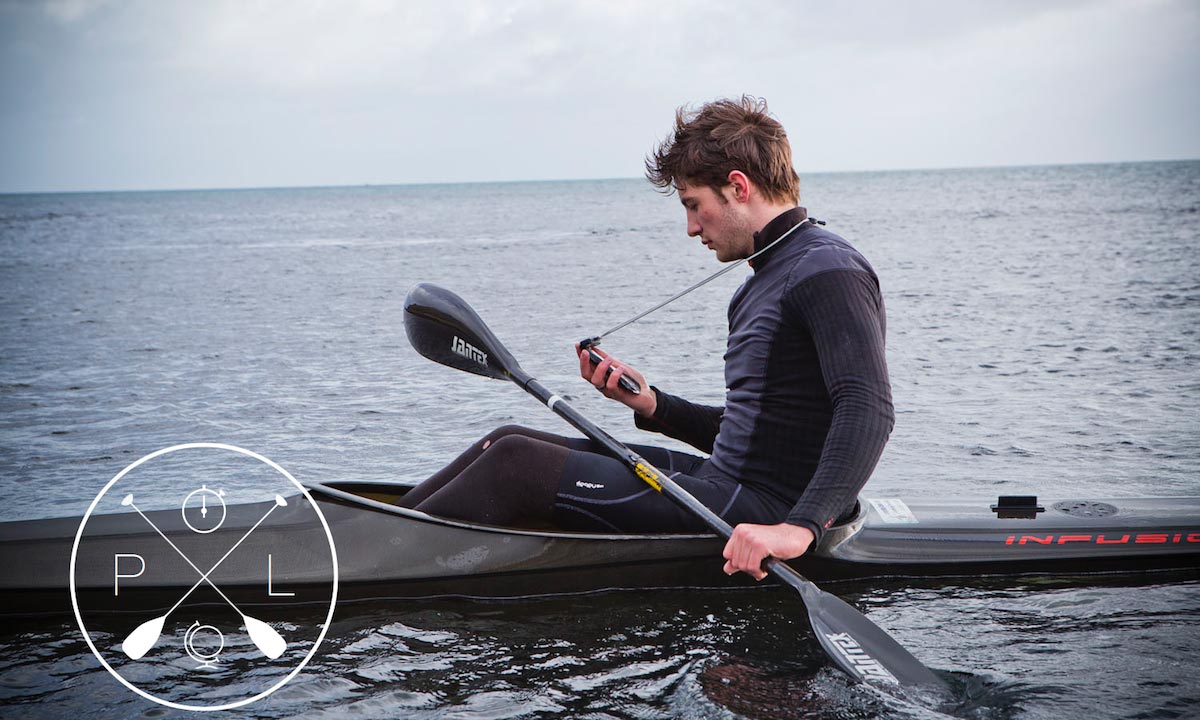 Photo Courtesy: Paddle Logger
Would you say that there is anything like your app on the market, or is your app pretty unique?
I would say that while there are many fitness apps out there none have been thought through and built so much from the ground up with the end user in mind like Paddle Logger has. There are certain functions which are completely unique to Paddle Logger, the delay for example. To me it seems a no-brainer, before you start the app you can set a delay, this then gives you time to stow your phone and get on/in your board/craft and get through surf before the app begins tracking. By simply starting and stopping a journey you have created a complete log book entry with editable notes, speed data, distance data as well as a trip gallery for any photos you may have taken on your journey. In terms of accessibility and usability in design I think we are miles ahead of many other apps, having just started up, however, there are still a few things we can learn from the bigger apps in terms of functionality.
If someone has an idea and wants to launch an app, what would you recommend they do in order to make that happen?
Note it all down, speak to someone who can offer some advice on feasibility. Re-write it all, then just go out and do it. After all, what have you got to lose?
What are your favorite apps to use?
For SUP the only other mobile app I use is WindGuru, it is old school and could do with a revamp but it is solid and means I can quickly check the reliable wind reports. The other fantastic bit of tech I have started using more, is a website called Windyty. It takes the same data but maps it into the most beautiful forecasts. We have it embedded on the news pages of our website.
What can we expect from the Paddle Logger in the future?
For the app we will continue to innovate and pioneer more unique features, that is for sure. I have been looking at bringing the Apple watch into play for example, this is also a request I have had from a number of people alongside a satellite map and some sort of audio milestone marker system. My notebook is constantly with me so there are many many ideas floating about! Recently we launched our online shop, stocking just a few items of gear. Next season this will be bolstered with some new designs. Also, I am constantly finding myself coming back to setting up a totally unique event for SUP and other paddle sports. Although there is a lot of problem-solving to go through before it sees the light of day!
To get your hands on the Paddle Logger App, check it out in the App Store on your device. You'll love it!
Last modified onWednesday, 23 September 2015 20:40

Submit your news, events, and all SUP info, so we can keep promoting and driving the great lifestyle of stand up paddling, building its community, and introducing people to healthier living.
Website: supconnect.com
Email

This email address is being protected from spambots. You need JavaScript enabled to view it.