Good & Bad News At The 2015 Chucktown Showdown
Words By Haywood Newkirk and Megan Bryan
CHARLESTON, South Carolina - The 2015 Chucktown Showdown will be remembered for the "good news" and the "bad news." The "good news" was that there was a cool northerly breeze blowing through Charleston on a very mild mid-September day. With lower humidity levels and temps in the low 80's, competitors could go all out without the fear of overheating in the normally sultry low country environment. The "bad news" was that this "breeze" was sustained at 20 with 25 knot gusts, making for quite a challenge on the 9-mile Battery Course (Elite).
Standup paddle boarding in Charleston has grown over the past eight years from a small crew of folks standing surfboards to a strong community of talented paddlers who compete on a regional and even national level. Charleston's diverse and scenic waterways offer something for every kind of paddling: flat water in the rivers and creeks for leisurely paddles, SUP surfing on Folly Beach and Isle of Palms, and ocean swells for downwinding. Names like Jeremy Whitted, Don and Jenny Alderman, Justin Schaay, Stuart Schuck, and David Mello are building this sport the right way in Charleston. Not just through events like this, but by tearing it up in all kinds of conditions, all year long. These guys are not just out here on Bluebird Days, they are out in this open harbor and in the Atlantic when it's nasty and blowing. Alderman and Mello even represented the Holy City in this year's Molokai 2 Oahu, both on prone boards.
Click here for more SUP Racing news.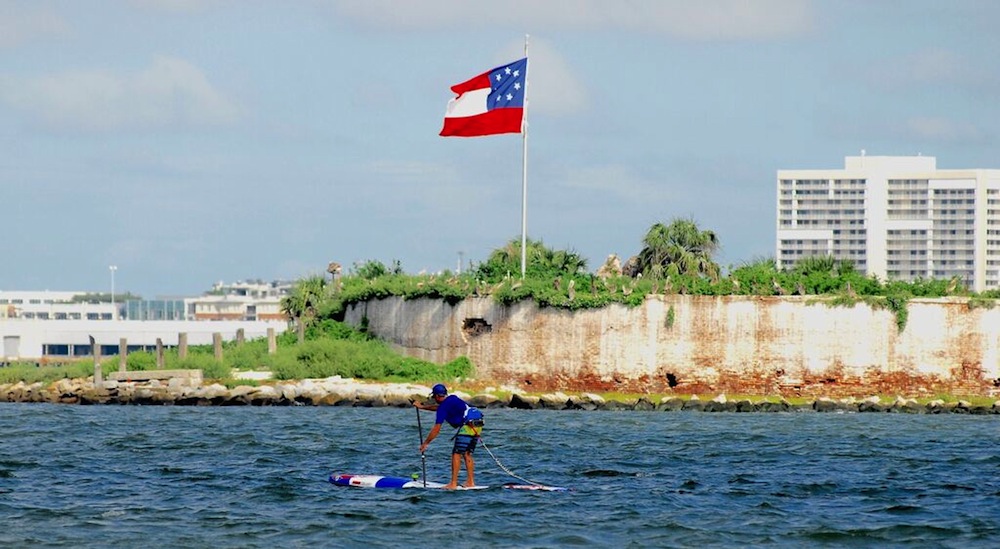 Justin Schaay at Pinckney. | Photo: (c) 2015 Brian M. Criscuolo
Charlestonians like to say, "The Ashley and Cooper Rivers converge to form the Atlantic." And this year, the Holy City treated paddlers to a heck of a race that began on the Ashley River, took paddlers on a scenic journey past the historic Charleston Battery, into the wind and current of the Charleston Harbor, to the edge of the Atlantic ocean, and back.
When the horn blew for the start of the Elite race, we raced east about two miles through the Ashley River and along the scenic Charleston Battery. This section of the race was totally sheltered and while we nestled up next to the world famous Battery and Rainbow Row, we had no idea what lay ahead of us. Once we turned the corner end of the peninsula and headed north into Charleston Harbor, we encountered a head up 20-25 knot wind pushing squarely against an incoming tide.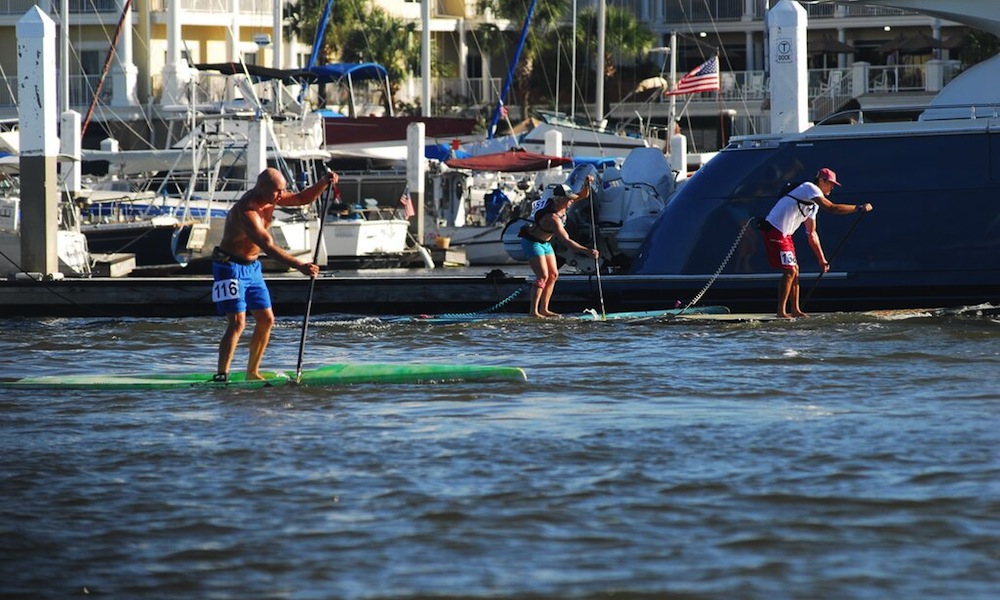 April Zilg (center), Women's winner. | Photo: (c) 2015 Brian M. Criscuolo
Wind and tide moving swiftly in opposite directions causes chaos in a larger body of water like the Charleston Harbor and today was no exception. The two mile uphill grind third to the fifth buoys was a [email protected]#$% (rhymes with witch). But we all assumed once we made that turn, we would have a nice downwind run to the end of Shutes Folly Island. But not today. A slight shift in wind, combined with current moving across the shallow bar, made for almost sideways conditions with little to no downwind runs. After turning west and heading back across the Harbor, left sided paddling was the only option until reaching the shelter of the Ashley River, where it was a sprint to the finish.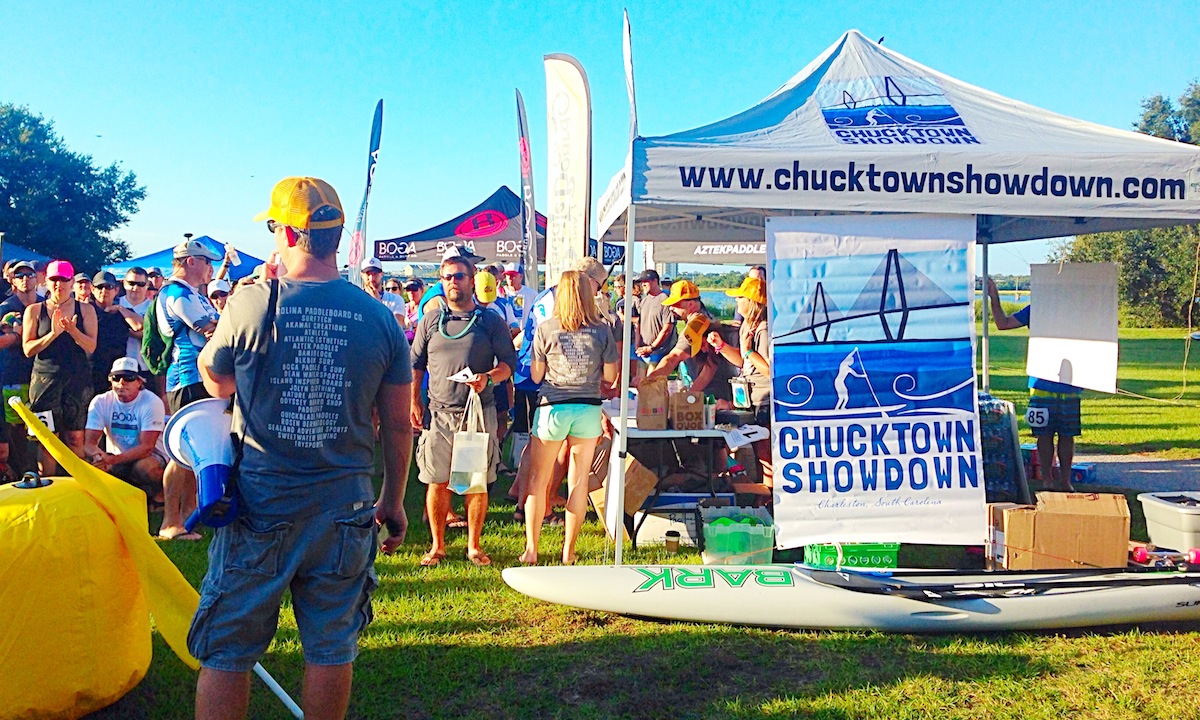 The 2015 Chucktown Showdown was definitely a year to be remembered. | Photo: Megan Bryan
The Men's Elite this year was won by Jeremy Vaine, with Jack Suave and Brian Meyer joining him on the Podium. The Women's Elite was won for the second year in a row by April Zilg, with Isabella Picard and Mab Mab finishing 2nd and 3rd. OC's and prone are really starting to take hold here in the Carolina's and this year's winners include local legend Don Alderman (Prone), Jason Coclough (OC-1), Billy Lempesis/TharinWalker (OC-2) and Eric Mims (Surfski). Ironman Rand Perkins smoked the 50+ field (including your's truly), Corey Taylor took the Men's 12-6 and Mini Crash took the Women's 14. The 4-Mile Battery Course had 101 competitors and was won this year by Steve Phillips and Sarah Callahan. Young charger Campbell Carter took the Kid's Race.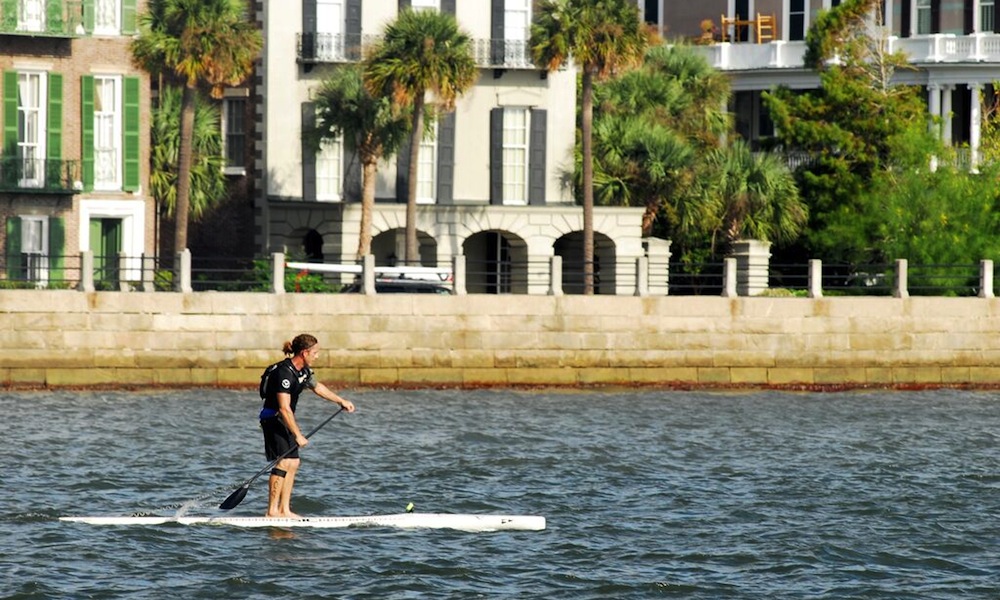 Jeremy Whitted mid-race on his SIC Maui X Pro. | Photo: (c) 2015 Brian M. Criscuolo
I (Haywood) have done this race before, but the 101 paddlers that took on this year's Harbor Course, under these conditions, are to be congratulated. It required stamina and skill, and it rewarded those paddlers that are well trained to handle Saturday's Sporty Conditions. As I told Chris Cannavaro after the race, I really appreciate the fact that the Charleston Crew has put together a course that includes community. Cannavaro is a leading ambassador for SUP in Charleston, "Our hope is that through more formal races like the Chucktown Showdown, we can grow the sport and the community around the sport, getting people on the water. We have a very welcoming community of paddlers in Charleston, and we are always open to new faces. SUP is a whole new way to enjoy Charleston. By growing the race we create an opportunity for new people to get involved and learn about paddle boarding. For people already in the sport these more formal races provide a competitive outlet for all their hard work." Cannavaro continues, "SUP has begun to take root in the Special Olympics and South Carolina sent a team to Charleston for this year's Showdown. We had an exhibition race and our community was able to present a check for $2500 to the Special Olympics."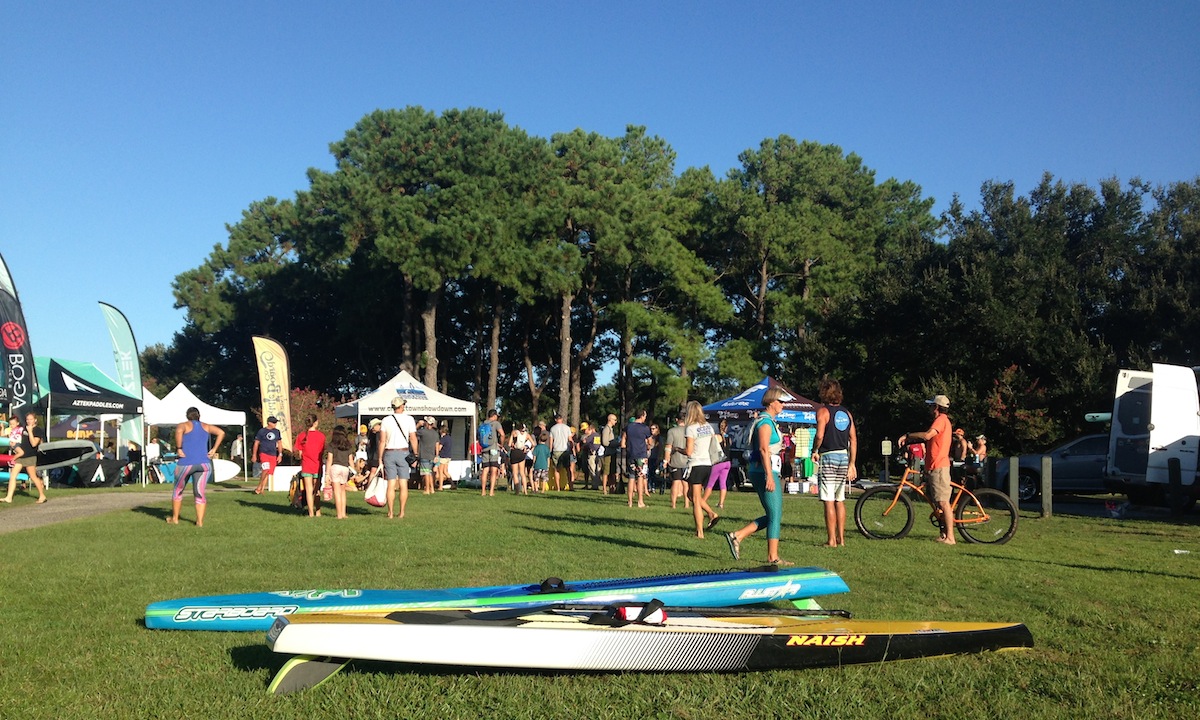 See you next year at the 2016 Chucktown Showdown! | Photo: Megan Bryan
For full Race results click here.
Last modified onTuesday, 29 September 2015 09:12

Wrightsville Beach, North Carolina - Haywood is the 5th Generation of a family that began exploring the waters of Wrightsville Beach in the 1820's and by the age of 7, Haywood had his first skiff. Fishing, crabbing, clamming, seine netting, surfing, hunting and water skiing are just some of what Haywood can do. When not surfing, you can find Haywood looking to catch some fish.
Website: https://www.facebook.com/haywood.newkirk
Email

This email address is being protected from spambots. You need JavaScript enabled to view it.