Paddle Boarder Survives Shark Attack Off Cape Cod Beach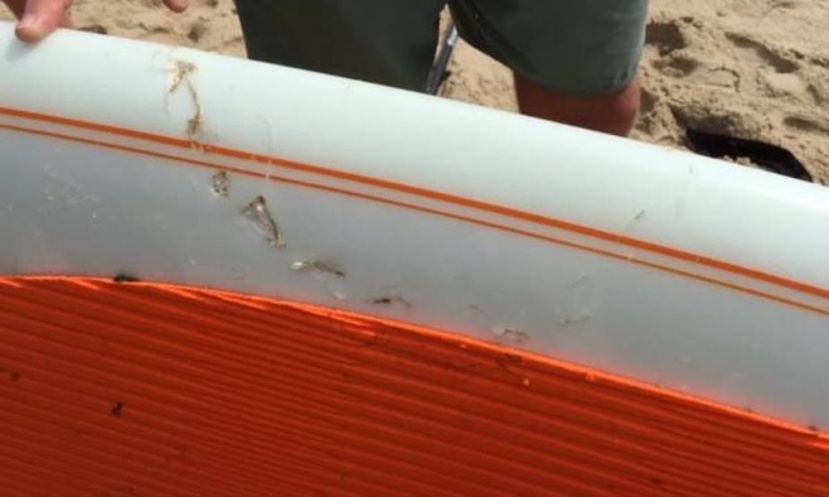 Courtesy: Cape Cod National Seashore
WELLFLEET, Massachusetts - Cleveland Bigelow was paddle boarding at Marconi Beach on Wednesday when a shark attacked his paddle board in only three feet of water. Thankfully the shark only took an exploratory bite on his board, and knocked the 69-year-old paddle boarder off of his board.
"The paddle board was bit," Interim Park Superintendent Kathy Tevyaw told the Boston Herald. "He was not. We got the call at about 10 o'clock this morning. We sent staff immediately… I think he was shaken up. I'm sure it was pretty overwhelming."
Bigelow escaped the shark encounter without being bitten, but suffered a leg injury when he fell into the water. "In this case it was board and it probably didn't taste good," Bigelow told WCVB5-ABC. "It said OK that's that… Definitely scary. I would be telling you a fish story if I said I wasn't scared."
The shark encounter happened around 2:00PM during high tide, roughly 75 yards south of the current lifeguard on duty. This paddle boarding spot is also very popular to seals. Since there was no follow up attack, it appears to be a misidentification of prey on the shark. To be safe, the Marconi Beach was closed until later that afternoon.
In addition to this attack, there has been an increase of shark activity in Cape Cod as of late. Sunday Coast Guard Beach in Eastham was closed to swimming due to shark sighting. Several Cape Cod beaches were closed after a shark attacked a seal near the shore of Nauset Beach on Monday, leading to closures to Ballston Beach, Longnook Beach, Coast Guard Beach and Head of the Meadow Beach in addition to Nauset Beach.
For more Shark related news click HERE.
Last modified onFriday, 25 August 2017 16:01
SAN DIEGO, California - Former editor for Dining Out San Diego Magazine, Randy Villarba has been featured in Culture Magazine, 90:00 Minutes Soccer Magazine and Mammoth Times. If Villarba is not paddling in his hometown of San Diego, chumming the waters in San Clemente or SUP fishing on one of his favorite lakes in the Sierra Nevada, he is working as a regular down at the La Jolla Comedy Store.
Email

This email address is being protected from spambots. You need JavaScript enabled to view it.