Introducing the 2014 Slingshot SUP Space Pickle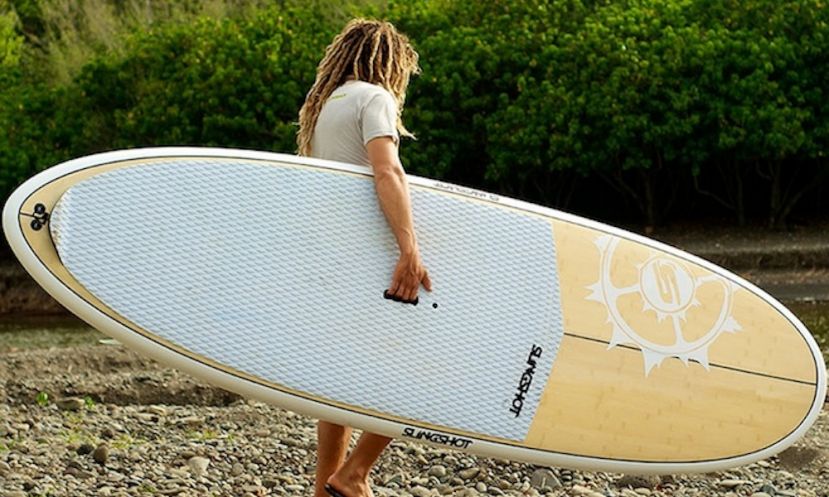 Video
Slingshot 2014 Space Pickle from Slingshot SUP on Vimeo.
Outline

---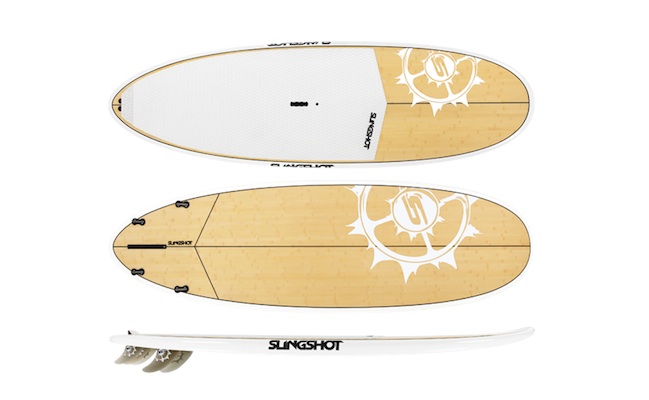 Description

---
2014 Space Pickle: All Around 8'6" / 9'4" by Slingshot SUP
It may have the same name as last year but the board shapes have changed and new sizes are now available. The new Space Pickle will SUP surf, wake SUP and flat-water SUP.
Its unique wide tail is now much more pulled in allowing a quicker release off the top of a wave. And with its kicked up nose there will be no nose pearling when you are late into your turn. The board is flat under foot then progresses to an aggressive "V" spine. The flatness under foot allows the board to track straight but the "V" spine allows you to carve rail to rail when you want to. Whatever size you choose you can catch waves early, shred behind a boat or hit the flat-water.
Based on Slingshot's Future Response Technology the Space Pickle is built with Wood Veneer Sandwich Construction (WVS). This proprietary construction controls the durability and flex of the board and the result is a proven lightweight, impact resistant board.
PADDLER PROFILE: Surf oriented paddlers looking for a stable performance surfboard that you can thrash in the ocean, kill it behind the boat and that will also track well on flat-water.
Features

---
Equipment: Stand Up Paddleboard

Equipment Use: SUP surf, wake SUP and flat-water SUP

MSRP $·- $1199.00 - $1249.00

Size: 8'6" or 9'4"

Other: unique wide tail

Other.2: An Agressive V-Spine

Other 3: Wood Veneer Sandwich Construction (WVS)

Manufacturer: Click Here for more info.
Links

---
More Information About Slingshot SUP
Notes: Drop a line on what you think about this product or if you've heard any feedback on it. Customer feedback is highly prized by the sup community and your thoughts, concerns, or questions may be in the mind of many of our readers. So, to continue to help us to serve this great stand up paddle community of ours, let us know what you think about this product and encourage your friends and family to get involved and drop their thoughts on the sup gear posted on Supconnect. Thanks a lot, keep paddling and help us to share the sup stoke!
© Copyrighted & Exclusive SupConnect.com Content.
.
Last modified onWednesday, 24 June 2015 15:31
Email

This email address is being protected from spambots. You need JavaScript enabled to view it.