Groms Dominate And Impress At 2016 SupFiesta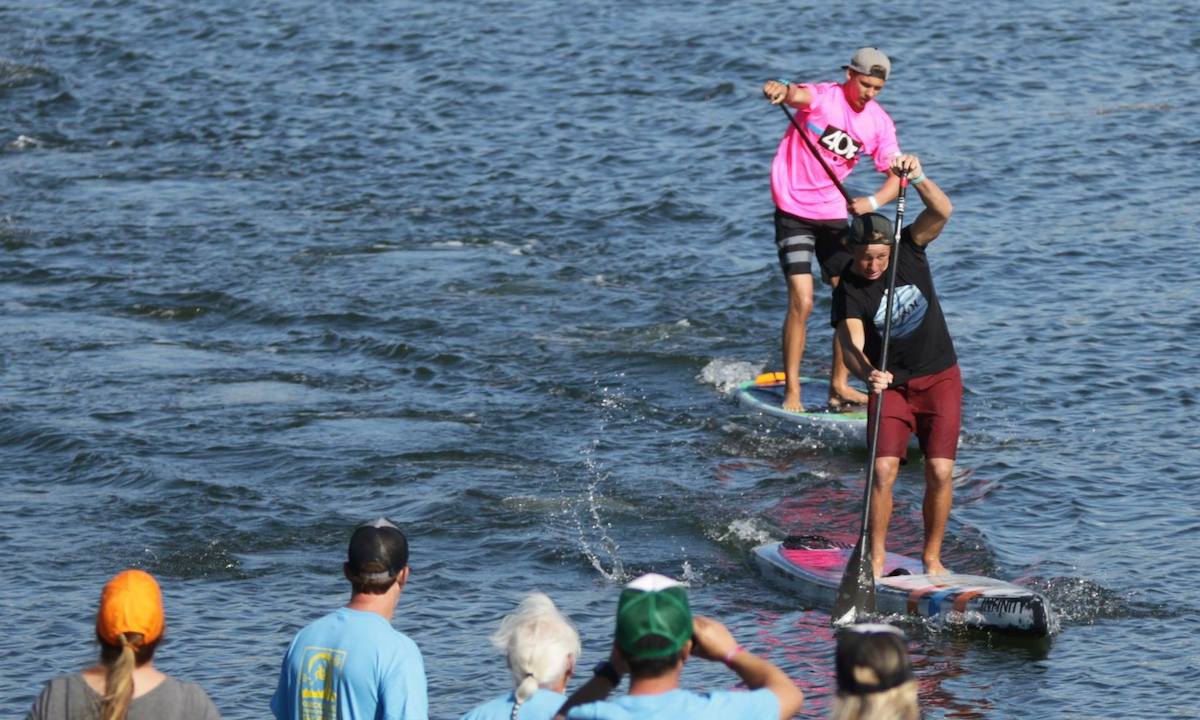 Noa Hopper and Harry Maskell battling it out. | Photo: Mike Muir
NEWPORT BEACH, California - Last weekend 72 youth SUP competitors, from six different countries, gathered in Orange County for the 4th Annual Quickblade Jr Pro & Youth SupFiesta presented by Infinity SUP. The SupFiesta Grand Prix racing was about as exciting as it gets. Athletes competed in two different races, the Flyin' Mile and the SUP Scramble, and their overall results were based on a combination of the two performances.
In the 15-17 boys division San Diego's Noa Hopper and Australian Harry Maskell battled it out for the win in the Flying Mile with Noa taking the win and Harry 2nd, respectively. Max Fleming from Dana Point was a close third. In the SUP Scramble Harry Maskell led from start to finish strong, holding off a deep field including San Francisco's Haakon Hoyer Nielson and Peru's Itzel Delgado. With a 1st in the SUP Scramble and a 2nd in the Flyin Mile Harry would be the overall winner. Noa Hopper also had a 1st and 2nd, but being that the SUP Scramble was the tie breaker, favor went to Harry Maskell. Max Fleming rounded out the podium, with two strong 3rd place finishes.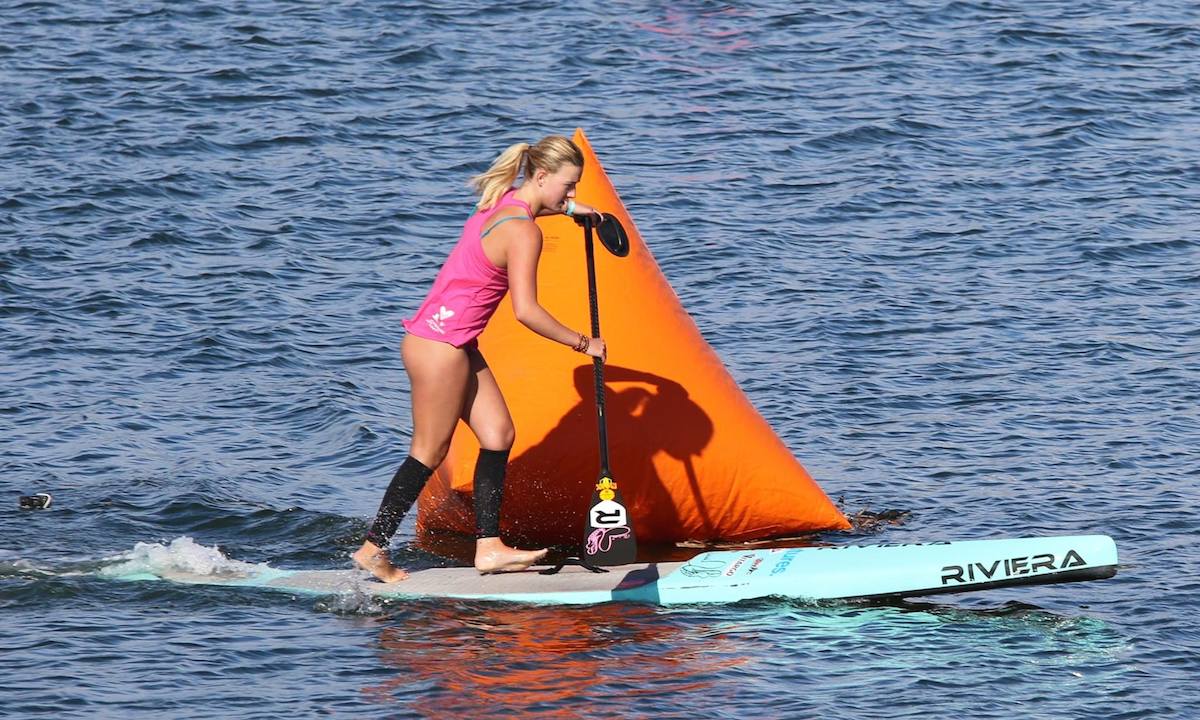 Shae Foudy was a dominating force in the 15-17 girls winning both races. | Photo: Mike Muir

The 15-17 girls would feature local Shae Foudy putting on a dominating performance winning both races. Kali'a Alexiou from Santa Cruz, finished second in both, and Japan's Yuuka Horikoshi finished 3rd in both races keeping the results consistent through the races.

In the ultra competitive 12-14 boys division local paddler Trevor Bashor, put some distance on second place finisher Trent Carter from Lake Tahoe who also separated himself from the rest of the pack. In third Elijah Schoeing showed great form. Then there was a three-way tie in points for the 4th spot between Dave De Armas from Puerto Rico, San Diego's Gavin Mencinsky, and Keaton Rose from Dana Point. In the end it would be Gavin that would take the 4th position with his 4th place in the SUP Scramble.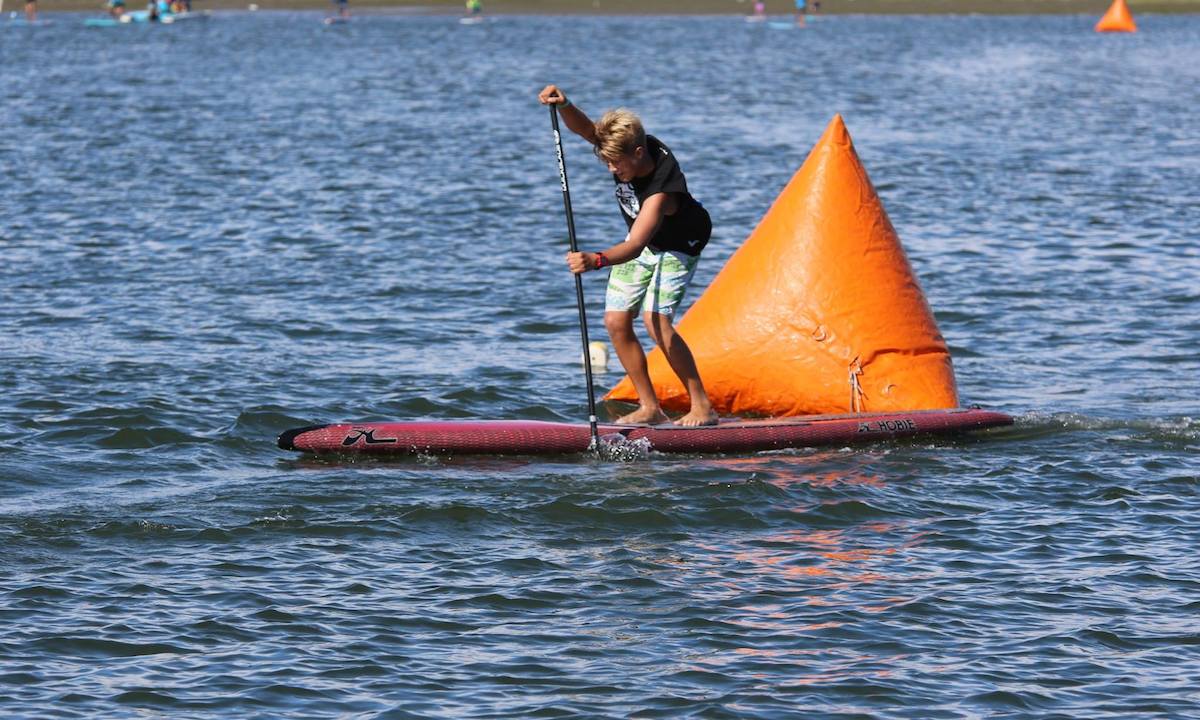 Keaton Rose. | Photo: Mike Muir

Boasting the largest field of all 7 divisions, the 12-14 girls division saw some close and very intense finishes. Lexi Alston would win the Flyin Mile and the SUP Scramble just ahead of Alex Higginson and Jade Howson. On the last turn of the SUP Scramble while Jade was trying to move from third into second, and Alex trying to make a move for first on Lexi, all three girls ended up falling in the water. With great poise all three were able to jump back onto their boards and maintain their placings.

In the boys 9-11 division competitors would battle with their 11' boards in the Mini Flyin Mile and the same SUP Scramble course as the older groups. Rhys Staples from Utah would win the division with two 1st place finishes followed by San Clemente paddler Conrad Rojas, with two 2nd place finishes. Third would go to Lake Tahoe's Tripp Boyer who was one of the new faces to the SupFiesta.

Malaya Ring from Dana Point powered herself to a victory in the Mini Flyin Mile and the SUP Scramble to win the girls 9-11 division. Kayla McLaughlin would finish 2nd with Shyanne McWilliams in third.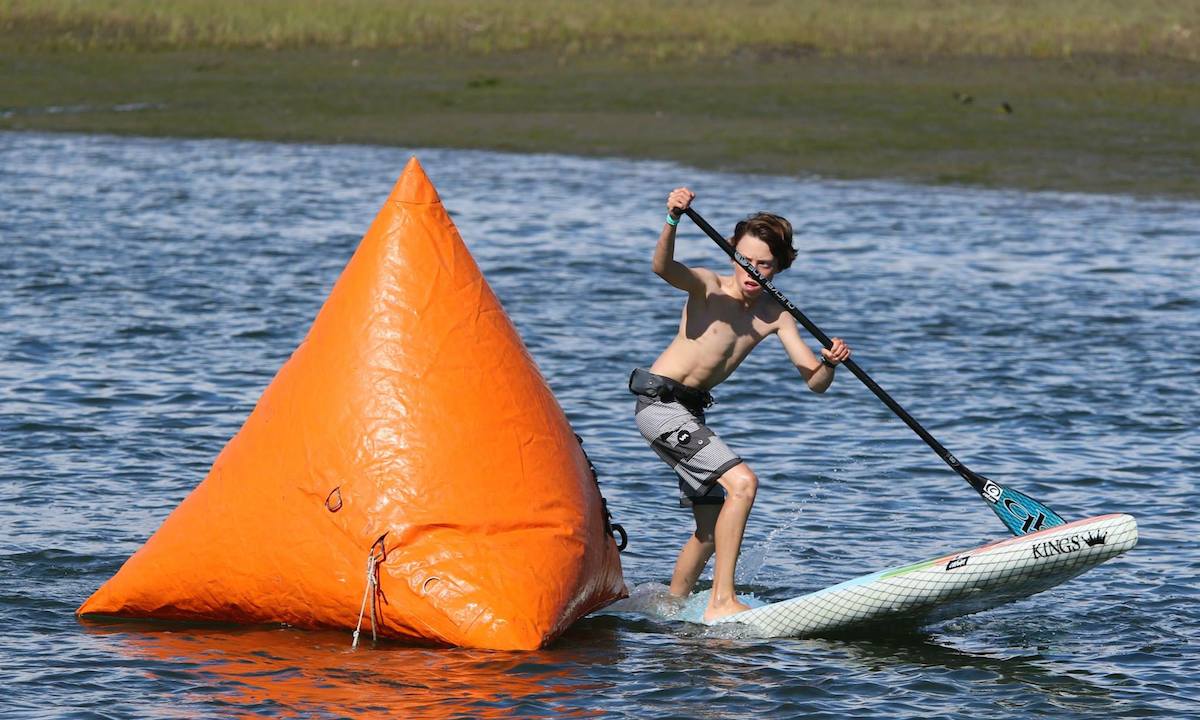 Trevor Mencinsky was a stand out for the 8 and under age group. | Photo: Mike Muir

Five inspiring kids 8 & Under would challenge themselves in the SupFiesta Grand Prix. For the second-straight year San Diego's Trevor Mencinsky championed in the youngest age group of the event. In second Shane Kiley would finish with two second place finishes and Molly Siverts in third. With grit and determination on his face as he ran through the finish in 4th was Logan Cuda.

Thanks to Billy, Kelly, and the entire Newport Aquatic Center staff for helping make the SupFiesta Grand Prix possible. The evening ended with a delicious taco dinner, Jr Pro autograph signing, and awards.

On Sunday, day two of competition, anticipation could be felt on the beach as competitors walked onto Bolsa Chica for the SUP surfing portion of the 4th Annual Quickblade Jr Pro & Youth SupFiesta presented by Infinity SUP. After the athlete briefing, everyone was treated to an accapella version of the National Anthem, sung by Constance and Elise Brown, and followed by a morning blessing by Candice Appleby.

Taking advantage of the glassy conditions, the Jr Pro heats began with high scoring waves and the contest would see exceptional surfing throughout the day. The consistent waves were in the waist to chest high range, with a few bigger sets, providing plenty of scoring potential. Twenty-six heats, and 729 total waves later, champions were crowned, but more importantly lasting friendships were formed in and out of the water.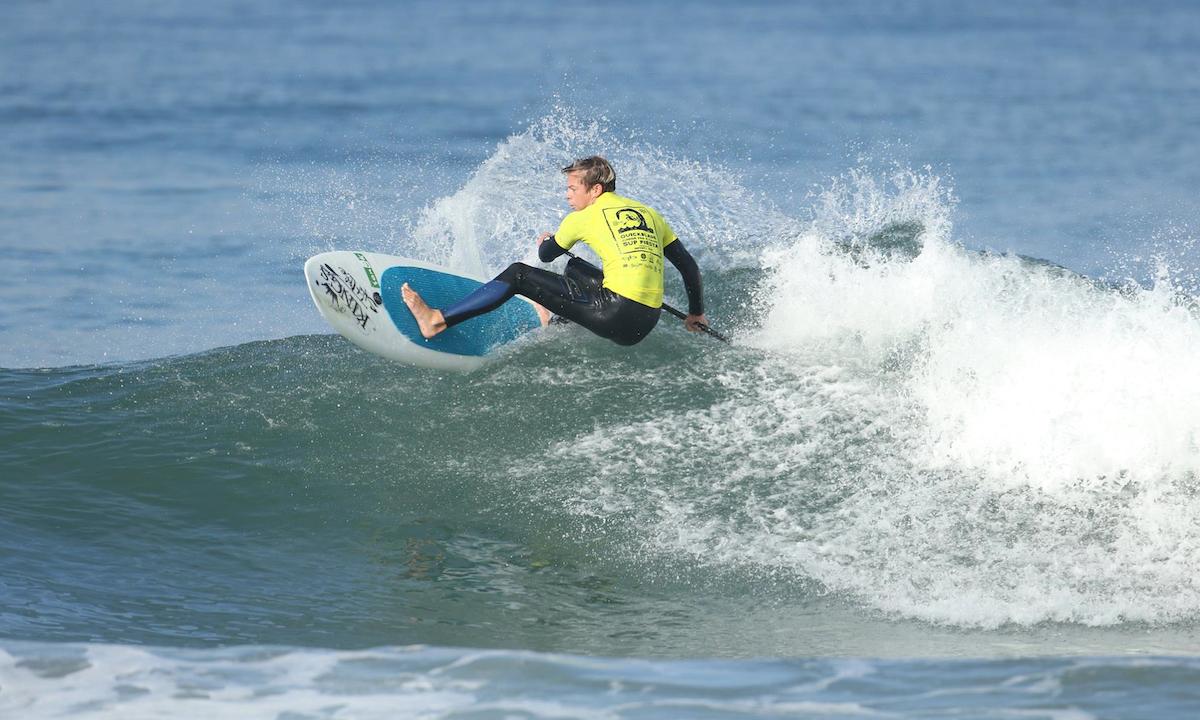 Max Fleming. | Photo: Jerry Jaramillo
Once the finals began the competition was non stop. The judges had their work cut out for them with many surfers catching their maximum of 12 waves in the 20 minute finals. The Jr Pro's were treated to live scoring during their heats where each competitor knew exactly what scores they had, and what they needed. While the age group competitors focused on surfing their heat, then had to wait eager with anticipation until the awards to know their results.

As the Jr Pro rounds continued through the day we saw some of the closest semi-final heats in the events 4-year history. In both of the girls' Jr Pro semi-final heats there were several lead changes and the final outcome of both heats was determined in the last few minutes. The same thing would ring true in the boys' division. In the end the four finalists for the girls were Sasha Ka'uhane from Oahu in 4th, Mason Schremmer from Oahu in 3rd, Skylar Lickle from Maui in 2nd, and Yuuka Horikoshi from Japan in 1st taking home "El Sombrero". The boys' finalists were Australia's Nic Walker in 4th, Noa Hopper in 3rd, Brazil's Felippe Gaspar in 2nd, and Harry Maskell from Australia in 1st.
Harry Maskell in 1st for the Junior boys. | Photo: Jerry Jaramillo

New to this year was a combined award to the competitor in each age division that placed the highest in the race & surf contest combined. This year's overall SUP performers were Trevor Mencinsky (8 & Under), Malaya Ring (9-11 Girls), Conrad Rojas (9-11 Boys), Jade Howson (12-14 Girls), Tyler Bashor (12-14 Boys), Yuuka Horikoshi (15-17 Girls), and Itzel Delgado (15-17). Of those overall performers the two that stood out for the top points were Conrad Rojas and Jade Howson, who both went home with Overall Event Age Group Wins and shiny new Quickblade paddles.

Infinity Sup also came through with the "Paddle Like A Freak" Breakthrough Performer Awards who were given to two incredible athletes who both came from the snowy mountains to turn major heads. On day one Rhys Staples from Park City, Utah, blitzed the 9-11 Boys field in both races and backed it up with a 3rd place in his age groups for surfing on day two. On day two Delila Quinn from Lake Tahoe turned heads as she ripped her way to a strong 2nd place finish in the 12-14 girls surfing, on her brand new Infinity RNB, finishing ahead of three Junior Pro invitees (Lexi Alston, Annie Reickert and Sasha Kauhane). These two kids truly paddled like freaks to each win a $500 shopping spree at the Infinity Shop in Dana Point, California.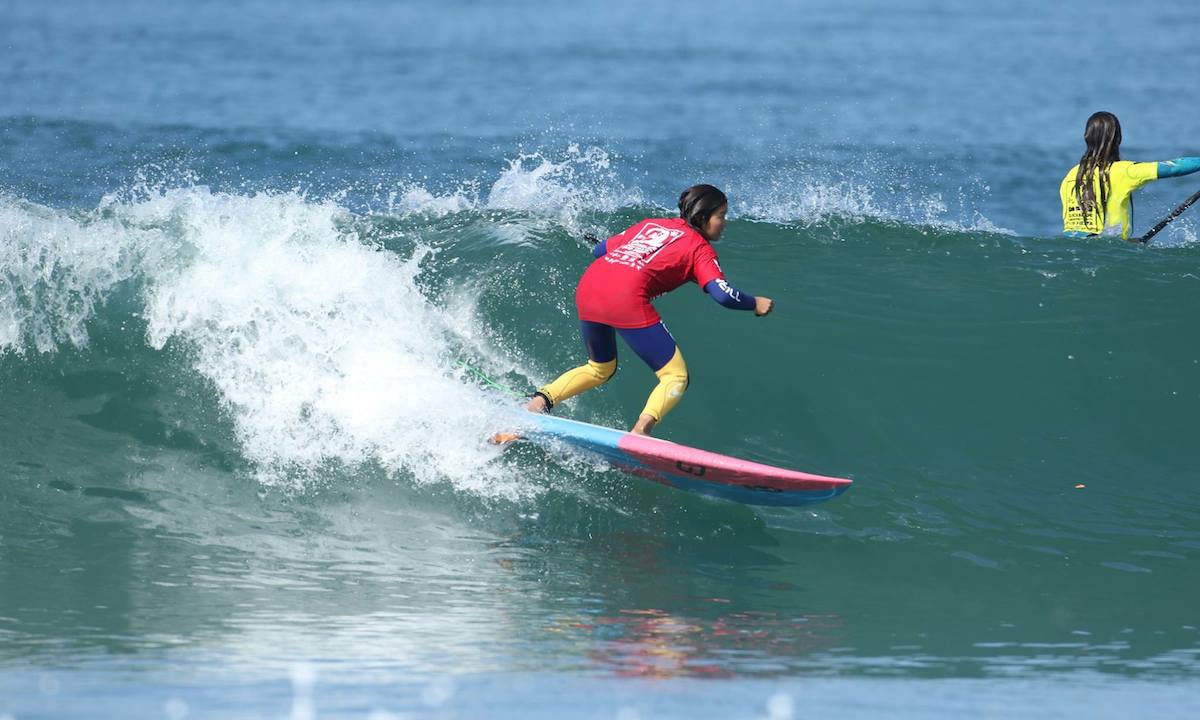 Yuuka Horikoshi winner for the Junior girls. | Photo: Jerry Jaramillo

Candice Appleby and Anthony Vela would like to thank all the parents for their tireless efforts loading and unloading boards, driving to events, and much more. Thanks to the State of California and the Newport Aquatic Center for the use of their venues. Thanks to everyone who had a helping hand in the event including La Familia, sponsors, and spectators. And thanks the kids who gave it their all at the 4th Annual Quickblade Jr Pro & Youth SupFiesta.

Thanks to La Familia: Mel Wygal, Jack Wygal, Susie Kiley, Kristen Thomas, Karl Ring, Lynelle Ring, Dave Boehne, Brent Pascoe, Justin Van Dyke, Mike Mauri, Jason Meffe, Chris Sinatra, Winston Sam, Scott Cuda, Jen Cuda, Caleb Havens, Mark Brown, Pam Brown, Constance Brown, Elise Brown, Michelle Goossen, Bob Goossen, Dillon Melamad, Adam Jewell, Randy Gilkerson, Mike Stidham, Richard Dominguez, Phil Hewett, Sol Campos, Tim Miliken, Pat Higginson, Diane Wenzel, Terri Plunkett, Christina Pruess, and the NAC staff.

Thanks to our sponsors: Quickblade, Infinity SUP, SuptheMag, Maui Jim, Salt Life, Sweet Waterwear, Daphne's, Purps, Onit Pro, Boga, FCS, Hamboards, Anchorfish Screen Printing, Victory Koredry, Hurley, Volcom, Kind Snacks, Cobian, Mamma Chia, Santa Monica Pier Paddle, and Renic Gear.
Sunday Surf Results
8 & Under
1st Trevor Mencinsky
9-11 Girls
1st Scarlett Schremmer
2nd Malaya Ring
9-11 Boys
1st- Dax McPhillips
2nd Conrad "C-Rad" Rojas
3rd Rhys Staples
4th Zen Quinn
5th Tripp Boyer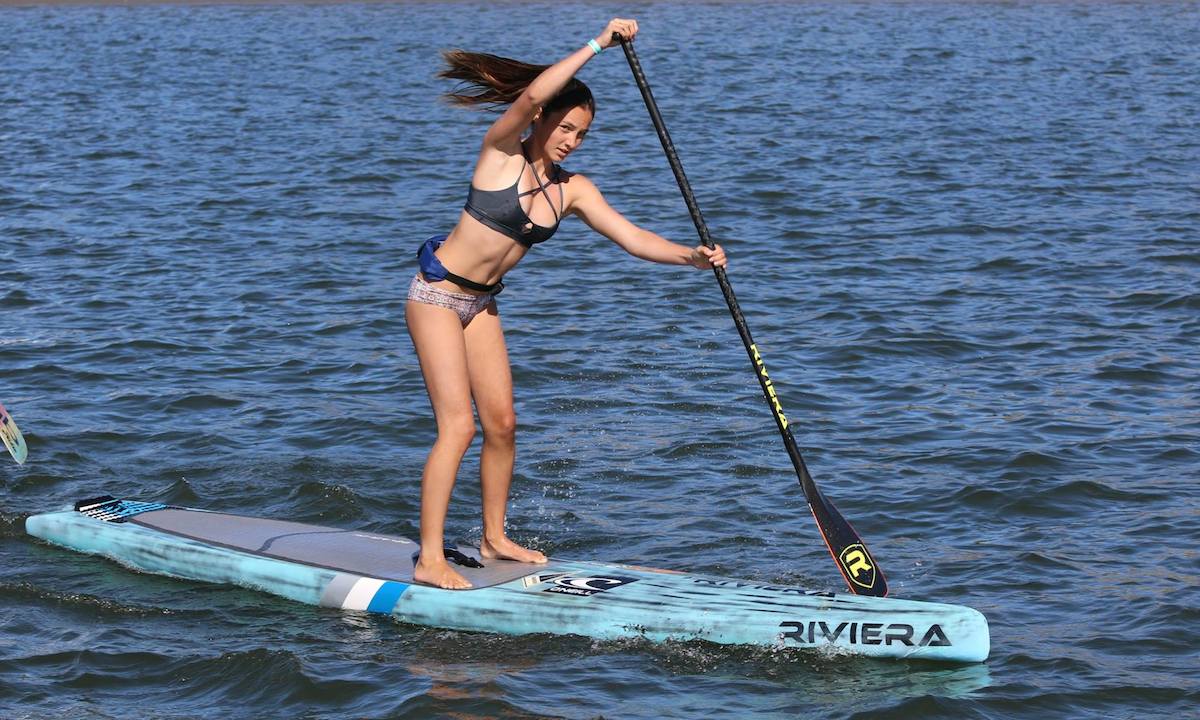 Jade Howson was a standout in the girls competition. | Photo: Mike Muir
12-14 Girls
1st Jade Howson
2nd Delila Quinn
3rd Lexi Alston
4th Annie Reickert
5th Bryn Kurt
6th Sasha Ka'uhane
12-14 Boys
1st Finn Spencer
2nd Kai McPhillips
3rd Gavin Mencinsky
4th Elijah Scheonig
5th Tyler Bashor
6th Zeke Rose
15-17 Boys
1st Itzel Delgado
2nd Trevor Bashor
3rd Will Marston
4th Patrick Cleveland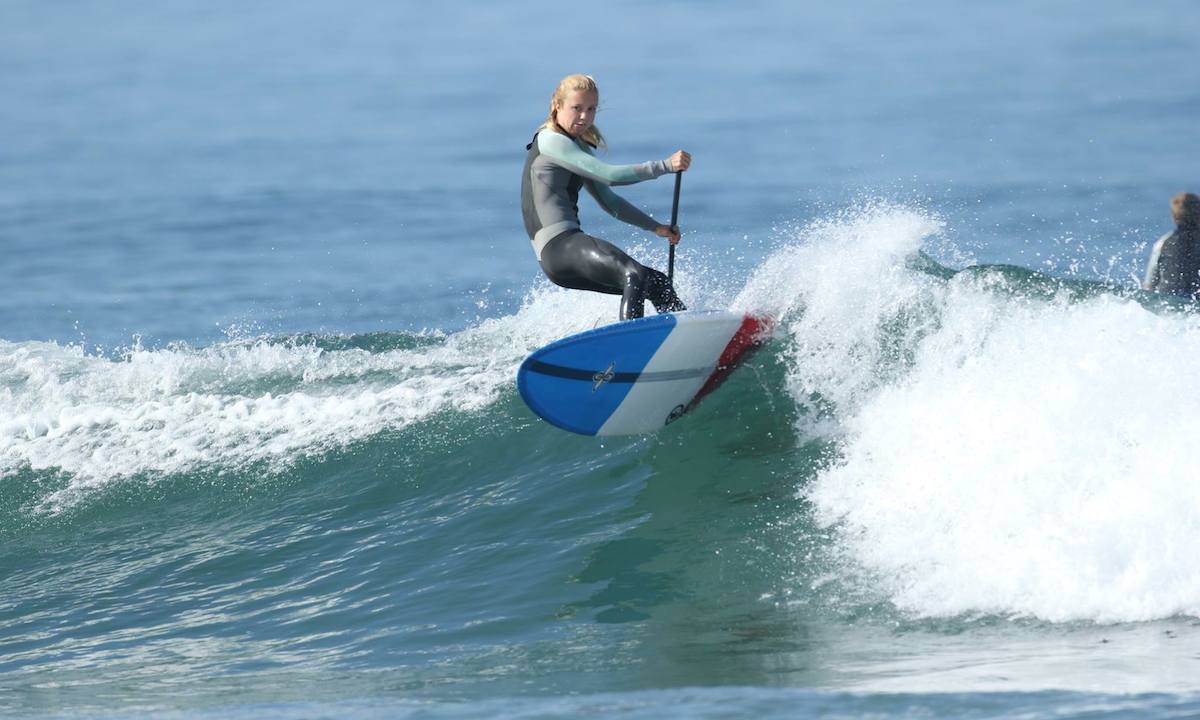 Delila Quinn, another standout for the girls. | Photo: Jerry Jaramillo
Age Group Overall Sup Performance Awards
8 & Under: Trevor Mencinsky
9-11 Girls: Malaya Ring
9-11 Boys: Conrad "C-Rad" Rojas (Quickblade Overall Event Performer Male)
12-14 Girls: Jade Howson (Quickblade Overall Event Performer Female)
12-14 Boys: Tyler Bashor
15-17 Girls: Yuuka Horikoshi
Special Awards
Report Card Improvement Award (FCS): Delila Quinn
Academic Excellence Award (FCS): Will Marston
Sportsmanship Award Male (IndoBoard): Miles Harvey
Sportsmanship Award Female (IndoBoard): Shae Foudy
Infinity SUP "Paddle Like a Freak" Breakthrough Performer Female: Delila Quinn
Infinity SUP "Paddle Like a Freak" Breakthrough Performer Male: Rhys Staples
Junior Pro Girls
1st Yuuka Horikishi, Japan $1,000
2nd Skylar Lickle, Maui $750
3rd Mason Schremmer, Oahu $500
4th Sasha Ka'uhane, Oahu $300
Junior Pro Boys
1st Harry Maskell, Australia $1,000
2nd Felippe Gaspar, Brazil $750
3rd Noa Hopper, California $500
4th Nic Walker, Australia $300
Last modified onThursday, 12 May 2016 20:57

Submit your news, events, and all SUP info, so we can keep promoting and driving the great lifestyle of stand up paddling, building its community, and introducing people to healthier living.
Website: supconnect.com
Email

This email address is being protected from spambots. You need JavaScript enabled to view it.