Fiona Wylde Wins Sunset Beach Pro in Solid Surf
Fiona Wylde, 2019's Sunset Beach Pro champ. | Photo: APP World Tour
SUNSET BEACH, Oahu - After a dramatic and challenging day of competition, Fiona Wylde has been crowned the Women's Sunset Beach Pro Champion for 2019. In the lead up to the event, Fiona was looking quietly confidant and self assured in the tricky line-up at Sunset Beach, rapidly gaining respect amongst the local community for her approach, positioning and bravado at this powerful North Shore break. This carried on through the event itself, as Fiona calmly worked her way through the rounds to make the final, and put on a performance to remember, picking off the best waves of the heat and surfing them with speed, power and flow.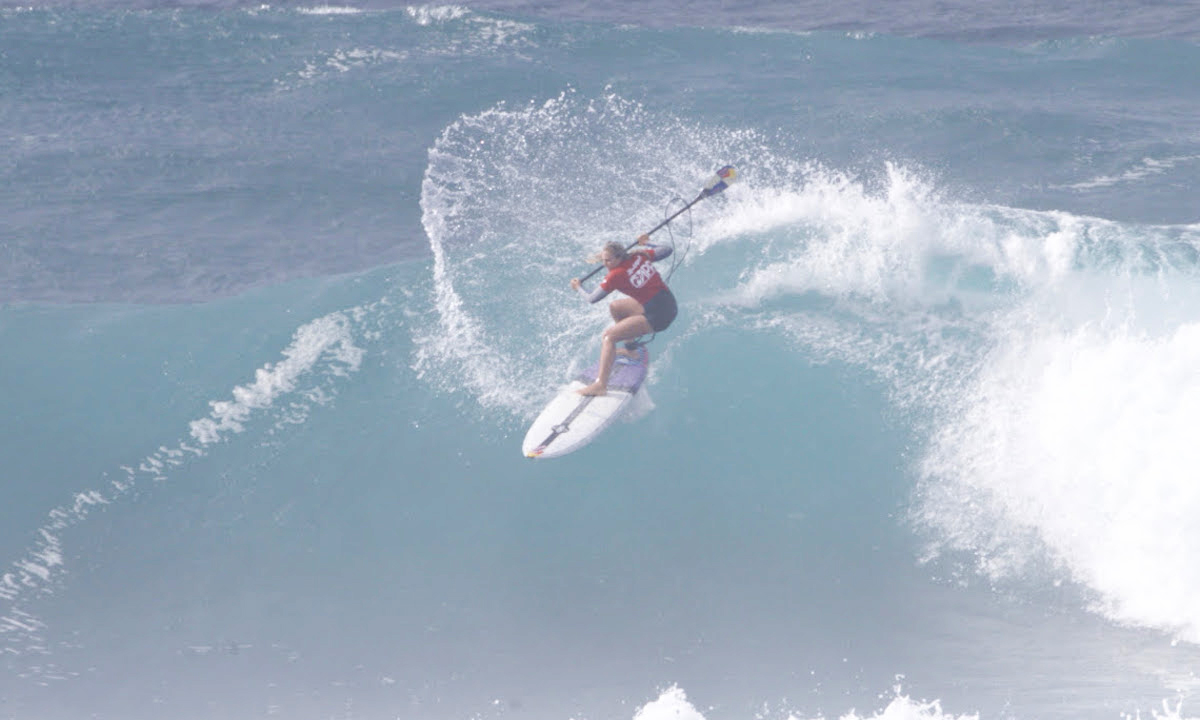 Izzi Gomez posts some of the highest scores of the event, finishing in a close second to the on form Fiona Wylde. | Photo: APP World Tour
After two consecutive years of finishing second to multiple times World Champion Izzi Gomez here in Hawaii, (firstly at Turtle Bay and then at Sunset Beach in 2017), Fiona was able to prove that third time was the charm this year at the Sunset Beach Pro presented by Local Motion. While Izzi Gomez has become used to being on the top of the leaderboard, with multiple World Titles to her name, 2nd place is still an incredible achievement for this young talent when you consider the caliber of competition on the APP World Tour these days, as Izzi continues to redefine the boundaries of performance SUP Surfing.
Posting some of the highest single scores of the day, coming into the final, Izzi was certainly the one to watch out for, especially given that she had won here at the last edition of the Sunset Beach Pro back in 2017. She put on a solid performance through the final and put it all on the line for victory, but came in just shy of the score she needed to take the win, having to settle for second.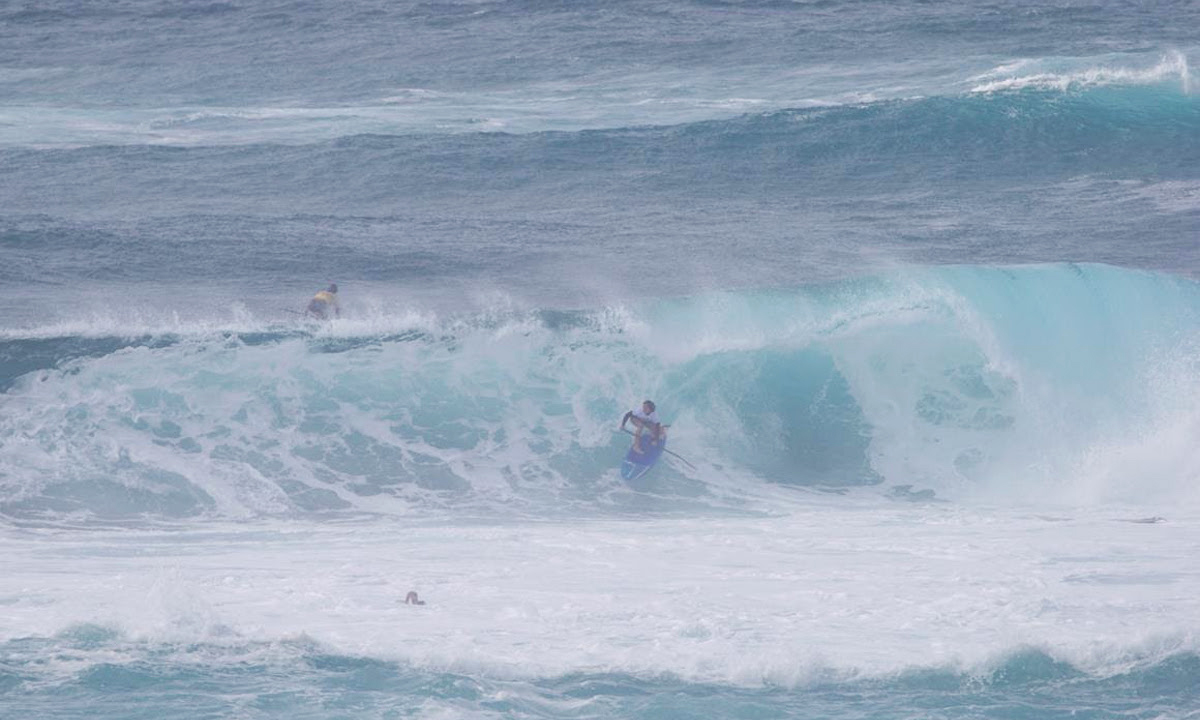 Shakira Westdorp once again showcases her no holes barred approach to surfing Sunset to finish in 3rd. | Photo: APP World Tour
Shakira rarely backs down and never walks away from a challenge, and her performance at this event was a testament to this, with a courageous performance from start to finish that saw her secure third place in an incredibly competitive final. On her backhand at Sunset, Shakira continued to attack the line up as if it were 2ft, and pulled into a thick barrel in the bowl that brought the crowd to their feet in the closing stages of the final.
Shakira is without doubt one of the most talented and capable surfers on Tour, and is a true title contender. With just 1 from 4 events now complete, and a 3rd place in her scorecard, Shakira Westdorp will be one to watch out for as we progress through the season.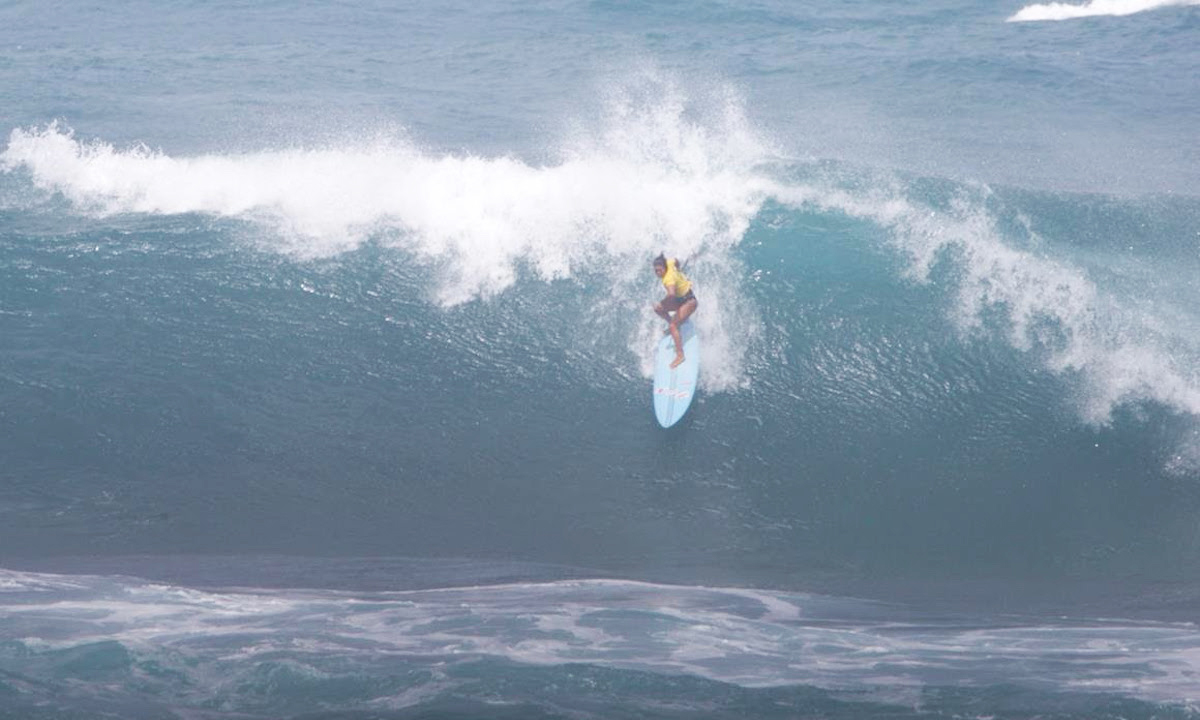 A late charge in the semi finals sees Aline Adisaka complete the final after a strong performance at this year's Opening stop. | Photo: APP World Tour
Aline Adisaka is one of the most friendly characters on tour. However, do not let her smile deceive you - she is a fierce competitor, and that showed over the weekend at Sunset Beach, as she fought her way back from behind in her semi-final heat to edge ahead of an on form Vania Torres to earn her well deserved place in the prestigious women's final. Aline's surfing is looking confidant this year, and her wave lecture sharper than ever. As a result, she will be another character to keep an eye on as we progress through the 2019 season as the Title Race heats up after stop 1 of the APP World Tour.
The scene has been set for an incredible year ahead for the Women on the APP World Tour, as the most competitive field yet has assembled to open the year in style and set the tone for the events to come. With New York and Barbados to follow in September and November respectively, and then Las Palmas de Gran Canaria to close out the year in December, it is going to be the most exciting year yet for Women's SUP Surfing.
Men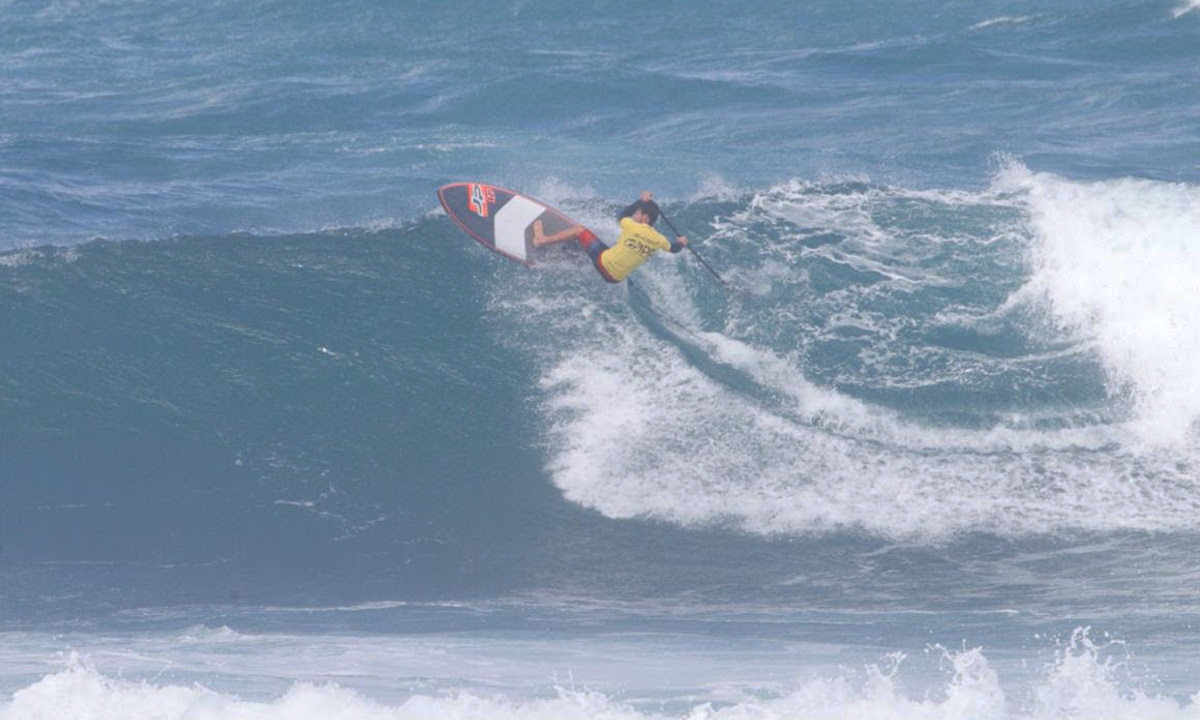 Poenaiki Raioha attacking the lip. | Photo: APP World Tour
It was non-stop action in the men's division as we saw some incredible performances across the board as we caught our first glimpse of the seeded top 24 athletes in action in some more solid surf at Sunset Beach. Stand outs from the weekend's action included Poenaiki Raioha from Tahiti, who continues to shine after his groundbreaking win in Las Palmas de Gran Canaria back in December. However, Wellington Reis' (Brazil) backhand surfing out at Sunset is looking deadly, and James Casey's powerful approach to Sunset did not go unnoticed.
Also standing out were the two Hawaiian athletes Zane Schweitzer from Maui and Mo Freitas from Haleiwa, here on the North Shore of Oahu, as they matched power with power out at Sunset and demonstrated that they were both clearly in their comfort zone in the larger surf. It was great to see Justin Holland back in action and putting on a solid performance in his Round 3 victory, while 2x Sunset Beach Pro Champion from Brazil, Caio Vaz put on an impressive performance to take victory in his Round 3 heat. The final real stand out in this round was Keahi de Aboitiz from Australia, who put on a masterclass of his relaxed, yet radical approach to surfing Sunset, and is definitely someone to watch out for as we come into the Final day of competition as early as this Tuesday.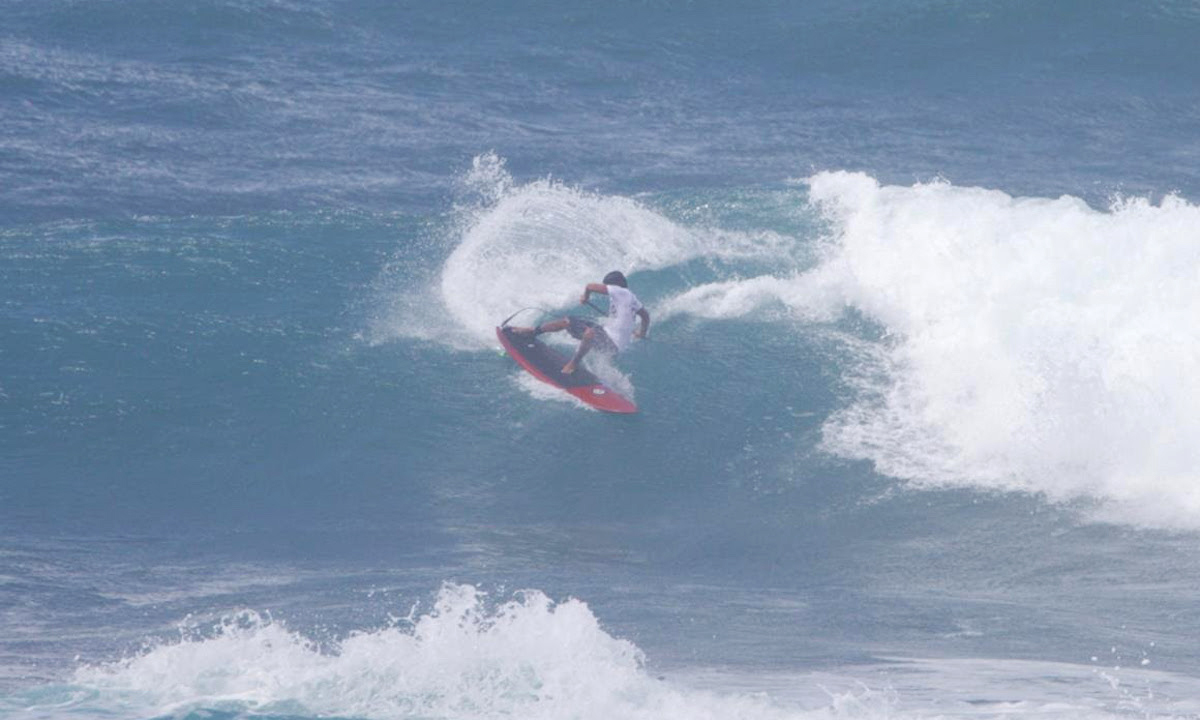 Maximilian Torres continues his surge at Sunset Beach to take victory in the U16 division with another impressive performance. | Photo APP World Tour
The final division to be contested today was the U16 youth division, as the sport's future stepped up to do battle in full size surf at Sunset Beach. Of note, 9-year-old Bobo Gallagher took on waves that were somewhere in the region of quadruple overhead for him, and put on a valiant performance in these challenging conditions, clearly catching the world's attention.
However, much like the first day of competition, it was Puerto Rico's Maximilian Torres who stole the limelight and claimed victory in the U16 division with another high performance show out at Sunset Beach. Of note, he is still in the draw, now in Round 4 of the main event as he continues to make a name for himself here at the opening stop of the 2019 APP World Tour.
Daniel Cesar Ferlin from Brazil, youth champion from 2018 once again showed great form, finishing in 2nd place, while Zane Saenz from Oahu finished in 3rd with a spirited performance. Zane was followed by the next Freitas talent to come through the ranks, Marvin, and after Marvin, the young Bobo in 5th.
Check out the highlights, pictures, updated draws and much more from today's competition and stay tuned for the Tuesday morning call at 7am HST as well as all the action LIVE at www.appworldtour.com and @appworldtour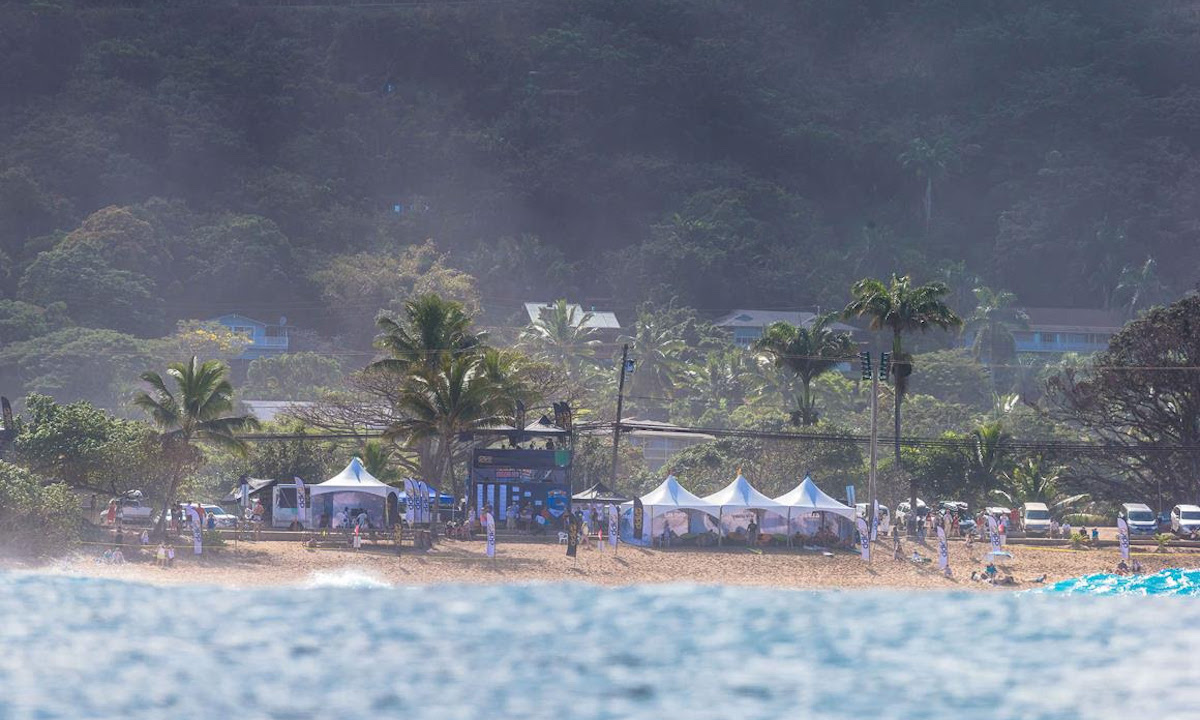 Sunset Beach. | Photo: APP World Tour
About the APP World Tour and Waterman League International
The APP World Tour is the Professional World Championship Tour for the Sport of Paddlesurfing (also known as SUP / Stand Up Paddling / Paddleboarding), officially sanctioned by the IOC recognized Federation for Surfing Sports, the ISA (International Surfing Association). Re-branded in 2017 as the APP World Tour (previously known as the Stand Up World Tour and Series) the APP has been crowning the sport's World Champions for both Men & Women across Racing and Surfing since 2010.
Last modified onMonday, 18 February 2019 09:42

Submit your news, events, and all SUP info, so we can keep promoting and driving the great lifestyle of stand up paddling, building its community, and introducing people to healthier living.
Website: supconnect.com
Email

This email address is being protected from spambots. You need JavaScript enabled to view it.