Day 2 Surprise Results for Abu Dhabi All Stars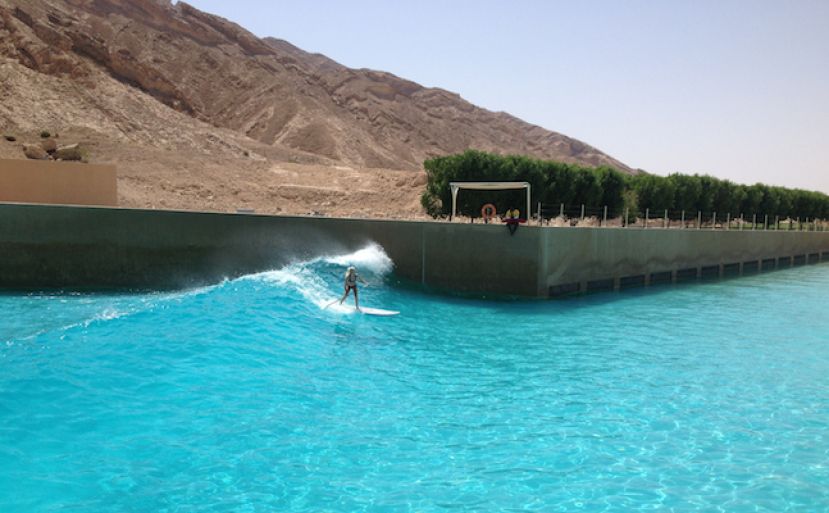 Abu Dhabi All Stars had an epic Day 2 - This is Mason Schremmer, the youngest competitor (13) in the group. Photo by: Anthony Vela
ABU DHABI, United Arab Emirates - It was another full and dramatic day at Wadi Adventure Park in Al Ain, for the 2nd day of the Abu Dhabi All Stars. The action started with a warm up session for the women and then headed straight back into heat #13 through 16 to complete the first round of men's action.
Stand out performances through the completion of Round 1:

Stand outs from these last 4 heats of Round 1 were Beau Nixon (Naish) from Australia, using his powerful surfing style to advance directly through into Round 3, but also Kai Lenny (Naish) from Maui, 3 x World Champion, who put on a flawless performance in his first round heat to match Sean Poynter's (Starboard) highest heat score total for round 1 to tie atop the 1st round Leaderboard.
Women's 1st round sees strong performances across the board:
It was then straight into the 1st round of the women, as we saw current World Champion and ratings leader Nicole Pacelli continue with her great form this year. She had another strong opening performance, securing the highest heat score total of the first round.
Other standouts were fellow Brazilian Aline Adisaka (New Advance) and the young Floridian Izzi Gomez (Starboard) who is seemingly unstoppable right now here on the Stand Up World Tour. Izzi has won 3 out of 6 events.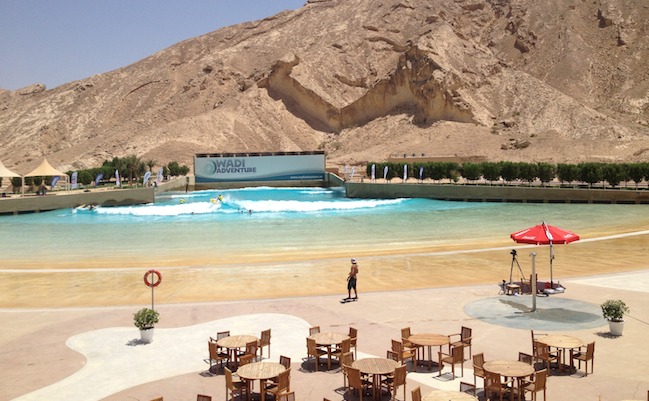 The Abu Dhabi Wadi Adventure Pool - Photo by: Anthony Vela
Men's Repechage round sees athletes putting it all on the line to progress:
The repechage format created a sudden death scenario that provided an exciting extra twist to the event, but that also provided another chance for riders to break back into the running if they fell short in the first round. With 10 heats of 2 athletes (total of 20 athletes), all vying for four spots in Round 3, the pressure was on!
Stand outs in the Repechage round were Giorgio Gomez (Starboard) from Florida, Daniel Hughes from Huntington Beach California and Connor Baxter (Starboard) from Maui, with Remi Quique (F-One), making the final slot advancing through into Round 3 with a solid performance at Wadi Adventure Wave Pool.
Bartlow and Piana make it through the nerve wracking Repechage:
With the Top 16 men confirmed, it was time to decide the final 2 women athletes who would go on to join the Top 6 that had already advanced in the quarter-finals. In the end it was to be Sophia Bartlow who put on a dominant performance and made the cut, followed by the Abu Dhabi All Star from 2013, Olivia Piana (Fanatic) from France.
Round 3 gets off to a flying start, with the first half already complete:
Round number 3 for the Men began as the sun set and a beautiful evening settled in at Wadi Adventure Park. With stacked heats from start to finish, the action was red hot.
Sean Poynter (Starboard) kicked off the Round in style posting a 7.2 and 7.8, winning his first man on man showdown to advance to Round 3. In the 2nd heat, Zane Schweitzer (Starboard), Abu Dhabi All Star Champion from 2013 followed suit, with a high score of an 8.5 and heat score total of 16.3 - an impressive performance from the young goofy footer from Maui. Sean and Zane will now meet in Quarterfinal #1.
The Salazars go down, while Mo Freitas and Ian Vaz step up to be counted:
The next heats saw the Brazilian contingent face off, with half Brazilian Mo Freitas (Focus SUP) joining the mix up against 2012 World Champion Leco Salazar (New Advance) in heat 4. Meanwhile in heat 3, it was Matheus Salazar (New Advance) up against Ian Vaz (Art in Surf).
After a stellar first day for the Salazar family on Day 1, it was to be the end of their run, as Ian Vaz linked together some phenomenal turns to take the win in his man on man showdown against Matheus and Mo Freitas and posted a series of high 7s to take the win in his heat. This heat brought back memories of the epic Ubatuba Pro Final of 2012, when Mo Freitas came back from a seemingly impossible position to take the win over Leco in the dying minutes of the Final with a 9.7.
Mo Freitas (Focus SUP) will now face Ian Vaz in the Quarterfinals.
Watch today at www.watermanleague.com LIVE from the Final Day of action at the Stand Up World Tour component of the Abu Dhabi All Stars Grand Slam.
Last modified onFriday, 20 February 2015 17:48
Email

This email address is being protected from spambots. You need JavaScript enabled to view it.