Daniel & Bruno Hasulyo Dish On Becoming Starboard's Newest Dream Team Riders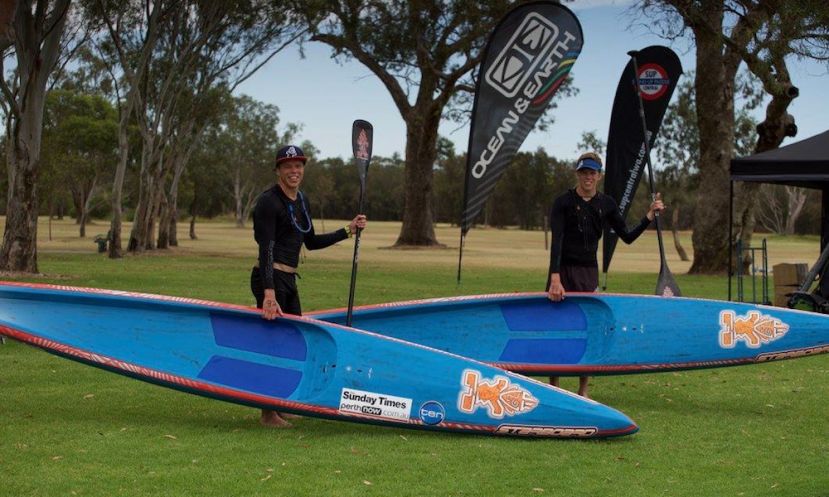 Starboard welcomes Daniel & Bruno Hasulyo to their Dream Team roster. | Photo Courtesy: Daniel Hasulyo Facebook
AUCKLAND, New Zealand - Since the first time Bruno and I started windsurfing more than 14 years ago, we knew that the ocean was our destiny. Every sport that had to do with water made us the happiest kids on earth. Then, thanks to our parents' passion at a really early age we started to take windsurf seriously and shortly later we were already pulling out some difficult freestyle and wave tricks. Thanks to our mentors in 2004 we became part of the Starboard Pro kids Team and ever since then we continued to believe in the Tiki spirit and proudly represented our second family everywhere we went!
One of our biggest dreams was to become Starboard Dream Team riders and when we decided to focus on SUP we knew that our time had come. After a really intense year of training and some incredibly challenging competitions we proved ourselves and we are ready to go on pushing even harder. All that hard work payed off and after a hard-paced preparation in New Zealand, an incredibly grueling 11 City Tour, a Typhoon-engined Japan Cup and an amazing video shooting around the untouched natural beauties of Thailand, just before leaving for Australia to compete in the two biggest downwind competitions of the end of the season, The King of the Cut and The Doctor, our young career received an amazing booster. We are proud to announce that from now on Bruno and I are members of the world's most elité racing team: STARBOARD DREAM TEAM. It's a honor for us to compete as teammates alongside some of our friends Sean [Poynter], Connor [Baxter], Zane [Schweitzer], Titouan [Puyo],Trevor [Tunnington], Leo [Nika], Dylan [Frick], Roman [Freijo], Tomo [Murabayashi], Fiona [Wylde], Izzi [Gomez] and all the other riders.
We are ready to give our best effort every time we get on the water and show what we are capable of in the contests around the world during the 2016 season. We are looking forward to continuing the amazing development working with the whole Team and we'd like to thank once again Starboard for believing in our work and supporting us in our career.
We'd also like to express special thanks to our parents, our trainers without which our fast increasing performance improvement wouldn't have been possible and for their professional work they've put in our preparations for the competitions we attended in 2015. We are sure that their exceptional training methods will lead us to achieve our dreams in our career. And once again we'd like to thank Jeremy Stephenson and everyone in New Zealand who continue to support us and for all the amazing days we spent there with you! We'll be home soon to continue our adventures around the coasts.
In the next month and a half we'll be based in Perth in preparation for the downwinder events. Can't wait to stand on the Start line again!
May the Tiki be with us and never stop paddling!
To see more from Starboard, check out the Starboard Hub HERE.
Last modified onWednesday, 11 November 2015 16:00
Daniel Hasulyo is one of the newest members of the Starboard Dream Team. Originally from Hungary, but currently competing for New Zealand, Daniel and his brother Bruno (SUPBROz) represent a completely new approach to the sport. Thanks to their dedication and a revolutionary professional training method, within one year they managed to get from 0 to being able to beat guys sitting in the TOP 10 of the world ranking. A very strong paddler in flat water conditions and rapidly improving on every ocean surface, we are all looking forward to seeing his performance in the 2016 season. For sure SUPBROz will spice up every race they enter as their special bond as brothers and training partners gives them an extra feature to rely on at every start line!
Website: www.facebook.com/supbroz
Email

This email address is being protected from spambots. You need JavaScript enabled to view it.