Champs Emerge at 2nd Annual SUP Polo Tournament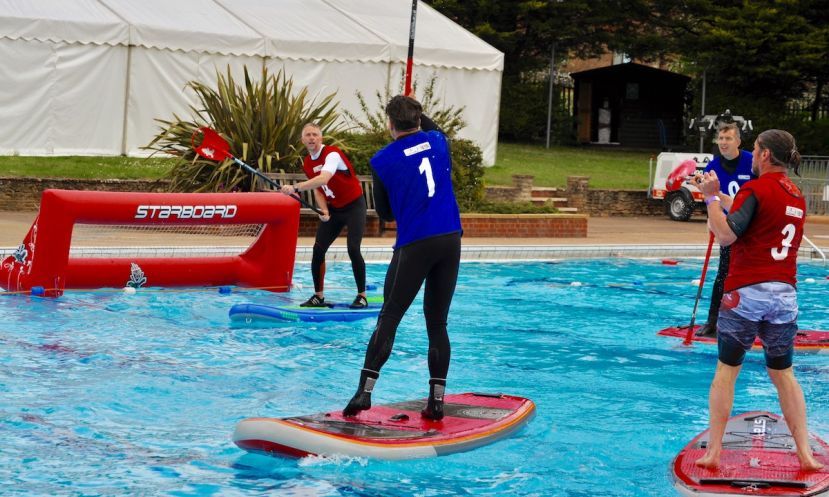 Photo: Sarah Hewitt
GUILDFORD LIDO, United Kingdom - While SUP Polo has been around for several years, since being first introduced by Starboard in 2015, it has remained a niche activity, usually offered as a fun addition to regular race events. However, in the UK, there is a growing number of SUP Polo enthusiasts and on the 23rd April, the second annual SUP Polo competition was organised by the Blue Chip Sup Club at the Guildford Lido, in the UK.
Six teams from across the UK participated in a Swiss round robin format playing each team once. The location of Guildford Lido, a 1933 built pool measuring 50m x 25m allowed for a SUP polo pitch and warm up area for the competing athletes. While the standard inflatable Starboard goals were used, the normal inflatable sides of the pitch were replaced with rope, in part because it made for a better view for spectators, and enabled teams to make substitutions more easily.
Brian Johncey the competition organiser explained why he started the tournament. "Our club has been playing SUP Polo through the winter months for several years, to maintain our paddling skill levels. Last year we organised the event as an experiment, but it has proved so popular and so much fun, we have decided to make this an annual event."
Photos: Sarah Hewitt
Two teams of four players each, play for two halves of five minutes each. The boards used are all inflatable for safety reasons due to the inevitable collisions and wipe outs involved with the game and the specialised SUP Polo paddles developed by Starboard are used by all. A referee ensures fair play and adjudicates on goals. For the 2017 tournament, a one minute sin bin option was offered as well as penalty shots for various infringements, such as playing the ball with the hand, or play the board not the ball.
The matches were all played at a frenetic pace, while 10 minutes of play might not seem like much time paddling, each game was definitely a high intensity workout, especially with multiple wipeouts for each player! While the home team of Blue Chip Raiders quickly racked up the wins in the early games, 24/7 Mayhem - former club champions in the 2013 Starboard competition in Spain - were close behind. While SUP North Buccanneers with their star player Alan Taylor demonstrated how SUP Surf skills provided a perfect cross over to SUP Polo and kept the pressure on.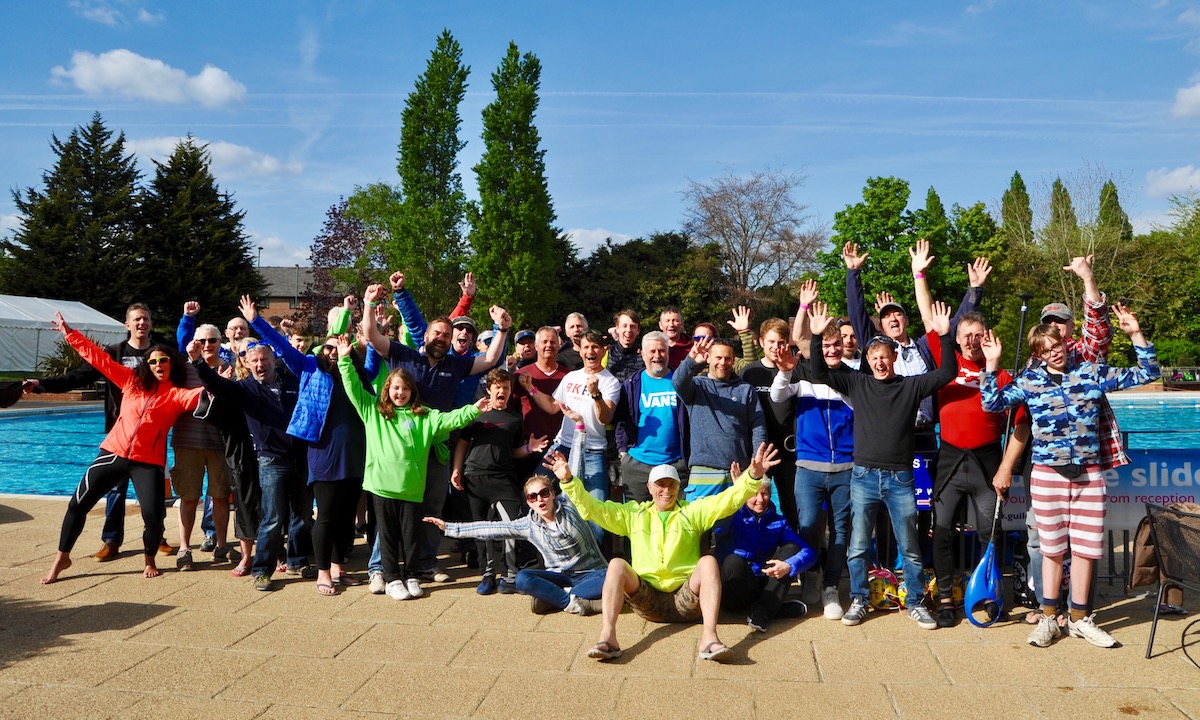 Photo: Sarah Hewitt
As the day progressed 24/7 Mayhem's threat waned although they were one goal losers to Blue Chip Raiders in a closely fought final match. In the end Blue Chip Raides continued their winning streak from last year and finished the winners. The competition will run again next year and the UK teams would love to see some international opposition.
To see more SUP News, click HERE.
Last modified onThursday, 04 May 2017 09:53

Paul Ellis has been paddling since 2009 and qualified as an ASI instructor in 2012. He has has paddled in many countries around the world, his favourite view is paddling in Cape Town looking back at Table Mountain, his favourite race is the 11 Cities which he's done twice, he'd like to do more SUP Polo but his club Blue Chip always ask him to referee their annual tournament much to his frustration!! His ambition is to paddle in the USA, Hawaii (obviously) and Lake Powell in particular.
Email

This email address is being protected from spambots. You need JavaScript enabled to view it.