Bart & Laura Win Historic SUP 11-City Tour
Bart de Zwart & Laura Quetglas Garcia are victorious in the SUP 11-City Tour on a historic Netherlands course.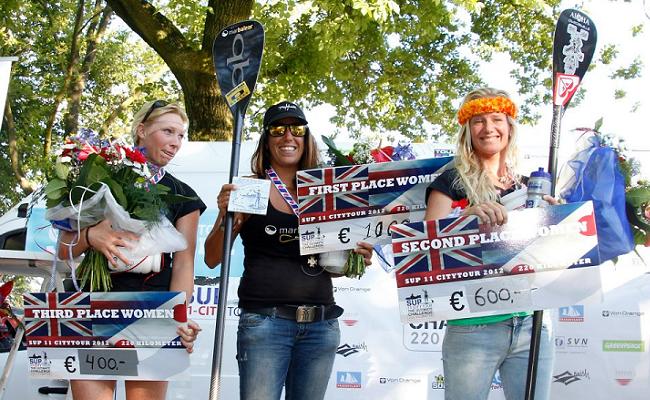 Female winners of the 2012 SUP 11-City Tour.
FRIESLAND, Holland -·The SUP 11-City Tour finished up this past weekend on Saturday, September 8th after 5 days of back to back stand up paddle racing. The individual victories went to Bart de Zwart and Laura Quetglas Garcia. 
Set in historic Holland, the race took place in the northern province of Friesland where SUPers paddled past many sheep, cows, windmills and fields as they traveled between 11 historic cities built as far back as the 1700's.  The paddlers faced a variety of conditions and ultimately travel 220 kilometers (136 miles) in five days.  There are individuals who raced the entire course alone as well as relay teams that competed together by taking turns on the water. 
This year the individual male title went to the ever impressive Bart de Zwart.  This true waterman always puts forth his best and is one of the most determined paddlers this sport has seen.  Bart, who is originally from the Netherlands but resides in Hawaii recently said in his personal blog that the sup 11 city tour race is the main race of his season and noted that it has a combination of strength, strategy and endurance which make it different than all the others. He also noted in his blog that prior to the race he had picked up the pace with his training doing longer runs and mentally preparing for the challenging days ahead.
Needless to say the physical and mental training worked and Bart was able to SUP the race in the fastest individual time the course has ever seen in 23:43:15.  Bart said, "This one was special to me, 3 consecutive wins 2010, 2011 and 2012," and has thanked all the sponsors, organizers and racers.
The second place male finisher was Casper Steinfath of Denmark who was right behind Bart with an overall time of 23:49:16.  Third place was captured by Peter Bartl of Austria/Osterreich who finished in a time of 23:53:01.   
The female winner was Laura Quetglas Garcia who finished the race in a total time of 26:59:26.  She is from Spain and did her country proud as she finished about 20 minutes ahead of her closest competitor.  Anne-Marie Reichman of the USA/Netherlands, who is actually the founder of the entire event, finished second in 27:20:40 and third place was taken by April Zilg of the USA in 30:47:28.
Those who participated in the SUP 11-City Tour surely have had an experience that only they can fully appreciate, but those who did not race can certainly imagine what a sense of accomplishment they must feel and can see how inspiring they have been.  Congratulations to everyone who participated, to the event organizers and to the sport of stand up paddle.
Have you been inspired to paddle the SUP 11- City Tour next year?
.
Last modified onMonday, 26 January 2015 11:39
Email

This email address is being protected from spambots. You need JavaScript enabled to view it.