APP World Tour World Title Update

Mo Freitas. | Photo courtesy: APP World Tour
OAHU, Hawaii - After three events on the APP World Tour the World Title races have started heating up for racing, surfing and overall titles. Here is breakdown of the title races so far:
Mo Freitas Dominates Overall Title Race
It has been nothing short of a spectacular start to the year for the young talent from Haleiwa on the North Shore of Oahu: Mo Freitas has come into his own in 2017, making a huge statement whether it be in the surf, flat water, or a mixture of the two, he has been right up at the top of them all. Starting with Sunset where stand out performances through the rounds got him all the way to the Final 4: while he was disappointed to finish in 4th place in the final, he had already fired a shot across the bow of the World's very best Stand Up Paddle surfers that he is a Title Contender in 2017 and is in it to win it.
Things then moved onto Maui where an impressively strong performance amidst a fiercely competitive field of the best of the best saw him secure a 3rd in the long distance and a second in the sprints to take the victory overall for the event, with the tie-breaker in Maui favoring the sprints after a tie with the 2016 World Champion Connor Baxter (Starboard). Wearing the yellow jersey coming into Japan, Mo didn't skip a beat, battling once again with Connor Baxter for the victory in the long distance, something it seemed he had almost sewn up until the last 50m where he had to settle for second. However he came back for redemption in the sprints to take the win, creating yet another tie, this time going in Connor's favor with the weighting on the distance race.
This means that both Mo and Connor will be wearing the yellow jersey for racing going into Germany and Mo is sitting well ahead on the overall combined surfing and racing rankings, in 4th overall for surfing and tied for 1st in racing. An incredible achievement by the young talent as he shows no signs of slowing down in what seems like his season here on the APP World Tour.
Here are the Current Top 5 Men in the Overall Leaderboard, full rankings available at appworldtour.com
Mo Freitas, Hawaii
James Casey, Australia
Casper Steinfath, Denmark
Bernd Roediger, Hawaii
Giorgio Gomez, USA

Fiona Wylde. | Photo courtesy: APP World Tour
Fiona Wylde Leads Overall Rankings
Fiona Wylde (Starboard, Werner Paddles) walked away with the racing World Title in 2016, and finished in 2nd overall in the surfing, clearly showcasing her phenomenally well rounded skill set and her ability to win. 2017 has started no differently with a stand out performance at the Sunset Beach Pro back in February, where despite finishing in a close 2nd place to the 3x World Champion Izzi Gomez, she scored one of the best waves of the contest in pumping Sunset Beach conditions - an incredible achievement by this young talent from Oregon.
Moving into Maui where she was able to secure her World Title in 2016, a 3rd place in the sprints followed by a second in the long distance, secured her 2nd place overall for the event amidst a fierce competitive landscape that included the likes of Terrene Black, Candice Appleby, Sonni Honscheid and many more. It was then onto Japan, where Fiona once again came out of the gate firing all cylinders in the distance, definitely her strongest suit in racing, to post a 2nd place finish behind the distance master and Starboard teammate Sonni Honscheid. While in the sprints, a 3rd place secured a tie between her and Candice Appleby for the overall, with the weighting favoring the distance giving Fiona second overall for the event behind Terrene Black.
While the ever competitive Fiona would want to be at the top of the Leaderboard, she is now sitting in 2nd overall for surfing and 3rd overall for racing (within 500 points of 2nd and well within reach of first), putting her in a dominant position for the overall Title after stop #3 of the 2017 APP World Tour, continuing her legacy as one of the most well rounded athletes in the sport.
Here are the Current Top 5 Women on the Overall, with full standings available at appworldtour.com:
Fiona Wylde (Starboard), USA
Izzi Gomez (Starboard), USA
Terrene Black, Australia
Annie Reickert, Hawaii
Lara Claydon (Starboard), Hawaii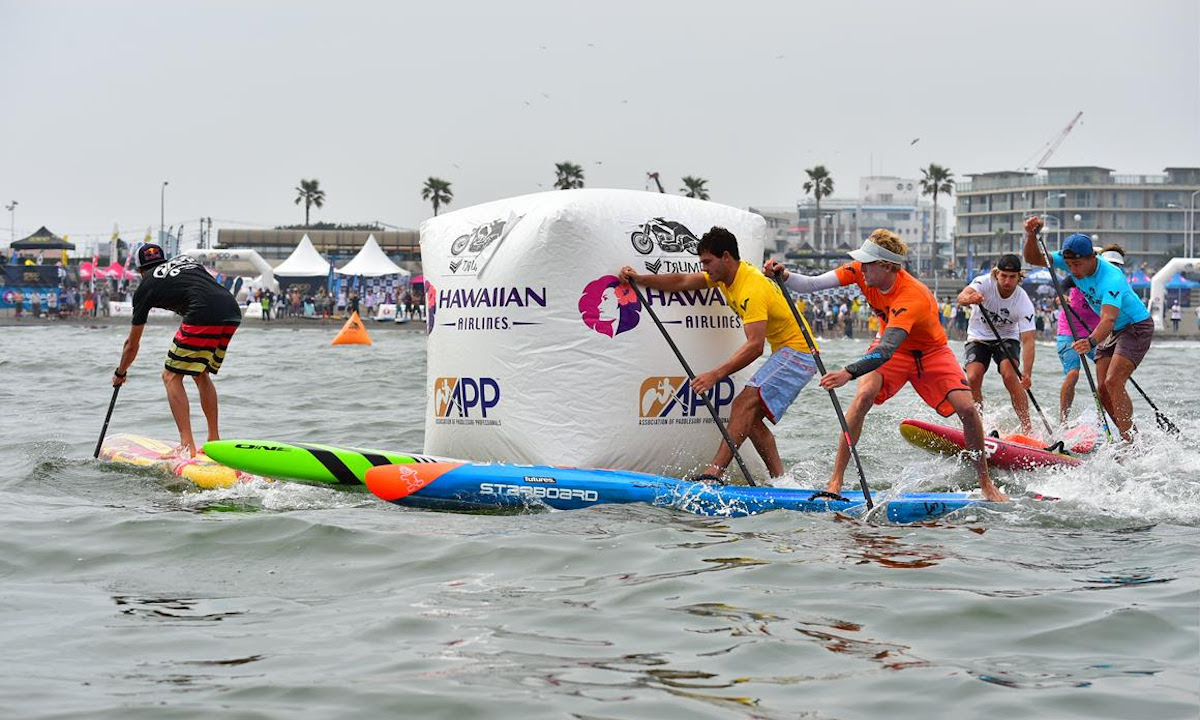 Connor Baxter and Mo Freitas battling it out in Japan. | Photo courtesy: APP World Tour
Connor Baxter & Mo Freitas Tied Going Into Germany
As a battle is intensifying for the Top spot in the Men's racing on the APP World Tour, a rivalry reminiscent of the Connor Baxter / Kai Lenny battles is emerging, with the 2016 World Champion Connor Baxter still at the heart of it, but another Hawaiian athlete is stepping up to battle blow for blow with Connor on the World stage.
Mo Freitas has stepped up his game in every way, and regardless of the conditions, seems to be able to battle Connor for the top spot, whether it be strong winds, endurance distance, surf or flat water sprints - the two have been going blow for blow all year, and are now sitting in a very unique position where after two events (4 races), they have exactly the same results coming into stop #3.
Mo took the honors in the overall event in Maui with the weighting to break the tie being the sprints, while Connor was able to take victory in Japan, with the distance giving him the advantage. However on paper, they are completely tied, as both athletes will be wearing the yellow jersey coming into the Mercedes-Benz SUP World Cup in Scharbeutz, Germany.
With Kai Lenny coming back to join the fray at stop 3 in Germany, you can expect fireworks, as Kai will be looking to catch up after missing the opening 2 events, and Connor and Mo will be looking to consolidate on their spectacular start to the 2017 season.
However, revving on the start line with be the host of global talent all gunning for the title in 2017, from Michael Booth winner of last year's distance race and Casper Steinfath (Naish), sprint winner in Germany last year, to the ever dangerous Lincoln Dews from Australia who has been so consistent this year along with Arthur Arutkin (Fanatic), who quietly posts impressive performances at every single event, not to mention so many more from all over the globe.
Here is the Current Men's Top 5 for Racing after Japan - for full leaderboard click here.
Connor Baxter, HI / Mo Freitas, HI
Casper Steinfath, DK
Lincoln Dews, AUS
Arthur Arutkin, FR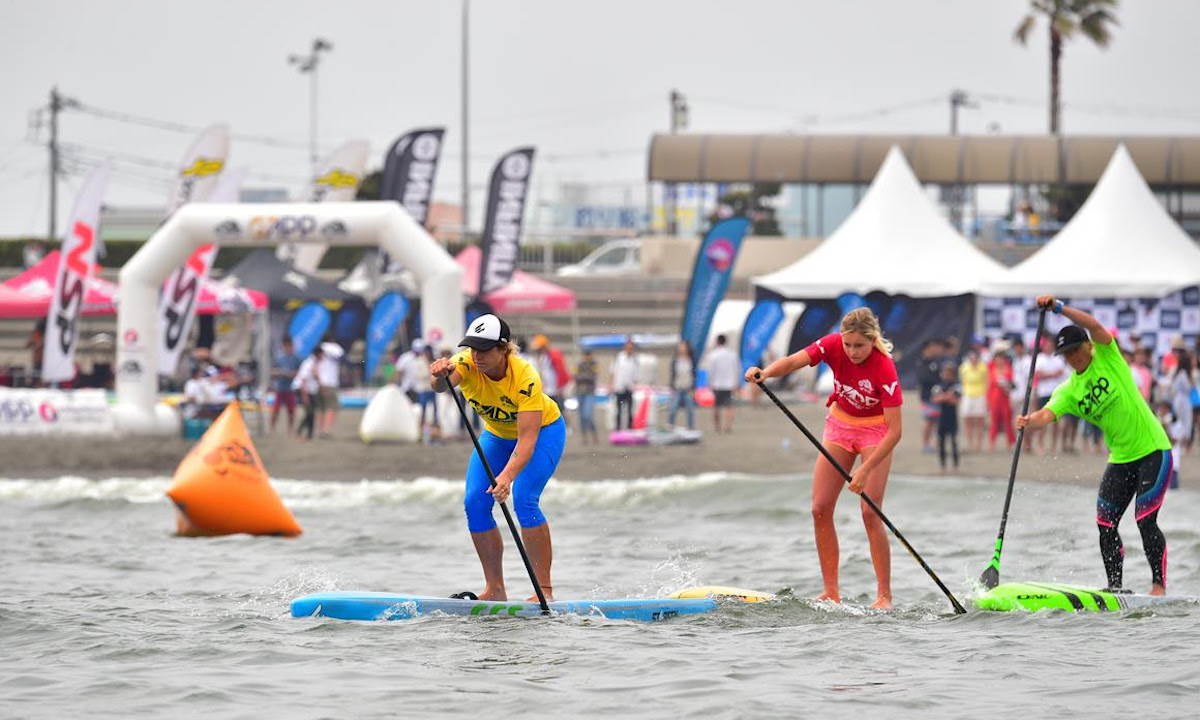 Terrene Black (wearing the yellow jersey) leading in Japan. | Photo courtesy: APP World Tour
Terrene Black Maintains the Yellow Jersey for Racing
Terrene Black continues to impress in 2017, posting another event win in Japan to follow on from her victory in Maui, keeping her on top of the Women's leaderboard after the first two racing stops of the season. While in the past she has perhaps been better known for her distance capabilities, as a newcomer to the Tour in 2017, Terrene has shown dominance in the sprint racing, with two bullet wins in this discipline at the opening two stops of the season. Meanwhile, she has continued her consistent role in the distance races with a 3rd and 4th respectively, keeping her in the points lead by 2,750 points.
Like Fiona, Terrene is certainly not one dimensional, as she put on a solid performance at Sunset for the World Tour Surfing opener back in February, putting her in podium position after the first 3 stops of the season, currently in 3rd. It will be exciting to see how Terrene fares as we continue through the season both across the Racing and Surfing.
However, one thing is absolutely certain - the competition is intensifying by the second, and we are looking forward to a stacked field of international talent taking center stage at the 2017 Mercedes-Benz SUP World Cup next month in Germany.
Here is the Current Women's Top 5 for Racing afer Japan - for full leaderboard click here:
Terrene Black, AUS
Sonni Honscheid, GER
Fiona Wylde, USA
Candice Appleby, USA
Annie Reickert, HI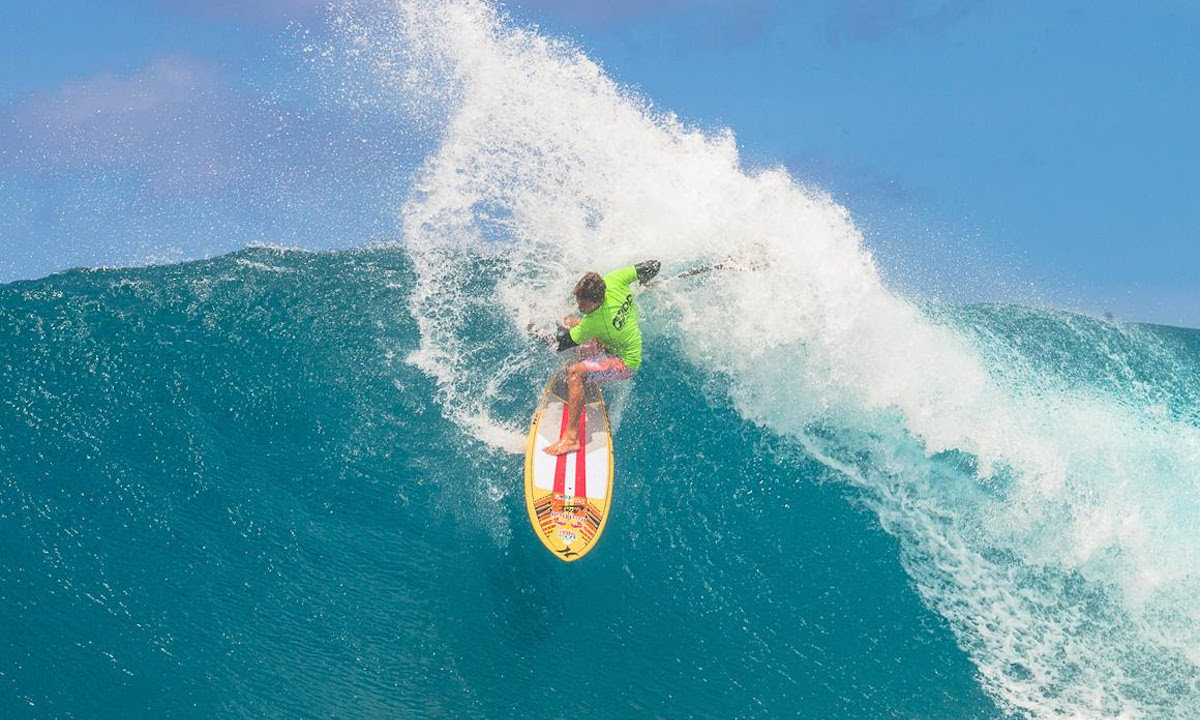 Kai Lenny at the Sunset Beach Pro. | Photo courtesy: APP World Tour
Kai Lenny Leads Surfing World Title Race
With 4 Surfing and 3 Racing World Titles under his belt, there are few people more accomplished in the world of sport than Naish's Kai Lenny from Maui and certainly even fewer, if any more well rounded than him. As he takes the world by storm in the big wave and foil realms, it was a welcomed return for Kai Lenny to Sunset Beach, a venue where he has seen so much success over the past years, with wins in 2010, 2011, 2013, and 2014, making him the most winningest surfer on Tour.
However after two years of being bested by current World Champion, Brazil's Caio Vaz (SIC Maui) at home at Sunset Beach, Kai returned to center stage in 2017 with a next level performance that has set a new bar for the season, earning him the win at Stop #1 and bringing the event Title back to Hawaii.
Here is the Current Men's Top 5 after Sunset:
Kai Lenny, HI
Bernd Roediger, HI
Giorgio Gomez, USA
Mo Freitas, HI
Caio Vaz, BRA / Poenaiki Raioha, PYF
While Kai was unable to attend the next 2 stops for Racing in Maui and Japan due to prior commitments, he will be back in action in Germany and ready to throw his hat in the ring for the Racing and Overall World Title Races in 2017.
While he has already used up his discards for Racing, one thing we know about Kai is that he is more than capable of clutch, pressure filled performances as we look forward to seeing him and all the crew on the APP World Tour back in action in Germany from the 30th June - 2nd July.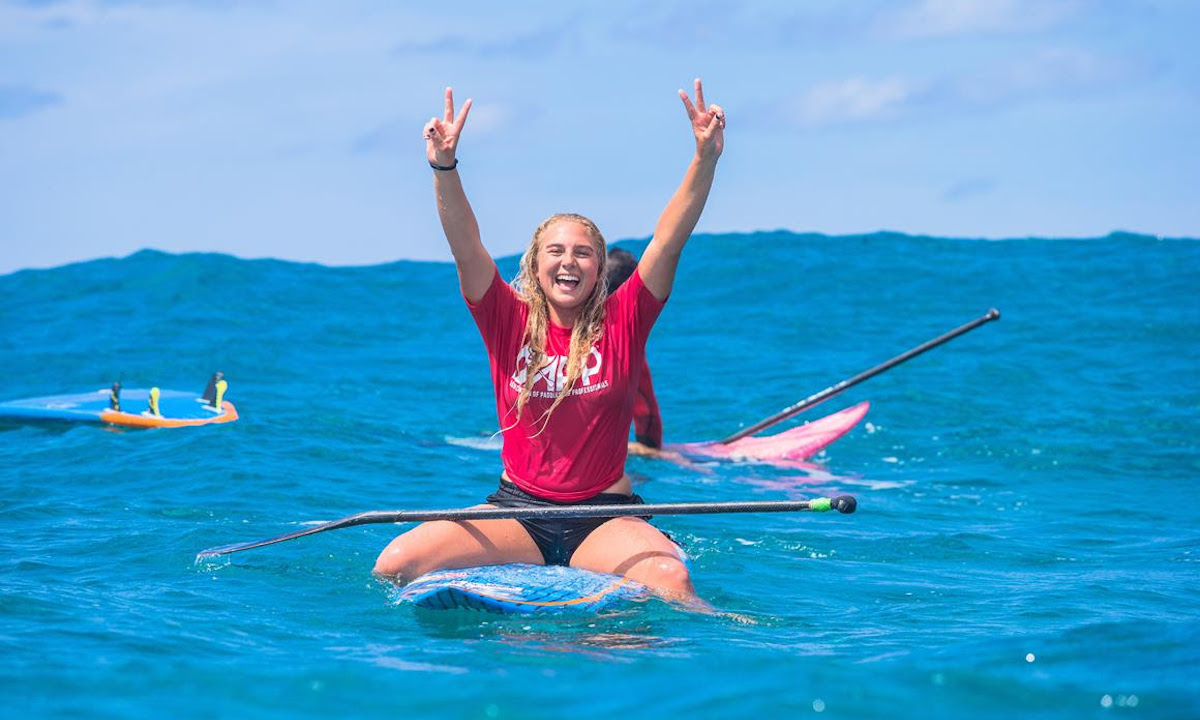 3x World Champ Izzi Gomez at Sunset Beach. | Photo courtesy: APP World Tour
Izzi Gomez Leading Women's Surfing World Title Race
Izzi Gomez (Starboard) continues her dominance in women's Stand Up Paddle surfing with yet another impressive performance at the inaugural Sunset Beach Pro for the Women in 2017. With 3x World Titles now in hand, Izzi continues to refine her surfing and keep herself at the cutting edge, able to stave off an increasingly competititve field of World Class women such as Starboard athletes Fiona Wylde and Shakira Westdorp from Australia and of course the 2013 World Champion Nicole Pacelli from Brazil, not to mention a wealth of talent behind these top four Ladies, all battling for the top spot.
Sunset was a great showcase of the evolution of Women's Stand up Paddle surfing, and a great statement of what is to come: the Women' have earned their place in the line up and put on solid performances across the board, with Izzi once again taking victory.
Here is the Current Women's Top 5 after Sunset
Izzi Gomez, USA
Fiona Wylde, USA
Shakira Westdorp, AUS
Nicole Pacelli, BRA
Annie Reickert, HI / Mariko Lum, HI
As we progress through the 2017 season, it is exciting to see Izzi take more interest in Racing, with a solid performance on Maui where she finished in an impressive 5th place at the Opening Race of the season.
While she had to skip Japan due to a prior sponsor commitment, we look forward to seeing Izzi step up to do battle in Europe for Stop #4, and then of course as we head back to the US for the US Open of Stand Up Paddling in New York in September, where the Grand Slam format will see both Surfing and Racing contested.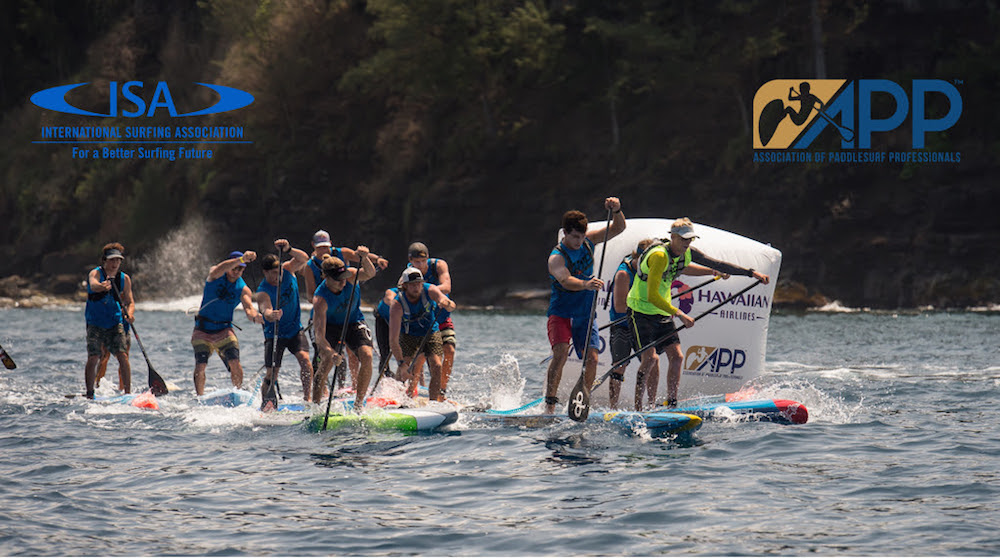 Connor Baxter and Mo Freitas battling for the top spot in Maui. | Photo courtesy: APP World Tour
The APP World Tour & the ISA Partner Up
It is an exciting time for the Sport of Stand Up Paddling, as the APP World Tour and the ISA come together to work in parallel towards a bright future. This historic partnership will see the Professional platform working hand in hand with the Olympic Federation to ensure a speedy and successful integration for Stand Up Paddling into the Olympic Games. It will also create a unified and consolidated approach for the sport's further development over the coming years, allowing it to thrive at every level.
This is an exciting step for the sport as both organizations work together to explore truly global and far reaching growth and development opportunities that will increase awareness and impact for both the Professional Tour and its athletes, along with furthering the sport's Olympic aspirations.
For more on the ISA visit www.isasurf.org and stay tuned for more on this historic partnership at www.appworldtour.com
About the Waterman League and the APP World Tour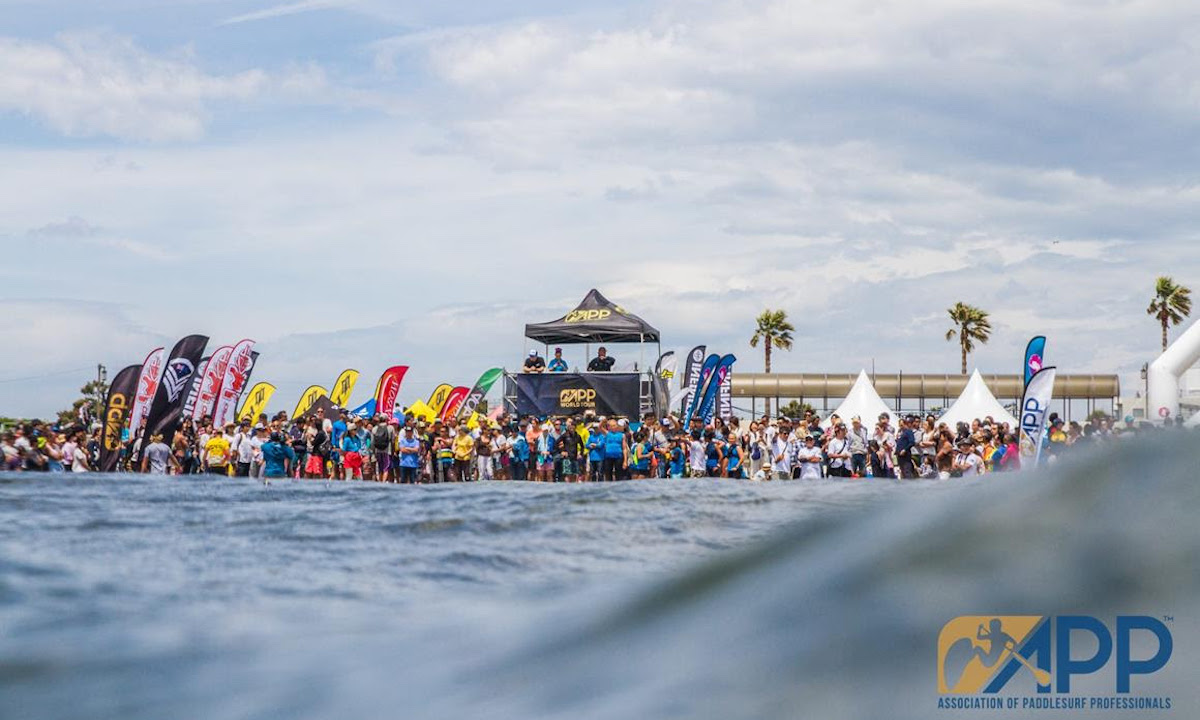 Japan Pro Am 2017. | Photo courtesy: APP World Tour
The Waterman League Group is an event management and media production company headquartered in Hawaii focused on developing multi-disciplined water sports. The term 'waterman' refers to versatile athletes who can engage in various forms of water sports at the highest level.
As founders of the Professional World Championships for paddlesurfing (also known as stand-up paddling), the Waterman League has been crowning Men's and Women's Professional World Champions for both racing and surfing since 2010, with flagship events across the Americas, Asia, Europe and the Middle East, now branded as the APP World Tour.
The APP World Tour produces a complete inventory of programming, including live and post produced broadcasts from all its events, with distribution to over 100 countries worldwide via premier global networks such as CBS Sports and Fox Sports Australia, supported by IMG Media. Information is available at appworldtour.com and fans can follow events @appworldtour on Facebook and Instagram.
Last modified onFriday, 19 May 2017 14:19

Submit your news, events, and all SUP info, so we can keep promoting and driving the great lifestyle of stand up paddling, building its community, and introducing people to healthier living.
Website: supconnect.com
Email

This email address is being protected from spambots. You need JavaScript enabled to view it.