English Paddlers Set Adventure Prone Paddling World Record In Panama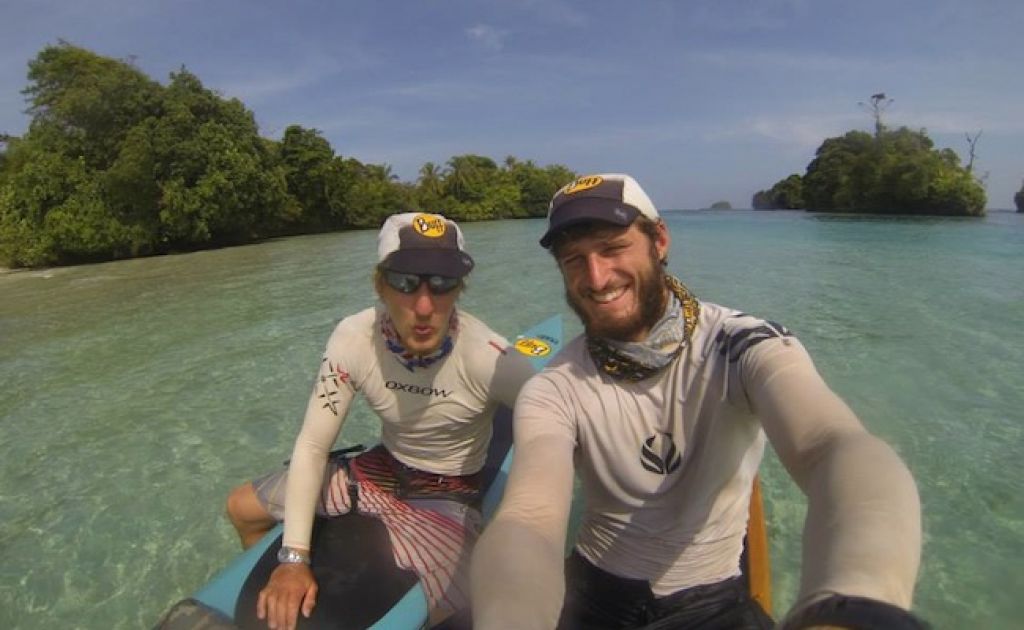 Rob Cuncliffe (front) and Arron Ford (back), the Btritish paddlers who broke the World Prone Paddle distance record.
BRISTOL, England - While thousands of ideas are born in pubs every year, very few come to fruition. Generally speaking, a small fraction of those that do are any good, especially the kind that involve sharks, second degree burns, tropical sickness and other extremities. But today we've got a great story about a phenomenal exception to this norm. Meet Rob Cunliffe and Arron Ford - two paddlers from Bristol, England, who've set a new World Prone Paddle Board Record, making it 374.2 miles along the coastline of Panama. Where'd they get the idea to go on such a big trip? At the pub.
Looking beyond their journey's fun origins, the pair accomplished this incredible feat in the name of conservation in Panama; they have been raising awareness for Seacology and researching the entire northeastern coastline for populations of undiscovered Antillean Manatee. That's a lot of layers for a life-altering paddle in Central America.
We were lucky enough this week to catch up with Arron and Rob, and talk a bit more about their trip and all the crazy adventures they had.
Rob,and Arron congratulations on setting a new world record for prone paddling. That's an amazing achievement. You guys must be stoked (and very tired). How are you doing now that it's all over? Does the trip seem real?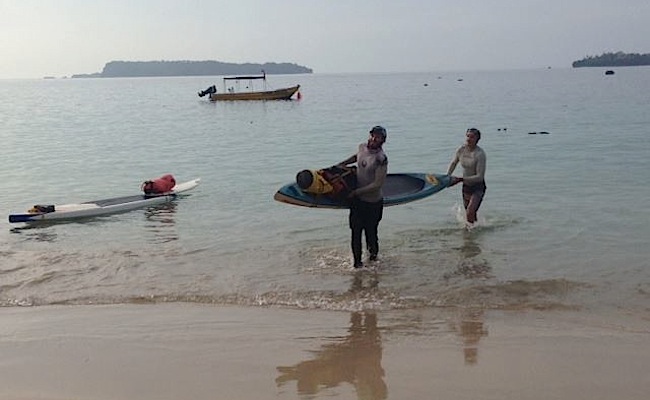 Ron and Arron finishing their journey
Rob: Thanks, yeah we're stoked, there hadn't been much a precedent set for adventure prone paddleboard touring, particularly in a tough equatorial environment, so when we set off we really had no idea if this journey was going to be possible. So we're chuffed we've been able to make good on our promises and prove a few doubters wrong. We made a few food drops before we left but still had to carry all our own food and supplies for up to two weeks at a time. It's impossible to carry enough calories on a trip like this and averaging 10 miles a day when we've not been on the search for Manatee we ran for 2 months on a pretty heavy calorie deficit; I can assure you we're seriously fatigued right now. We were both ill for the last week of paddling, which made things more difficult but we did it and we're done! So for now we're eating and sleeping so we can muster the energy to celebrate!
Due to illness I was barely with it for the last week of paddling, in fact we nearly had to abort because of it, there is only so much dioralyte a man can take and only so far you can paddle on a single meal a day, so that doesn't seem real, but the rest is pretty vivid! I can't believe it's over though, this project has occupied so much of our time and thoughts for the past 9 months, we're going to have to think of something else to dream about; although that shouldn't be too difficult for us two.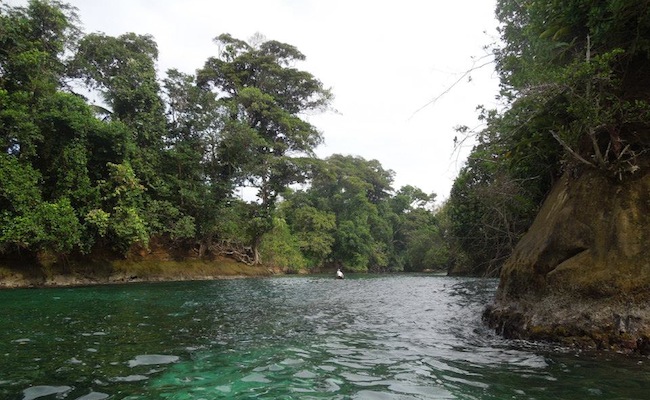 Arron has already started organizing a kayak trip from Alaska to Vancouver and I have secret climbing aspirations, so no rest for the wicked! I don't think the trip will seem real until we are back home at work or sorting through our endless footage, then what we have achieved will start to sink in. At the moment we still have to keep our guard up as we have two weeks remaining surfing in Central America as a treat to ourselves and as I'm sure you're aware, it can be a hazardous place.
I know it might seem impossible to break it all down into single moments, but were there any major highlights that stand out during the journey? At the same time, were there any serious lows that had you thinking - 'this is too far and too hard'?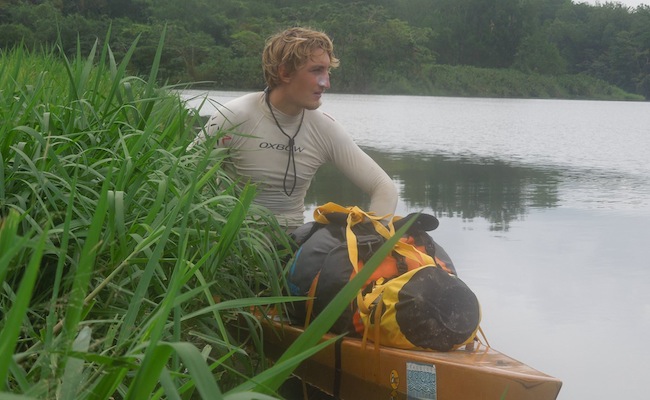 Rob: The trip was a constant fluctuation of emotions, to say it was all a breeze would be a lie. We had a number seriously challenging moments before we even got to the start line and things only intensified from there. But then the rewards have been the unique experiences I've shared with one of my best friends, memories that will be with me forever. In my mind right now is bodysurfing in perfect 3ft barrels on Panama's longest beach, not a soul in sight.
We had to make an emergency beaching when a bull shark disrupted our biscuit break and started circling below.
The way the expedition went, something incredible or awful was happening every single day without fail. Just as a few examples, we had to make an emergency beaching when a bull shark disrupted our biscuit break and started circling below. On the way in, I lost my board in the surf and had to make an uncomfortable swim. Then deciding to call it a day we pitched the tent on a gorgeous deserted beach. That very evening not far from the tent we saw a leatherback turtle beach, lay and swim off into the night; an incredible experience and one you should take if you ever get the chance.
Another evening we thought we'd found paradise, a perfect tropical island, deserted, white sand, large enough to explore but small enough to call our own for the evening. That evening perfection morphed into hell when drug runners stopped by, using the island as an exchange station. We had to run and hide, spending the whole night huddled in the rain on the ledge of a small cliff, clutching our diving knives and terrified. Thankfully we were never found and the kit which we had abandoned wasn't stolen. These guys had more important things to worry about.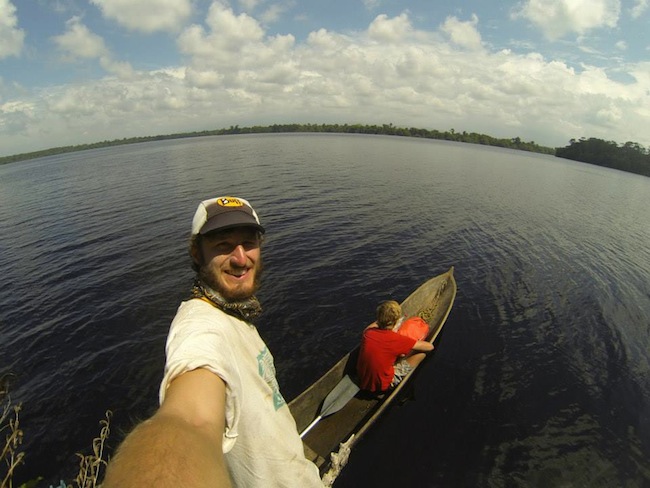 Another evening and fully in the boonies, miles from anywhere, our broken stove toppled boiling water on my bare feet. I was in agony and spent the night curled in the dirt on the floor of a mud hut. Arron "Nightingale" did his best to wrap my feet but they were hammered. I had second degree burns all over my feet. In this situation as long as the blisters stay intact you're OK, the wounds are sterile. As soon as they burst and if you haven't got the facilities to keep them perfectly clean, you're in trouble and infection is almost inevitable. So we knew we had a few days to try and get off the coast.
We'd made 311 Atlantic miles at this point and had always intended to finish the journey on the Pacific coastline so it was a good time to call time on the Caribbean. In all it took us 4 days to reach hospital (including a two day paddle), using 8 different modes of transport. On the way we smashed one paddleboard to pieces, evaded our third large shark and I learnt to ride a horse. By the time we reached Panama City, my feet were a swollen mess, resulting in a 5 night stay in hospital, drips, iv antibiotics et al.
Arron: At the end of a day of beautifully calm paddling through dense mangrove in Bocas D'el Toro, we stopped to do some snorkeling as the water was as clear as glass. So clear in fact that we could see hundreds of golden starfish beneath our paddleboards and the temptation to take a closer look was too much. An hour spent snorkeling meant that we didn't reach our camping destination before nightfall and hence had to pitch our tent on a crumbling jetty. Then commenced the worst onslaught of biting insects imaginable. Midges in their millions descended upon us for the next hour whilst we cooked and erected the tent, small enough to penetrate our mosquito head nets we were forced to pull our buffs fully over our faces and tough it out.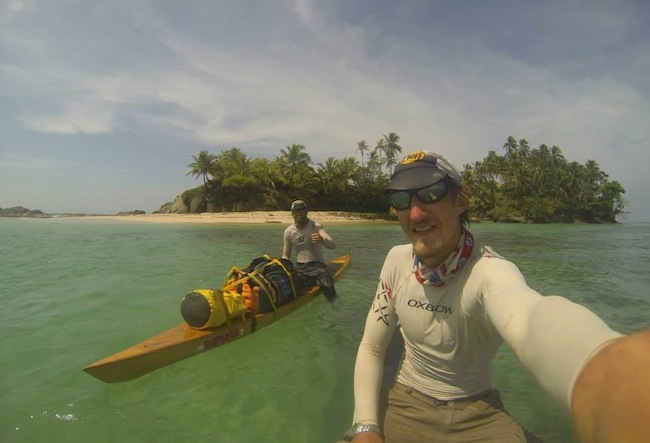 I had second degree burns all over my feet. In this situation as long as the blisters stay intact you're OK, the wounds are sterile. As soon as they burst and if you haven't got the facilities to keep them perfectly clean, you're in trouble and infection is almost inevitable.
I remember being sat in a disheveled hut we had rented from a villager to escape the tent for a night and looking across at Rob who was lying flat on his back staring at the ceiling, thinking 'are we going to make this?' He then took off into the bush, it didn't startle me as I had become very accustomed to this over the past two weeks, as he had a severe case of dysentery, Whilst he was gone I pulled my Ipod and mini speaker from my bag and delicately chose an album that I knew would perk us both up. We spent the next hour listening to that album in complete silence feeling sorry for ourselves but by the end we were both convinced we would do anything to finish it. Every night from them on I played inspirational music at every opportunity and I feel it gave us a second wind when we felt like stopping.
You both paddled for a number of research/conservation projects and Seacology, too. Was that aspect of your trip successful?
Seacology works to protect unique island environments around the world and one of the islands they work on is Escudo de Veraguas, which sits a short distance offshore from the coast we were paddling. We circumnavigated the island on our boards and it is one of the most stunning places we have ever seen, a real privilege to paddle and a highlight of the trip. This island is home to 5 endemic species, including a maritime salamander we had hoped to photograph but didn't manage to find and one of the world's rarest mammals, a pygmy three-toed sloth. These sloths are the incredible to see and we were fortunate enough to view them in the mangrove from our boards. We're proud to have supported Seacology during the paddle and if their work sounds like something you would like to see more of, you can donate on the seacology website or via www.justgiving.com/panamapaddle
As if we didn't take on enough of a challenge with the paddle, we added another project to keep us busy as we headed south. We were searching the entire northeastern coastline for populations of Antillean Manatee undiscovered to the western world. Despite being vast size, weighing up to 2000lbs, these guys unlike their Floridian counterparts are incredibly timid, making them nearly impossible to spot in brown equatorial rivers. But we took a punt and went for it anyway.
We had heard rumors of Manatee at one particular river but 4 days searching had been fruitless and we had to push on. So we loaded up the boards but decided to brave the crocs and alligators and give it one last search on our paddleboards. So we paddled upriver until we could join the tributary we had been searching and we began silently drifting down this at around half a mile an hour. Nearing the mouth if the river we had begun to give up hope when 'ppphhhhh' the noise we had dreamt of and sure enough a Manatee poking its nose up for air. That was incredibly exciting and gave us an amazing sense of achievement. Later in the trip we found a second undiscovered population grazing in the ocean behind the same reef we had used as shelter to land, so it's going to be really exciting to see how Panamanian conservation groups take this knowledge on from here and act to protect them.
You're from Bristol. it's a bit more chilly there than Central America. What did you do to prepare for the trip and what were the essential items that got you through the toughest days?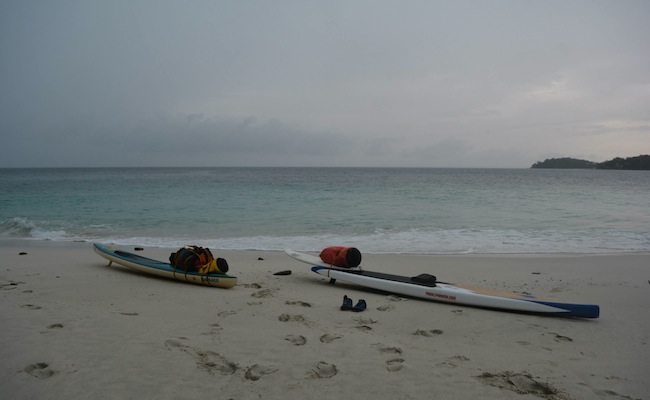 Training-wise we had terrible storms in the UK this winter so paddling was hard to fit in, we did however have plenty of waves so we combined good old surf fitness with some extra swimming. Heading out a few weeks early was critical too as it allowed time to adjust to the heat and figure out a strategy for paddling in it.
Being non-professional athletes, we went for simple energy and simple pleasures so we would cram our day packs with biscuits and reward each 3 or 4 miles with a little treat. We also took some Eboost with us to perk us up with vitamins and caffeine. We had enough tough days that we just got on with it to be honest, enjoyed the finer aspects and laughed about the less enjoyable. Ignoring the bigger picture made things easier, breaking the trip down to many mini trips and phases and taking 1 day at a time.
Arron: An Ipod and mini speaker were essential in my opinion and I won't be taking part in another expedition without one. Music makes the tough times seem less tough and the fun times even more enjoyable. Fortunately we were donated Solar Joos power packs to keep all of our electronics charged which was a fantastic bit of kit. A pen and paper are also essential items as they allows you not only to document what you see but also to express your doubts and frustrations when you're not of the best mind set.
Tell us about the rise and fall of Big Bird…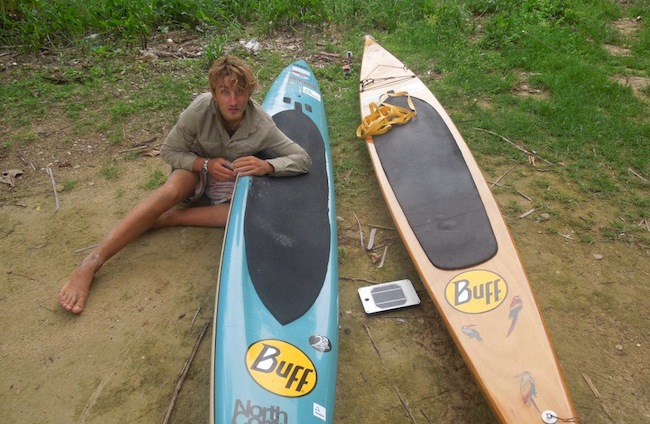 Big bird was the finest paddleboard we ever saw. She would glow in the early morning sunrise and beg you to take her for a ride. She was a wooden 16ft San O' paddleboard hand crafted by co-designer Larry Froley of Gray Whale Paddle with gorgeous parrot and toucan inlays, hence the name. She was a tough old bird and being the bigger and more stable of the two boards (our other board, Betty Blue was a 14ft Joe Bark custom, very fast but a touch tippy with 15kgs of gear on deck), she was the workhorse of the group. She loved a good load, bless her.
But eventually this was to prove her downfall. We got caught in a big squall when we were about a mile and a half out paddling around one of the larger reefs we'd had to negotiate. By the time we made it to the nearest beach, and with the storm showing no signs of relenting, we were faced with having to land at a beach/river mouth that was cross between La Graviere and the Amazon river. Two large rivers in full flow with dirty brown closeouts as far as the eye could see. You really couldn't time the sets so we knew it was going to be a gamble getting in. I managed to just about nip in on Betty Blue, unfortunately Arron was a few meters behind and big bird got caught up in the lip of a nasty 7 footer.
I didn't see the detonation but it must have been spectacular because Arron emerged in a horrible tangle of wood, rope and luggage. He struggled to free himself and managed to swim in dragging the kit without being eaten which was good. Big bird however was mortally wounded. She'd been split in two and now her rear end was being smashed to pieces, not even big bird could handle things so rough. Eventually we recovered the front section but her famous parrot covered rear was swept out to sea. At least she had gone to a place we knew she would be happy. It was a sad day for the team and we held a small ceremony on the beach watched over by bemused locals. Betty couldn't handle the two of us so with 311 miles on the clock it was the end of our Caribbean leg, we had only been 1 mile shy of our intended finish point. RIP big bird we hope you're soaring on the waves up high.
What are your plans from here?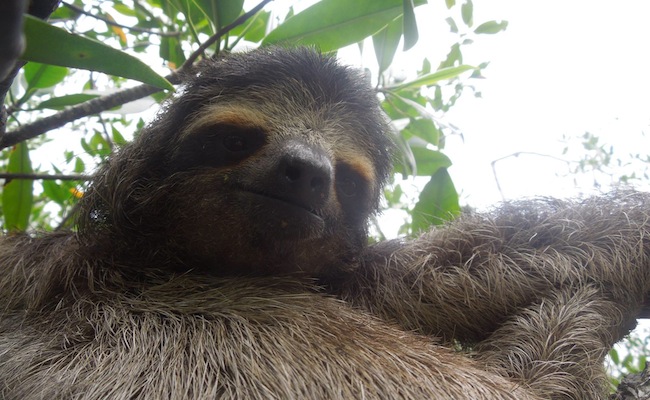 We're heading to El Salvador to surf for 10 days as a treat to ourselves and then it's back to being average Joe's again with work and studies recommencing in a few weeks time. That said, it only takes one trip to the pub to plant the seeds of the next trip. Where and what? We've a few ideas hidden up our sleeves, we'll leave it at that for now.

About Arron Ford
Arrons our conservationist. He recently graduated from the University of the West of England with a degree in Integrated Wildlife Conservation. He's heading up our conservation work and after a few months researching, he's keen to get back in the field. He's also a keen photographer and will be putting this to good use with our photo surveys.
About Rob Cuncliffe
Rob's the expedition leader and as a medic he's responsible for getting us all home in one piece. Having recently returned from the Arctic, he's looking forward to thawing out fingers and toes somewhere tropical. He's also the reigning Brighton pier to pier paddle champion although this next adventure will be no race!
Last modified onTuesday, 27 January 2015 15:50

Submit your news, events, and all SUP info, so we can keep promoting and driving the great lifestyle of stand up paddling, building its community, and introducing people to healthier living.
Website: supconnect.com
Email

This email address is being protected from spambots. You need JavaScript enabled to view it.