Alex Linnell - First to Stand Up Paddle the Mississippi
On Tuesday, August 9th, the oil rigs and heavy tankers in the Gulf of Mexico witnessed the completion of Alex Linnell's journey. Below, Alex and his family discuss the trip with SUP Connect and what comes next.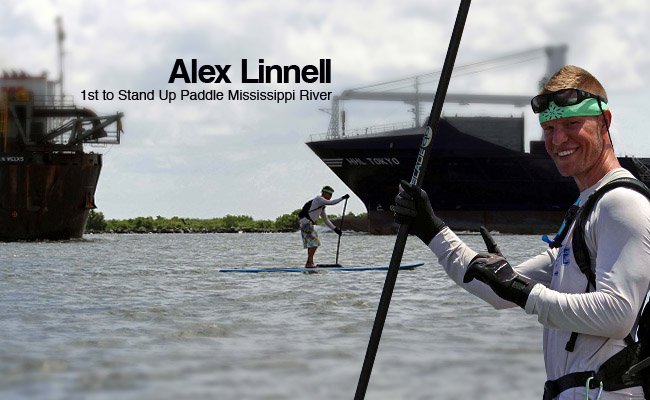 See that finger? That means number one, as in the first to conquer the Mississippi River on a stand up paddleboard.
Read the full story on Alex's SUP-PORTING the Mississippi SUP Journey.
MINNEAPOLIS, Minnesota - On Tuesday, August 9th, 70 days after he began his journey down the Mississippi River, Alex Linnell reached the Gulf of Mexico and the end of his epic paddle. By reaching the Gulf, Alex has become the first person to stand up paddle the entire length of the Mississippi, a distance of approximately 2,323 miles (according to Alex's calculations).

That's over 34 miles a day, every day, for over two months straight! Of course some days were longer than others and towards the end of his trip, Alex logged plus 50 and plus 60 mile days, paddling over 10 hours on one day.

After his record-breaking journey, Alex is taking time to rest back in his home state of Minnesota. SUP Connect caught up with Alex and his mother and father, Jean and Stan Linnell, to discuss the trip, what it means for the daily paddles to be over and what comes next.

Q&A with Alex Linnell

SUP Connect: Can you explain how you felt as you finished the last miles of your journey and as you entered the Gulf?

Alex Linnell: Paddling the last few miles out into the Gulf of Mexico was surreal. I feel honored to be able to say I am the first. The distance record and amount of miles now behind me is hard to comprehend. As long as some days seemed the whole trip flew by! I am both excited and somewhat sad to see it all come to an end. Even though the trip is now over it is just the beginning for me.

SUP Connect: Can you run us through the last few days of your paddle? You noted on your blog that you were held up by some bad weather, was it difficult to know that you were so close to finishing but still had to wait?

Alex: Following a week of 50+ mile days, I camped about 30 miles north of New Orleans. The next two days from our camp to Venice was two 60+ mile days. The second of the 60-mile days I paddled for 10 hours and 10 min straight without getting off the board (6:30am to 4:30pm) covering 60 miles and arriving in Venice.

Although I was covering a great amount of miles each day, nearing the finish line was a huge energy and motivational boost! Not being able to finish in 69 days was unfortunate but I know to accept things as they are and let things work themselves out. Day 70 was a far more beautiful day to finish even though another storm came in causing me to have to exit east into the Gulf of Mexico instead of southwest like I had planned.

SUP Connect: What was one of the most difficult parts of the trip that you had to overcome?

Alex: Heat advisories from St. Louis to the Gulf pretty much every day was a big challenge especially days that lacked wind. It would drain you energy quickly! Also the heat and humidity in the evenings at times would make it very uncomfortable to sleep!

SUP Connect: What have you taken away from this journey and what do you hope to share with others about what you learned?

Alex: I have learned so much from this trip! I have spent time in the biggest cities and the smallest towns. I have pushed myself both physically and mentally farther than I assumed possible. I have experienced and endless amount of generosity from people that know nothing about me in every place I stopped.

I have experienced the incredible beauty and hidden dangers of one of the largest rivers in the world. I couldn't be more thankful for all of the hard work people put in that allowed me to experience this amazing journey. I feel I could fill books with all of these life lessons and maybe one day I will.

SUP Connect: What now? Will you fly out to California for the Battle of the Paddle at the end of September?

I have plans to try and get the money together to get out to both the Battle of the Paddle and the SUP Awards (I am up for the 2011 Top Expedition award). I hope to find a company interested in having me represent them for the race. I will likely be flying out and need to line up a racing board and paddle to give me a chance against the strong competition.

Q&A with Jean Linnell

SUP Connect: When Alex first told you of this idea what was your reaction?

Jean Linnell: I was all for him doing it! He's always done things in a big way so I wasn't surprised. My concern was figuring out how he was going to finance the trip. He was in school at the time and not working. In the end we basically just sucked it up and decided we'd support him so he could be the first to complete this trip and we would worry about paying for it later.

SUP Connect: Was it difficult not to worry about Alex and Stan each day they were on the Mississippi?

Jean: No, not really. The satellite based "SPOT" tracking and cell phones were a godsend because I could follow their progress. There was only one day for a really long stretch that they didn't check in by SPOT or phone, and they weren't answering their calls or texts, that I was really concerned about them.

When they finally did respond I gave them an ear full before reminding them that I wasn't the only one worried about them during that day. As it ended up they did have issues with getting a cell phone signal, but Alex was also in his "zone" that day and was paddling so hard that he forgot to check in for a long time. It wasn't a problem again after that.

SUP Connect: How do you feel now that Alex's journey is complete?

Jean: Mixed emotions. Sad that it's over because it was a lot of fun! Relieved because it was a ton of work. Happy because of Alex's amazing accomplishments. Excited for what the future will bring Alex in new opportunities and challenges! It's all good! Looking forward to Alex's next big adventure! Lots of suggestions being thrown at him right now.

Q&A with Stan Linnell

SUP Connect: Can you walk us through your typical day supporting Alex from the boat?

Stan Linnell: I would begin the day by refilling the gas tan from our gas cans and eating breakfast with Alex. We would then organize the items needed for the day, break down the tent, cover the front of the pontoon with a tarp and pull up the three anchors to set up for emergency use.

After departing to follow Alex, I would keep a close eye out for tows and review the maps while verifying the mileage and jotting down notes from the previous day. I would especially pay attention to the weather patterns, ships and small boats on the river and the debris that may be hazardous to Alex.

During the day I would take notes on the names and sizes of most of the tows that we passed when moving. I also took photos at interesting or well defined points. At about mid-morning, I would stop to let Alex get a snack and a bottle of water or Gator Aid so the water in his camel back would last longer.

All the while I would listen to the radio for the weather reports. For most of the last four weeks of the trip, there was usually a high heat advisory with a heat index of 106 or 110. For lunch I would anchor at a beach or other shoreline sport for two to four hours to avoid the worst part of the day's heat (from about 2 – 4 pm).

During the trip I would try to not run over Alex as I added notes and sent the better photos to Jean for her to upload to Facebook.

In the evening and after a full day of paddling, I would follow Alex's lead to find a deep enough route to shore at a good location away from main channel and prop wash/waves. We would have a beer and relax for about a half hour. If it was early enough we would cook, otherwise it was cold canned food for dinner.

After dinner I would wade in the river to clean up and cool off. After drying off, I would prepare for bed, get in the tent and immediately start sweating. The heat was always present and I woul d fan myself to try to cool and dry off. Before going to sleep I would call home if there was any phone signal.

SUP Connect: Were there any times during the trip that your worried for Alex's safety?

Stan: As a parent, I was always a little worried about what could happen or what the river or river traffic would be like next. More specifically, there were times when I wished he would give the tows more room or when I wished that a few of the tows wouldn't get so unnecessarily close.

In St. Louis, I was so busy trying to insure I would make it through the 6'+ waves, thousands of pieces of debris and multiple moving tows and tow boats that I was distracted from being worried about Alex until a tow started to back up towards him, fortunately they saw him and stopped.

I was very confident of his good sense on how to handle situations and incredible ability to handle waves coming from multiple directions after seeing him handle the ship canal on a busy day at Duluth's aerial lift bridge last year.

Recreational boats were a big concern at times because you didn't know what they would do next. Near the quad cities in Iowa on the 4th of July weekend there were hundreds of recreational boats sometimes passing us on both sides at speed. Small cruisers often make worse waves than the barges.

SUP Connect: How do you feel now that your trip down the river has come to a close?

Stan: I am ecstatic that Alex accomplished his goals and also relieved that we completed the journey safely. I am certainly glad to be away from the intense heat and sun and happy to be home with family. I am also sad to be away from the close connection to nature, the new things to see and the daily adventures. Most of all I miss meeting so many kind, generous and interesting people along the way.
Last modified onWednesday, 28 January 2015 13:22

After spending the first part of her life in Minnesota, Morgan traded in her snow boots for sandals and moved to sunny California. After graduating with a degree in Communication from The University of Southern California, she eventually made her way down south to San Diego and is taking advantage of the living by the best beaches and burritos California has to offer. If it's sunny, you can find her at the beach relaxing, or exploring the calm water in the bay via paddleboards and kayaks.
Email

This email address is being protected from spambots. You need JavaScript enabled to view it.