Robben Island SUP Mission
written by Ivan van Vuuren
Recently, Ivan and some of his more daring friends made the paddle around the historic Robben Island just off the coast of Cape Town, South Africa. Read on below as Ivan recaps the 23-kilometer SUP Journey.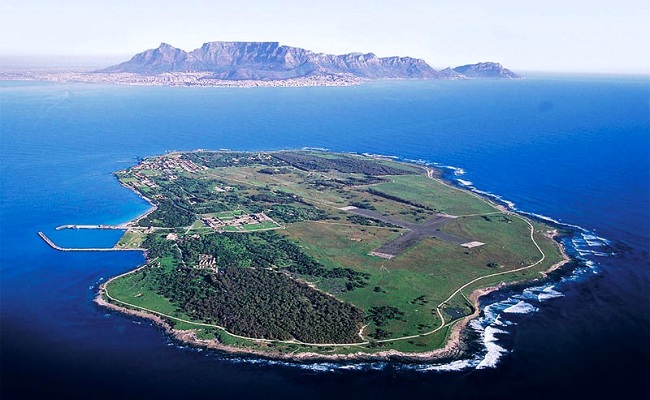 Robben Island sits quitely in the foreground as Table Mountain looms in the distance.
Read Ivan's previous article about the sizing of a stand up paddle.
CAPE TOWN, South Africa - When you think of an Island crossing one's first thoughts are that of tropical, blue waters and warm trade winds, but as we looked across the horizon on a cold winters morning we knew the journey ahead was going to be more of a mission than a tranquil paddle in paradise.

As Gary van Rooyen, Ross Lahana, Greg Bertish and myself loaded our camel water back packs for the first ever documented SUP paddle around historic Robben Island, we couldn't but help notice the "Beware of sharks" warning sign in the background.

Even with the inflatable support boat (piloted by 2x world champion racer Stephan Lindeque) there was still that sense of the unknown, stories of "Big fish" chasing boats and hoping that the South Eastern wind would hold off long enough for us to get back to dry land.

On long trips I often hear my kids asking "how much further. Are we almost there yet?" and as Big Bay slowly faded into the distance the same questions started to cross my mind. Gary's GPS quickly became our best friend as we found ourselves in the middle of the ocean, Table Mountain on one side and Robben Island in the distance.

Robben Island, is one of those historic locations that attract visitors from around the world as each day tourists travel across by ferry boat to witness the days of old Apartheid South Africa. Nelson Mandela and many others whose freedom seemed so close, yet so far as they were imprisoned on the island separated by freezing cold waters and hungry sharks.

As we slowly paddled nearer to the island on modern day carbon Kevlar ocean riding vehicles, we could almost sense previous inhabitants and prisoners mixed emotions of seeing Table Mountain soaring in the distance and being enslaved by a small stretch of land surrounded by kelp, shipwrecks and cold water.

With security restrictions still in place we were not going to attempt to set foot on dry land so continuing around the back side of the island was the next best option. And what a sight awaited us - a whole different world with crystal blue water, seals, 1000's of jelly fish and a surreal quietness that separated us from the African continent.

23 kilometers and about 3 hours of paddling later, the historic SUP journey around Robben Island slowly came to an end. Packing up the gear, the sense of adventure, intermixed with passion and travel all in one package made us realize the privilege of being part of modern Stand up paddle boarding knowing that this would be one of many new adventures with the best still to come.
Have you gone on a SUP Journey recently?
.
Last modified onWednesday, 28 January 2015 12:42

After spending the first part of her life in Minnesota, Morgan traded in her snow boots for sandals and moved to sunny California. After graduating with a degree in Communication from The University of Southern California, she eventually made her way down south to San Diego and is taking advantage of the living by the best beaches and burritos California has to offer. If it's sunny, you can find her at the beach relaxing, or exploring the calm water in the bay via paddleboards and kayaks.
Email

This email address is being protected from spambots. You need JavaScript enabled to view it.