A SUPerior Adventure: Man Becomes First To Circumnavigate Lake Superior On A SUP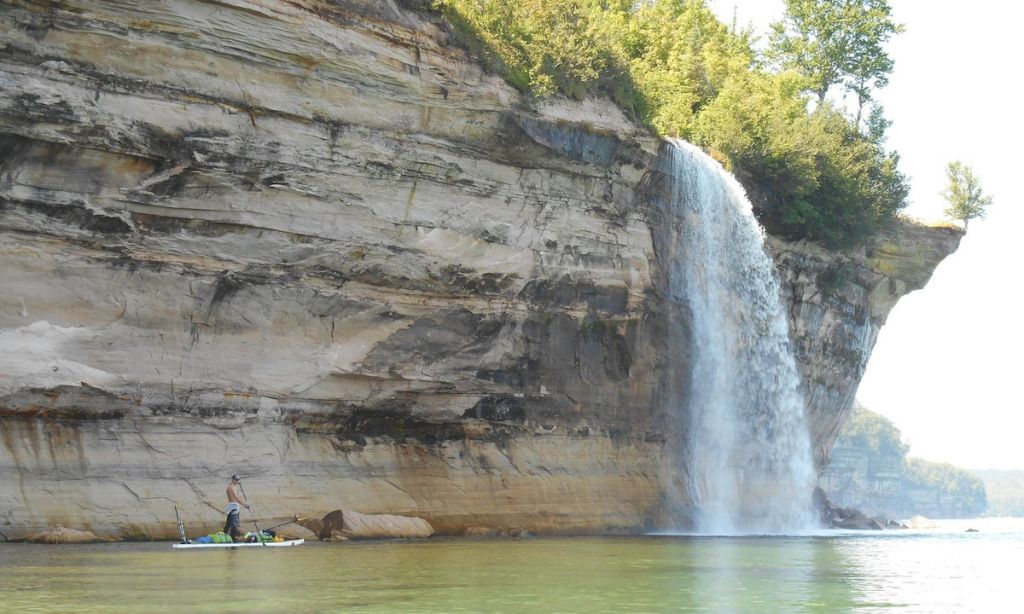 Jared Munch explores the beauty of Lake Superior. | Photo Courtesy: Jared Munch
DULUTH, Minnesota - 23 year-old Jared Munch isn't your average college student. Rather than living carefree and with no responsibilities Jared wanted to experience more. A couple of years ago, Jared decided and committed to circumnavigate Lake Superior by SUP and after two long years of preparations he was the first person ever to do so. The journey covered 1350 miles over 46 days on the lake and was largely a solo and unsupported expedition. To learn more about his expedition over the summer we caught up with Jared to talk about what his experience was like out on the water. Take a look:
Lake Superior is quite the task, what was your motivation in doing this extensive paddle?
I had originally been looking at a study abroad option in Patagonia that was designed specifically for whitewater kayakers. It looked awesome, but it was expensive and wasn't going to help me with my major (civil engineering). I started looking for other ways to broaden my paddling experience and the idea came to me as soon as I looked out my dormitory window. I remember thinking "Why am I trying to travel hallway around the world to have a cool adventure when I have THAT right in my backyard?" At first I thought paddling around Lake Superior was just a crazy idea. It had never been done before on a SUP. I at least took the dignity of writing the idea on a whiteboard for further considerations. After a month of staring at the whiteboard, I knew that it had to be done. This all occurred almost two years before I actually departed.
Views of Lake Superior as seen by Jared Munch. | Photos Courtesy: Jared Munch
Did you train for this beforehand? What was your training schedule like?
Training? No. That's for people with time and money haha. My "training" consisted of me frantically scrambling between school and work for the two semesters leading into the summer. I was working anywhere from 30-50 hours a week on top of being a full time college student just to fund my summer adventure. Physically, I wasn't in tip top shape when I started. I was over prepared mentally though. I spent a lot of time in class 5 whitewater and surfing Lake Superior. I was totally comfortable being out there in some big water. In addition, I had gotten pretty good at making use of little supplies, and just being miserable in general over the last year during my "training".
How long did it take you?
It depends on how you look at it. To me, it took me two years on planning and squirrelling away money to pull it off. My total number of days actually paddling around the lake was only 46. I left in early May, then returned to Duluth for two weeks to teach whitewater classes and raise more money for the rest of summer. I left again in June and got back at the end of July.
It wasn't all easy paddling on Munch's 46-day expedition. | Photo Courtesy: Jared Munch
How far on average would you paddle each day?
Over the summer, including my days off for waiting out the weather, I averaged just under 30 miles/day. My biggest day was 52 miles.
Was your adventure supported or unsupported?
Out of the 1350 miles, 1150 were solo. The other 200 miles were in the company of my dad, brother, and friends. I carried all of my food and gear on the board. I shipped resupplies of food to myself at 150-200 mile intervals.
Take a look at more SUP Expeditions HERE.
What gear did you take with you?
Board: C4 Waterman Wai Nui
Paddles: C4 Waterman Carbon X-Wing, Two-piece sea kayak paddle for heavy headwinds, and a flatwater canoe paddle for beam winds
Clothing: NRS farmer John Wetsuit, 7mm booties, semi-dri wear, down jacket, camp clothing
Food: Lots of dehydrated food from Camp Chow and lots of Cliff Bars
Tent: MSR Carbon reflex
Stove: MSR pocket Rocket
Others: dry bags, GoPro, first aid kit, small sail for emergency use only, compass, gps, sleeping pad, and my trusty Pillow Pet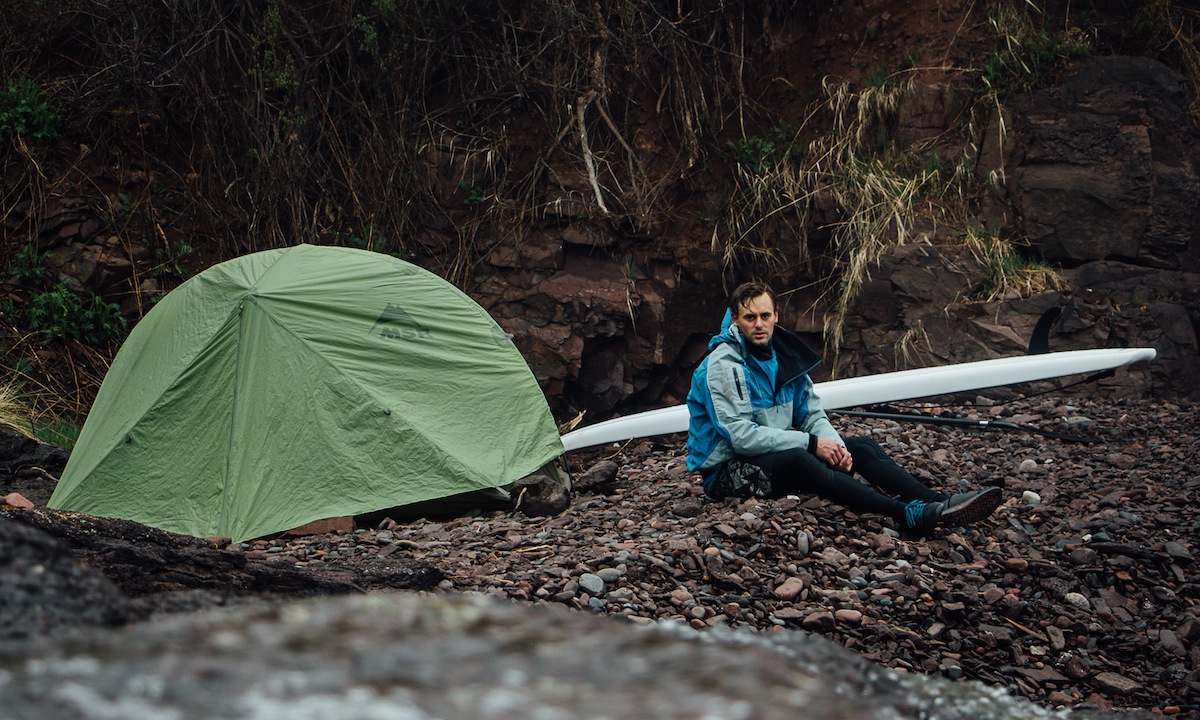 Gear Shots. | Photos Courtesy: Jared Munch
Hardships?
Dealing with the wind was a huge thing for me. Keeping a 14' board tracking well in a strong beam wind is one thing, but put a bunch of camping gear on it and you will have a much larger problem. Hunger was also a big thing for me. I had no possible way of eating as many calories as I was burning. I lost 15 pounds in the first three weeks. The remoteness was difficult at times, but I mostly enjoyed the thrill of having only myself for any type of support.
Biggest thing you learned after going on this adventure?
Paddling flatwater all day isn't very fun. You start to hope for some storms and nasty weather just for an ounce of excitement.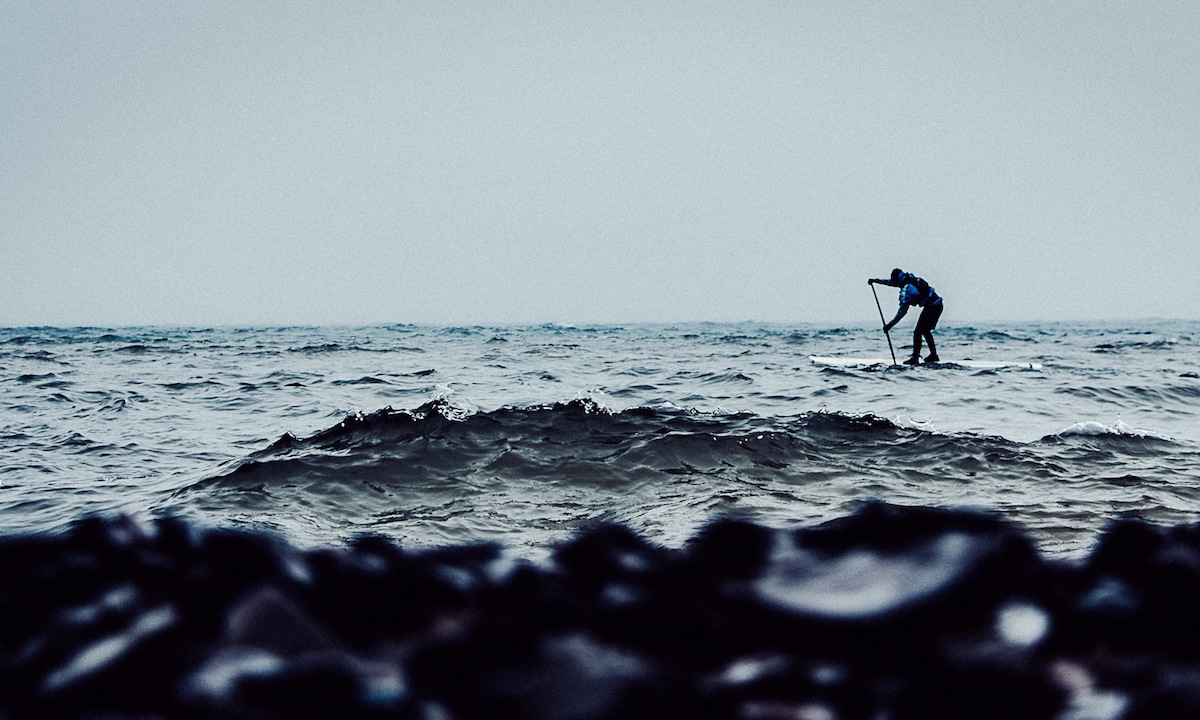 Munch getting the nasty weather that he had hoped for. | Photo Courtesy: Jared Munch
Would you consider doing it again?
The exact same trip? No. A circumnavigation of the lake was a one and done thing for me. I would feel weird doing it again. There's kind of a spiritual thing about the lake to me. The memories from the trip are so vivid in my mind that I don't want to relive them or change anything about them. I'm sure I'll paddle parts of the shoreline again, or tour to some of the more remote surf breaks that I found, but I will not do another full circle continuously.
Do you have any other SUP adventures planned in the future?
Yes I do. Next spring I will be completing the first descent of the Steel River of Norther Ontario. We're going to hit it as the snow is melting, which means living in a drysuit for a week and paddling lots of whitewater with camping gear on the board. Very little about the trip will be easy, but that's what makes it an expedition.
Munch enjoying his solo time on his 46-day expedition of Lake Superior. | Photos Courtesy: Jared Munch
We look forward to seeing a lot more expeditions from this young talent and we wish him the best of luck in his endeavors. To see a sneak peak at the documentary that Jared is editing check out the video preview below!
To see more SUP Journeys, Click HERE.
Last modified onTuesday, 01 December 2015 17:00

Allie Brown is orginally from Kona, Big Island and, as an islander, her life has been in the water – ocean more precisely. She has been a sponsored competitive surfer, represented the NSSA College National Champions while surfing for San Diego State University, and today remains deeply connected to the watersports lifestyle. Brown is both a shortboarder and a paddleboarder, loving to take out her inflatable SUP for a ride. With a journalism degree from San Diego State University and her passion for the water life, she brings an excellent combination of skill and passion to Supconnect. Twitter: @alliebrown808 / Supconnect Profile
Email

This email address is being protected from spambots. You need JavaScript enabled to view it.