SUP Pictures by Johny Cook
Paddling through the Autumn colours of Loch Ruthven, Scotland. | Photo: Johny Cook
We all can appreciate a good photo when we see one and in the Supconnect Photographer Series, we do just that. We connect with exceptional photographers in and out of the stand up paddle boarding world and showcase some of their many fantastic photos. This week, we are stoked to highlight adventure photographer Johny Cook from the Highlands of Scotland.
As a lover of all things adventure, Johny can mostly be found chasing athletes out on their adventures wether it be cycling, running or paddling boarding or taking part in his own adventures. Johny's first experience of paddling was when a friend asked if he wanted to try it in a glacier lake. There he saw the beauty of the sport, from both a photographer's and paddlers perspective and has been shooting the sport ever since. We recently caught up with Johny to talk about his adventures that he's captured and chat about his photos. Check out what he had to say about his experiences below:
Photo left: Paddling through Aigas Gorge in the Highlands of Scotland. / Photo right: Looking down the length of Loch Ness, Scotland. | Photos: Johny Cook
What sparked your interest in photography and how long have you been taking photos?
I got my first camera for Christmas from my Mum and grandparents. Since then it's been me that documents whatever my friends and I were doing which was either skateboarding or some sort of biking. Full time, I have been taking photos for four years.
Did photography come easy for you or was it something you had to work at?
I could always take photos and that time would be happy with what I had shot. Even looking back on photos from a year ago I'll sometimes decide I should have taken another angle or done something differently but it's just constantly learning.
What type of gear do you use?
I use a Canon 1DX mkii and 5D mkiii but when they aren't with me I use my phone. The other day my friend had an old Fuji point and shoot kicking around so I was using that and it was nice using something so simple with minimal settings to play around with.
What do you hope to say with your photographs, and how do you actually get your photographs to do that?
It's always nice to tell a story but I really want people to feel like they want to go there. They want to paddle on that loch, run in those mountains or ride on that trail. I enjoy showing off the location whether it's keeping the subject small in a large landscape or using a wider lens when up close to show where the subject is going or has been. Doing this at golden hour is always a bonus.
These photos are truly amazing. Do you have a lot of post production work?
It depends on the image and the style I want but it's never anything fancy that I spend a long time doing.
So you grew up in Scotland, what is the SUP scene like there?
I've only encountered the SUP scene a few times in Scotland but on the Facebook groups there seems to be loads of social paddles dotted around. About an hour away there is a Moray SUP Group and folk that lead that are really into river SUPing.
Why do you enjoy photographing stand up paddlers?/What's your favorite part about shooting SUP?
My favouite part about shooting SUP is getting out on the water and looking for a spot to shoot. Sometimes you can do this from the water but I love getting out for a few hours and finding different angles and locations. It also keeps me on edge ensuring I don't drop anything or fall in.
Clockwise: Glenorchy, New Zealand / Glenorchy, New Zealand / Blue Lake, New Zealand / Mackenzie Country, New Zealand. | Photos: Johny Cook
Your first experience paddle boarding sounds like quite the adventure. What got you hooked?
It was a challenge trying to get my balance but I enjoyed something different. Other than swimming I don't really spend much time around water and paddle boarding was something new. It's also a great workout and usually leaves me feeling floored! Seeing the area you are in from the water is also great viewing.
When did you take your first stand up paddle photos and what was the occasion?
My first time paddling was the first time I took photos of it and that was in a glacier lake of my friend Alan Daxon who introduced me to it. It's been pretty hard to top a photo of a friend paddling around icebergs.
My first paddle board photo of my friend Allan in a glacier lake, New Zealand. | Photo: Johny Cook
Where do you think would be the ideal location to do photo shoots for stand up paddlers?
I think it depends on the vibe you're going for. I love paddling in tropical spots but quite like a still winter morning when there might be snow on the hills and the paddler is bundled up in warm clothes. If the location is even wilder looking or the water is a bit choppy then it adds to the atmosphere. If anyone wants to take a paddle trip and shoot in some wild locations, I'll most definitely say yes!
Where has your favorite location been for shooting SUP?
The glacier lake in New Zealand was pretty amazing as you had icebergs right next to the paddler. Although anywhere with amazing light makes for a good location.
Clockwise: Lake Pukaki with Mt Cook as the backdrop, New Zealand / Overlooking a paddler on Lake Pukaki, New Zealand / Walking down to the river for a sunset paddle, New Zealand. / Paddling in front of New Zealand's highest mountain, Mt Cook. | Photos: Johny Cook
What was the most dangerous or most risky photo you have taken?
I'm not so sure I've gone out to be in a dangerous or risky situation but I've almost been ridden over many a time while shooting mountain biking. I was shooting a friend Ethan a few years back and I checked I was good to set up just off the trail. He booted it around a corner and for some reason just ended up coming straight for me and ran over my thigh. I guess that could have gone a lot worse but we still got the shot despite being run over.....successful shoot!
Which of all your photos from this shoot is your favorite one?
The landscape shot on Loch Beinn a'Mheadhain with the dark waters, forest backdrop and light sneaking through. The light and scale of the paddler in the scene looks peaceful.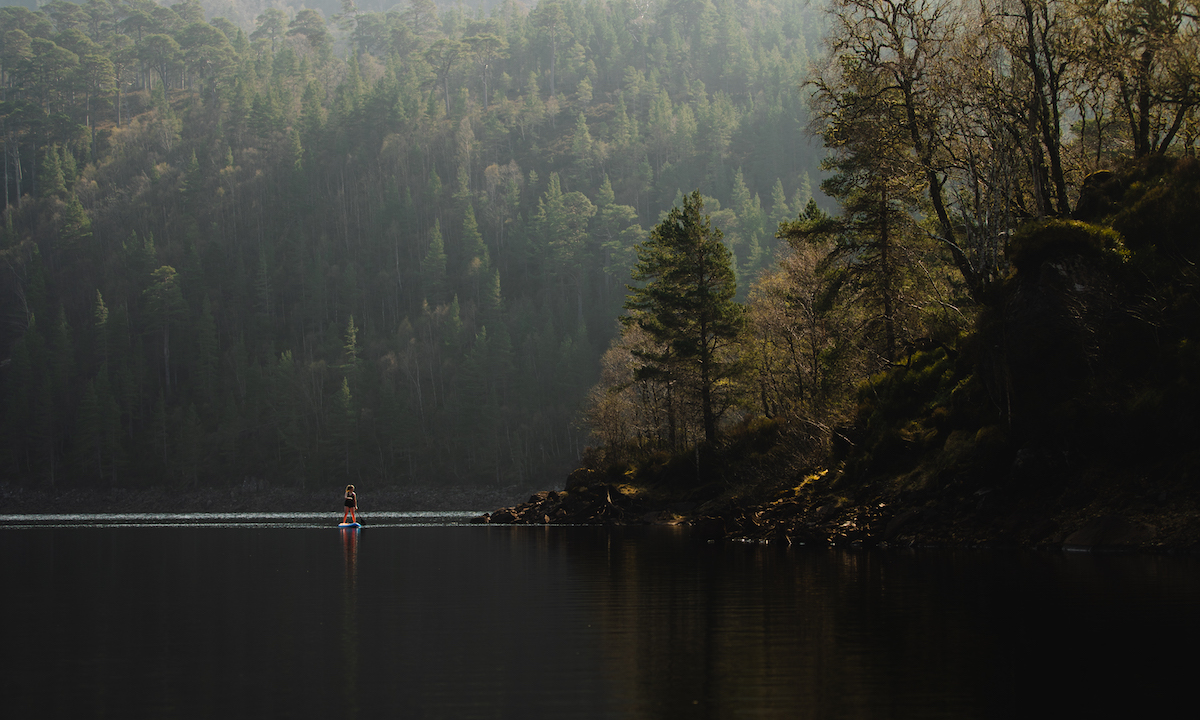 Caught in the golden light on Loch Beinn a'Mheadhoin, Scotland. | Photo: Johny Cook
Other than your own, whose photos do you most admire?
Right now I'm really enjoying Forest Woodward's work as his story telling through imagery is stunning.

Is photography your main profession or just a hobby?
For the past 4 years it's been what I do which is great. I started full time while living in my truck with my fiancee. I'm glad she was patient enough with camera gear always laid out everywhere.

Anything else you want to add?
If anyone out there is wanting to work on paddle projects or have adventures planned, get in touch. I'm always on the hunt to document paddling!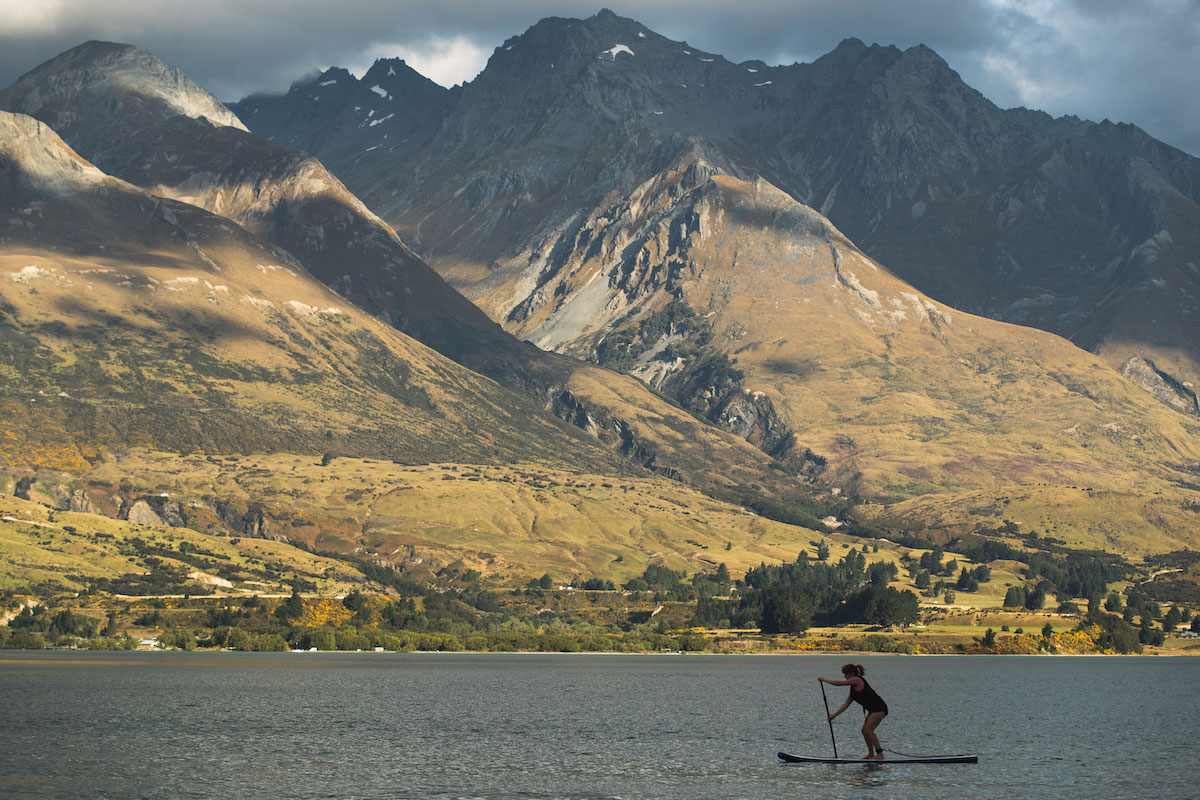 Catching the last of the light while on Lake Whakatipu, New Zealand. | Photo: Johny Cook
To see more SUP photos in our Photography Series, click here.
Do you have SUP Photos and want to be a featured photographer? Send us an email!
To connect with Johny Cook and see more of his photography, check out his gallery here or send him an email at [email protected]
© Copyrighted Exclusive SupConnect.com Content.
Last modified onMonday, 18 November 2019 16:33

Allie Brown is orginally from Kona, Big Island and, as an islander, her life has been in the water – ocean more precisely. She has been a sponsored competitive surfer, represented the NSSA College National Champions while surfing for San Diego State University, and today remains deeply connected to the watersports lifestyle. Brown is both a shortboarder and a paddleboarder, loving to take out her inflatable SUP for a ride. With a journalism degree from San Diego State University and her passion for the water life, she brings an excellent combination of skill and passion to Supconnect. Twitter: @alliebrown808 / Supconnect Profile
Email

This email address is being protected from spambots. You need JavaScript enabled to view it.