Local And Global Stars To Battle At Air France Paddle Festival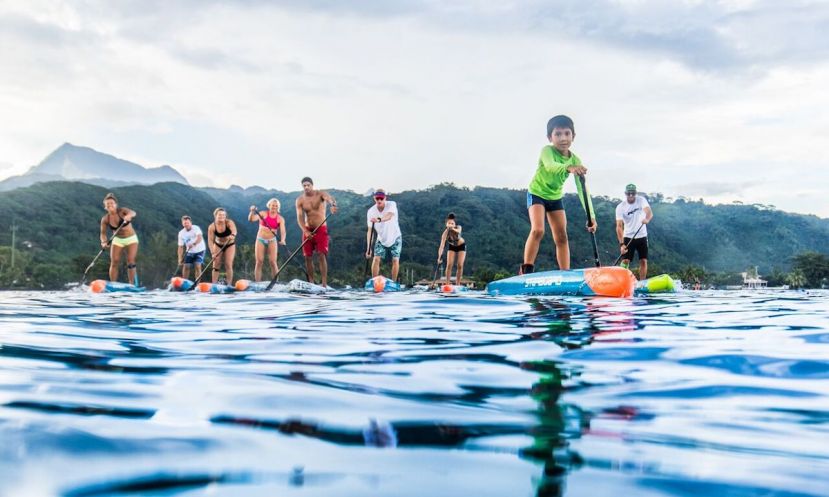 International athletes and local Tahitians paddle together before Air France Paddle Festival. | Photo courtesy: The Paddle League / Georgia Schofield
PUNAAUIA, Tahiti - Tahiti's largest stand up paddle event and the first major stop of The Paddle League World Tour, the Air France Paddle Festival is building up to be an epic battle between top ranked international athletes and local Tahitian warriors planning to defend their home waters. Tahiti has long been known for having a strong paddling culture, with the hugely popular discipline of va'a - outrigger canoe - dating back before the arrival of the Europeans. With the global rise of stand up paddle and the inception of the Air France Paddle Festival in 2014, more Tahitian athletes now have their chance to compete among the best and perform on an international stage. This Saturday there will be over 300 athletes competing in the kids, 8km lagoon, and 24k elite races, with the majority of participants being amateurs and juniors.
Conditions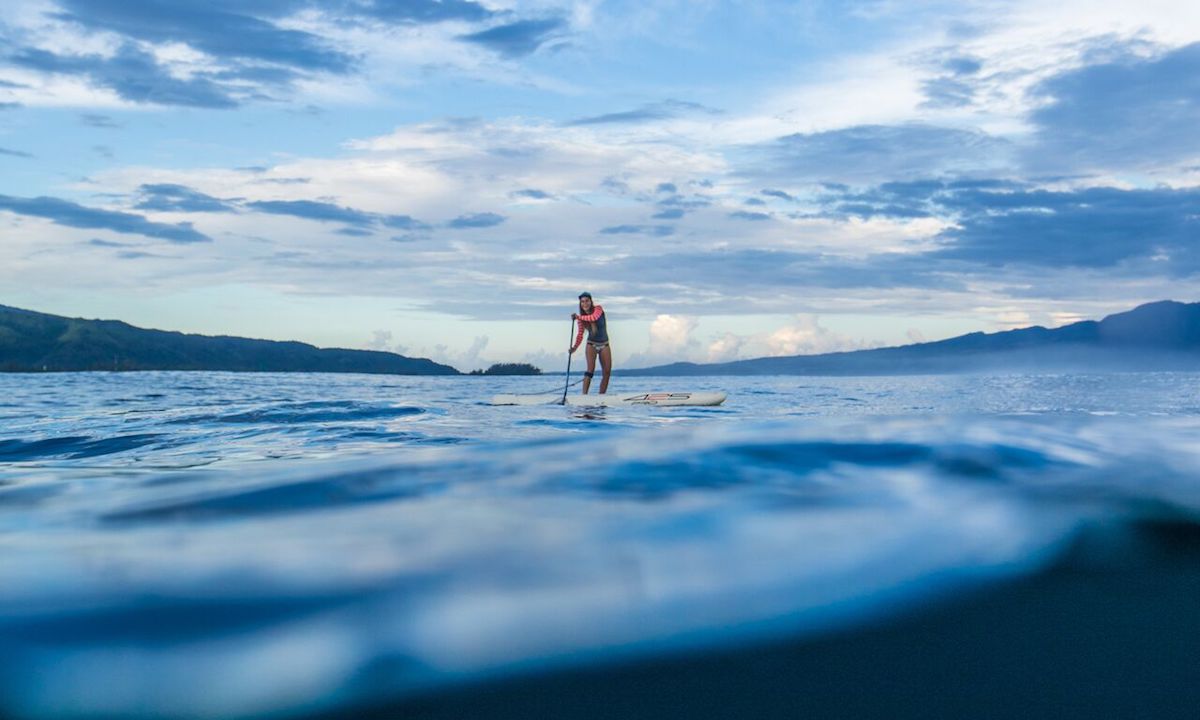 French athlete Olivia Piana enjoying the Tahitian waters. | Photo courtesy: The Paddle League / Georgia Schofield
In the 8km Lagoon Race, the event's most popular race in terms of participation, hundreds of racers paddle from the Port of Papeete, down along the coast to the village at Maeva Beach through stunningly clear lagoon waters. The 24km Elite race combines both lagoon and open ocean elements, and has seen all different conditions in past years. Saturday is expected to be very hot and flat, so it'll will be a tough battle between some of the world's best.
Live Stream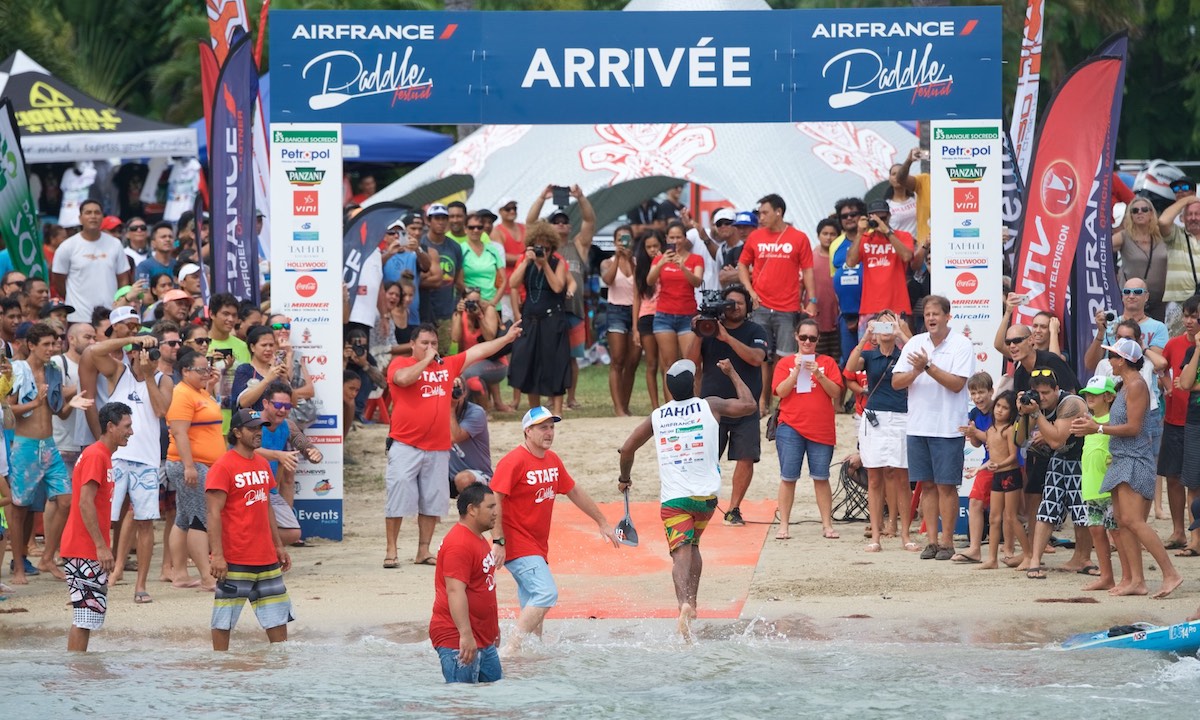 Finishline of the 2017 Air France Paddle Festival. | Photo courtesy: Tim McKenna
We will be live streaming the event with English commentary here on Supconnect on Saturday. To stream the French version, head to the TotalSUP Facebook page for live coverage. Broadcasting will begin at 11am local time, with the elite race starting at 11:30am.
Athletes To Watch
Starboard athletes Connor Baxter (left) and Fiona Wylde and Sonni Honscheid (right). | Photo courtesy: The Paddle League / Georgia Schofield
For the men, its expected to be the ultimate showdown between local and international talents. Since its inception, the men's elite race has never been won by a non-Tahitian, but with more major international players in the mix this year, that will be tested. On the women's side, international athletes have dominated the podium for the past three years. Starboard rider and 2017 champ Sonni Honscheid is back to defend her title, along with 2016 champ Olivia Piana and world number two athlete Fiona Wylde.
Men
Internationals
Connor Baxter (world number one, Hawaii)
Titouan Puyo (world number two, France/New Caledonia)
Michael Booth (Australia)
Lincoln Dews (Australia)
Kenny Kaneko (Japan)
Noic Garioud (New Caledonia)
Fernando Stalla (Mexico)
Marcus Hansen (New Zealand)
Tahitians
Steeve Teihotaata
Rete Ebb
Georges Cronsteadt
Yoann Cronsteadt (defending champ)
Manatea Bopp du Pont
Hapowa Mai
Keoni Sulpice (14-years-old)
Tuki Tissot (14-years-old)
Women
Fiona Wylde (world number two, Oregon)
Olivia Piana (2016 champion, France)
Sonni Honscheid (defending champion, Germany)
Yuka Sato (Japan)
Penelope Strickland (New Zealand)
possibly Annabel Anderson (world number one, New Zealand)
Prize Purse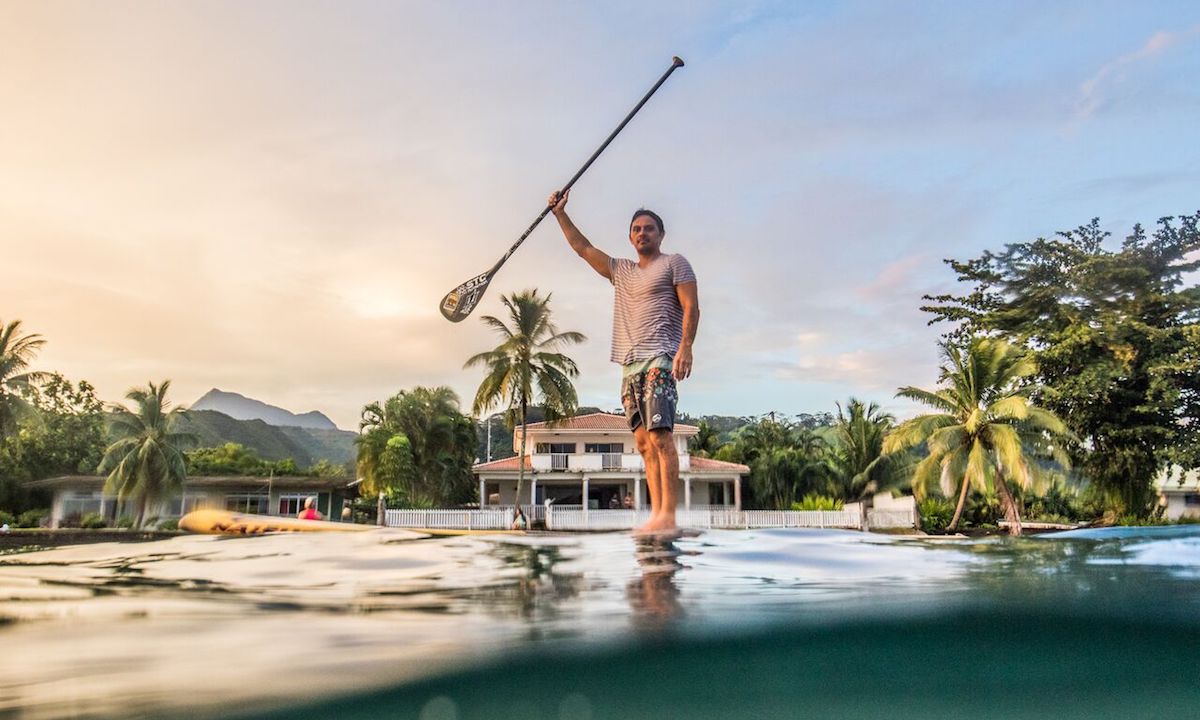 Photo courtesy: The Paddle League / Georgia Schofield
In addition to the 100 points up for grabs for the winners, there is prize money on offer for top finishers in the elite open, women, junior, and veteran categories.
Elite Race Open
1st place: 250,000 XPF
2nd place: 175,000 XPF
3rd place: 100,000 XPF
Elite Race Women
1st place: 250,000 XPF
2nd place: 100,000 XPF
3rd place: 50,000 XPF
Elite Race Junior
1st place: 70,000 XPF
2nd place: 40,000 XPF
3rd place: 25,000 XPF
Elite Race Veteran
1st place: 45,000 XPF
2nd place: 20,000 XPF
3rd place: 10,000 XPF
Be sure to check back here Saturday for the live stream along with race results and a full event recap! Find more information about the 2018 Air France Paddle Festival along with the schedule of events HERE.
For more SUP News click HERE.
Last modified onFriday, 06 April 2018 13:37

Born and raised in the Golden State, Marissa Scheid is a true California girl through and through. She grew up in Livermore, a Northern California city in the suburbs of San Francisco's Easy Bay Area, where she developed a passion for writing and a love for competitive sports, especially soccer. After finishing high school, she moved down the coast to San Diego, California to study World Literature at UCSD and play for the university's collegiate soccer team. Transplanted from a town in the wine country to one of California's most beautiful coastal cities, she quickly grew an affinity for the water and all aspects of the ocean lifestyle.
Email

This email address is being protected from spambots. You need JavaScript enabled to view it.