Paddle Boarding Venezuela
written by Diego Barbato
With miles upon miles of beautiful coastline to be explored, wild waves to be tamed, hundreds of tiny islands to discover and lazy rivers to be enjoyed, Venezuela is a stand up paddle paradise.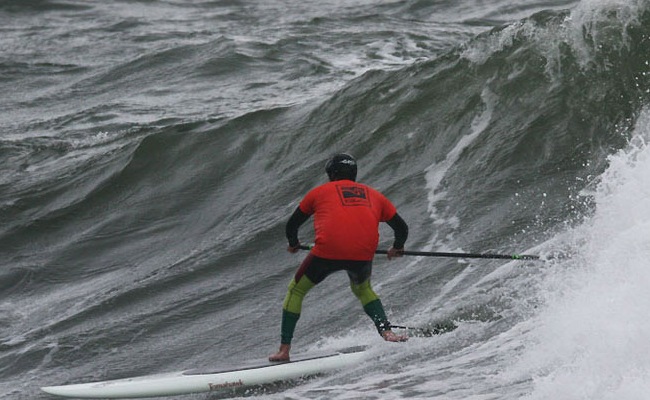 A SUP surfer charges a wave on the back of one of Venezuela's many winter swells. Photo courtesy Freedom Surf Factory
Join the SUP Destination Group to talk about SUP in Venezuela
CARACAS, Venezuela - No matter what time of year or what skill level you are at, Venezuela offers plenty of stand up paddle opportunities. The rich culture that this South American country has to offer, coupled with miles of coastline, rivers and canals, put it on the top of any SUP traveler's list. On the frontier of the growth in the stand up paddle industry, Venezuela is just beginning to embrace the possibilities its Caribbean coastline, sparkling islands and many waterways have to offer.
1. Seasons

---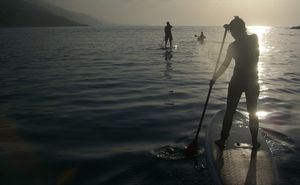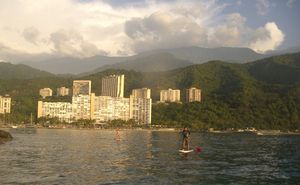 ---
Regardless of conditions, Venezuela has many rivers, lakes, canals and coastline to explore. In Venezuela we have 2 main SUP seasons; summer and winter.

The summer season lasts from April to October and consists of heavy rains. This time is also hurricane season where hurricanes pass very close to Venezuela's coast line. These storms produce excellent waves from 4 – 6 feet with perfect conditions but with a short period of time while the storm or hurricane is passing by. In Between storms, Venezuela's coast is blessed with low winds and beautiful conditions for sea expeditions on the entire coast line.

The winter season is dominated by heavy chop at sea with the east trade wind always pumping. The surf at this time is a bit choppy but is the best wave season we have. During this time, lengthy downwind travel on the coast is available. Easterly winds dominate the coast for about 90% of the year with only a few of days with the wind blowing to the west.

Being near the equator and with a coastline on the Caribbean Sea, the temperature is always warm between 23 degrees and 32 degrees Celsius in the summer. In the winter the temperature drops only moderately to about 19 degrees Celsius but nothing too bad that a long sleeve neoprene can't resolve.
2. Hot Spots

---
Los Roques

---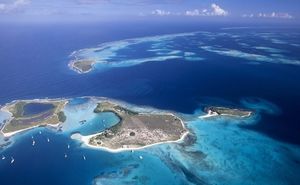 ---
La Guaira

---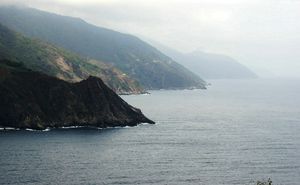 ---
Mochima National Park

---
---
---
---
The stand up paddle opportunities in Venezuela are near limitless. From surfing ocean waves, to long expeditions on the coastline, to beautiful lakes and private canals, it is easy to get lost in all that this country has to offer. The following is only a snapshot of what is available to those who wish to visit Venezuela in search of SUP locations.

Los Roques
This is the ultimate hot spot in the country. With beautiful water color, excellent scenery and a perfect temperature, Los Roques hosts over 70,000 visitors per year. Here you can find waves, pristine white sand beaches and untouched coral reef.

At just over a 30 min. flight from the main land, this SUP paradise consists of about 350 islands, cays or islets. The Los Roques archipelago was declared a national park in 1972 by the Venezuelan government and today hosts many tourists from Europe and mainland Venezuela. From wave riding on beautiful blue ocean waves with colorful reef bottoms to long expeditions from island to island all through the archipelago, here you have it all.

La Guaira
Just a 30 minute drive from the main city of Caracas is La Guaira. This is the where you arrive by plane to the country. La Guaira serves as the main port of Venezuela and boasts 1496 km of coast. Here we have several breaks for excellent SUP surf. From short radical waves like the breaks of Playa Pelua and Playa Larga, to long point breaks such as Los Caracas and Todasana, this area of the Venezuelan coast line offers the intrepid SUP surfer much to explore.

In addition to SUP surf, the coast line of La Guaira is excellent for SUP expeditions. With many small ports and beaches with pristine coves, there is always a place to stop to relax before continuing on your SUP journey. Along much of the La Guaira coast line is also a scenic mountain range that only adds to the visual enjoyment of any stand up paddle session.

Mochima National Park
This is another paradise for paddlers, with almost no wind blowing you can go on long travels with your stand up paddle board all day. The Mochima National Park is located on the northeastern coast of Venezuela and includes beaches, gulfs and inlets of extraordinary beauty.

With flat ocean water and no wind one can only imagine the limits of what you can do, the only danger in this area would be the boats from other excursions or groups passing by, besides that you only need to watch out for the dolphins that are always looking for someone to play around with.
3. Other Paddlers

---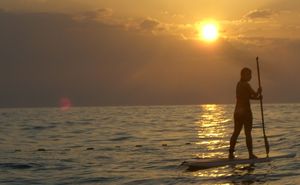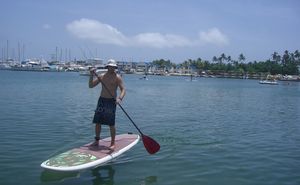 ---
Because this is a new sport in this country there are no SUP groups at the moment, nor are there any races or events that are upcoming, but that is soon to change. We are trying to push the sport at all levels, any way we can, so soon enough we will have all new upcoming events and races, and of course excellent expeditions and trips that we will organize so you can come to visit all these excellent spots depending on your taste for adventure.

About the Author
Diego Barbato works at Freedom Sports located in Caracas. Representing Surftech in Venezuela, Freedom Sports is dedicated to surfers and stand up paddlers in the country, being one of the first outlets to offer the Surftech SUP boards.

Freedom Sports Organizes groups and demos so that people can learn and try the awesome sport of stand up paddling while being introduced to all the benefits that it brings. As pioneers in the Venezuelan SUP industry, Freedom Sports also organizes trips, boards for sale and lessons for beginners in the world of SUP.

For more information on Freedom Sports check out their webpage at www.freedomsurf.com.ve.
Guiding Links & Other Information for SUP in Venezuela

Freedom Sports - www.freedomsurf.com.ve
Play Los Roques - www.playlosroques.com
Do you have any experiences to share about SUP in Venezuela?
.
© Copyrighted and Exclusive SupConnect.com Content
Last modified onThursday, 22 January 2015 15:30

After spending the first part of her life in Minnesota, Morgan traded in her snow boots for sandals and moved to sunny California. After graduating with a degree in Communication from The University of Southern California, she eventually made her way down south to San Diego and is taking advantage of the living by the best beaches and burritos California has to offer. If it's sunny, you can find her at the beach relaxing, or exploring the calm water in the bay via paddleboards and kayaks.
Email

This email address is being protected from spambots. You need JavaScript enabled to view it.