Paddle Boarding Morro Bay, California
written by Matt Hudgens
Whether you want to meander on a glassy bay with bat rays gliding beneath or charge through 8-foot waves that foam and spit, the Central Coast of California can provide both and everything in between.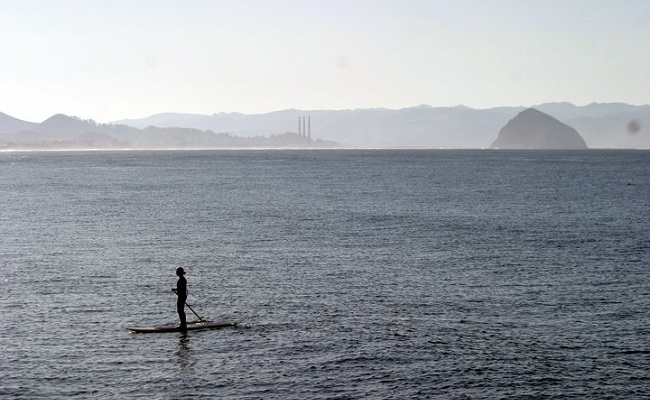 Solitude is bliss. With only the ripples of the morning surf to keep her company, this stand up paddler enjoys a session on the open ocean with Morro Rock in the background.
Join the SUP Destination Group to talk about SUP on the Central Coast.
MORRO BAY, California - On California's central coast, in San Luis Obispo County, there is nearly always something worth SUPing. In addition to a mild climate, the central coast has a body of water to suit every SUPer. Miles of sandy beach break, lots of protected coves to explore, several lakes and even some rivers beckon freshwater aficionados. At the heart of it all is Morro Bay, a large protected body of water big enough for 10+ mile loops. One thing the entire region shares is a distinct lack of crowds and easy access to many places.

1. Seasons

---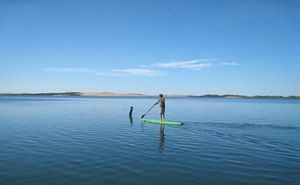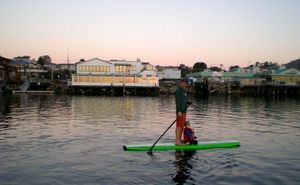 ---
Outside of the periodic big winter storm, the climate and conditions are mild year-round, which means we're on the water year-round! From clean, long-period NW swells coupled with amazing weather in the fall, to windswept spring days when all the down-wind boards come out, the central coast has something to offer everyone.

The best weather is from late summer through early winter, when the winds are typically light, the temperature pleasant, and the surf great. The marine wildlife is abundant this time of year, with porpoises, migratory birds and waterfowl, and lots of otters and seals cruising by.

Winter will see some big storms roll through, but in between the storms the paddling is awesome. Temps are seldom below 50 degrees (F), and we often have several days at a time of summer-like weather.

As spring rolls in the kiteboarders get their turn, since the prevailing weather pattern then is strong NW winds most afternoons. But even during the spring and early summer the early bird will find plenty of smooth water to paddle on, and there are several great downwind runs to do also.

2. Hot Spots

---
Morro Bay

---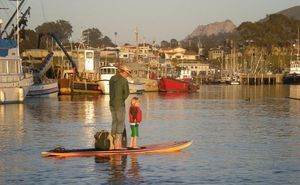 ---
Coleman Beach

---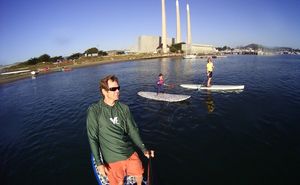 ---
Widow Walls

---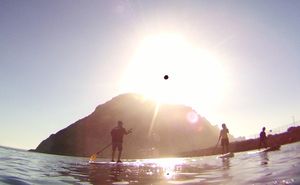 ---
Tidelands Park Boat Ramp

---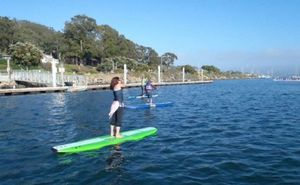 ---
Morro Bay
Morro Bay is the crown jewel of central coast calm water paddling. Boasting by far the easiest access to the best, and most dependable, paddling, the Bay is over 4 miles long by 1.5 miles wide and varies in its nature from a bit wild and wooly towards the harbor mouth to calm and serene in the back bay.

Wildlife abounds, and the area is especially well known for its abundance of birds. Always check the tides, as they produce strong currents in places, and often leave the back bay too shallow for paddling. But time it right and enjoy blissful gliding with the current while birds and seals frolic, and if you're lucky you'll get a view of a school of rays gliding over the flats! Here's some of the most popular paddling launches to get out on the water in Morro Bay:

Coleman Beach
Also known as "Mother's Beach" due to it's popularity with Mom's and kids. This is the only sandy beach with dependably calm conditions in the bay. While it's best at mid to high tide, it is still good for launching at low tide.

Located on the way out to Morro Rock, just past the smoke stacks,Coleman Beach is probably the most popular SUP launching spot inside the bay, and on nice days you will find lots of paddling company here.

Widow Walls
In the lee of Morro Rock, this is the other good sandy beach on the bay, but this beach sometimes has waves. This is where many paddlers get their first taste of SUP surfing. It is also popular among more accomplished surfers when the waves outside the bay are too big.

Tidelands Park Boat Ramp
About halfway in the bay, at the other end of the Embarcadero from Morro Rock, is this park and the public boat ramp. Parking is free unless you are towing a trailer. Currents can be pronounced here, remember to paddle upstream first so you get to coast back to your launch site!

This is a great central spot to SUP from, with easy access, restrooms, and the option of paddling either along the Embarcadero towards the Rock or further into the bay towards the Bird Sanctuary and Morro Bay State Park.

Morro Bay State Park
There are several good launch spots here, all are tide dependent. At high tide the turn out just before the museum is a great put in for SUP, but at low tide it is a little bit of a long walk, through soft, wet sand, to the water.

Just around the corner past the museum is the State Park Marina, with several launch options. Again at high tide it's easy to avoid the mud, but for a small fee you can use the State Park dock and launch cleanly no matter the tide.

The Bayside Café is a good eatery, and the paddling here is superb! Try timing a dinner cruise from Tidelands Park to the marina with a high tide….ride the current in, enjoy a delicious meal as the tide swings, then ride the beginning ebb tide back!

Los Osos & Bayview
All the way in is the "back bay." This is where you really want to have a handle on what the tides are doing, because a low tide will leave you stranded in the mud with your skeg stuck! But, at mid to high tides, this is where you see leopard sharks cruising and schools of rays flying underwater, a sight to remember. Even at low tide there are channels to explore, but time it right and watch where you're paddling.
3. Other Paddlers

---
There are a number of ways to hook up with other paddlers in the area. In Morro Bay, Central Coast Stand Up Paddling offers free Demos on the 2nd Saturday of every month. They also host a Summer Race Series and the Annual Jesse King Memorial/Central Coast Waterman SUP Festival in October. There is also a social paddle most Thursday evenings from their shop.

September of every year there is the Ken Harmount Paddle, from Avila Pier to Pismo Pier, and the North Coast Ocean Rescue Paddle Race, from San Simeon Cove to Leffingwell Landing in Cambria. Both events have a great turnout of local paddlers.

Central Coast SUP also has tours, lessons, and rentals available, with a convenient private dock to launch from just steps from the store.

About Matt Hudgens
Though Matt Hudgens tried SUP in Malibu around 2001, it wasn't until 2006 when Matt brought his family to the coast and after nearly two decades spent on the river as a whitewater kayak guide, instructor, and athlete that he truly "got it."

It was just what the doctor ordered to re-instill passion into Matt's life. Completely blown away with the ease, simplicity, fun, and versatility of this new way to get out on the water, Matt and his wife Haley opened Central Coast Stand Up Padding in Morro Bay, to help spread the stoke! Now they can be found along with their two boys on the water most days.
Guiding Links & Other Information for the Central Coast of California

Central Coast Stand Up Paddling: http://www.centralcoastsup.com/
Visiting Information for San Luis Obispo County
Visiting Information for Morro Bay: http://www.morrobay.org/
Do you have any experiences to share about SUP on the Central Coast?
© Copyrighted and Exclusive SupConnect.com Content
Last modified onThursday, 22 January 2015 15:13

After spending the first part of her life in Minnesota, Morgan traded in her snow boots for sandals and moved to sunny California. After graduating with a degree in Communication from The University of Southern California, she eventually made her way down south to San Diego and is taking advantage of the living by the best beaches and burritos California has to offer. If it's sunny, you can find her at the beach relaxing, or exploring the calm water in the bay via paddleboards and kayaks.
Email

This email address is being protected from spambots. You need JavaScript enabled to view it.