6 Amazing Urban SUP Destinations
AUSTIN, Texas - SUP is an incredible way to enjoy the oceans and waves of the world. But what if you find yourself land locked in a concrete jungle?  Thankfully, Stand Up Paddling has wound it's way into the fabric of cities big and small around the globe. Here are seven incredible urban SUP destinations that will satisfy even the most demanding paddler.
By Matt Thomson 
Austin, Texas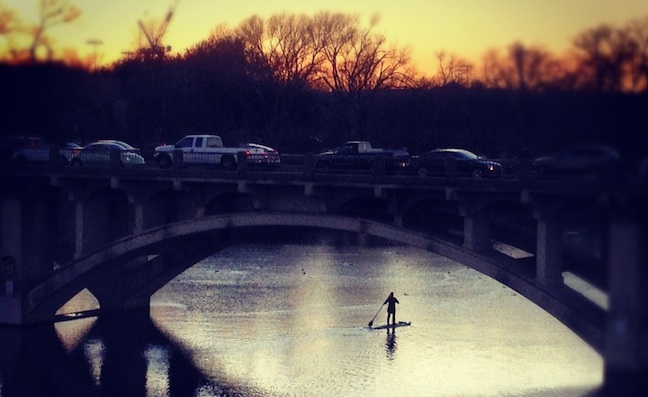 Why sit in traffic when you can go for an evening paddle? | Image: Carrie Morton
The vibrant downtown scene next to Lady Bird Lake (where smooth waters prevail because motorized boats are prohibited) offers a fun and relaxed SUP destination close to all the action with year-round smooth waters. Summer weekends in Austin can bring out over 100 paddlers to enjoy the great outdoors in the heart of downtown. If you want a bit more seclusion, try one of the dozen navigable creeks, lakes and streams within an hour's drive of Austin.
When to go: Year round. Hot summers with temps over 100 are ideal for SUP sessions combined with cool dips in the rivers.  Or try paddling during the mild winters to enjoy complete peace and quiet in the midst of the city. Each June, Austin hosts the Dam That Cancer charity paddle, a twenty-one mile fundraiser to support families coping with a cancer diagnosis.

Mission Bay, San Diego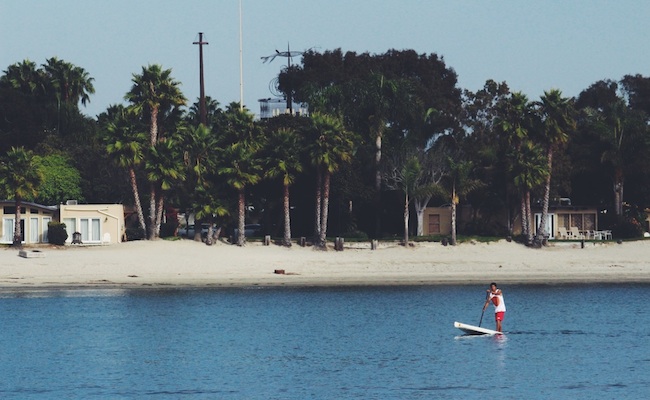 Mission Bay | Image: Jared Mallari 
Calm water and soft sandy beaches make these protected coves a haven for paddle boarding. As long as you don't mind the cooler water temps and sharing the bay with an occasional sailboat, you'll spend a worry-free day exploring the sandy banks, small islands and marinas all while enjoying city views. There are plenty of SUP resources in the area including SUP yoga classes and rentals.
When to go: Anytime of year is great in San Diego. Mission Bay generally has calm waters, especially in the mornings. The water is cold year round so just pick a sunny day in case you take an accidental dip.

New York City, NY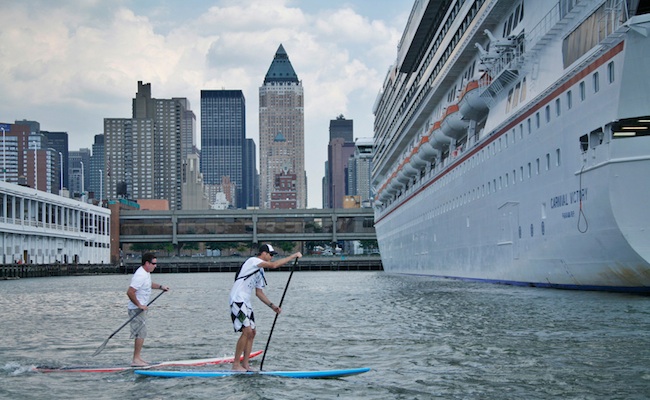 John Anton and Mike T paddling the Hudson River
The Big Apple may be full of concrete, cars and people, but it's surrounded by water. The conditions can be harsh and cold at times but on a calm sunny day there's no better way to see the New York skyline than from a water-bound SUP.  Plus, after your paddle there's no shortage of topside attractions to enjoy.
When to go: Winter and spring can bring some rough weather so it's best to stick to summer when temps are warm or early fall when conditions can be ideal.  To see the entire city and support a great cause, try the SEA Paddle NYC SUP marathon in August. It's a 26.5 mile circumnavigation around Manhattan Island.

Venice, Italy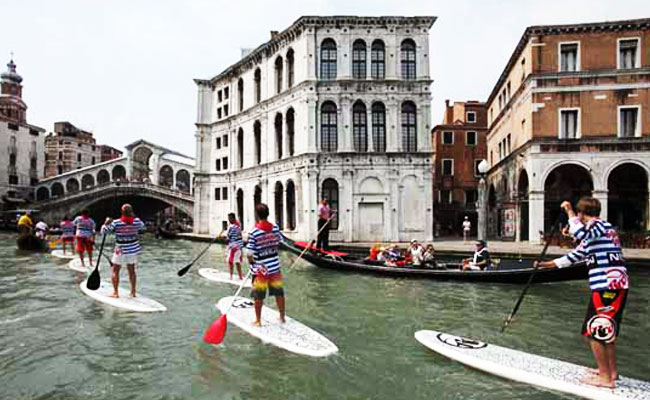 Were the early Venitians stand up paddlers? If there was ever a place on earth made for SUP, it's Venice.  With canals instead of streets, this town is best experienced by water. Traditionally a gondola was the vessel of choice, but now SUP is offered as an alternative. Why walk on the sidewalks when you can paddle quaint canals to see the real Venice? Check outsupinvenice.com for more details.
When to go: Any time of year.  Venice is a year round tourist destination but winter definitely brings colder air and water temps. Plan on staying dry as this isn't exactly the best place for swimming.

Seattle, Washington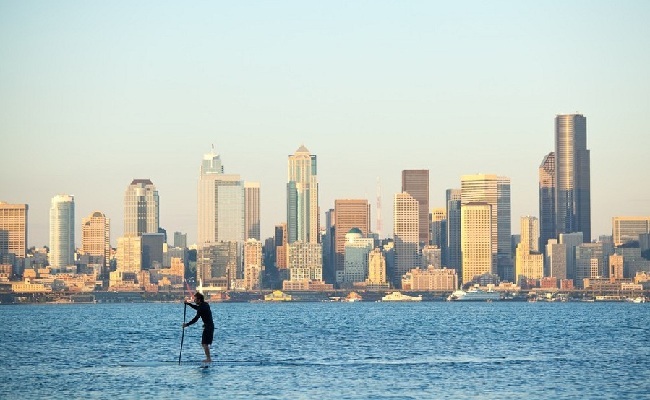 Union Lake is just one of many bodies of water in the Seattle area. There are entire communities built over the calm waters, so heading out on your SUP can feel more like a walk in the neighborhood than an ocean paddle.  While you're there sign up for Seattle's Round the Rock 13 mile race around Mercer Island.
When to go: Year round.  Winter can actually be a beautiful time on the water, but you'll need to wear a wetsuit in case you fall in the frigid waters. Summer and fall can be breathtaking when the sun is shining.
Sydney, Australia 
Australia has long been on the short list for surfers and scuba divers, but now there's another great reason to visit. Sydney is a city on the water and that means the SUP potential is high. Sydney is full of bays, islands, channels and harbors that would take years of paddling to explore. For the perfect souvenir photo-op paddle by the Sydney Opera House then explore the nearby Bondi Beach for some surf.
When to go:  Remember, if you're in North America, seasons are opposite from Australia. If the winter blues get you down, head down under for some summer SUP fun.
About Matt Thomson
Matt has been surfing since childhood and SUP'ing since 2005.  He currently lives in Austin, TX with his wife and kids and is the founder of Wavecation.com, the world's leading site for finding surf and SUP vacation rentals and hotels.
For more SUP ides, check out Matt Thomson's article on 5 Great SUP Vacations. 
© Copyrighted & Exclusive SupConnect.com Content. 
Last modified onMonday, 26 January 2015 12:26
Email

This email address is being protected from spambots. You need JavaScript enabled to view it.