Paddle Boarding In Maui, Hawaii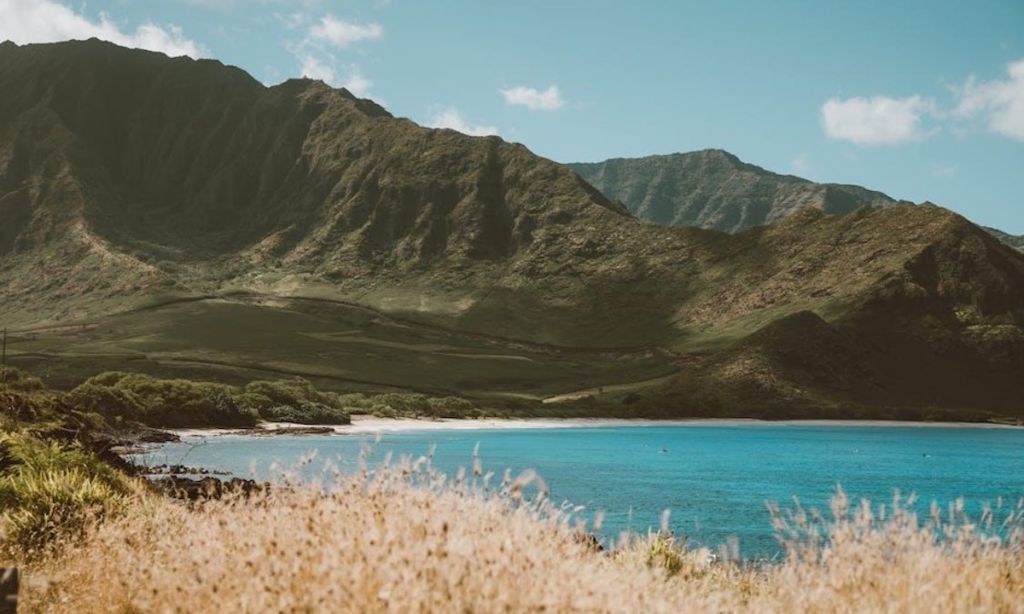 Photo via Pexels.
The island of Maui is a perfect destination for a beautiful SUP getaway. With gorgeous views, wildlife, and an abundance of SUP spots, there's so much to enjoy about this Hawaiian paradise.
Highlights
Maui, the second-largest island in Hawaii, boasts picturesque landscapes and coasts, all suited for an idyllic and breathtaking sunset and sunrise sights. Its pristine coastlines are also home to humpback whales during winter, making it among the whale-watching hotspots in the Hawaiian archipelago. Of course, its scenic tropical beaches are the go-to destinations for watersports and outdoor recreation. Specifically, the island is what most paddle boarders dream of. You can enjoy soft sand beaches, crystal clear waters, and various aquatic animals from the comfort of your board.
The tropical island is a foodie's paradise too! Maui's farm-to-table tropical dishes, such as mahi-mahi, ahi tuna, opakapaka, and other great fresh seafood, are served at traditional Hawaiian parties featuring buffet dinners, lively music, and exciting cultural performances from the locals. The Valley Isle will surely provide you with unforgettable experiences.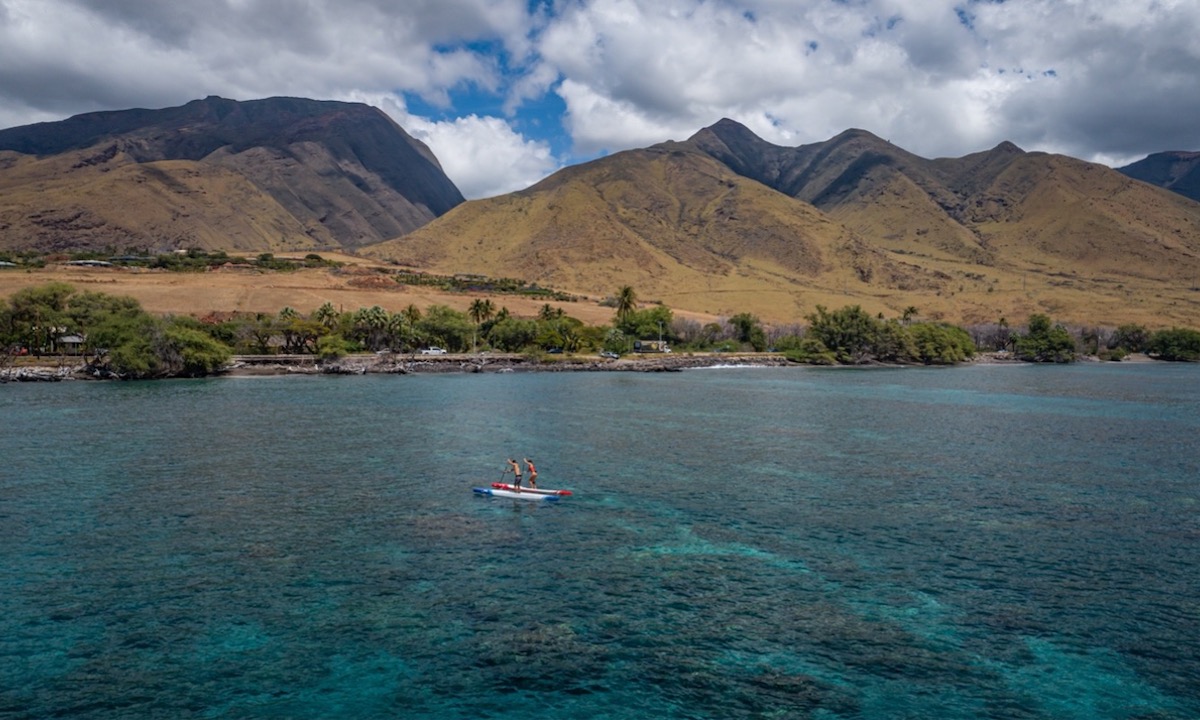 Photo via SIC Maui
Seasons
Since Hawaii is in the tropical zone, Maui only has dry (April–October) and rainy (November–March) seasons. Its average daytime high is 29°C (85°F) in the dry season, while it's 26°C (78°F) in the rainy season. Nighttime drops are typically about 10 degrees cooler. It could also rain each day in some areas at any time of the year. But the good thing is it seldom rains in one place for more than three consecutive days.
Although year-round temperature doesn't vary much, the island is full of microclimates, which depends on where you're on the island. The western and southern parts are Maui's leeward sides (sheltered from the wind), so these places are usually hot and dry.
On the contrary, the eastern and northern parts are the windward sides (get the wind's full force), so it's generally cooler and moist. Overall, go west or south if you want to enjoy dry, sunbaked weather, and go east or north for lush, wet weather.
Hot Spots: Where To Bring Your SUP
Here are some of the top spots recommended for paddle boarding in Maui.
Kapalua Bay
If you're an amateur paddler, the calm waters of Kapalua Bay in Northwest Maui will surely help you get your bearings straight on a paddleboard. The area's sheltered cove isn't often impacted by wind and rain, and it has shallower areas, so it's a great practice location for beginners.
What's more, it has beautiful white-sand beaches and active marine life. While you're out on your paddle board, it's pretty common to witness the Honu and other sea creatures swimming in Kapalua's pristine waters. So, if you're looking for fun trips for couples during your next getaway with your special someone, Kapalua Bay is undoubtedly a great choice.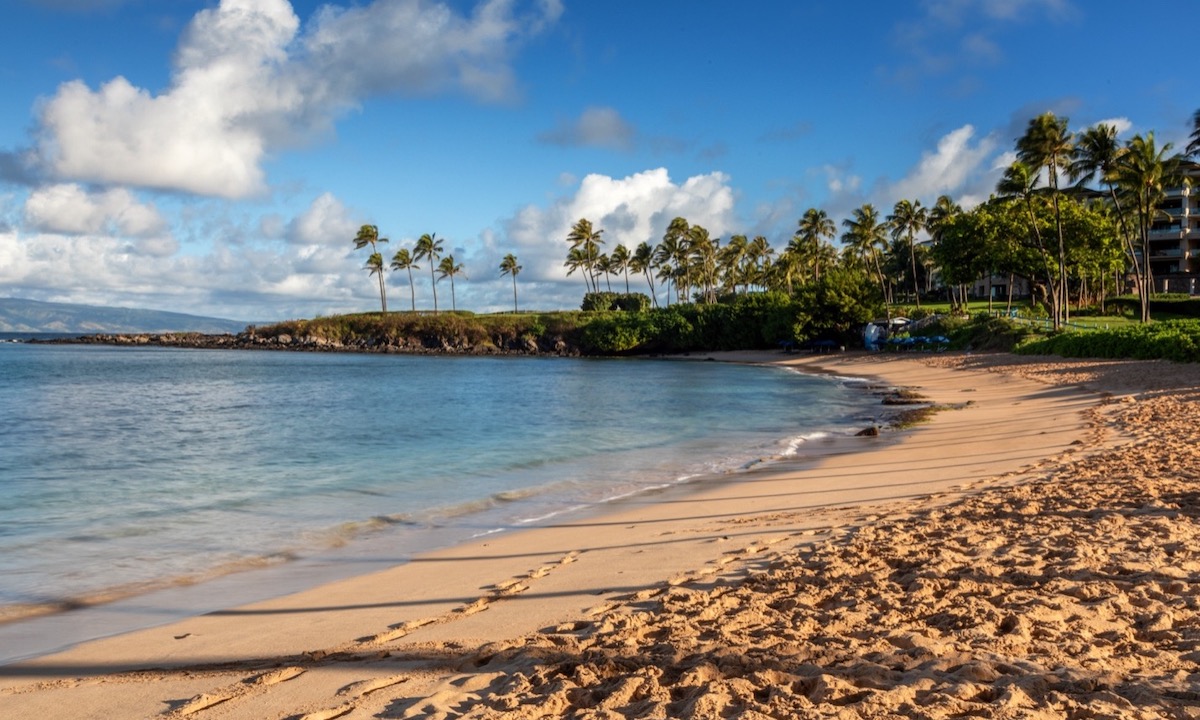 Kapalua Bay. Photo via Shutterstock.
Napili Bay
Another incredible place is Napili Bay. Like Kapalua, its white sand beaches and abundant reefs and corals are regularly frequented by the Honu and other fish species. That's why it's a hotspot for sunbathing, swimming, snorkeling, and paddle boarding.
It's perfectly accessible to travelers, just one beach over from Kapalua. Plus, it's more secluded, which is best if you want a getaway from more populated areas. But unlike Kapalua Bay, it has more frequent wind and rain. Also, when large swells occasionally form, Napili Bay's waves can be relatively massive and rough, so these times are only recommended for more experienced and adventurous paddlers.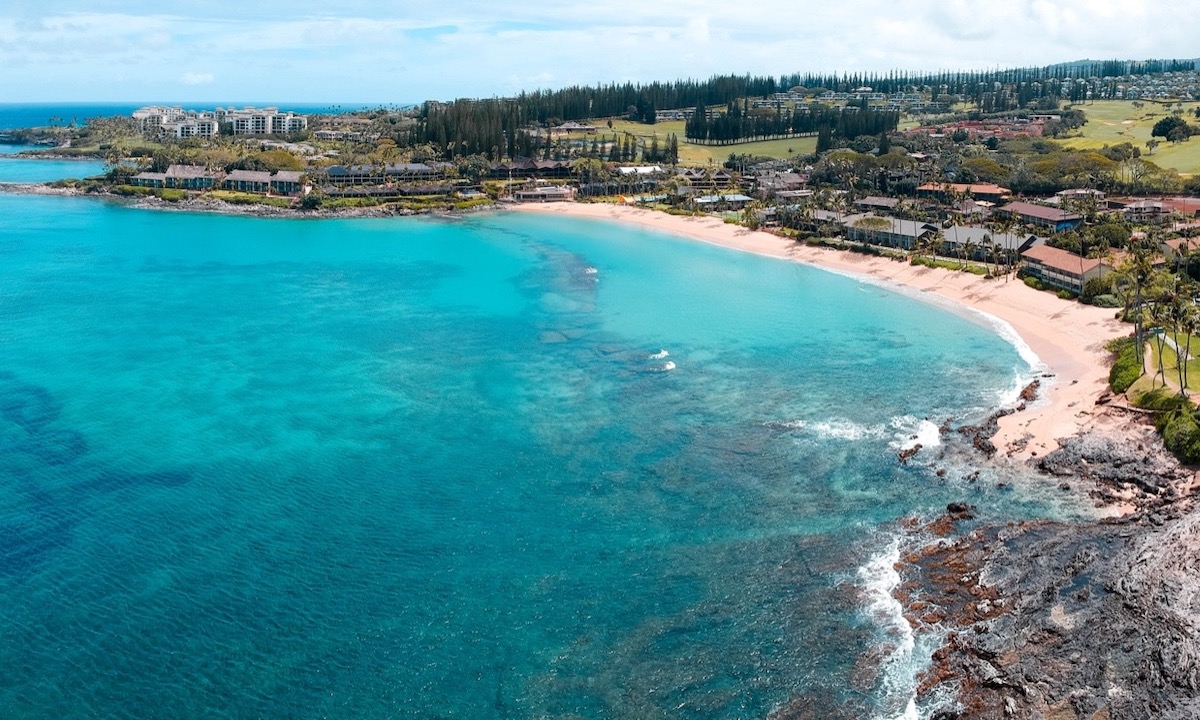 Napili Bay. Photo via Shutterstock.
Ka'anapali Beach
If you like the hustle and bustle, Ka'anapali Beach in West Shore, Maui, should top your list. Sitting along every last inch of this beach's entire 3-mile length are seven oceanfront resorts, golf courses, shops, and restaurants, offering activities galore. But that's not all of it.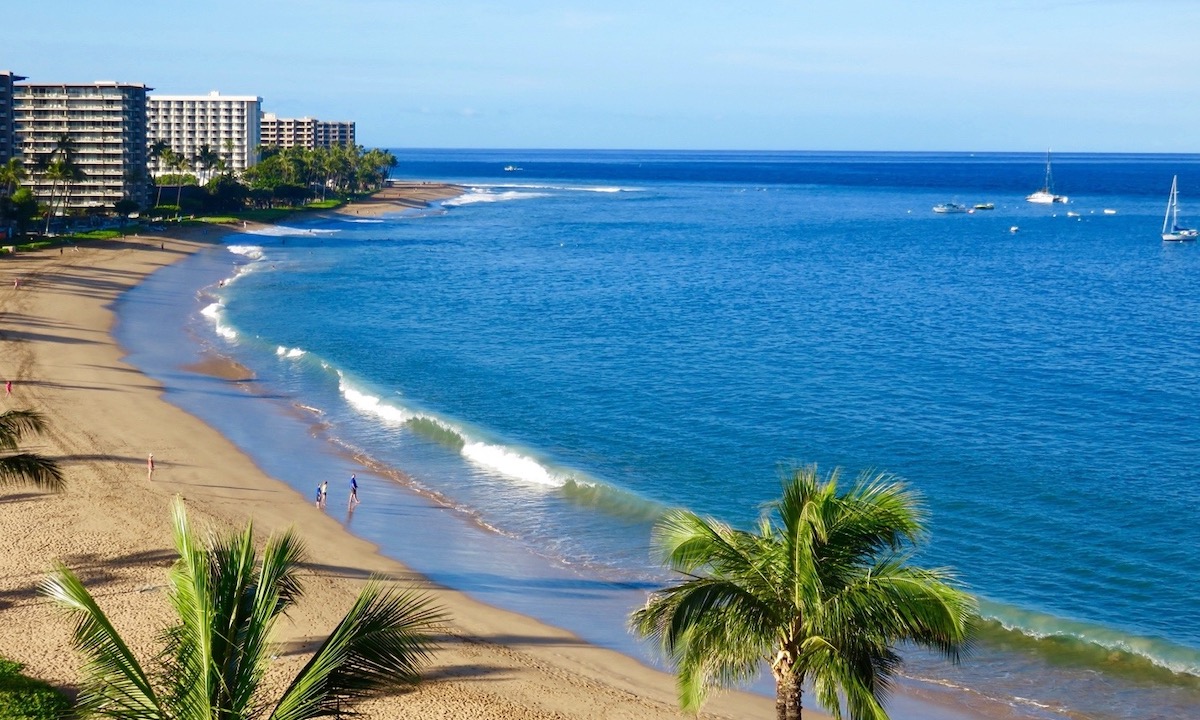 Ka'anapali Beach. Photo via Shutterstock.
The beach was once named America's Best Beach for a reason. Its sun-drenched long shoreline and glorious water entry are the main attractions for paddle boarding, snorkeling, sunset sails, and even whale watching! This world-famous beach is popular for those who want to paddleboard in calm waters.
Molokini Crater
Molokini Crater is a 150,000-year-old, moon-shaped, partially submerged crater on the south coast of Maui. It's one of the world's only three volcanic calderas and Hawaii's only island marine sanctuary.
Molokini is a rock, so no soil or sand is washing down into the waters. That means there's consistently high visibility underwater. With abundant ocean life and crystal clear waters, Molokini Crater is one of your perfect spots to snorkel, scuba, snuba, and paddle board.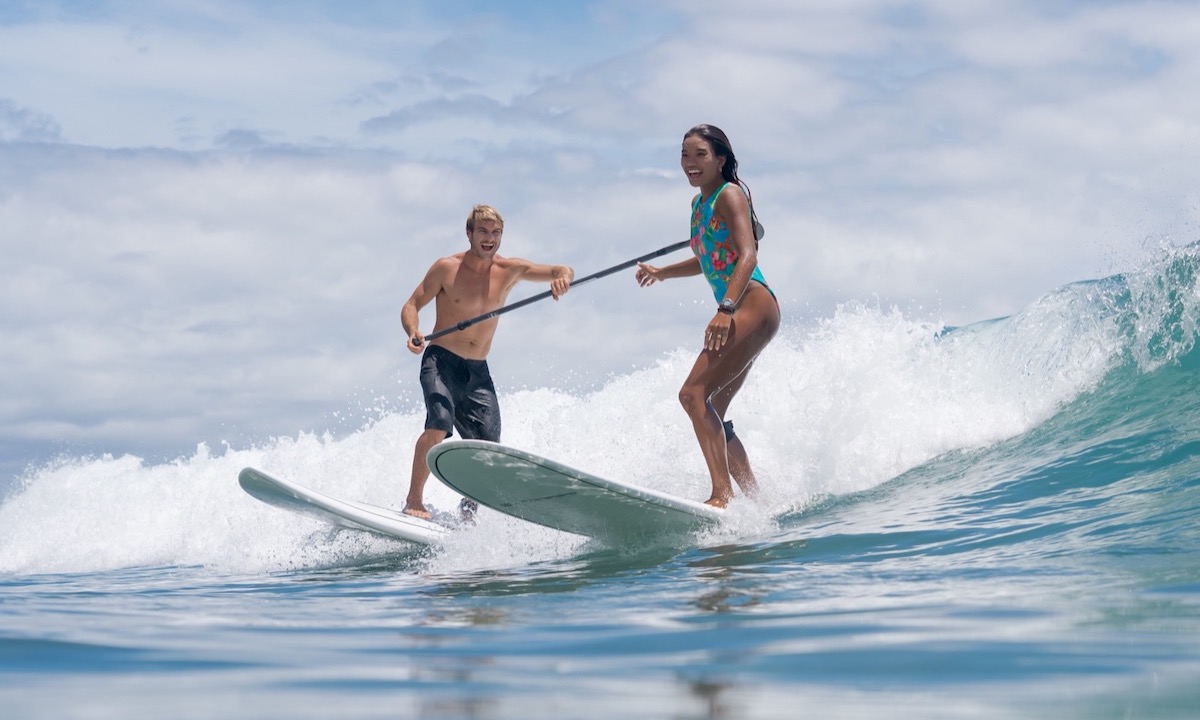 Photo via Amanda Breener, Starboard.
However, paddle boarding to Molokini isn't advised. It takes roughly an hour from mainland Maui to Molokini by motorboat, so you can imagine it's too great of a distance to SUP. Instead, you can safely paddle board after hitching a ride from a boat departing from the Maalaea Harbor.
Turtle Town
Turtle Town in Maluaka Beach on south Maui is home to the Honu or green sea turtles. The Honu is the only indigenous reptile left in the archipelago. In Hawaiian culture, they're considered ancestral spirits offering lifelong protection, wisdom, and guidance. Since they live between 60 and 80 years, they also symbolize longevity and mana (spiritual energy) as well. Generally, their presence brings good luck and peace to Hawaiians.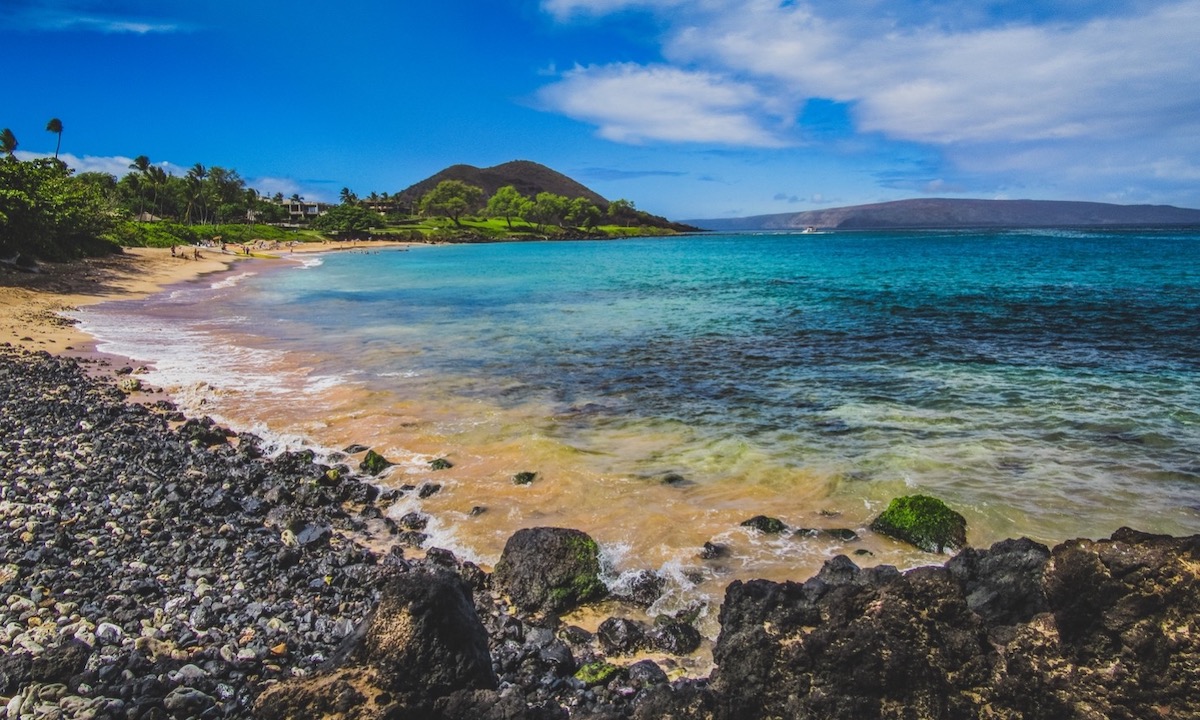 Maluaka Beach. Photo via Shutterstock.
The water around Turtle Town is calm and crystal clear, so it's perfect for paddle boarding and kayaking. You can also witness the colorful array of marine life in Turtle Town, such as angelfish, butterfly fish, triggerfish, and even humpback whales. The best part is that it's isolated and free of large crowds, allowing you to enjoy the beauty, pristine waters, and undisturbed marine creatures in Turtle Town.
Other Paddlers
Paddleboard rentals, instructors, and communities are everywhere in Maui. The island is basically the birthplace of SUP, so it's very easy to rent and even buy high-quality paddle boards and other SUP gear.
You can even rent SUPs from most surf stores on the island. Among the best SUP stores are Maui Paddle, Maui SUP Rentals, Maui Stand Up Paddle Boarding LLC, and Maui Local Surf & SUP Rentals and Tours. There are even stores run by accomplished watermen, such as Maui Sports Adventures LLC. It's owned and operated by the Schweitzer family, whose members are competition paddle boarders.
Most of these stores' equipment rentals usually come with a set package, including one-on-one instruction and tutorials demonstrated by well-trained experts. So if you're new to SUP, Maui is the perfect place to learn it.
To explore more SUP destinations, click HERE.
Last modified onTuesday, 06 December 2022 09:30

Amanda Wilson is a freelance writer living the life of a digital nomad. She specializes in topics surrounding lifestyle and travel, sharing the sights and experiences she had with readers from all over the world. During her free time, Amanda makes sure to visit her family and make memories with them.
Email

This email address is being protected from spambots. You need JavaScript enabled to view it.