Paddle Boarding Ibiza, Spain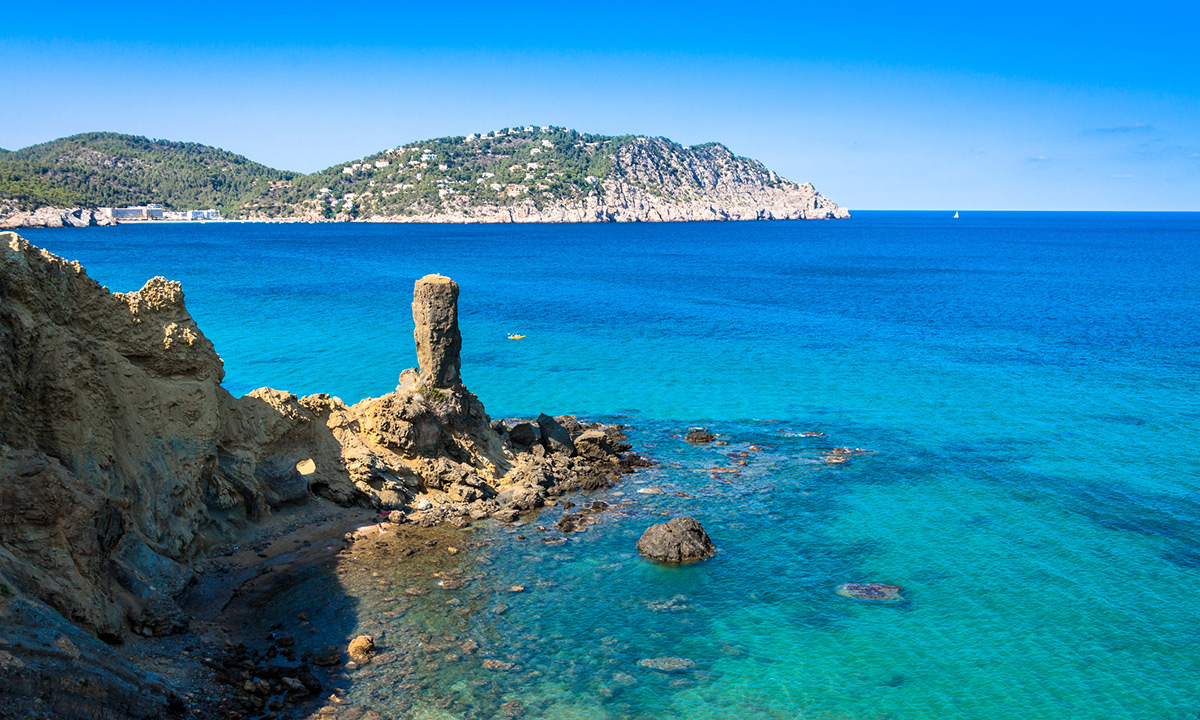 Es Figueral beach. | Photographer: Perszing1982-(UnSplash)
Ibiza, also known as the "White Island", is one of the Spanish Balearic Islands located in the Mediterranean sea. Due to its mild Mediterranean weather boasting over 300 sunny days per year, its crystal-clear calm sea and a breath-taking coastline with many stunning coves, hidden caves and mystical islets, Ibiza island is an ideal destination for paddle boarding. Ibiza's sea stands out by its transparency, which allows to observe underwater life very clearly from the surface while Stand-Up paddling. In addition, one of the most amazing experiences of paddle boarding in Ibiza is the sighting of dolphins, which is quite frequent around the island.
One of Ibiza's main highlights and unique features is its extensive Posidonia oceania meadows in the Natural Park of Ses Salines d'Eivissa and Formentera, over 100,000 years old and 8 km long, which was declared a World Heritage Site by UNESCO in 1999. This is one of Ibiza's most important natural treasures since it exerts an important function in sediment filtration thus giving a unique transparency to its sea. Ibiza's underwater Posidonia meadows contribute to maintaining the quality and oxygenation of the submarine ecosystem where more than 400 species of marine plants and 1,000 species of marine animals are fed and breed. In addition, these large seagrass meadows of Posidonia oceanica are the lungs of the Mediterranean sea. They absorb vast amounts of CO2 and provide the oxygen we breathe. In fact, more than 50% of our breaths depend on the ocean.
Seasons
Ibiza's Mediterranean climate with mild temperatures, lots of sunshine and little rain makes paddleboarding possible all year round. Nevertheless, the best season for paddling in the White Island runs from May to November. Summer in Ibiza is usually quite hot and dry, but luckily the high temperatures are eased by the soothing sea breeze. Winter is generally mild with moderate precipitation. Annual averages are between 9 °C (48 °F) in January and 30 °C (86 °F) in July, occasionally peaking at over 35ºC. Rainfall is variable and highly irregular in Ibiza. It is usually more common in Autumn or Spring but it can vary from one year to the next.
Spring
Spring is definitely one of the best times to visit Ibiza as the island is not as crowded as is in Summer and the weather is warm enough to enjoy its Nature and the sea. In Spring, daytime temperatures range from 10°C to 21°C on average, evenings are cooler. Spring sea temperatures tend to average at 18°C.
Summer
Ibiza is a very popular Summer destination due to its buzzing day-time, and especially, night-time activities. The island is crowded during the main Summer months, especially in July & August. During Summer the heat can be very intense, there can be strong storms or heavy rain at the end of the Summer occasionally. With an average of 11 hours of sunshine per day in July, Ibiza's Summer temperatures range from 25°C to 30-35°C during the day and 20°C on average at night.
Autumn
Autumn is also a good time to enjoy Ibiza's sea as the weather is milder than during Summer, but remains warm and pleasant, and the sea water is usually still warm. Temperatures rise to an average of 23°C during daytime in October, while they tend to lower to 19°C in November. October is usually the wettest month of the year with rainfall between 55mm and 77mm.
Winter
Ibiza´s Winter is usually moderate. From December to February, the average temperature during the day is around 11°C , while night temperatures can go down to 8°C or 9°C. Winter is the most peaceful season in Ibiza and therefore the perfect time to enjoy its natural jewels.
Hot Spots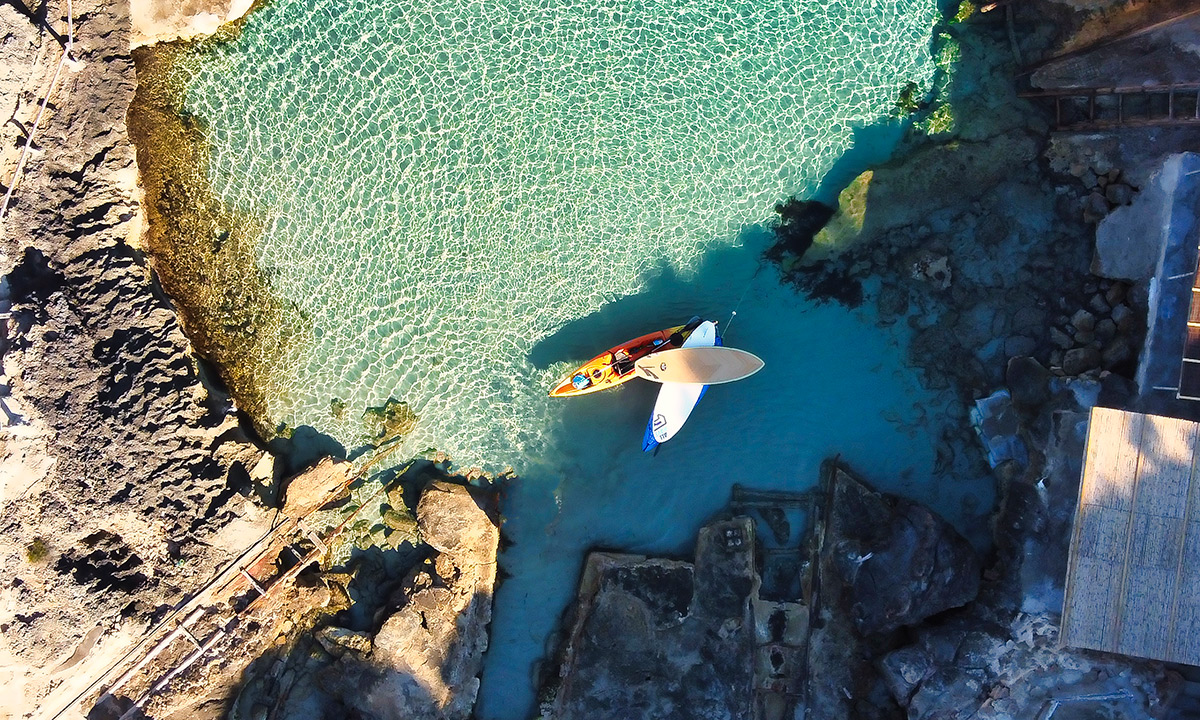 Ibiza. | Photographer: Daniel Meyer @meyeribz
With over 200 km of mesmerizing coastline and more than 40 islets, Ibiza offers many stunning locations to paddle board and to enjoy the sea. Despite some of its most popular beaches are quite crowded during the Summer season, it is also possible to find other much quieter spots which show a very particular beauty and are perfect for Stand-Up paddling, such as:
Es Figueral beach (Tagomago Nature Marine Reserve)
Located in the North-East of Ibiza, Tagomago's Nature Marine Reserve has an extension of 3,756 hectares of protected waters with its 250 hectares main integral marine reserve in Es Figueral beach. Famous for its crystal-clear turquoise water and peaceful atmosphere, Es Figueral beach is an ideal destination for Nature and sea lovers. It is the perfect location in Ibiza for paddle boarding as it boasts amazing sea life, crystal-clear waters plus many different coves, caves and beautiful islets to explore, some of them only reachable by sea. In addition, motorized water traffic is minimal in this area and the use of commercial motor watersports is not permitted so it is a very safe and peaceful location, perfect to enjoy its unspoiled nature on a SUP board.
In addition, Es Figueral beach is the starting point of a wide variety of SUP excursions to different natural points of interest that allow paddling while contemplating the seabed, full of fish and wonderful Posidonia oceanica seagrass meadows, declared a World Heritage Site by Unesco.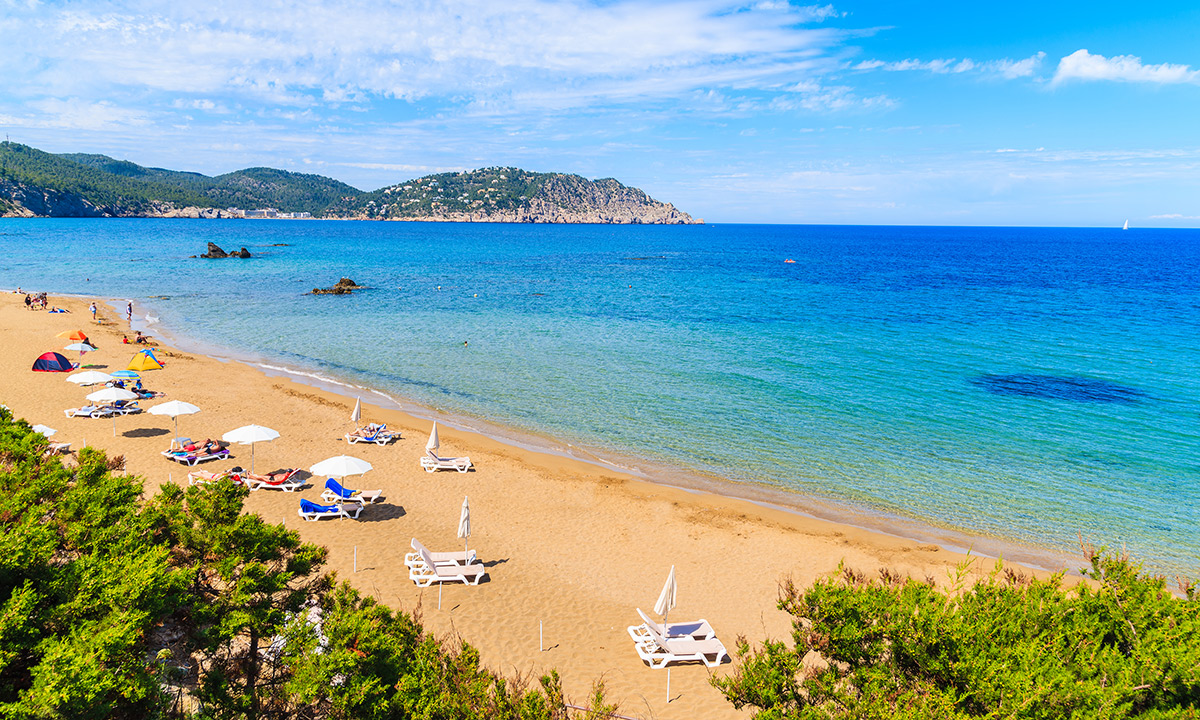 Es Figueral beach. | Photographer: Pkazmierczak (UnSplash)
Tagomago island
Located 900m off Ibiza's North-East coast, Tagomago island is the core of Tagomago Nature Marine Reserve and covers 148 acres of unspoiled nature. Surrounded by deep blue water and well-known for its incredible crystal visibility, Tagomago island is definitely one of Ibiza's main hot spots for Stand-Up Paddling and other water sports such as diving or snorkeling. Exploring Tagomago island on SUP is the perfect way to discover its little bays and to encounter the rich island's sea life that includes barracudas, many different species of small fishes and even dolphins.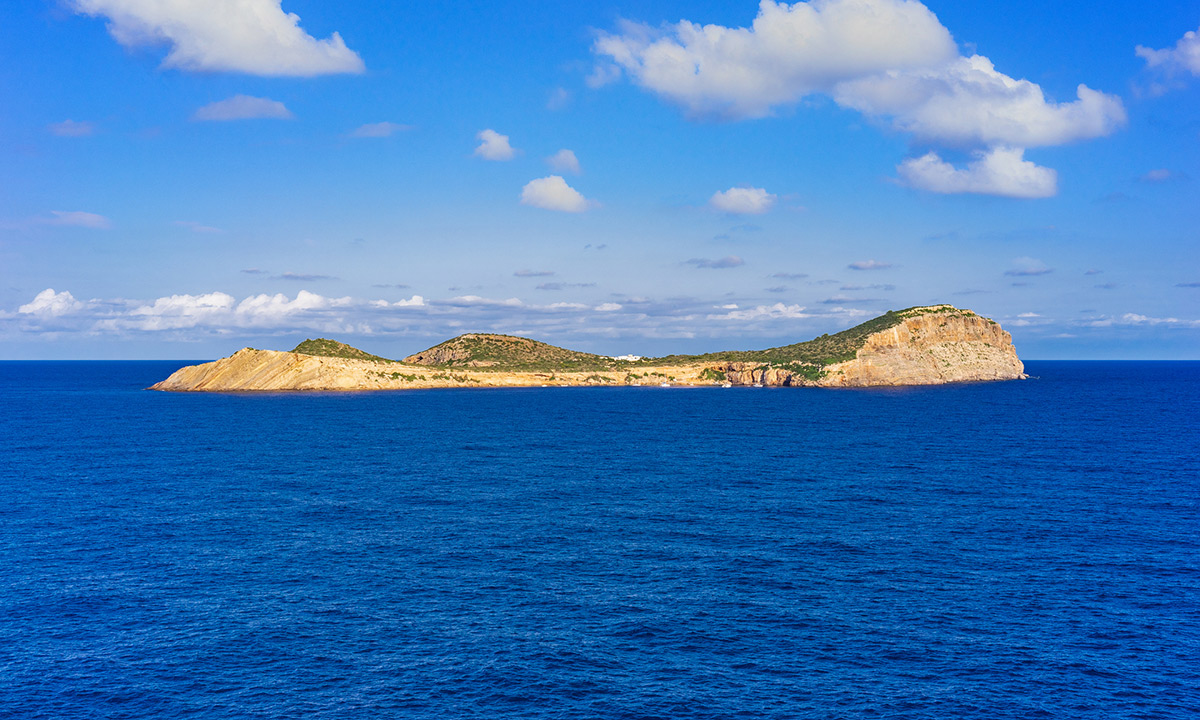 Tagomago. | Photographer: L. Apolli AidBC (UnSplash)
Cala San Vicente
Located in Ibiza's North coast, Cala San Vicente is a 380 meters long bay of breath-taking crystal-clear turquoise sea that contrasts with the lush green vegetation of its surrounding cliffs. Due to its calm waters, Cala San Vicente bay is the ideal SUP location for beginners and the perfect starting point to amazing off-the-beaten track SUP tours for intermediate & advanced paddlers.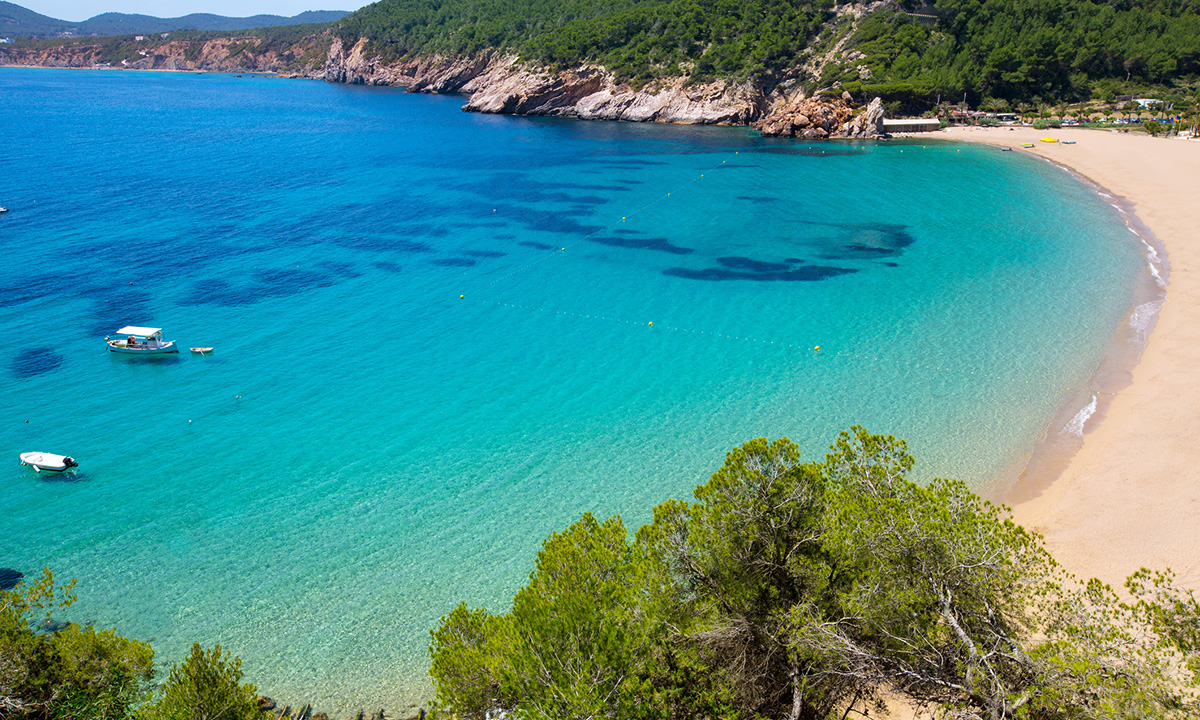 Cala San Vicente. | Photographer: LunaMarina-(UnSplash)
Cala Xuclar
This unspoiled off-the-beaten track cove, nestled in a gorgeous natural environment, is located in San Joan, in the North of Ibiza. Being a closed cove, its water is usually calm, clean and clear which makes it ideal for paddle boarding. In addition, Cala Xuclar offers exciting SUP excursions to its surrounding caves that can only be reached by sea.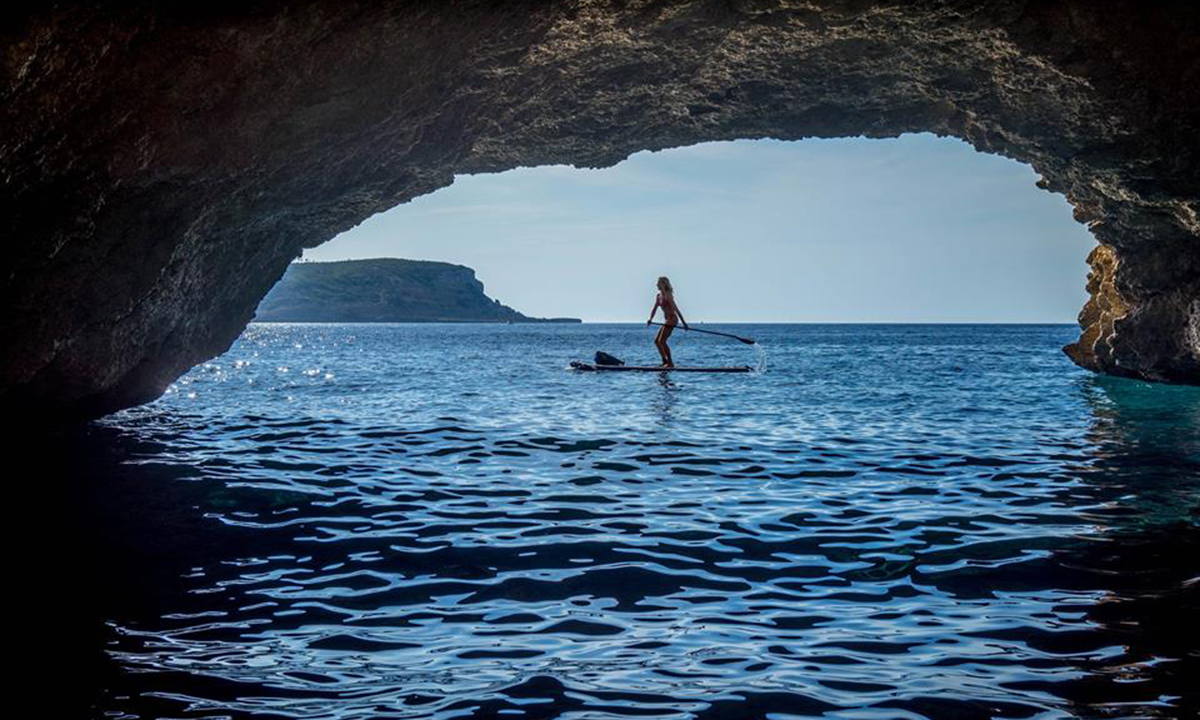 Cala Xuclar. | Photographer: André Oosterhuis
Es Vedrá island
Es Vedrá island is one of the most magical and mystical Ibiza's hot spots. It is shrouded in myths and legends. The most famous says that Es Vedrá island is the third most magnetic point on Earth (after the North Pole and the Bermuda Triangle). Es Vedrà belongs to the Nature Reserve of Es Vedrà, Es Vedranell and Els Illots de Ponent, which is a protected natural aquatic and land area located in the West of Ibiza. This area is an authentic natural jewel and the perfect location for an unforgettable SUP adventure. It's sea-bed is well preserved and houses diverse fauna such as the bottlenose dolphin, the sea fans and many fish species including the grouper amongst others. Watching the iconic Ibiza sunset over Es Vedrá island on a paddleboard is definitely a not-to-miss experience.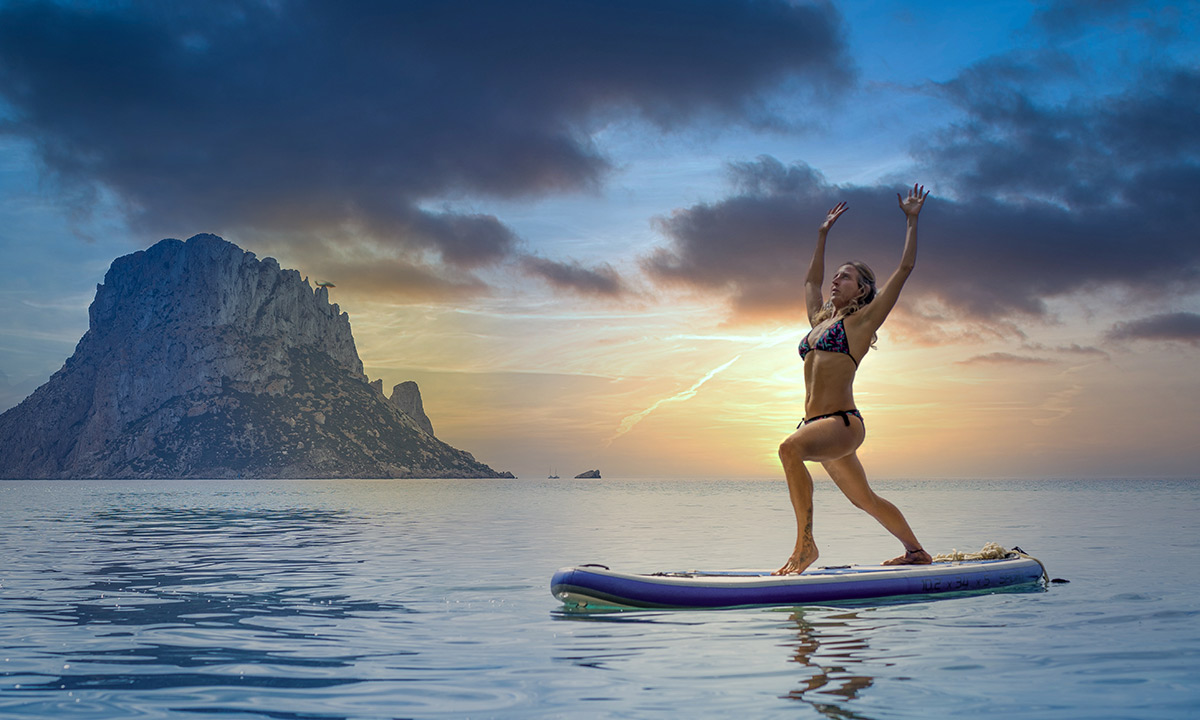 Es Vedra island. | Photographer: André Oosterhuis
Other Paddlers
Paddle Boarding is an increasingly growing watersport in Ibiza, which keeps gaining popularity amongst tourists visiting the island. Therefore it is possible to find SUP equipment rentals at many locations around the island so that you can rent SUP gear and paddle Ibiza's sea on your own. However, the best option to enjoy Stand-Up Paddling to the fullest in Ibiza is to be accompanied by a local certified SUP instructor who knows the area well, together with the sea & wind conditions and the necessary safety. This will ensure you will gain the best Ibiza SUP experience.
When planning your Paddle boarding trip to Ibiza, you should definitely get in touch with Paddle Surf Spain, an Ibiza-based organization founded by local Stand-Up Paddle Surf professionals and lovers. They specialize in providing SUP Holidays & SUP Camps in Ibiza, together with a wide range of paddle boarding activities such as SUP Technique classes, SUP Yoga / Pilates / Fitness lessons,SUP Tours & Expeditions and monthly SUP events.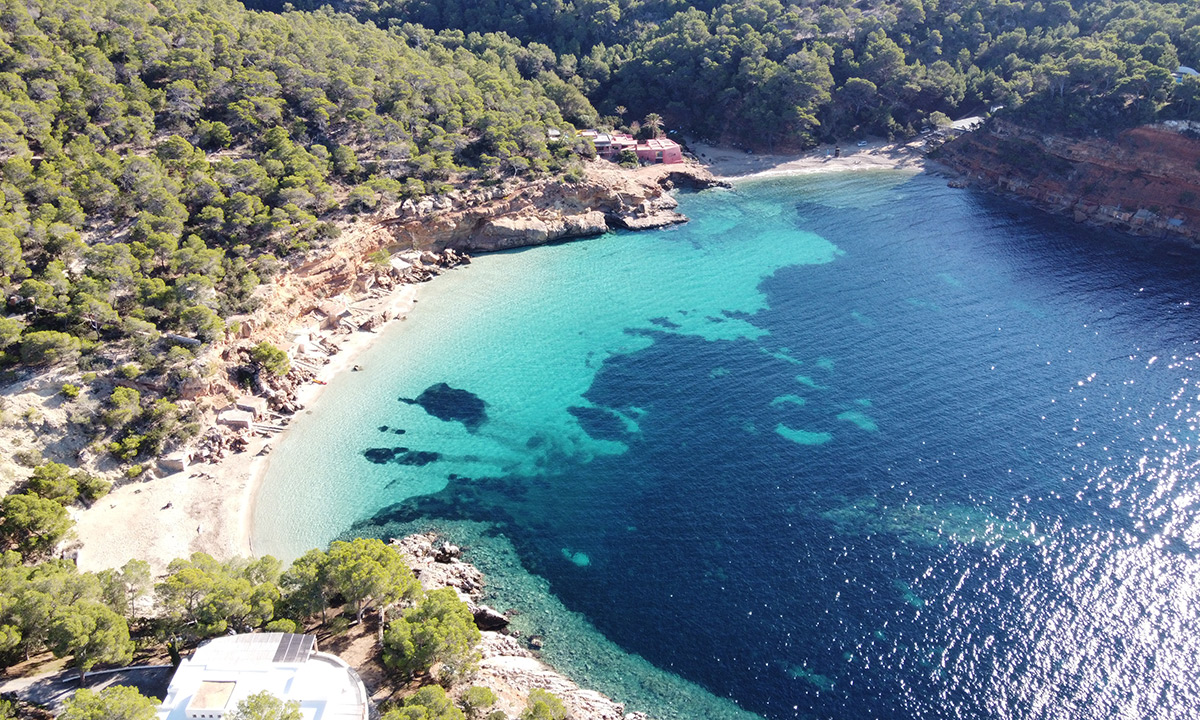 Ibiza. | Photographer: Daniel Meyer @meyeribz
Another highly recommended Ibiza SUP center is SUP YogaPilates. Founded in 2014, SUP YogaPilates is one of the very first SUP & SUP Yoga schools in Ibiza. Not only do they offer paddleboarding tours, SUP training and other exciting paddle boarding experiences (such as SUP Yoga, SUP Pilates, SUP YogaPilates, SUP Fitness, Sunset & Full Moon SUP Tours, SUP & Snorkel, SUP & Spa..etc.), but also professional SUP Yoga, SUP Pilates & SUP YogaPilates Teacher Training courses.
Furthermore, SUP YogaPilates' main base is located at Es Figueral beach, in Tagomago Nature Marine Reserve. This privileged location and their knowledgeable expertise makes SUP YogaPilates the perfect Ibiza paddle board outfitter for you to enjoy an unforgettable SUP experience in Ibiza.
About the Authors: Ana Santos ( "Shankara"), founder of Paddle Surf Spain and SUP YogaPilates, based in Ibiza (Spain). She is a Stand-Up Paddle Surf (SUP) certified instructor by the Spanish Federation of Surf and the International Organization of Stand Up Paddle Surf, certified SUP Yoga & Pilates teacher, certified Pilates & Yoga instructor, personal trainer and SUP Yoga, SUP Pilates & SUP YogaPilates teacher trainer.
Last modified onMonday, 15 May 2023 08:31
Ana Santos ( "Shankara"), founder of Paddle Surf Spain and SUP YogaPilates, based in Ibiza (Spain). She is a Stand-Up Paddle Surf (SUP) certified instructor by the Spanish Federation of Surf and the International Organization of Stand Up Paddle Surf, certified SUP Yoga & Pilates teacher, certified Pilates & Yoga instructor, personal trainer and SUP Yoga, SUP Pilates & SUP YogaPilates teacher trainer.
Website: https://www.paddlesurfspain.com
Email

This email address is being protected from spambots. You need JavaScript enabled to view it.