Paddle Boarding Nantucket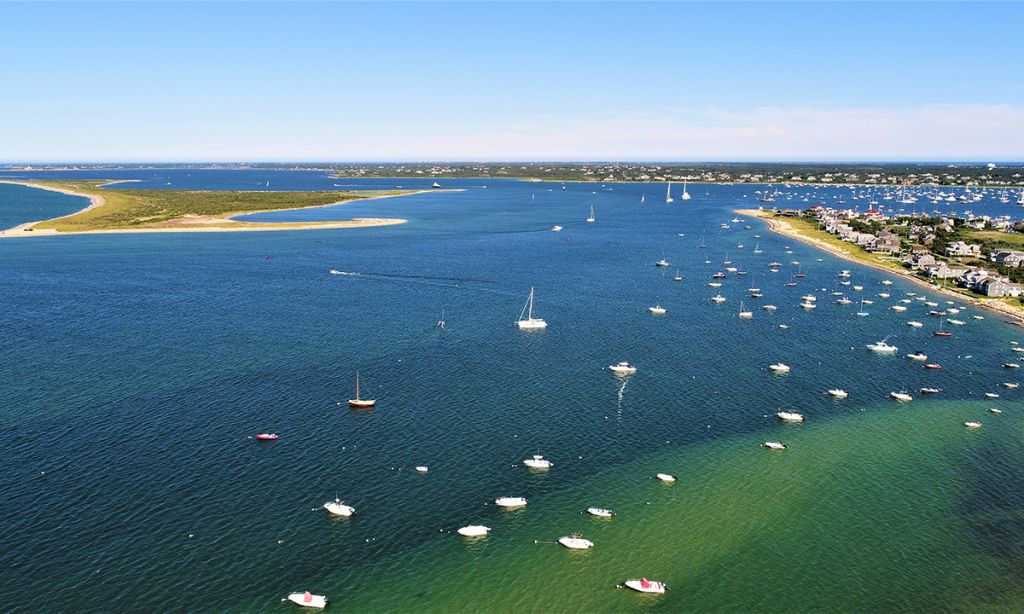 Aerial view of Nantucket. | Photo courtesy: Shutterstock
Nantucket, MA, is a small island with a big reputation for being a leading vacation destination on the East Coast. Once recognized as the world's most significant whaling hub, Nantucket has become a top tourist and an upscale summer vacation destination. Along with the rich and famous, many history enthusiasts, nature lovers, romantic couples, families, solo travelers, and watersports lovers choose the "Little Grey Lady" as their travel destination and retreat. Given its endless beaches, and numerous tranquil ponds, salt marshes, and creeks, Nantucket is a dream come true for SUP enthusiasts who want to experience its New England coastal town charm and engage in their favorite water sport.
Highlights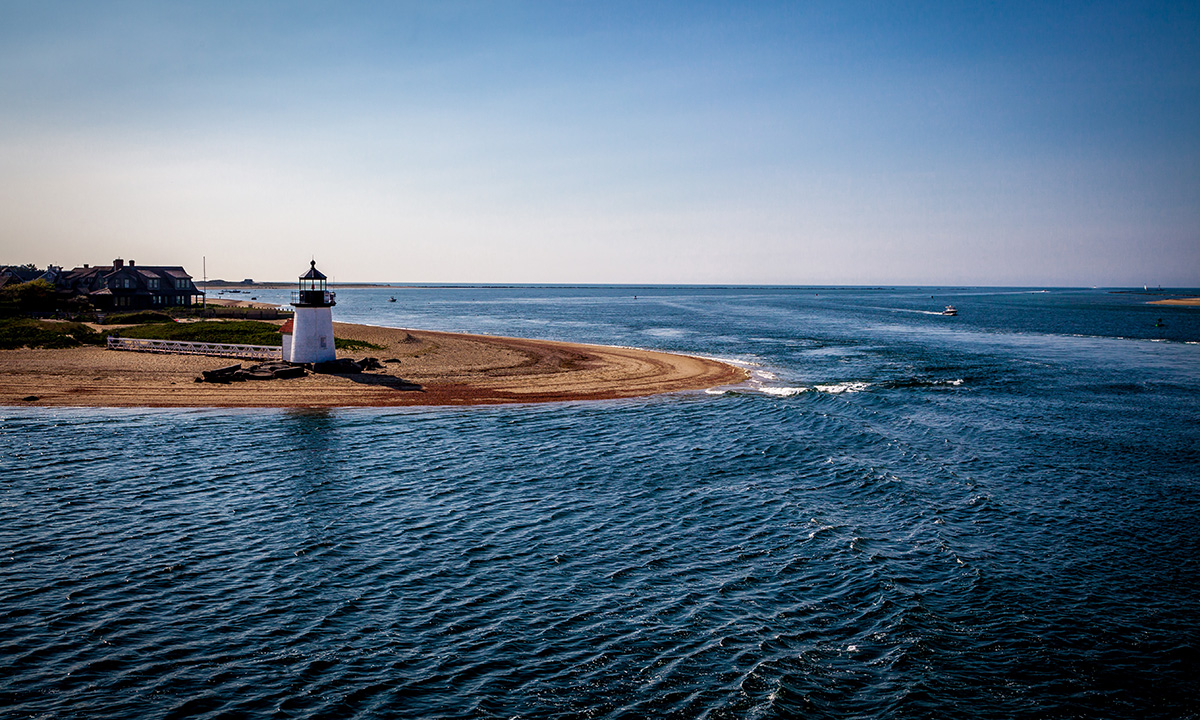 Brant Point Lighthouse at the harbor entrance. | Photo courtesy: Shutterstock
Nantucket is famous for its rose-covered cottages, blinking lighthouses, its whaling history, and more historic buildings from the pre-civil war times than in any other town or county of its size in the US. Nearly half of the land of this exclusive island is undeveloped and preserved, so nature lovers can explore the unique flora and fauna and spend time in some of the many wildlife refuges there.
It is also home to some of the best fine dining and other eateries, many of which offer the freshest and most sustainable seafood from the ocean and natural products from local farms. The island is home to fun bars, a unique brewery, and clubs where visitors can mingle with the locals and bump into some celebrities too. Hundreds of houses, cottages, mansions, and other residences are available for short-term rent, so there is suitable lodging for all needs, including large groups of SUP enthusiasts, solo travelers, families, and more.
The island, which is 30 miles off the coast of Cape Cod, has more than 25 beaches spread along all of its shores. The northern beaches are on the calmer, shallower, and warmer Nantucket Sound coast, and the rest are on the rougher and more unpredictable shores of the Atlantic Ocean. It has several tranquil and sheltered ponds too. So, there are suitable conditions for SUP lovers of all skill levels. Plus, Nantucket offers beautiful scenery and stunning views for paddlers to enjoy. You can bring your paddle boards or rent some with other gear from one of the many local SUP rentals. There are SUP schools, tours, yoga classes, and shops on the island too.
A Guide to Nantucket's Seasons for Paddle Boarders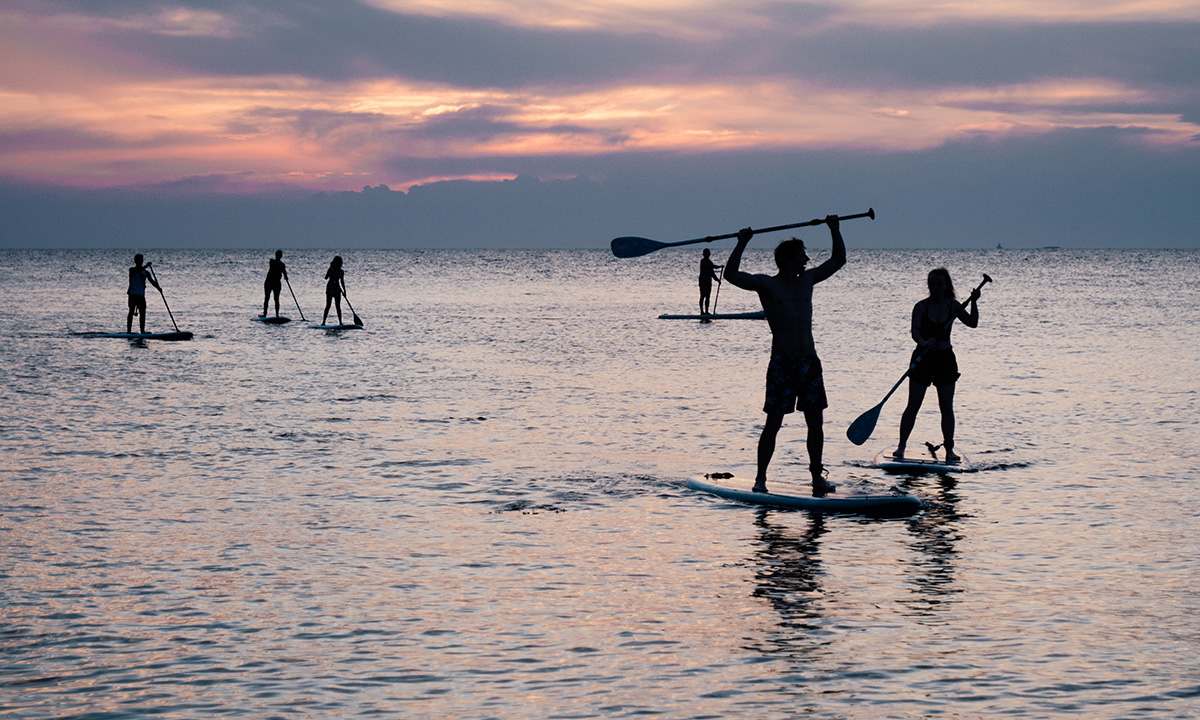 Photo courtesy: Krzysztof-Kowalik, Unsplashed
Nantucket is a preferred summer vacation spot, but the other seasons are suitable for tourists as well. The summer months from June to September have the most favorable weather and water conditions ideal for paddlers. Keep in mind that during the peak of the summer season, the number of people on the island can expand to over five times, so if you want to avoid the crowds, you may want to choose to go to Nantucket during the shoulder seasons, which is in the late fall or in September when the weather is still lovely, but the majority of summer vacationers have left for home.
It is essential to remember that the weather in Nantucket can be pretty unpredictable, with sudden changes and heavy fogs (hence the nickname "the Little Grey Lady of the Sea," which future visitors should be prepared for.
The average temperature on the island throughout the year varies from 26-75 degrees Fahrenheit. January is the coldest season; the hottest months typically begin on June 14th and last until September 23rd. The windiest months, with average wind speeds of over 15.4 miles per hour, are from October 10th up to April 20th. January is also the windiest month, with average wind speeds reaching 19.2 miles per hour.
July is the calmest month, with wind speeds of about 11.7 miles per hour. The wind is mainly from the south from June 23rd to September 21st and is predominantly from the west from September 21st to June 23rd. As for the ocean and large pond water, the average temperature is warmer from July 1st to October 1st, with temperatures higher than 62 degrees Fahrenheit. August has the warmest water of about 67 degrees Fahrenheit. The water is coldest in February when it averages 39 degrees Fahrenheit.
Best Hot Spots for SUP in Nantucket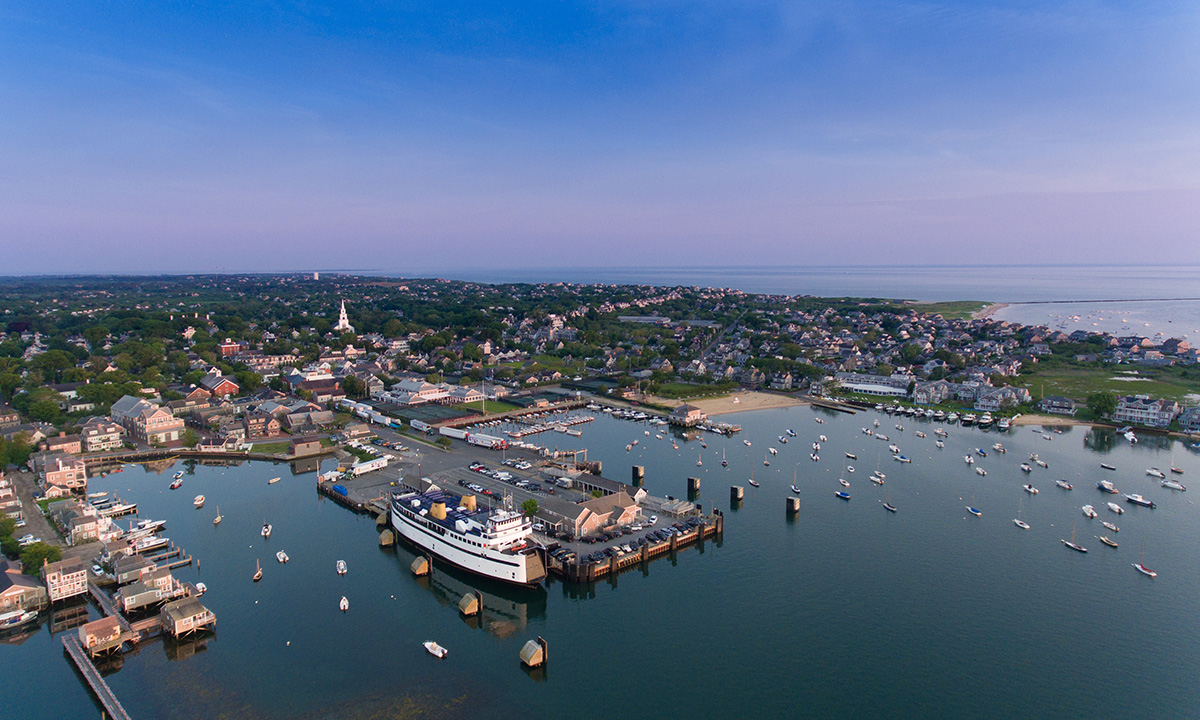 Aerial view of Nantucket Harbor. | Photo courtesy: Shutterstock
Nantucket Harbor
The Nantucket Harbor is a top choice for paddlers because the water is calm and warm, and it is also right next to one of the best local paddle board and kayak rentals on the island – Sea Nantucket. Keep in mind that there can be significant boat traffic which you should watch out for. Overall, it is an excellent spot for paddlers and kayakers of all ages and skill levels. The more experienced may try paddling up to the neighboring Jetties Beach or into the Nantucket Sound. A more extended trip to the picturesque Coatue beaches is also recommended for adventurous SUP enthusiasts. Interestingly, in August 2022, ultra-endurance athlete Adam Nagler reached the Nantucket Harbor after his incredible 630-mile and 33-day long solo paddle boarding journey from Cape Hatteras Light, North Carolina, as reported by Matt Doherty from the Boston Globe.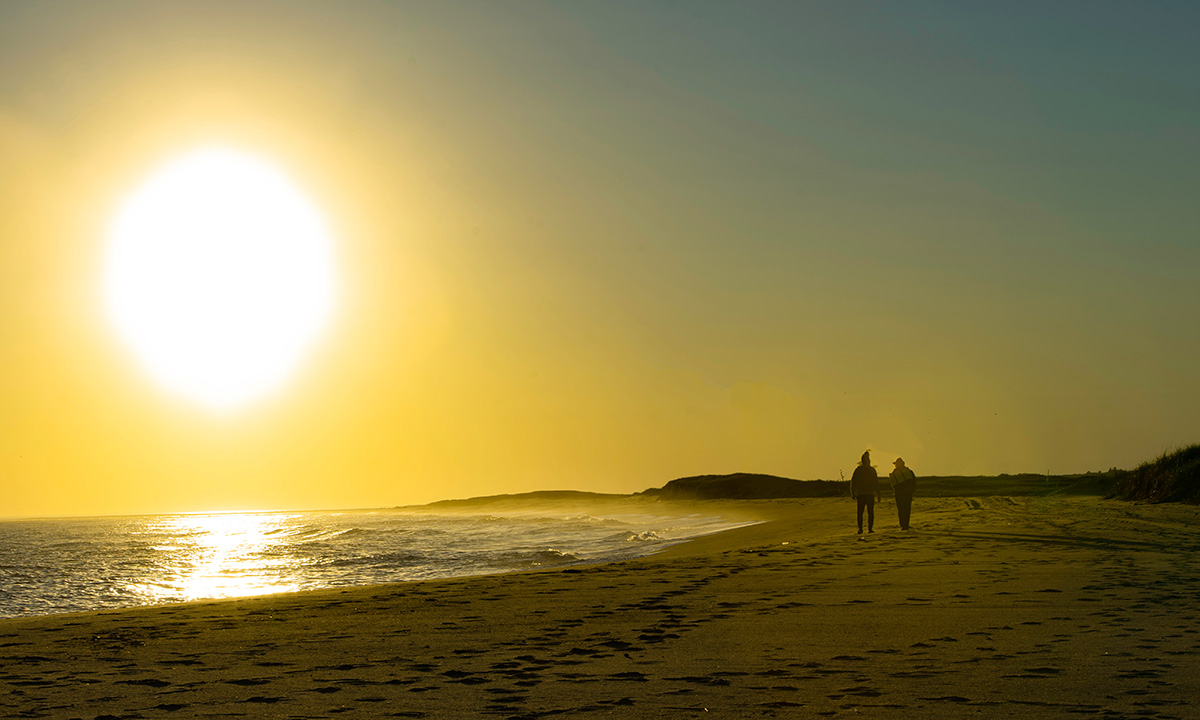 Sunset at Madaket Beach. | Photo courtesy: Shutterstock
Madaket Beach
The remote beach on the westernmost part of Nantucket is known as a preferred spot for watching the mesmerizing sunsets. It is also regarded as a top launch location for paddlers who want to explore the nearby coves and islands, according to experts from Atoll Boards.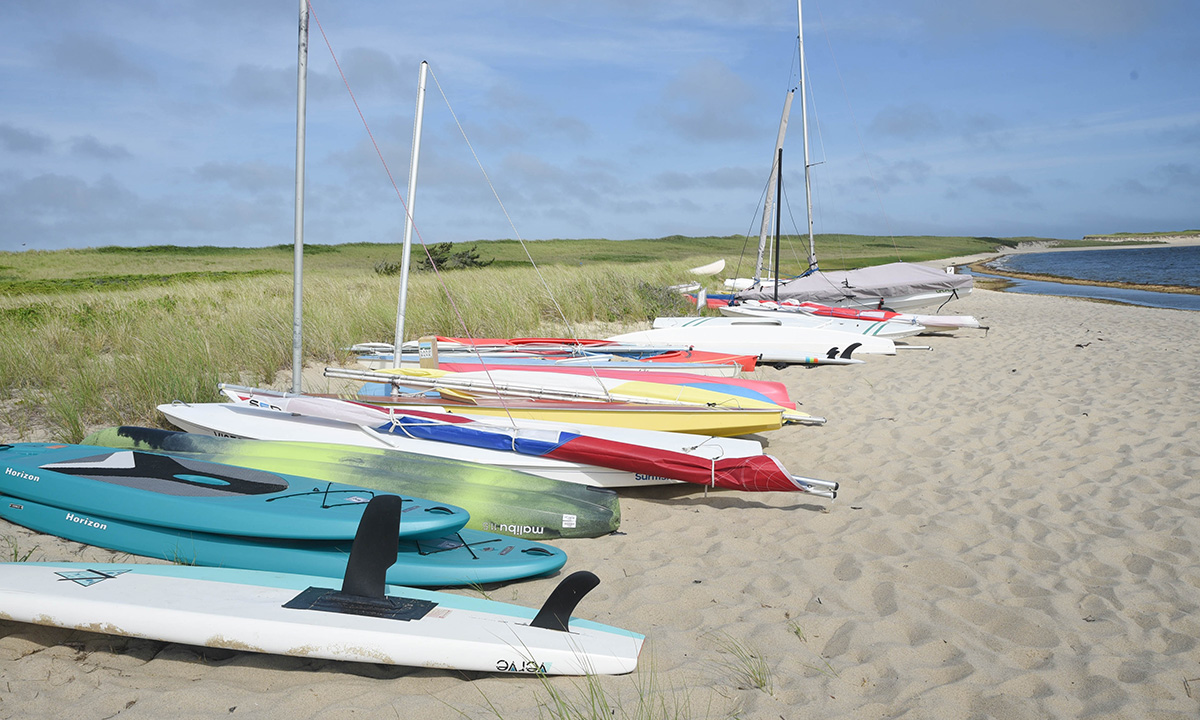 Quidnet beach. | Photo courtesy: Shutterstock
Sesachacha Pond
Sesachacha Pond is a remote kettle pond on the northeastern part of Nantucket, separated from the Atlantic by a beautiful and peaceful Quidnet Beach. Keep in mind that this is the deepest of all ponds on the island, and its depth at the northern and southern ends can reach 15-18 feet. Otherwise, the views are stunning, the water is calm, and there are no high-speed power boats to be on the lookout for.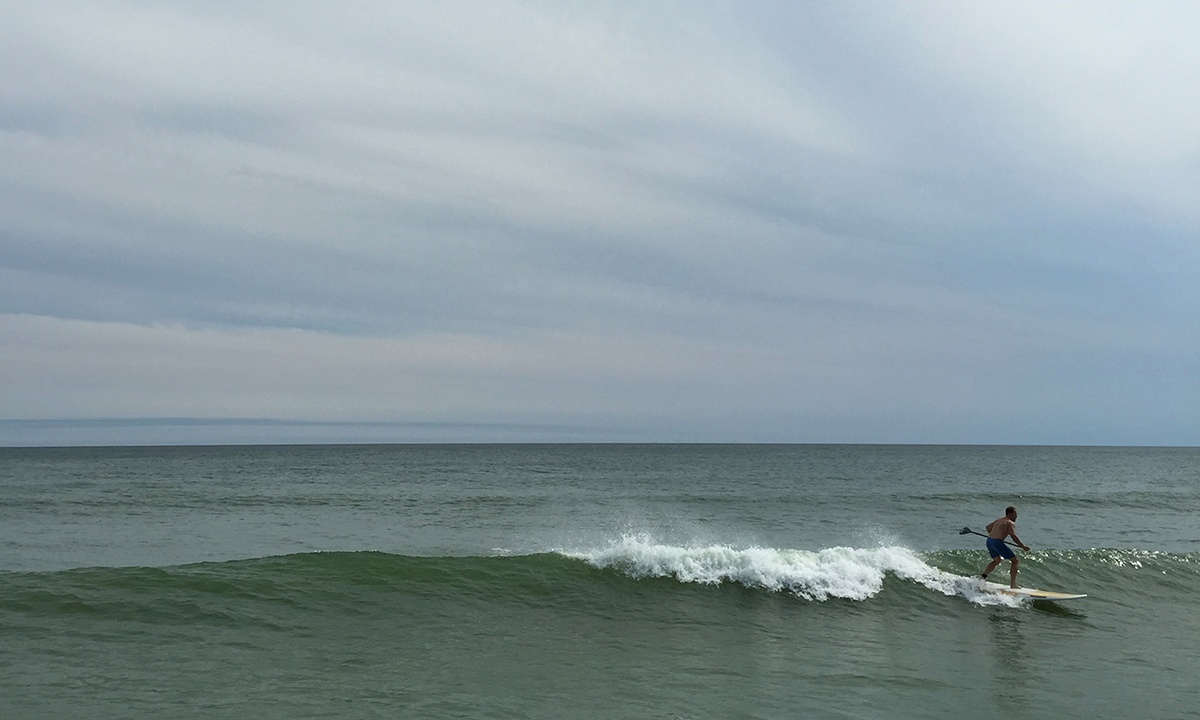 SUP surfing at Cisco beach. | Photo courtesy: Shutterstock
Nobadeer and Cisco beaches
These are two of the most popular south coast beaches of Nantucket and are homes of the two local surf schools and rentals. Be prepared for stronger currents and surf on these beaches. You can rent a SUP, a wetsuit, and other gear from the Ack Surf School and the Nantucket Island Surf School located on Nobadeer and Cisco Beaches. You can also sign up for private lessons or group classes at one of the two schools.
Other Paddlers Services in Nantucket
For more SUP Destinations, click HERE.
Last modified onWednesday, 17 May 2023 16:31

Submit your news, events, and all SUP info, so we can keep promoting and driving the great lifestyle of stand up paddling, building its community, and introducing people to healthier living.
Website: supconnect.com
Email

This email address is being protected from spambots. You need JavaScript enabled to view it.