Tips for Stand Up Paddling with Your Dog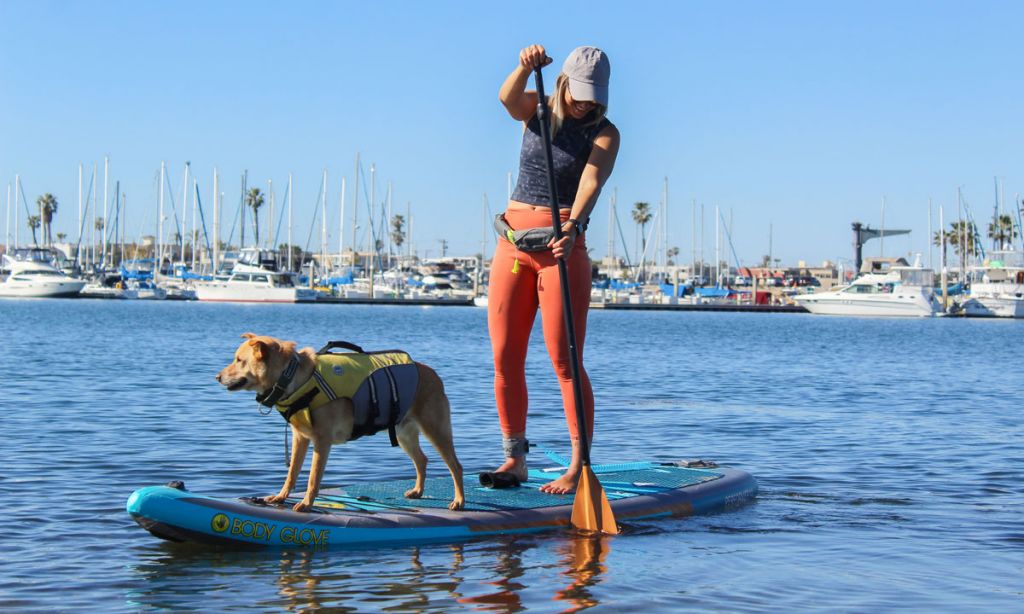 Sam Eastburn with her pup Jack. | Photo © Supconnect
Would you like to experience a whole new level of adventure with your dog? Learn how to stand-up paddle (SUP) together! But before you set sail, let me remind you that this is not gonna be a walk in the park. There are a few necessary steps you have to take before you embark on a water adventure with your pup. Here's a simple guide in getting started to SUP with your dog:
Paddling skills
SUP may look a bit intimidating but the only thing that could make it difficult is diving into the rough sea without any experience. It's a sport for all shapes, sizes, and ages and it's pretty easy as long as you have the determination to learn. If you want to master some basic paddling skills, look for an ACA-certified paddleboard instructor. Once you gain some great paddling skills then maybe it's time to tag your furry friend along!
Training
Paddleboarding with your dog is a piece of cake if he can swim, obey basic commands, and not over 100 lbs. But even if your dog is above-qualified to stand-up paddle, both of you still have to train and prepare for the excursion.
Basic Commands
Teach your dog basic commands like- leave it, lay down, get on the board, jump, and get off. Dogs usually understand a 2-word command so try to use simple terms. If you have a pool, you can start training your pup with a dog pool float first so your dog can get the hang of the feeling of being on the water. This works great if your dog isn't used to water yet.
Photo © Supconnect
Familiarize your dog with the paddleboard
Take your time to acclimate your dog to the idea of being on the board. It's pretty basic, it's almost the same thing as when you first taught him how to enter your car. You can start by bringing your paddleboard into a neutral space like a yard, where your dog can sniff and walk around it.
Put treats on the board
Get your dog's favorite treat and place it on a specific area of the board where you want your dog to sit or stand. You can also stand where you would normally stand when paddling so that he'll feel more comfortable jumping in.
Do a dry run
Once he's comfortable with the paddleboard, put his life jacket on and call him to hop on the board again. Do this a few times then try rocking the board back and forth to imitate being on the water. If your dog jumps off, it's okay- just keep practicing.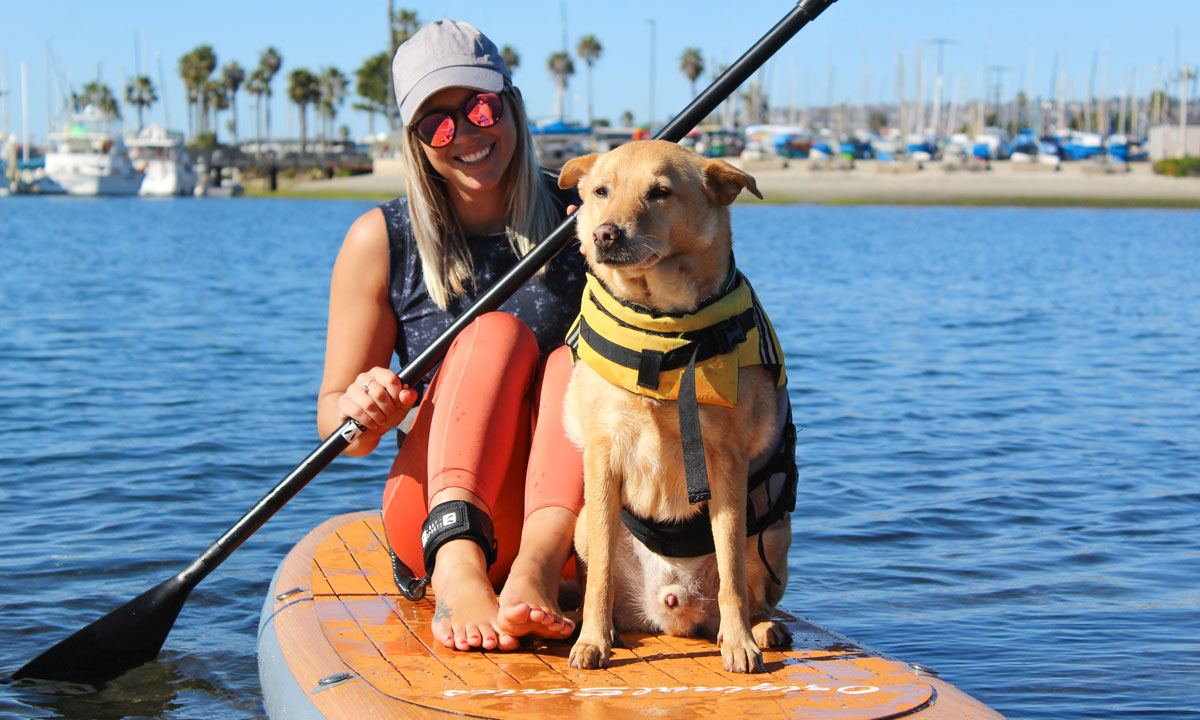 Photo © Supconnect
Head to your paddle spot!
Place your board half-in or half-out of the water and command your dog to get in his spot. Your dog must be lying down before you take your paddle and push off. Why? Because it'll be much easier to launch the board if he's in that position. Next, you take your paddleboard a few feet then turn around back into the dock. Then do your exit routine.
You can do this several times for several days (or weeks). If he's resisting training, don't force him. He'll associate bad emotions with paddling if you force him. Keep the training fun and slow. Your goal is to make paddling a wonderful adventure for your dog.
Invest in essential paddling gear
PFD (Personal Floatation Device)
Dogs are great swimmers, but they can also get tired, and drown just like people. To avoid any accidents and too much exhaustion, equip your dog with a life jacket. If you have a dog with low body fat, mobility cases, and health problems, PFDs will even be more useful for them. There are several types of PFDs in Amazon you can choose from. Each presents excellent features catering to specific dog breeds and dog size.
Photo © Supconnect
A dog-friendly paddleboard
Board size, thickness, stability, and total supported weight are just some of the basic things you have to watch out for when choosing a paddleboard. Choose a board with a wide nose to give your dog more spaces to sit in. You should also look for a board that's 10 feet or longer especially if you're sharing the board with a large-breed dog. If you have multiple dogs look for a wider and longer paddleboard ranging from 11 inches or longer and 34 inches or wider for more stability.
Invest in a dog-friendly inflatable stand-up paddleboard because it gives better grip and stability compared to hard boards. It's also very durable and has a rubber surface great for footing. Don't worry about your dog's claws on an inflatable board because most modern inflatable boards are capable of withstanding contact with sharp objects. It's up to you whether you want an inflatable or a solid board. Just remember to get a board that works right for you and your pup.
Dog traction pad
If you are a little worried about your dog falling in the water get a dog traction pad. A dog traction pad is a one-piece pad with a powerful adhesive that can be attached to your board. This pad will give your dog a tight grip right where he sits on the paddleboard and will prevent him from falling.
Goggles
Bringing some goggles might be wise if you'll be paddling mainly on salty Intracoastal water. Goggles will protect your pup from the salt spray and the rays of the sun. Just remember that some dogs might not like wearing goggles.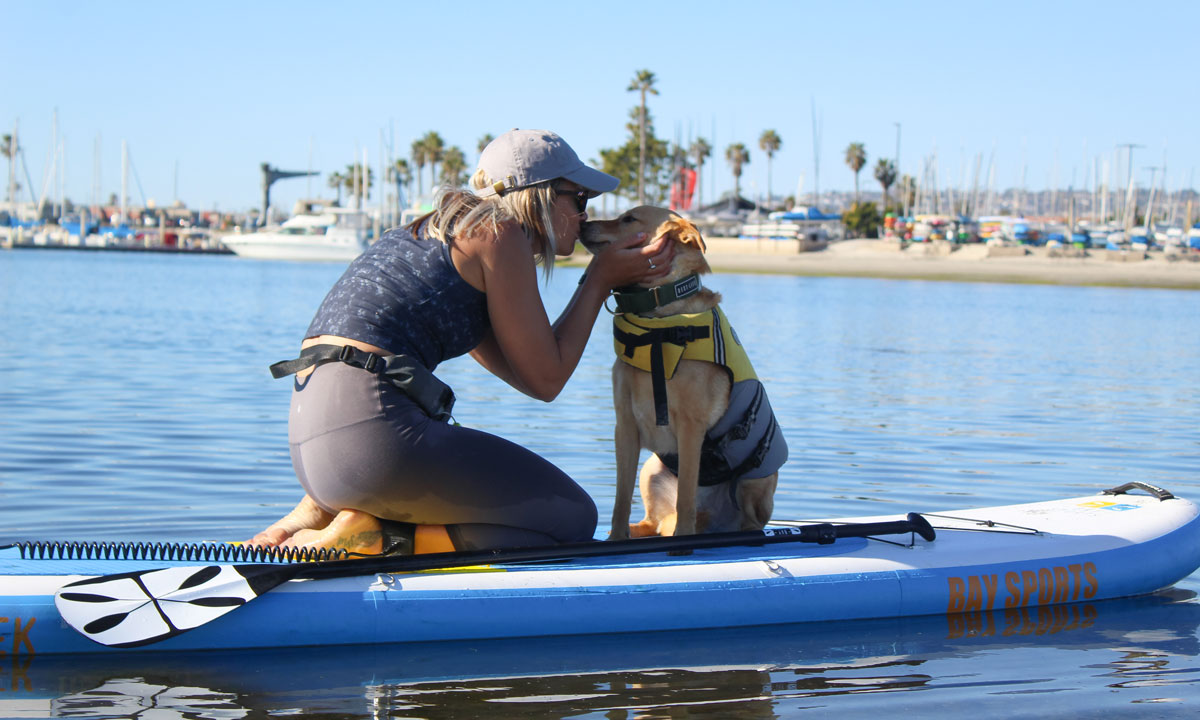 Photo © Supconnect
Bring Essentials
Food and water – Bring your dog's special treat and reward his good behavior. It is an excellent way to keep your dog engaged while on the water. You should also bring adequate water for your dog. Don't allow your pup to drink from saltwater because ingesting it may cause stomach upset and possible dehydration.
Take poop bags – It's always a good idea to bring in poop bags. Clean up after your dog and be a good steward of the planet earth. Remember that dog feces can pollute bodies of water and can even spread diseases to other animals.
First aid kits- Always keep a first kit available for your dog. We can't tell when your dog gets a cut from a rock or any sharp object. Bring a variety of medical necessities like tweezers, antiseptic towelettes, cold packs, sting relief pads, and gauze pads.
For more SUP tips, click HERE.
Last modified onMonday, 12 April 2021 16:28
Ane is a dog lover who is passionate about giving tips on how to keep pups healthy and happy. If not writing, you can find her going on adventures with her dog, Ozzy. Read more of her tips at dogclublife.com
Website: dogclublife.com
Email

This email address is being protected from spambots. You need JavaScript enabled to view it.