Best Stand Up Paddle Boards For Dogs
Photo courtesy: Shutterstock
If you have been thinking about taking a weekend getaway to go paddleboarding with your canine friend, getting the best stand up board for dogs will be a great idea. The boards are crafted to be both safe and easy to use, which means you and your dog can create long-lasting memories and grow a stronger bond.
Inflatable stand-up paddleboards for dogs provide more grip and stability than hard boards. Your pup may experience some jitters in his first paddling adventure, and he might want to clench hard on the board! There is no need to worry as these boards are made with tough materials that can withstand your dog's nails. Just remember to have a doggie life jacket on your friend.
SIC Maui Tao Surf Air Glide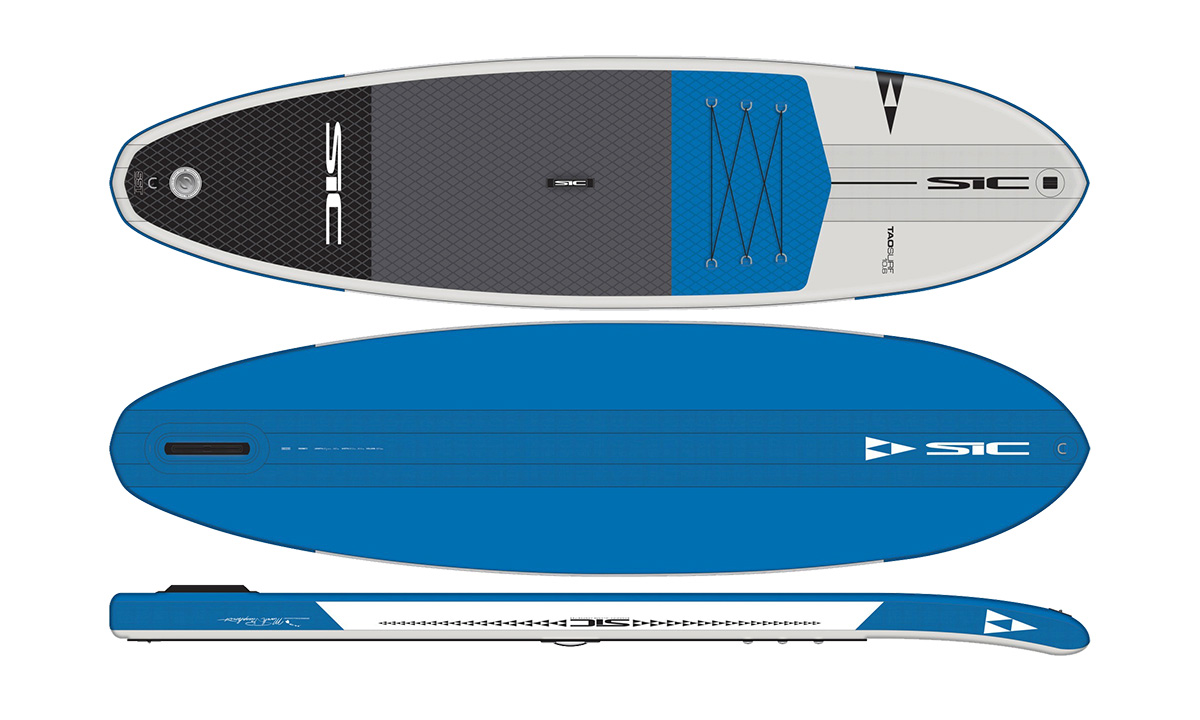 The Air-Glide paddleboard is one of the most affordable boards on this list. The sleek board is designed with a more than ample surface to provide you and your enough space to comfortably paddleboard on a sunny afternoon. The TAO is designed to be a versatile board that can be used for various activities, including yoga, surfing, or just cruising out and about with your furry buddy. The lightweight board is made from the finest Drop Stitch Construction (DSC) and durable Support Stringer Technology (SST), making it stable and reliable. The board comes packed with a 3-piece adjustable paddle. For enhanced durability, the board employs single skin technology by SIC, making it lightweight and durable.
The board is also designed with a center carry handle that easily allows you to carry the board from your car to the beach. Bungee tie-downs installed on the surface allow you to tie down your belongings and carry them across the beach with ease. The TAO board package features a Dual-action pump that significantly reduces the time you take to inflate the board. If you want to get the special moments with your pup on camera, no worries! The board also features a GoPro Mount, allowing your hands to focus on paddling. On calm days you can enjoy slow paddling out on the lake with your pup, and on a windy day, you can enjoy power cruising with sail power by installing your sailing rig.
10'8″ Activ MSL Paddle Board
The Activ MSL Paddle Board by Red Paddle Co is one of the best dog paddle boards available in the market today. The aesthetically pleasing inflatable board is practical and versatile and can be used for yoga, stretches, surfing, cruising, or Pilates. Redesigned for 2021, the board has a streamlined feel and look. A diamond-cut rear serves to enhance stability for riding in larger waves. This lightweight board can accommodate a maximum weight capacity of upto 240 pounds.
The board is designed with increased thickness to minimize wash over the board to keep you and your pup dry as you glide across the water. The extra thickness also adds rigidity to keep the board stable as you do your stretches. The board comes with a Titan pump to quickly and easily inflate your board. The board also has a Red EVA deck with a centerline down the middle of the board to provide a comfortable surface for your yoga poses. The board also features ergonomic tubular handles that give you a comfortable grip when carrying your board. The carry handles are installed on the side of the board to give you more space to glide over the lake with your dog comfortably. The package comes with an all-terrain backpack that allows you to travel with your board conveniently.
Surftech/Prana Alta Air Travel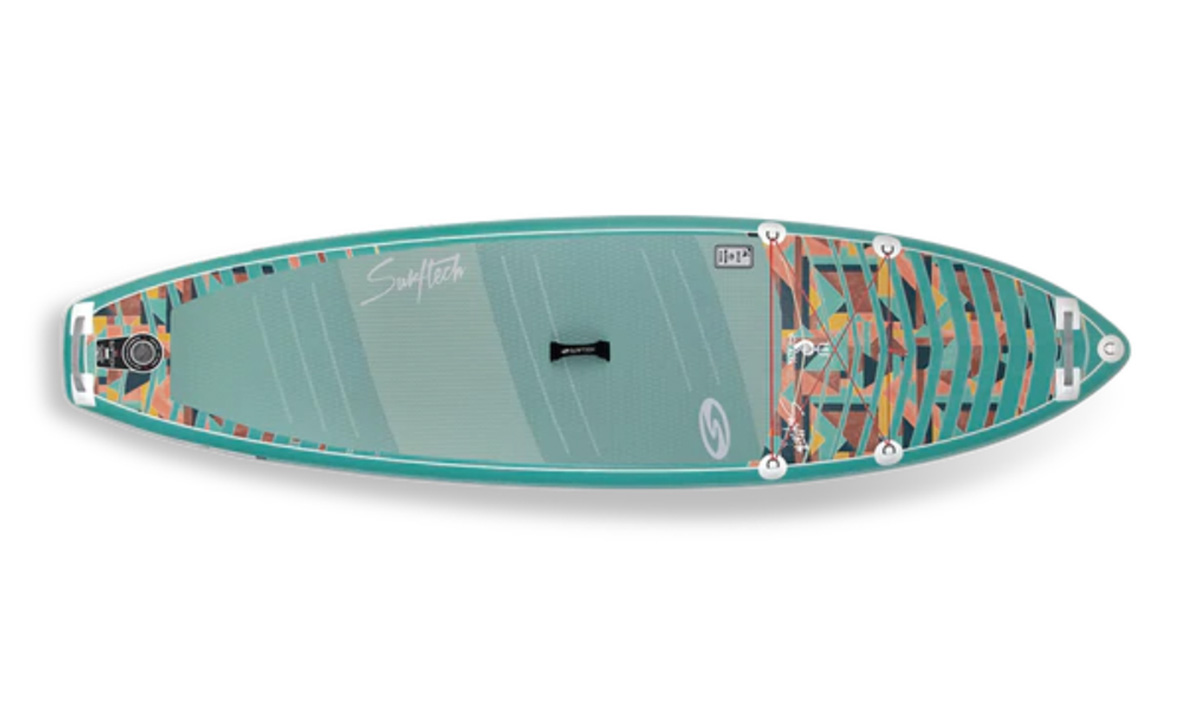 The Air-Travel Alta is available in various shapes and lengths, adding to the Surftech Air-Travel lineup. Surftech and prAna collaborated to design a new beautiful combination of graphics. The inflatable SUP is available in two beautiful and unique sets of graphics and comes with matching leashes and paddles, and for a complete look, you can get the matching apparel by prAna. The board is suitable for all skill levels and is great for recreational and specialty paddling.
This lightweight board has a sturdy build and is made of high-quality eco-friendly material, enhancing its overall durability. The Surftech boards feature strategically placed handles that allow easy carrying. The Alta is made with the double layer Drop Stitch technology, providing a firm and rigid feel for optimized performance. The board also features a reinforced high-pressure valve that offers enhanced inflation, reducing the energy you need to inflate the board the required pressure. Durable PVC material is used to ensure enhanced durability.
Every package comes with a back style carry bag, a fast dual-stage pump, a repair kit, and an easy-to-install fin.
SUP-Now Paddleboard Dog Traction Pad Deck Grip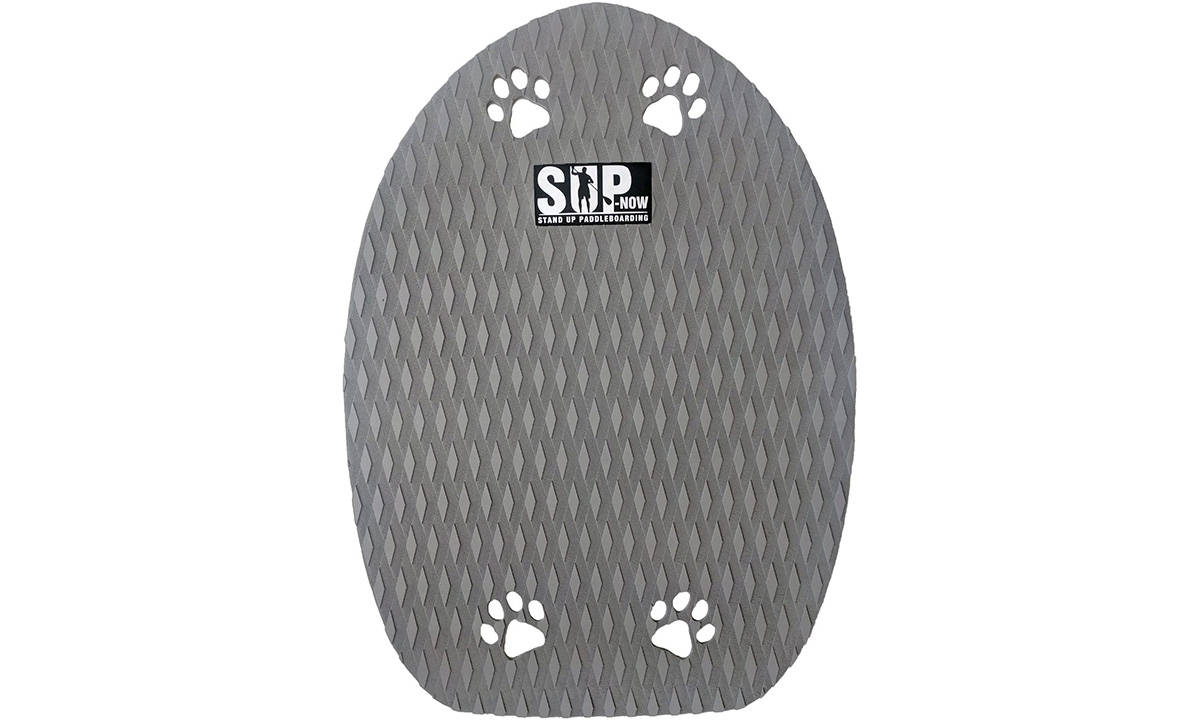 When taking your dog out for a paddling trip, keeping him safe is the only way to give you peace of mind, allowing you to enjoy the special moment. The SUP-Now premium traction pad is made from the best EVA foam to provide enhanced durability. High-end paddleboards come fitted with traction pads with the diamond grove design for added aesthetics and a better grip. The traction pad is made of water-resistant materials. These materials keep the pad dry at all times to prevent water from weighing down your board. The pad features top of the line adhesive to battle the salt and all the other minerals in the water to remain firm at all times. With dimensions of 26 inches by 19 inches, the pad will work for dogs of all sizes. The pad is also quite customizable and can be cut to any shape or size by scissors.
Things to Consider When Choosing the Right Paddleboards for Dogs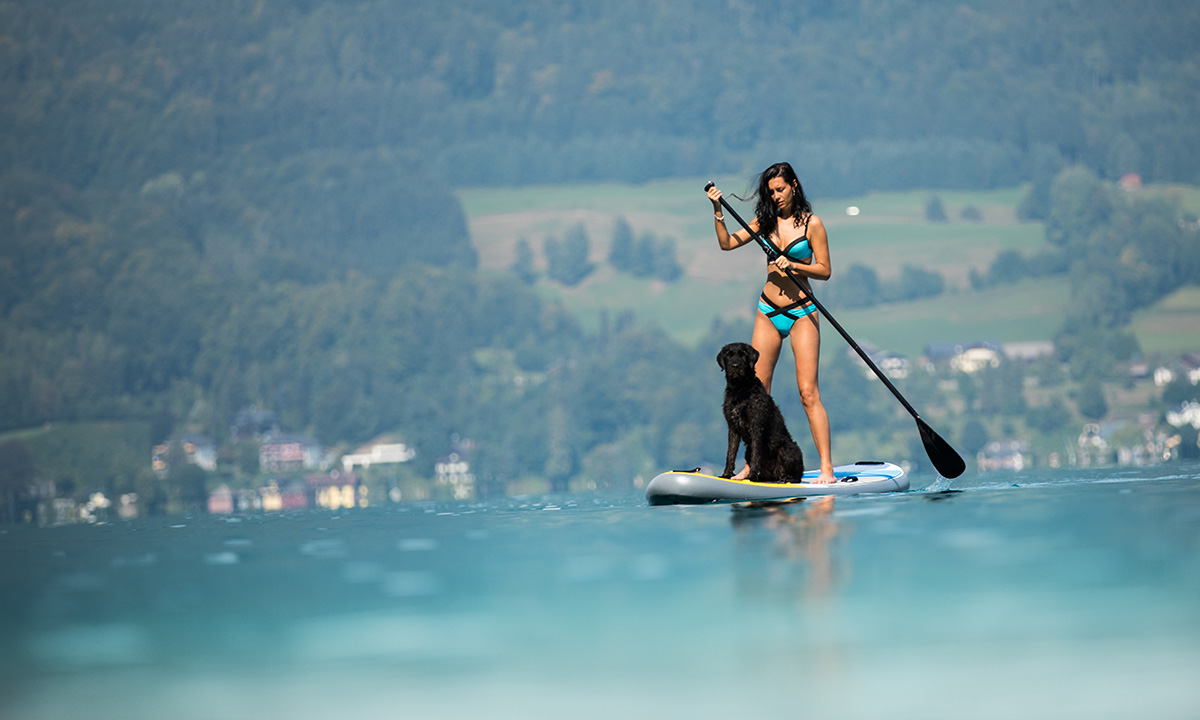 Photo: Shutterstock
Instead of playing fetch all day, you can take your pup out for an adventurous paddleboarding afternoon. Sounds fun, right? Well, with the right equipment, this can be done safely and comfortably. However, when out shopping for boards, you will be bombarded with a wide assortment of different boards. So what are some of the things you should consider when picking out the perfect stand up paddleboard for you and your canine bud?
Stability - A good paddle should offer both you and your pup enough stability when gliding over the water. A material with a soft top will greatly minimize the risk of your pup from tipping into the water.
Material - Finding a board with the right material is also very important to keep you comfortable and provide an enhanced grip. A material such as epoxy makes it hard for you and your dog to slip into the water.
Size and capacity - We recommend finding a board that supports 40 pounds more than the total weight of you and your dog. To establish the weight of your pup, you can visit a veterinary officer and have the weight measured.
Personality - At the end of it, it all boils down to personal preference. Every dog is different when it comes to exploring new things, and especially in the water.
Safety Precautions Before Starting Out
It is imperative to leave the leash at the shore. The leash can easily get tangled around your pup, hindering him from obtaining the required balance to stay on the board, it can also affect his ability to swim in case he or she tips in.
In all skill levels, it is highly advisable to get a quality Personal Floating device and a doggie life jacket for your buddy. Although dogs (especially with webbed feet) are naturally good swimmers, it can be quite frustrating when trying to get your furry compatriots back on the board when you have nothing to grab. Dog life jackets are designed with a handle on the back, which allows you to quickly grab your pup and pull him aboard if he decides to go in for a dip. The life jackets also come in handy, keeping you and your dog afloat once you are both worn out from all the swimming in the hot afternoon sun.
FAQS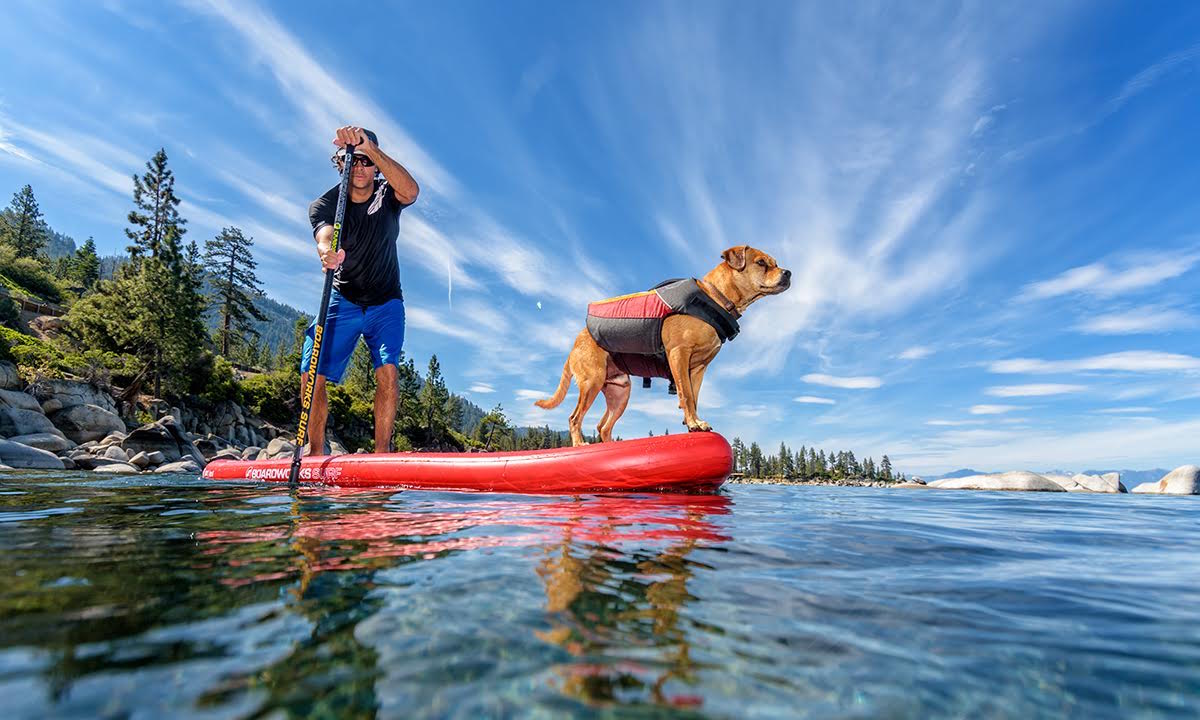 Photo: Flux Photography
Do I have to have any surfing experience?
Well, not at all! The only thing you need to go Stand Up Paddleboarding is some swimming experience.
Can you paddle board with a dog?
Yes, very much so. However, you need to be quite confident paddleboarding on your own before you can tag your pup along. You should ensure that you have the right balance while standing on the board, paddling, and, most importantly, turning. Also, make sure that you can get back on to the board from the water.
Finally, your skill level when it comes to paddling is also a crucial factor. Before taking your pup out paddleboarding, you have to learn the ropes of balancing and learning to tell the type of waves that you will encounter. The more experience you have, the more enjoyable it will be for both you and your dog.
Final thoughts
All in all, when picking out the right paddleboard, it boils down to personal preference. Make sure you do your research before settling on one. Paddleboarding with your dog can be a terrific way to spend time bonding with your pup, and quite a memorable way to do so as well.
Last modified onFriday, 30 October 2020 10:46
Steve Harris is the co-founder of the pet blog DailyDogStuff. He is a passionate pet parent who loves to spend time on the water with his Sibe. You can read more of his guides and tips by visiting the site.
Website: dailydogstuff.com/
Email

This email address is being protected from spambots. You need JavaScript enabled to view it.