How To Train for When SUP Racing Returns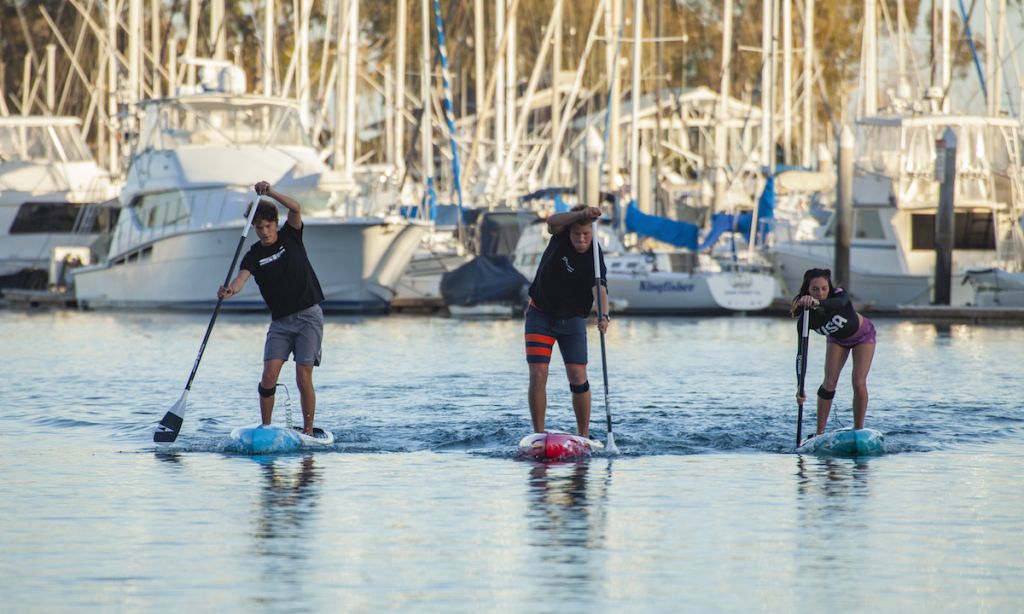 Photo courtesy: SIC Maui
As our world starts to come back together safely, the next question is when is SUP Racing coming back? For avid paddlers the training never stopped. But if you have been off the water and spent more time on the couch during the pandemic, you might need a training regimen that will get you back into paddle racing shape. If your free time has opened up since the pandemic, or you are spending countless hours as an essential worker, no one wants to spend all day at the gym. That is why Red Pedrick, Founder of PaddleSynergy and West Coast Gliders, uses Tabata training for himself and his paddlers.
What is Tabata?
Tabata training was developed by Izumi Tabata, Ph.D., at the National Institute of Fitness and Sports in Tokyo. It's a timed interval method that alternates between 20-second intervals performed at maximum effort with 10-second stages of rest, repeated eight times for the ultimate, intensive four-minute workout.
Why Tabata at Paddle Synergy?
"I incorporated the Tabata workout into one of PaddleSynergy's programs to foster physical and mental toughness. As a paddler who races both Dragonboat and Outrigger Canoe, fatigue and its effects are an eventuality. We all know when it hits, but I feel, how one manages, and addresses fatigue is what dictates whether one moves up to the next level or they stay in a perpetual plateau. At Paddle Synergy we choose to do 30 second workouts, that way it gives you time to get to the next station, in the correct position and allows you to have 20 seconds or more to give 100%". - Coach Red Pedrick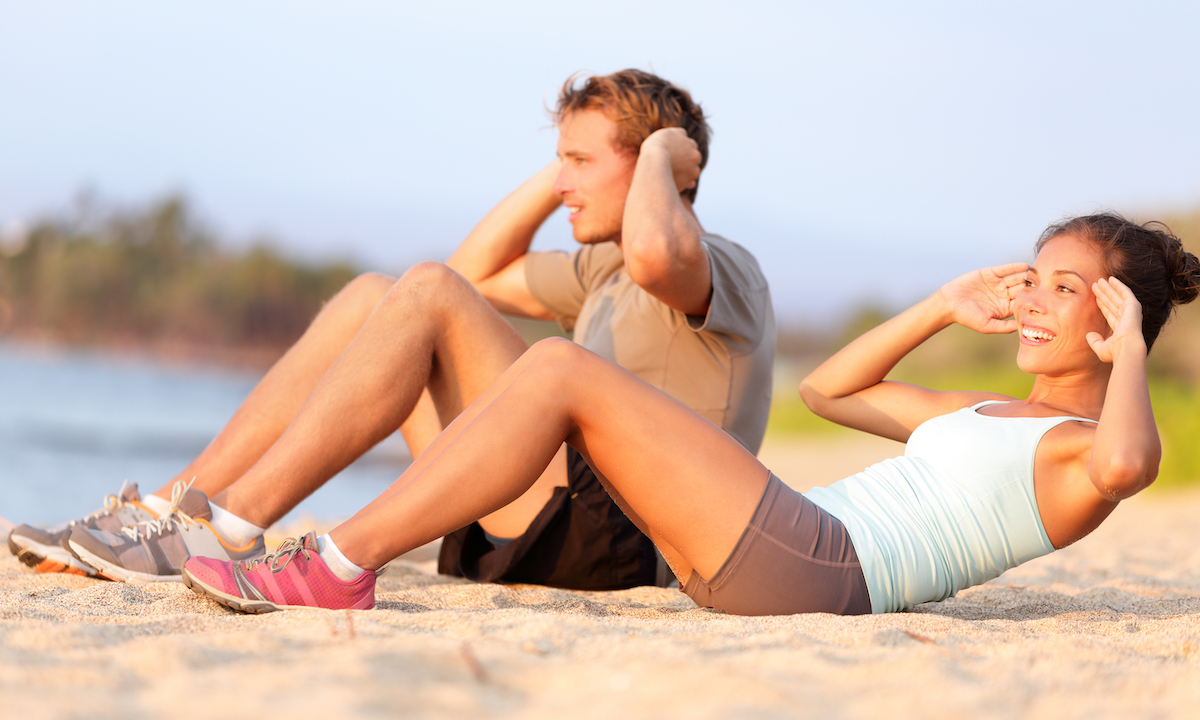 Sit ups are a simple exercise part of the Tabata workout. | Photo: Shutterstock
What are the other benefits of Tabata?
Essentially it's killing two birds with one stone and with less time doing it. With Tabata training you are receiving both anaerobic and aerobic benefits.
Anaerobic Benefits:
Improved muscle strength
Increases muscle mass
Increased metabolism
Boots you VO2 Max
Decreases Soreness
Aerobic Benefits:
Improves cardiovascular health
Lowers blood pressure
Helps regulate blood sugar
Reduces asthma symptoms
Increases your stamina
With Tabata training you will realize the moments of fatigue in short intervals which allows you the opportunity to better understand your own strengths and weaknesses and gives you the opportunity to really pinpoint where your muscular and cardio weaknesses are located and how to address them.
"As a Marine I learned the importance of acknowledging the pains that occur while under physical, mental, and at times emotional stress. By being able to identify that stress I learned I was now able to work to try to understand it. Doing so allowed me to take into perspective the what, how and why. Regarding paddling and competition after each race, I always considered what was the competition, how did I stack up? and why I ended up where I did? More times than not the "why" was answered based on how I was able to manage fatigue. Whether it was a 500-meter sprint or a 10-mile endurance race, fatigue and how I dealt with it was the key element I felt I had true control over."
Photo courtesy: Starboard / Andy Klotz
Results from Tabata
Coach Red's Take
"Since I implemented Tabata into my training I have found that my overall paddling be it short distance or long has improved immensely. Canoe sprinting, I have found an overall increase of 15% more distance covered in 30 second burst. At the same time my overall endurance and average speed over long distances has increased as well. Bottom line I feel the Tabata workout program has essentially given me the perspective I need to approach my training and how best facilitate growth and physical development. At the same time the Tabata workout really shows you who you are and where you stand mentally when under immense physical stress. During a race you can always go paddles up, and in the gym, you can always take a knee. However, for me and for those I train, that is NEVER an option and I feel Tabata helps reinforce that mindset."
You can read more about Tabata origins and its health benefits HERE.
For more SUP tips, click HERE.
Last modified onTuesday, 02 March 2021 17:14

Samantha Eastburn is an Arizona native with 23 years of water experience, 2 Flat water SUP Certifications and has been teaching SUP Pups California for 5 years now in San Diego. A life-time dog lover, she rescued her pup Jack 8 years ago and moved to San Diego after graduating college. She started to Stand Up Paddle board in the San Diego Bay with her dog and instantly fell in love. They together decided to create a program at The SUP Connection so they can teach and share their passion with other pups and their owners.
Website: www.facebook.com/SUPpupsUSA
Email

This email address is being protected from spambots. You need JavaScript enabled to view it.