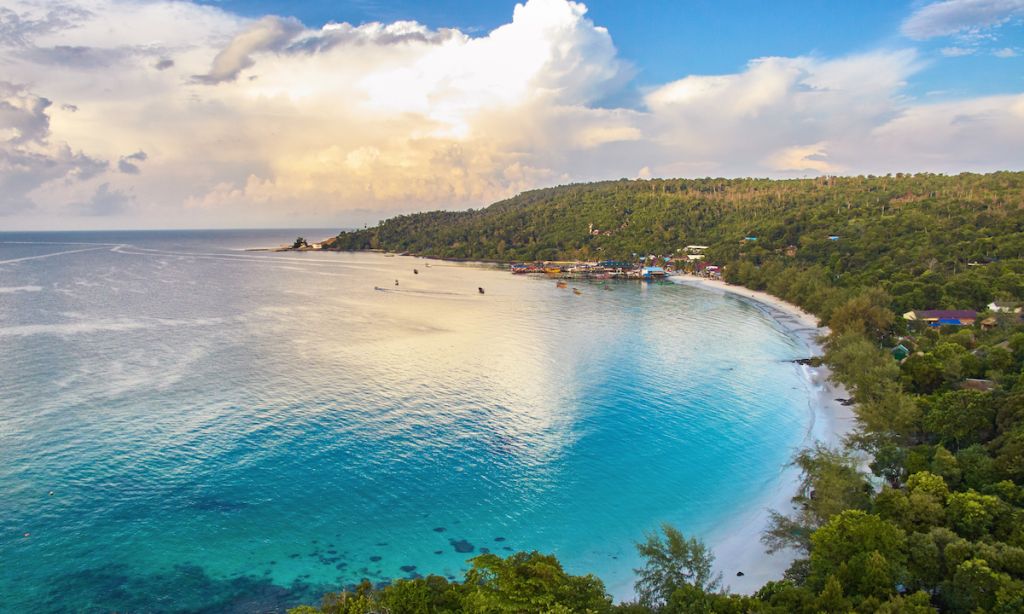 Koh Rong Island, Cambodia during the sunrise. | Photo: Shutterstock
Cambodia is best known for its temples of Angkor Wat and its dark history with the genocide of Pol Pot. But even Angelina Jolie who has starred in and produced award winning films in Cambodia, has found the country to also be a great SUP destination.
Highlights
With hundreds of miles of coastline dotted with islands on the Gulf of Thailand, the daunting but beautiful Mekong River, and the Tonle Sap Lake which is the largest body of inland water in Asia, Cambodia is a SUP explorers dream.
Photos via Anne Pizey
What to expect on a SUP tour in Cambodia? Genuinely friendly locals, great food, diverse paddling destinations, easy transportation, all styles of accommodation, an opportunity for cultural immersion and environmental education.
Hotspots
The Mekong
Cambodia's upper Mekong region is an unspoiled paradise for the adventure SUP enthusiast. Paddling there could be a "Get It While You Can" opportunity. With 11 proposed dams on the mainstream Mekong the future looks bleak for the river and those who depend on it.
Tour company SUP Asia is working on spreading awareness about the river's fragile future and the beauty of life on the flowing Mekong by working with local organizations to promote eco tourism in the region. Mekong
Highlights
Mekong sunsets and sunrises are magical.
Photos via Anne Pizey
The tour offers an opportunity to view the rare and endangered Mekong Dolphin from your SUP as well as many rare and endangered birds. Experience local life with local guides. Learn about the river from experts. Stay one night with a local family on a Mekong island.
White sand beaches, secluded islands, flooded forests and rapids make for a memorable SUP journey.
Photos via Anne Pizey
Seasons
Organized Mekong tours are offered January through March when river levels are not too high and not too low and the weather is optimal. If you prefer to be reclusive and exclusive on your SUP, this is the place. Don't expect to see other paddle boarders. A small kayak company based in Kratie offers tours through the rapids and into the dolphin pools. This area is relatively new to adventure tourism.
For more information about SUP tours on the Mekong visit SUP Asia's website and the Sustainable tourism in upper regions of Cambodia.
Kep and Kampot
Sleepy seaside towns along the Gulf of Thailand The Kampot River joins the sea at the Gulf of Thailand close to the Vietnam border and a short two hour drive from Cambodia's capital Phnom Penh. SUP Asia brought paddle boarding to the Kampot river in 2011 and the town has since become Cambodia's best known SUP destination. The river, which is in fact an estuary, flows about 14 miles from dam to sea. Along the way paddlers can explore river inlets, billabongs, pagodas and fishing villages. With riverside guesthouses smattered along the way paddlers can make a multi-day adventure on the river culminating at the sea and hire a boat to return to the town of Kampot. Excursions along the coast are also available from Kep to Kampot.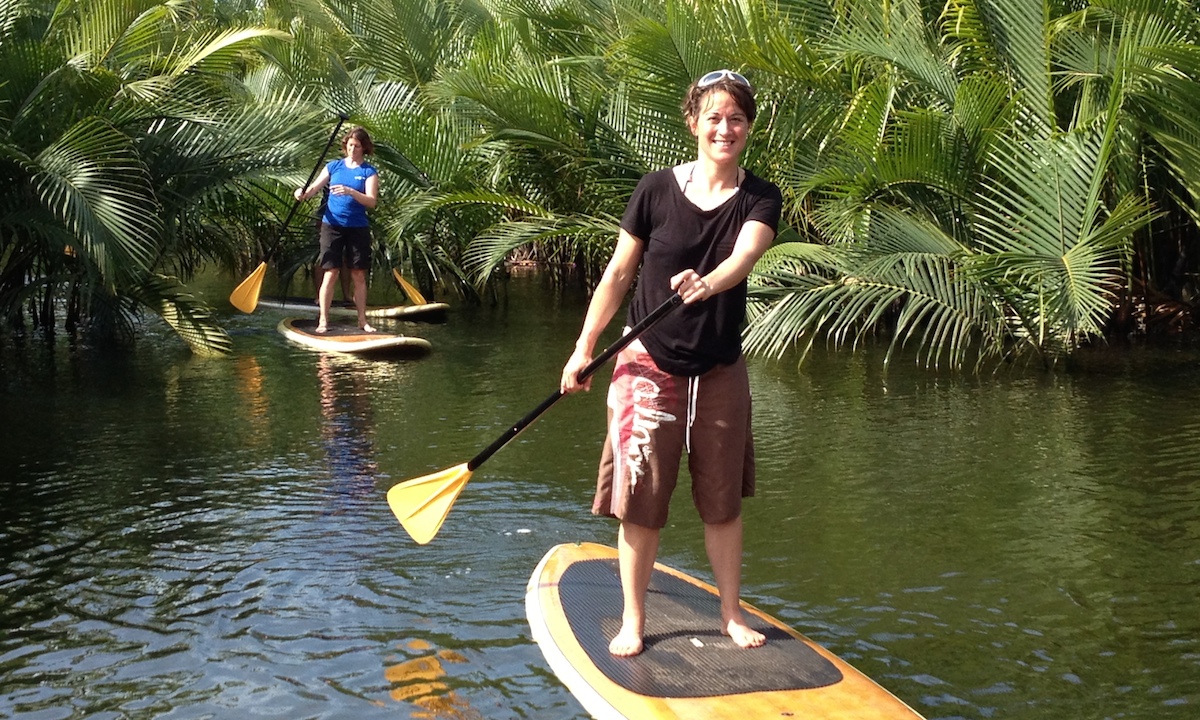 Photo via Anne Pizey
Highlights:
Mangroves
fishing villages
islands
bird watching
seafood
fireflies
hammocks galore
Photos via Anne Pizey
Seasons
November through August are the best months though heavy rains can arrive in July and occasional floods can make the river sketchy. The coolest months are December through February with average temperatures in the low to mid 80s. The hottest months are April-June with highs in the mid 80s to high 90s.
SUP Asia headquarters are in Kampot. They have gear for hire and can arrange a private boat to accompany SUP tours. They organize group travel and local SUP events and offer daily lessons and tours and are happy to help with customized adventures. They also have an outdoor/environmental education program. Those with a green thumb can ask about their Plant a Mangrove SUP Tours. For more information click HERE.
SUPs and kayaks can also be rented at several of the local riverside guesthouses. Kayakers and paddle boarders enjoy the river along with the occasional tourist boats but the area still retains a relaxed, if not sleepy, vibe. SUP Asia's logo reminds tourists "Say yes to adventure. Life is too short to spend in a hammock."
Last modified onTuesday, 04 August 2020 16:42

Annie Pizey is the owner and program director for SUP Asia, a paddle board tour company based out of Kampot, Cambodia, SUP Asia offers trips throughout Cambodia including three day journeys out of Kratie, the home of Cambodia's Mekong Dolphin. Working with groups such as World Wildlife Fund and partnering with community based tourism groups, SUP Asia combines adventure with education and cultural emersion.
SUP Asia has been offering guided tours on the Mekong since 2011 when a group of Colorado paddle boarders spent a month on a 400 mile stretch from Laos to Cambodia's capitol of Phnom Penh. The trip was born out of a love for adventure and a passion to help preserve and protect rivers. The group of seven formed a non profit called Stand Up For Rivers and teamed up with a grassroots Cambodian organization Cambodian Rural Development Team (CRDT) focussed on sustainable livelihood on the Mekong. SUP Asia has since joined forces with CRDT to provide paddle boarding as a sustainable tourism option in the Kampot and Kratie regions and to offer SUP enthusiasts enriching cultural and educational experience.
Website: www.supasia.org
Email

This email address is being protected from spambots. You need JavaScript enabled to view it.