Izzi Gomez's Top SUP Surfing Trips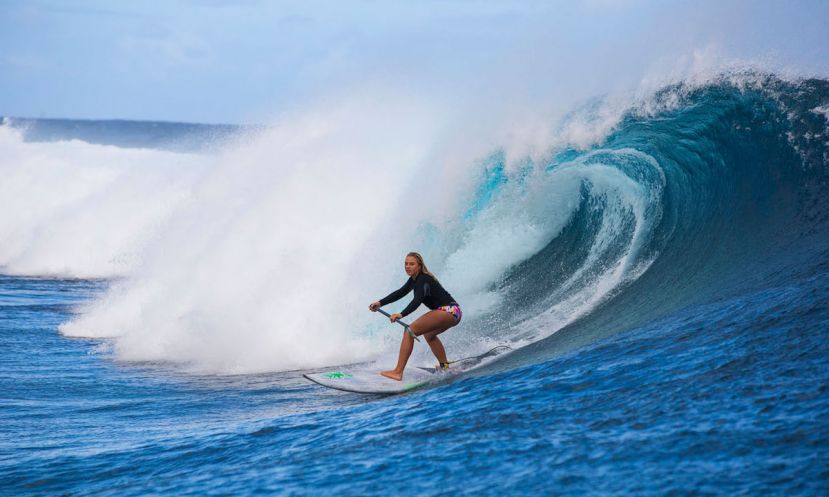 Izzi Gomez on a bomb in Tahiti. | Photo: Ben Thouard
SAN CLEMENTE, California - Ever wonder where the two-time women's SUP surfing world champ loves to shred? Here, Izzi Gomez spills some insight on where her favorite places in the world are to go for a surf. Check it out:
Tahiti
Tahiti is like a dream, it is such a magical place! The Islands are so lush with greenery and the water is the most electrifying shade of turquoise I've ever seen. The waves are world class from reef breaks to beach breaks, intermediate to advanced. I had the opportunity to get a couple at Teahupo'o, which was an amazing experience, though I do not recommend that you try to paddle out there on a SUP unless you are confident in your abilities and respectful to the lineup. Also, you must know your limitations, for Tahiti's surf can be shallow, hollow, and quite powerful. I enjoy surfing Small Pass and Big Pass, which are local heavier breaks that you have to get to by boat. I spent a lot of time surfing Papara, a beautiful black sand beach break, which is also a lot of fun. So I suggest, if you have the opportunity to visit Tahiti, immerse yourself in their culture and enjoy the ride. It truly is Heaven on Earth!
Oahu, Hawaii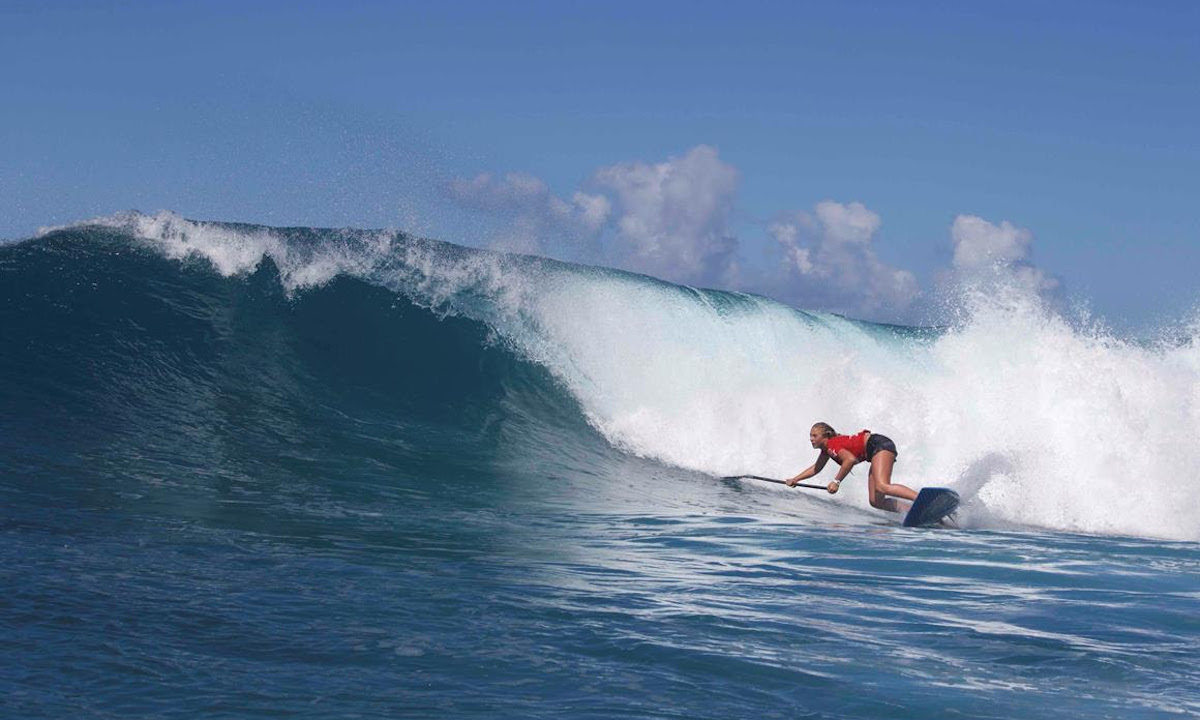 Izzi at the 2016 Turtle Bay Womens Pro. | Photo Courtesy: Waterman League
Oahu is my home away from home. I love it with all of my heart! It is sunny and warm, the water is clear, and I can wear a bikini year-round! Oahu has so much to offer from waves to whale watching, fishing and waterfalls, delicious food and that "city life". There are so many waves in such a close proximity suitable for beginners to the World's top pros. You never know who you will be sharing the waves with. Puaena Point is a very SUP friendly place, home to the legendary Uncle Bryan's Sunset Suratt Surf Academy. If you would like the real surf experience, you have found the right place. The waves are fun and they can get really good. My personal favorite spots are Haleiwa and Sunset, though they are more local and not that SUP friendly. Oahu is a very sacred place. Please make sure you show respect in the lineup and on the land.
Montauk, New York

Summer in Montauk. | Photo Courtesy: HA Wave Inn
Montauk, NY is such a unique little eclectic beach town! You gotta love Ditch in the summertime! It's beautiful! The days are sunny and warm and the nights are perfect for beach bonfires. The water can still be a little chilly, just enough for a spring suit, but you mostly trunk it. There are waves pretty much everyday and of course some days better than others. Montauk just has that carefree and fun summertime vibe. It has become quite the hotspot! You never know who you're rubbing elbows with on this beach. Everybody surfs something, from paddle boards to shortboards, longboards to retro style twinnies. Anything goes, beginners to pros….so just keep a mindful eye out.
Sayulita, Mexico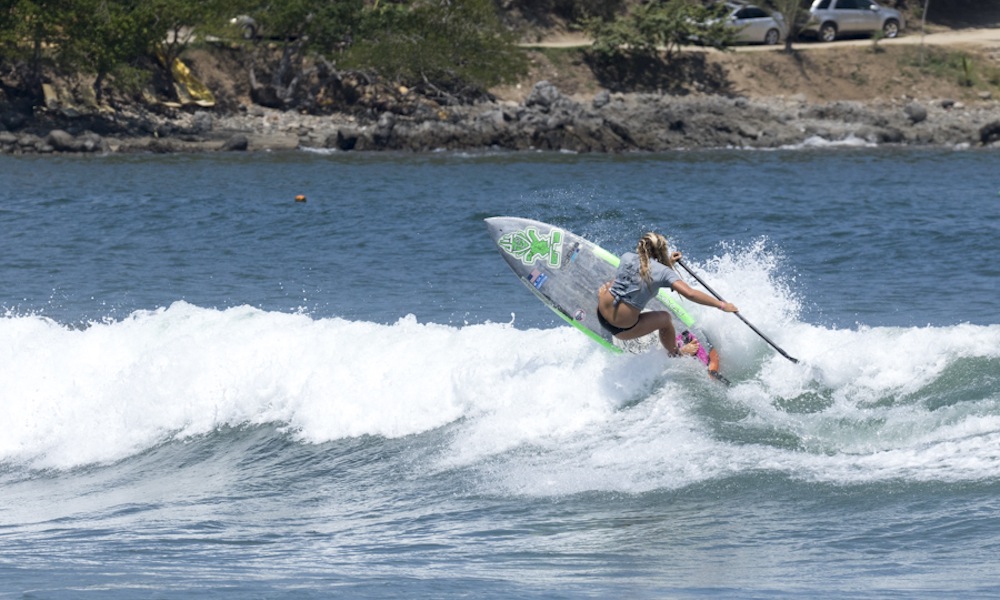 Izzi at the 2015 ISA World Championships in Sayulita, Mexico. | Photo: ISA / Reed
Sayulita is my favorite little town in Mexico! It is so tropical, artsy and cute! I love the culture and particularly the Huichol Indian's art. The people of Sayulita are very welcoming and they are so nice. The wave out front is very playful and fun. You can be a beginner to a pro and have a good time. It is SUP friendly, though as always just remember to be considerate. The stand up paddle community is growing in the area, for it has become a popular SUP destination vacation. There are plenty of waves that you can also get to by boat. Its neighboring village, Punta Mita, is a posh resort area with some fun waves as well.
Jupiter, Florida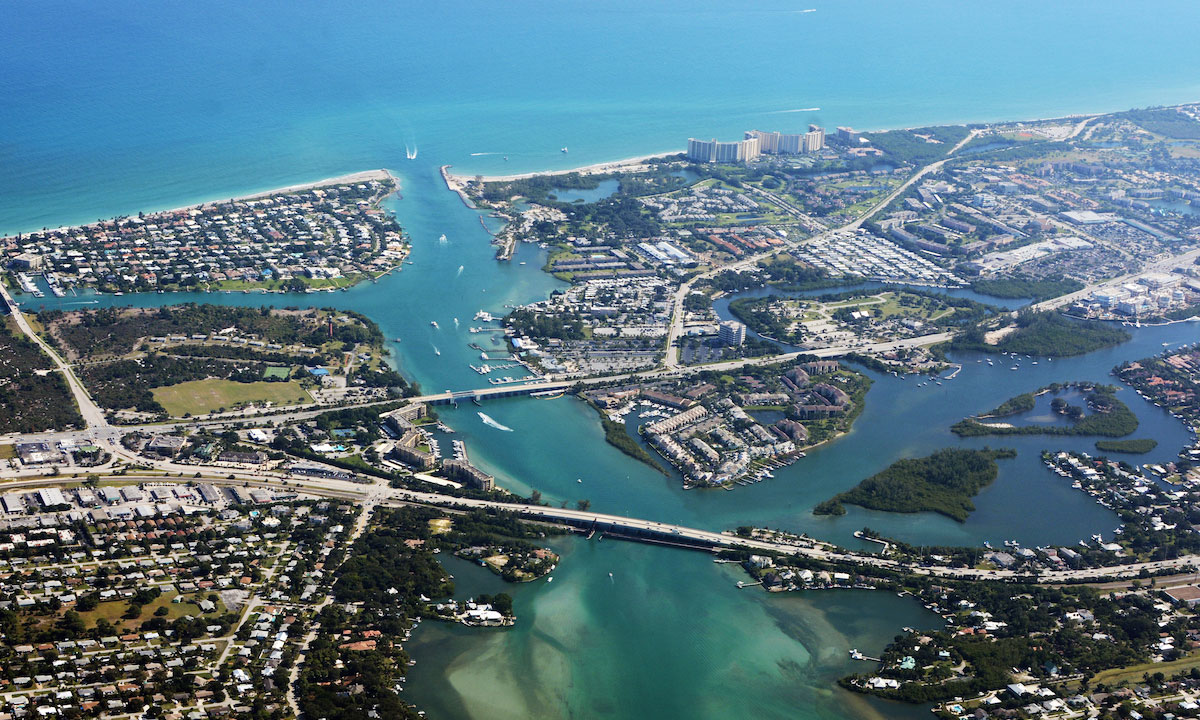 Jupiter from above. | Photo: D. Ramey Logan
Last but not least……Going back to my roots, Jupiter, Florida made the Top Ten North American SUP Destinations and it happens to be my one of my hometowns. It is a beautiful coastal community, with a small town feel. Life revolves around the water, you are either stand up paddling, surfing, boating, or fishing. It is generally pretty sunny, hot, and humid. The best time for waves is in the winter, though we do get some good hurricane swells in the summertime. There are plenty of SUP friendly beach breaks as you will see along the coastline. Considering the SUP community is rapidly growing, we just have to make sure that we remember to use our proper surf etiquette when we paddle out to a break. If you have any questions about where to SUP or you want to meet some of the locals, head on over to Blueline Surf & Paddle Co. and they will take good care of you.
Well, there you have it! My top SUP surfing destinations! Do any of these places make your list?
Last modified onWednesday, 21 June 2017 15:48

Florida, USA - At just 14 years old, Izzi Gomez won her first stand up paddle surfing world title and dominated the Women's Stand Up World Tour. Izzi's style of surfing has power and progression that is way beyond her years. Izzi has proven herself amongst the world's best female paddlers and has shown that she's one of the best stand up paddle surfers around.
Website: www.izzigomez.com/
Email

This email address is being protected from spambots. You need JavaScript enabled to view it.