5 Tips To Help You Have A Successful SUP Race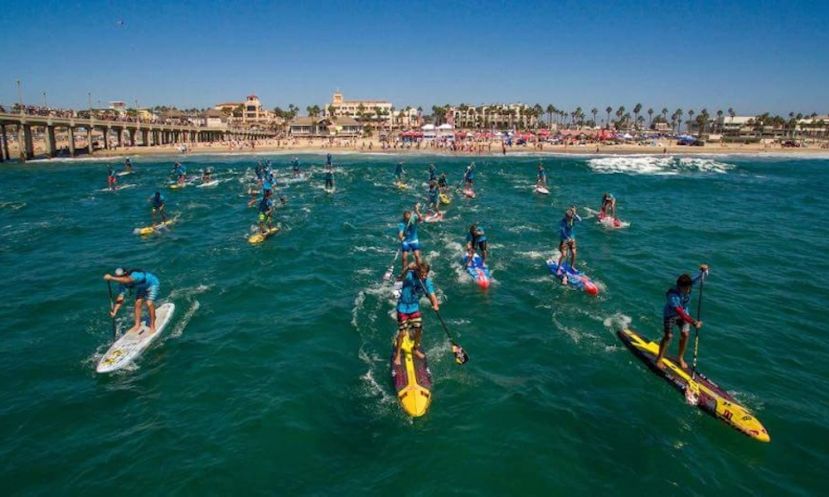 Men's Elite Race at the 2015 US Open of SUP. | Photo Courtesy: Waterman League
SAN DIEGO, California - With the SUP racing season right around the corner we thought it best to supply you with some tips that can help you have a successful race come race day. We checked in with the best-of-the-best stand up paddle boarding pros including Kai Lenny, Mo Freitas, Chuck Patterson, Connor Baxter, Lina Augaitis and Annabel Anderson to name a few. We took what they had to say and came up with 5 tips to help you have a successful race. Here they are:
1. Hydrate
Staying hydrated is one of the most important things to help you find success and keep your body healthy on race day. Hydration is key to have your body be able to perform at its maximum potential and without proper hydration you can (and likely will) find yourself not performing at its best and perhaps worse putting yourself into danger. It's important that you listen to your body and give it proper nutrients when necessary.
Note: When you find yourself feeling thirsty, it is a sign that you're already dehydrated so make sure you drink plenty of fluids in the days leading up to the race as well as on race day.
"Stay hydrated through the race. Great way to do this is use a camelback." - Slater Trout

"Feel your body, if you're weak, drink water, take a gel, if you're strong, go for it." - Lina Augaitis

"You are preparing your body for what you are going to ask it to do on race day avoid the need to have to rehabilitate your body." - Annabel Anderson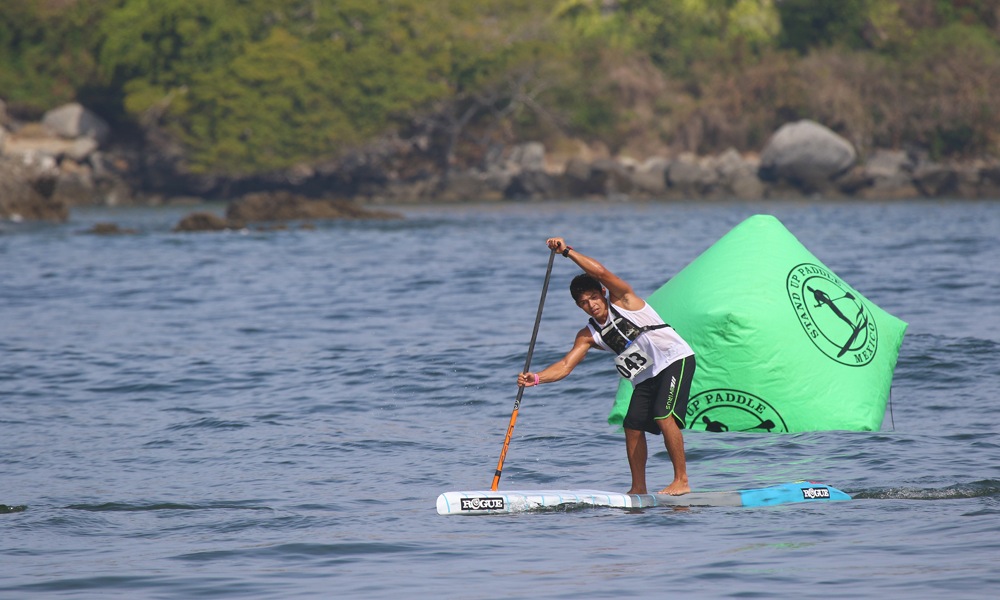 Sayulita's Bicho Jimenez on his way to a Silver Medal at the 2015 ISA SUP World Championships. | Photo: Wicked Fotos
2. Stay With Someone
During the race a great way to challenge yourself as well as to make sure that you're keeping pace is to find a paddler near you (ideally the fastest paddler) and keep on their pace. Stick with them and don't let them pass you!
"Before the race check who is the fastest guy and try to stay with the fastest guy to the very end." - Mo Freitas

"Find someone close to you, hang on with them and finish strong." - Slater Trout

"Don't let anybody pass you without a fight." - Dan Gavere

"Put yourself next to a better competitor that you can pace yourself off." - Chuck Patterson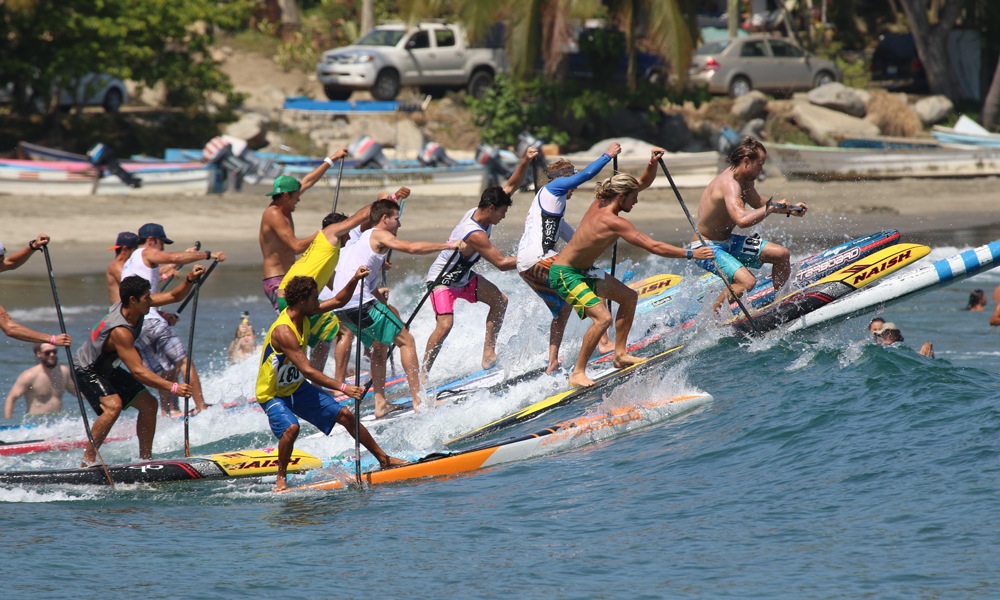 2015 ISA Men's Elite Race. | Photo: Wicked Fotos
CLICK HERE for more SUP RACING Tips.
3. Never Give Up
Never. Give. Up! It's important that you stay positive and keep your mind and body focused for the end goal: finishing the race. You've trained hard for this moment and your mind can play quite the number of tricks on you. Power through it and give it your all. You never know what will happen until the race is actually over, so stick with it and give it your best shot.
"Never give up, things can always change." - Lina Augaitis

"Never give up, no matter your level or race, keep positive mind, you never know what will happen." - Casper Steinfath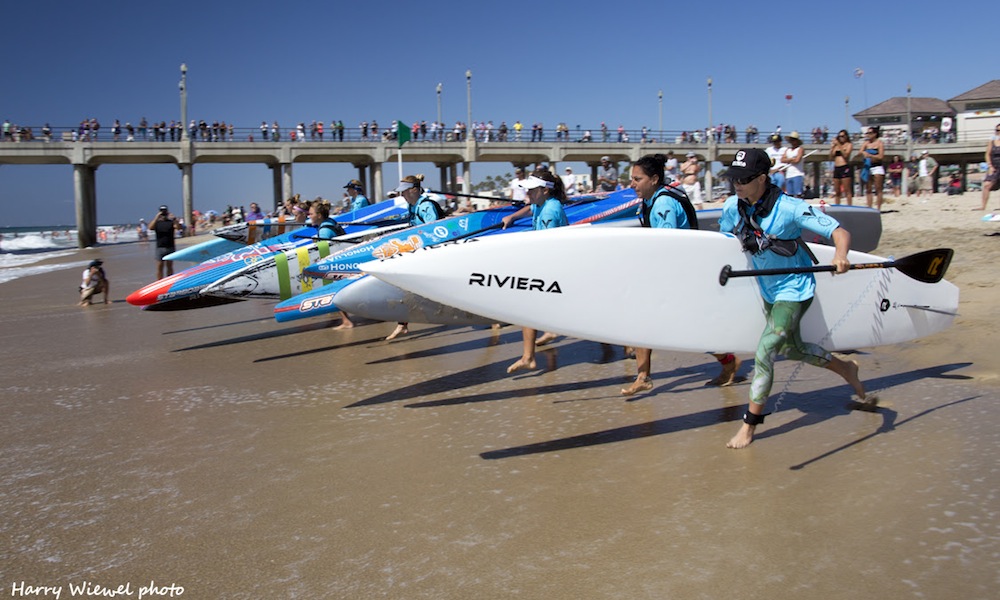 Woman's Elite race start at the 2015 US Open of SUP. | Photo: Harry Wiewel
4. Know The Course
Learn and study the race course that you will be paddling. This may seem trivial and you figure you will just follow the lead from the guy in front of you, but don't be so trusting of them. Some of the biggest blunders in racing have happened when athletes have taken the incorrect course and it cost them the race. Remember the 2014 Lost Mills race? <http://www.supracer.com/2014-lost-mills-results/> In short, BIC SUP's Eric Terrien was able to win the race because a few of the guys in the lead veered off course and others followed, but Eric knew the correct course which catapulted him into the lead and overall win. So, make sure you study the course and follow your own lead!
"Know the course really well and make sure you know the place, conditions and swell." - Kai Lenny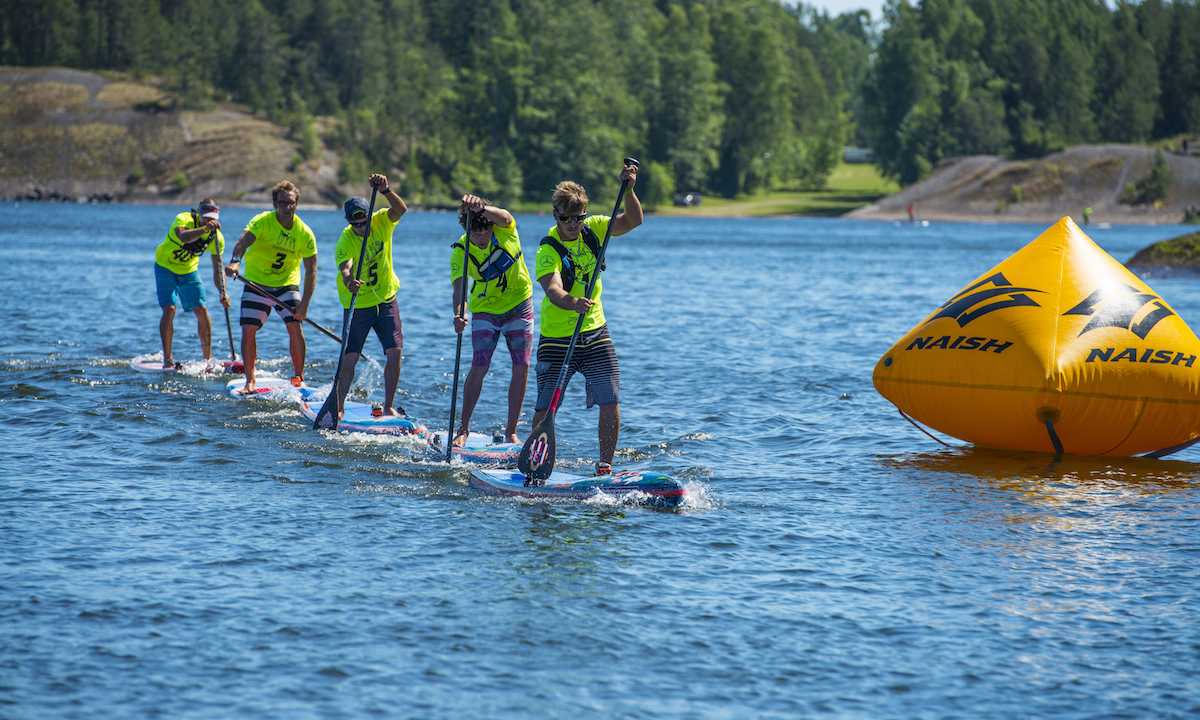 Stand Up World Series Finland 2015 Men's Elite Race. | Photo Courtesy: Waterman League
5. Conserve Your Energy
Conserving your energy throughout the race is key. Don't blow all of your energy in the beginning of the race to get the lead. Hang back and keep pace with the lead pack and then, at the end give it your all and do your best to get in front of the pack towards the finish.
"Stay behind, 3rd, 2nd, and 4th and at the very end jump to the front." - Mo Freitas

"Save some energy for a good sprint at the end." - Dan Gavere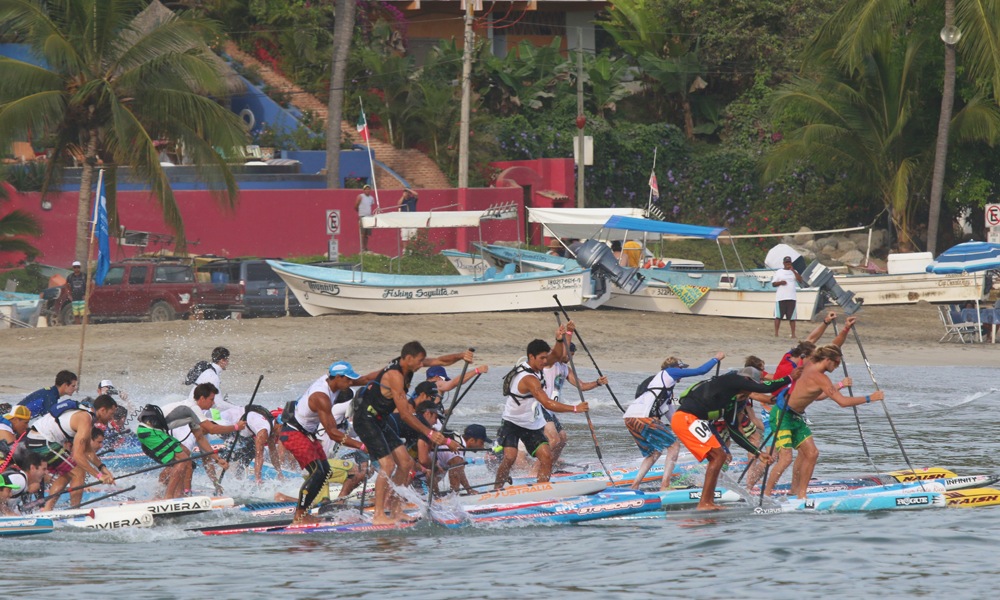 2015 ISA SUP Men's Distance Race. | Photo: Wicked Fotos
So to sum it up, on race day make sure that you're well-hydrated, find someone to keep pace with, conserve your energy, know the course and most importantly, never give up! If you utilize these tips on race day you'll be sure to have a great race and finish with a smile on your face.
For more SUP Racing Tips, click here.
Were these tips helpful? Sound off in the comments below!
© Supconnect Copyrighted Exclusive Content
Last modified onTuesday, 18 February 2020 13:15

Submit your news, events, and all SUP info, so we can keep promoting and driving the great lifestyle of stand up paddling, building its community, and introducing people to healthier living.
Website: supconnect.com
Email

This email address is being protected from spambots. You need JavaScript enabled to view it.