SUP Training Guide by Seychelle
Seychelle racing in the 2017 Columbia Gorge Paddle Challenge in Hood River, Oregon | Photo courtesy: Bob Stawicki
MELBOURNE BEACH, Florida - Welcome to our new Athlete Training Program series. We are chatting with some of the fastest, strongest, and most fit SUP athletes in the world to find out what feeds their paddle engines. From their paddle routines and cross-training habits to diet regimens, recipes, and more, these athletes share the details of their daily grind. Next up, we have SIC Maui athlete and endurance paddler Seychelle Webster.
Seychelle Webster
Age: 31
Residence: Melbourne Beach, FL
Expertise: Sprints and Ultra Endurance Paddling
Sponsor: SIC Maui
Born and raised in the Florida Keys, Seychelle grew up right by the ocean, finding a deep connection to the water from a young age. From sailing and surfing, to stand up paddle and SUP yoga instructing, Seychelle has tried her hand in many different ocean disciplines. After sailing around the world as a professional yachtsman for some time, Seychelle discovered stand up paddle and decided to pursue a career in the sport.
On the recreational side, she is a registered SUP yoga instructor and certified personal trainer and teaches SUP yoga and fitness classes in her hometown. Within the competitive racing scene, she is a SIC Maui Global Athlete, Guinness World Record holder, and top 10 world ranked athlete. With numerous titles and championship victories under her belt, Seychelle continues to propel herself and the sport forward with her dedication to push the limits. This past year Seychelle broke the 2017 Chattajack 31 Women's 14' course record in near-freezing conditions and most recently announced her decision to join the Paddle Monster coaching squad. Find out what Seychelle had to say about her excersice and diet plan below.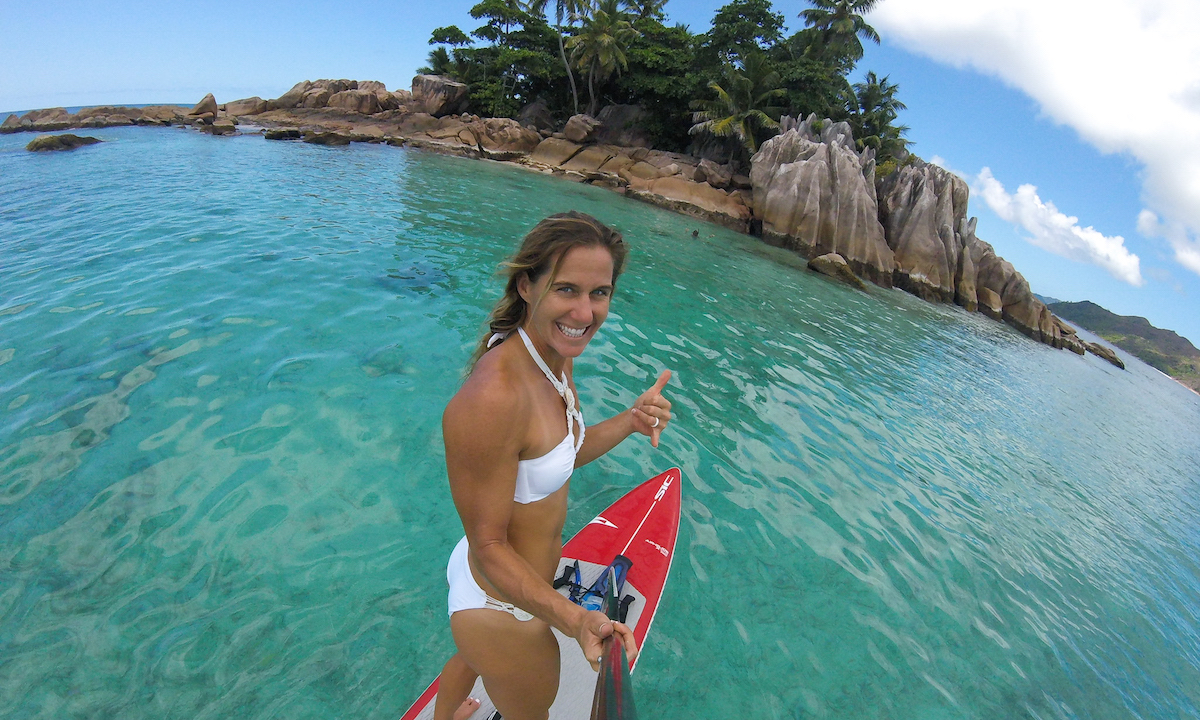 Seychelle exploring her namesake island, the Seychelles. | Photo courtesy: Seychelle
Paddle Plan
I currently train with and coach for Paddle Monster. Paddle Monster is an subscription based online training platform and mobile app that delivers weekly programing for paddle sports athletes. There are different levels, beginner, intermediate and advanced. I work closely with founder Larry Cain and follow a customized version of the advanced program.
*Race Season
Monday
Tuesday
Wednesday
Thursday
Friday
Saturday
Sunday
Exercise 1
Interval
Strength
Interval
Interval
Cardio Cross Training
Interval
Strength
Exercise 2
Cardio Cross Training
Recovery Session
Surf
Strength
Recovery Session
Recovery Session
Surf
Exercise 3
Recovery Session
Recovery Session
Recovery Session
Recovery Session
*This is an example week-long workout routine based off of the athlete's typical routine and exercise patterns.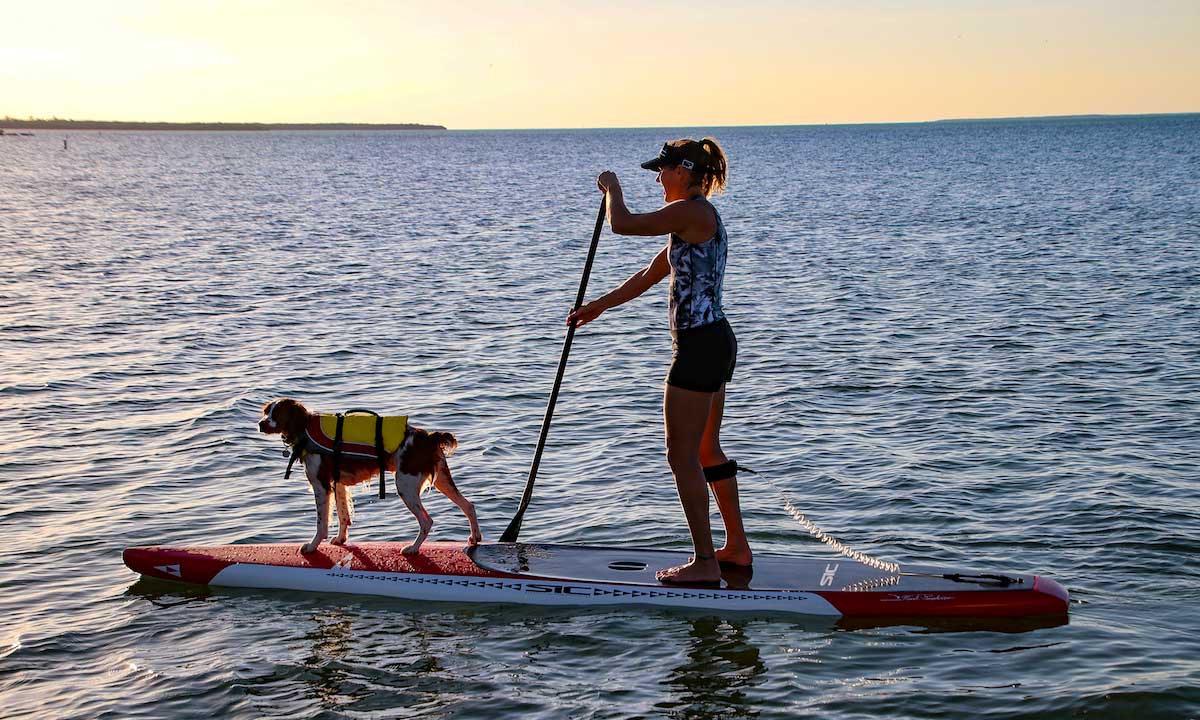 Seychelle paddling with her pup Oscar in the Florida Keys | Photo courtesy: Seychelle
Cross Training
About once a week I try and get out on my OC1. The intensity and objectives of interval and strength sessions changes depending on what stage in my training period I am currently in (ie, how soon till the next big race). I get out and surf whenever I can. Usually 2-3 times a week for an hour. As race season gets closer, this becomes part of my training sessions.
| | | | | | | | | | | |
| --- | --- | --- | --- | --- | --- | --- | --- | --- | --- | --- |
| Yoga | SUP Yoga | Biking | Hiking | Surfing | Bodysurfing | Windsurfing | Swimming | Running | Gym | Row |
| X | X | X | | X | | | | X | | X |
Seychelle cross training on her OC1 (left) and doing yoga (right). | Photo courtesy: Seychelle

Diet
Clean, plant-based vegan diet, fruit and vegetable heavy.
Protein Smoothies
Leafy Vegetables
Whole Grains
Nuts and Seeds
People often ask how I get enough protein and how many calories I eat. The answer is, I eat A LOT. about 3,000 calories a day. I get protein from whole grains, leafy vegetables, beans, nuts, seeds, seitan, (wheat) and pea protein supplement. I also drink lots of water.
We will be sharing more in-depth details on Seychelle's paddle plan, cross training habits, and diet principles soon!
For more SUP Profiles click HERE.
Related Articles
SUP Training Guide by Bart de Zwart
SUP Training Guide by Kody Kerbox
SUP Training Guide by Jeramie Vaine
© Supconnect.com Copyrighted Exclusive Content
Last modified onFriday, 16 August 2019 09:48

KEY LARGO, Florida - Seychelle has been named "Fastest Paddler on Earth", she's a SUP World Champion in racing and she also holds the Guinness Book World Record for longest paddle in 24 hours. Seychelle has a brilliant smile and a positive energy that follows her wherever she goes. When not traveling to compete in various stand up paddle events, Seychelle is a wellness instructor where she teaches SUP yoga and fitness classes and loves to share her passion of SUP with others.
Website: www.seychellesup.com/
Email

This email address is being protected from spambots. You need JavaScript enabled to view it.