SUP Training Guide by Jeramie Vaine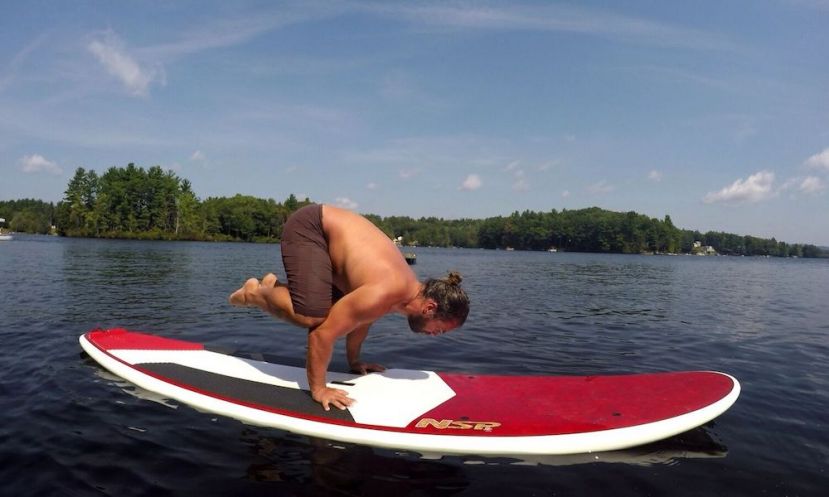 Jeramie Vaine doing SUP yoga | Photo courtesy: Jeramie Vaine
WINCHENDON, Massachusetts - Welcome to our new Athlete Training Program series. We are chatting with some of the fastest, strongest, and most fit SUP athletes in the world to find out what feeds their paddle engines. From their paddle routines and cross-training habits to diet regimens, recipes, and more, these athletes share the details of their daily grind. Next up, we have SUP racer, instructor, and yogi Jeramie Vaine.
Jeramie Vaine
Age: 38
Residence: Winchendon, MA and Jupiter, FL
Expertise: SUP Yoga, SUP Instruction, SUP Racing
Sponsor: Bark and NSP
A traveler, a lover of all things water, a student and a teacher. With passion to grow as much as humanly possible. Every time I arrive on the water, my mat or in the midst of exploring. The reality that this life continues to deliver everything I need appears. Growing up on a small lake in Central New England, the water and I were introduced at a young age. Through water skiing, fishing and swimming. And then at the age of 17, teaching entered into my life. Following the path of watersports, the sport of wakeboarding was my segue. This sport would also serve as the gateway to stand up paddleboarding and yoga. The introduction to both SUP and yoga occurred in 2011. During this time the passion of teaching was being fulfilled through stand up paddleboard lessons. But it was not until 2014 when the connection to teach yoga occured. Receiving my CorePower Yoga 200-hour Power Yoga teaching certification. It all came full circle.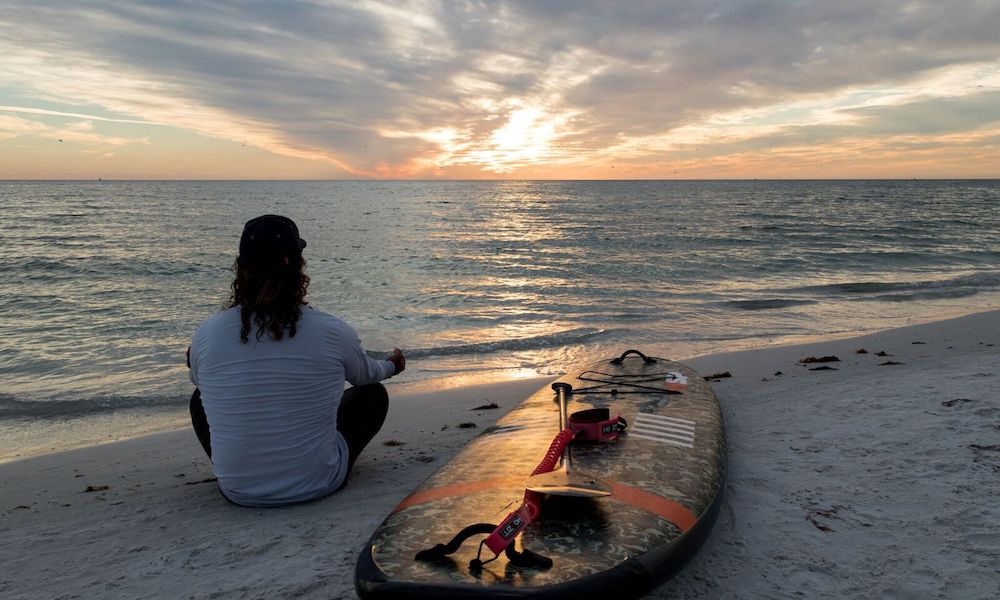 Jeramie enjoying a post SUP sunset | Photo courtesy: Marissa Williams
Today my journeys allow me to share my passions of teaching and the water. Connecting with people across the globe. Whether it be through direct contact at Wanderlust Festival's, Stand Up Paddleboard events, workshops, and trainings. Or through a virtual connection of writing, blogging or social media. 
These opportunities continue to fuel my passion to step outside of the normalities of life and into the unknown. Connecting with inspiring people who share unique, powerful stories. Helping all of us to grow.
Paddle Plan
Over the years I've learned a lot about my body and a bit about training. Coming from Wakeboarding and before that Ice Hockey. The training I was accustomed to was nothing like that of stand up paddling. It took me a few years to understand and see the rewards to the commitment I made. And everyday I continue to see more improvements. One of the things I try to keep on a daily routine is my yoga practice. Depending on where I am I may do it on the water, SUP Yoga, or a land variation. Since I started paddling and racing in 2011 this has been one of the main constants in my life. And with the biggest benefit. It is the main piece of my training year round.
*Race Season
Monday
Tuesday
Wednesday
Thursday
Friday
Saturday
Sunday
Exercise 1
Yoga
Yoga
Yoga
Yoga
Yoga
Yoga
Yoga
Exercise 2
Interval
Hiking
Interval
Interval
Gym
Interval
*This is an example week-long workout routine based off of the athlete's typical routine and exercise patterns.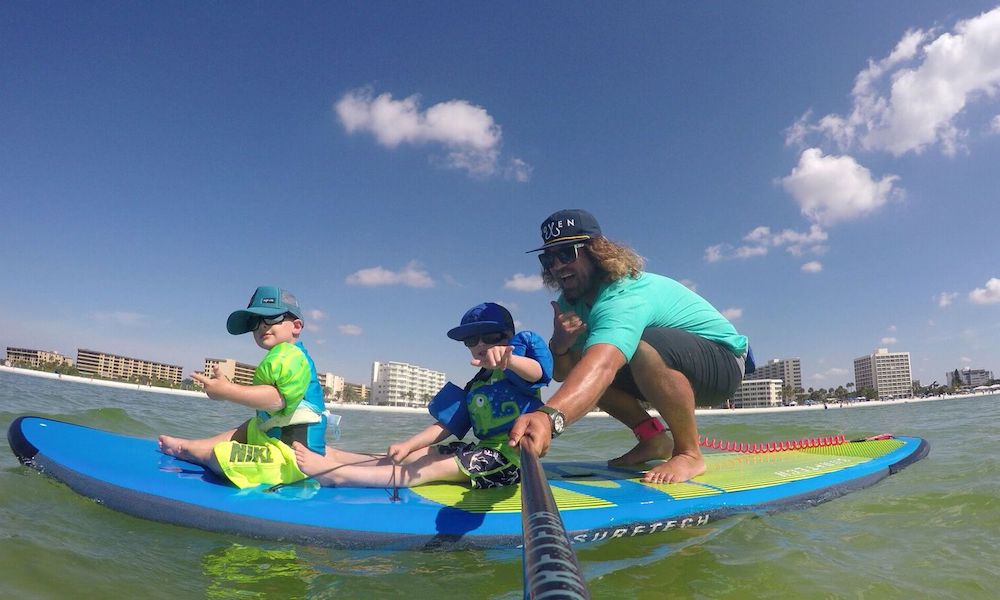 Jeramie out for a paddle with his family | Photo courtesy: Jeramie Vaine
Cross Training
My cross training regiment has become an extension of my life. With life being busy it is hard to fit a dedicated cross training schedule in. And in the past I've added all kinds of activities and failed at doing them on a consistent basis. Over the past few years I've learned to fit things I like into the mix. Making the cross training program something easy to accomplish. And enjoyable.
| | | | | | | | | | |
| --- | --- | --- | --- | --- | --- | --- | --- | --- | --- |
| Yoga | SUP Yoga | Biking | Hiking | Surfing | Bodysurfing | Windsurfing | Swimming | Running | Gym |
| X | X | | X | X | | | | | X |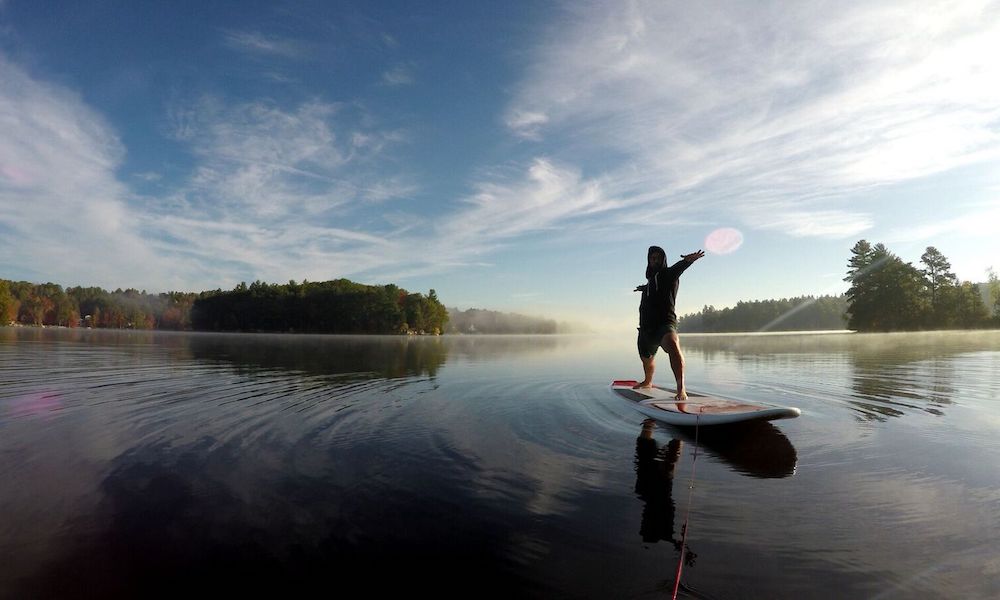 Jeramie hitting Warrior II during a SUP yoga routine | Photo courtesy: Jeramie Vaine
Diet
Non-dairy and fruit and vegetable heavy.
Coconut oil in coffee
Smoothies
Sweet potatoes
Spinach
Throughout the year I find myself on the road a lot. And that makes having a strict diet a challenge. Planning is the easiest way to eat somewhat clean on the road. I also focus a lot on my hydration. One of my favorite additions is adding coconut oil to my coffee in the morning. And I usually cook my meals with it as well.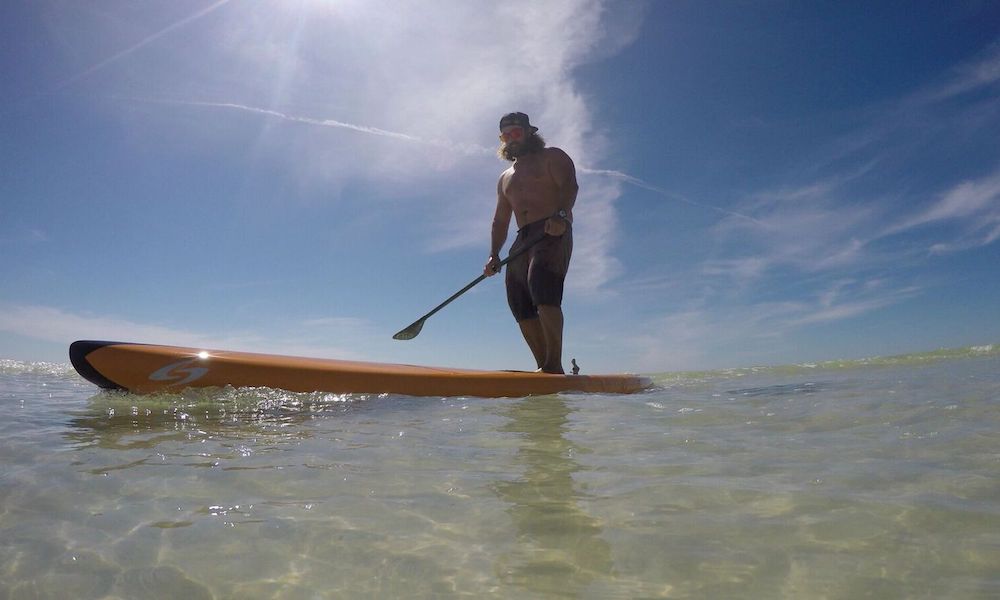 Jeramie training with a SUP surf outing | Photo courtesy: Jeramie Vaine
We will be sharing more in-depth details on Jeramie's paddle plan, cross training habits, and diet principles soon!
For more SUP Profiles click HERE.
Related Articles
SUP Training Guide by Bart de Zwart
SUP Training Guide Kody Kerbox
Last modified onWednesday, 27 December 2017 11:56
Email

This email address is being protected from spambots. You need JavaScript enabled to view it.
Related items
Latest from Jeramie Vaine