Meet Northern California's Rising SUP Star, Haakon Hoyer-Nielsen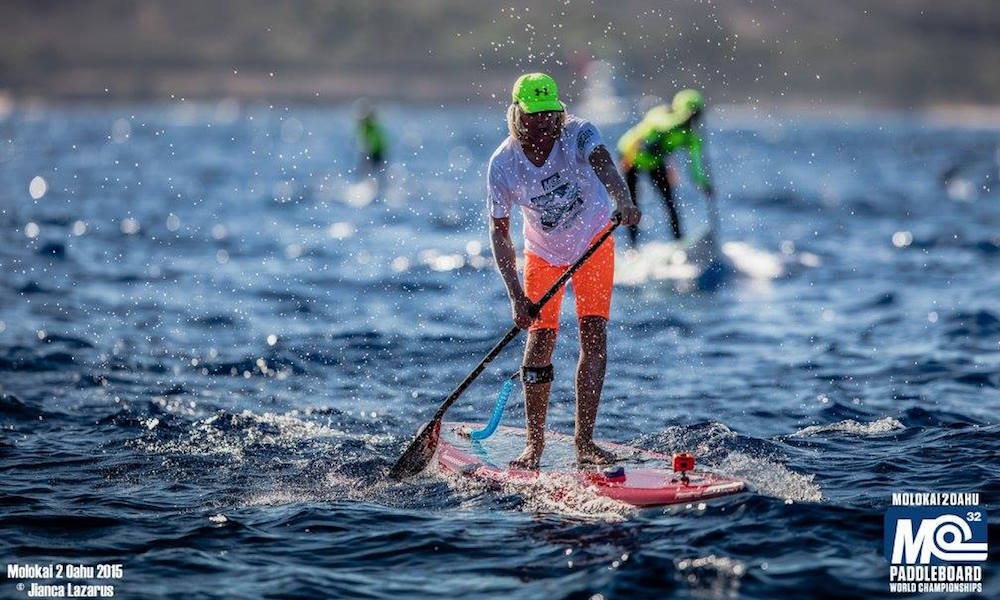 Haakon Hoyer-Nielsen at the 2015 M2O. | Photo: Jianca Lazarus
EL CERRITO, California - Hailing from El Cerrito, California, Haakon Hoyer-Nielsen is rising the ranks in the stand up paddle (SUP) world in both SUP surfing and racing having become a podium regular in practically every event he attends. Haakon trains in the San Francisco Bay, has already finished his first Molokai 2 Oahu race, is a puppy raiser for Guide Dogs for the Blind, works year round as a lifeguard and consistently makes high honors as a sophomore at Saint Mary's College High School.
In order to get to know Haakon just a bit better we asked him a few questions about school, SUP, and his future. See our interview with him here:

Haakon, how long have you been stand up paddling and how'd you first get into it?
About six years ago my Dad bought a 12' x 32" Big Easy from Starboard. We would mess around on it on vacation in San Diego's Mission Bay. My sister and I would take our dog on it and mess around on it, drag it behind sail boats but it wasn't until three years ago when my mom took me to my very first race at 101 Surf Sports that I became competitive. Steve Pugh from Bluerush Boardsports talked with me after the race and asked if I wanted to be on his team. Umm, yes!
As both a SUP surfer and SUP racer which of the two disciplines is more of a challenge for you?
SUP racing is more of a challenge to me for a number of reasons. For me, it requires more training, not only in the water but also in the gym. I like long races (10+ miles) so that takes training. I also have to stay on top of my clean eating, especially the weeks leading up to a race. Sometimes that's harder when I'm hanging out with friends and they are eating all sorts of junk food. I have an eating plan that I stick to two days before the day and on race morning. I also had to learn to race whereas SUP surfing was an easier transition since I already surfed.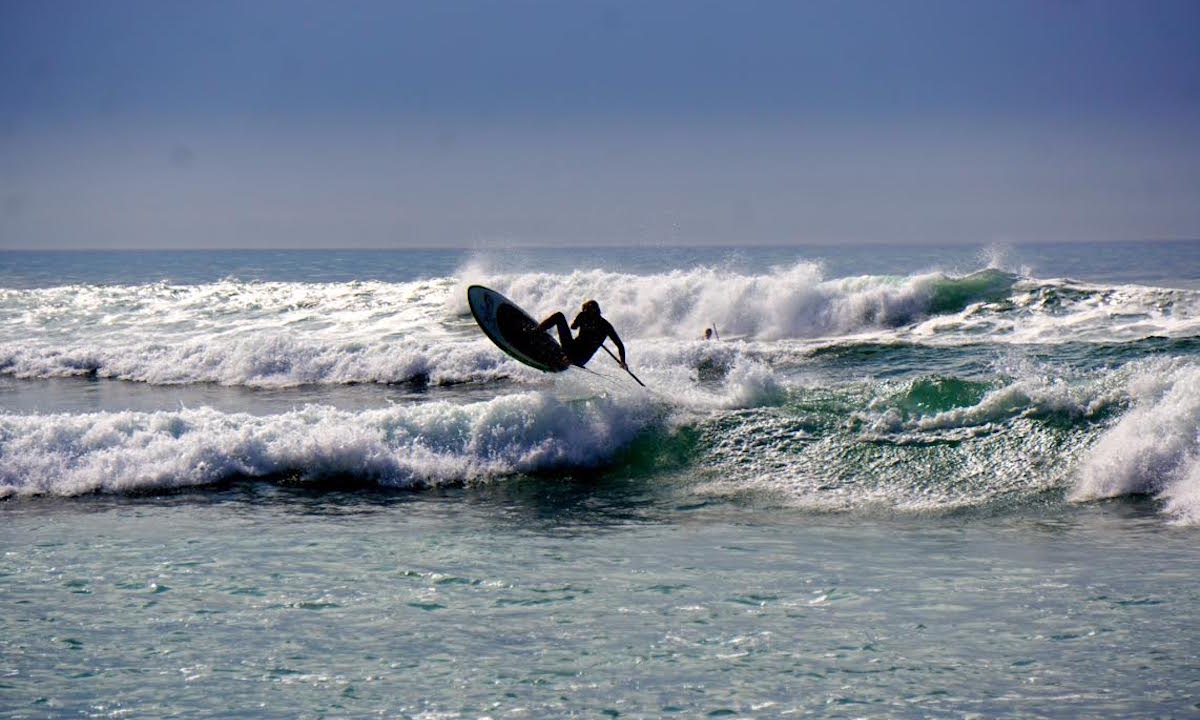 Haakon Hoyer-Nielsen getting above the lip at San-O. | Photo: Chad Bashor
Do you like one more than the other? Why/why not?
I like SUP surfing more because I love surfing. I also like downwinding a lot! Connecting the bumps is so much fun. I have been surfing my whole life. I got on a SUP surfboard and it just felt natural. As the SUP boards get smaller and smaller it is fun to push the level of performance maneuvers that are possible on them and try to transfer things I can do on a short board over to SUP.
Tell us about your training regimen and where your favorite places to paddle are…
I try to get in as many days as I can. My paddling coach, Jen Fuller gives me monthly schedules and what she would like to see me do each week, about 3x/week. I usually do two gym workouts a week with my trainer, Jess DiBiase at the Ice Chamber. The weekends are always for surfing and local races or other hobbies of mine like skateboarding or mountain biking. It works for me because if I have a heavy school load one day, then I will do the lighter work out. I usually plan out my workouts, get to school on Monday and see where I fit everything in depending on how hard the week is going to be.
Haakon Hoyer-Nielsen during the 2015 Battle of the Bay event. | Photos Courtesy: OnitPro
How is the paddling scene in Northern CA different from Southern CA?
Cold…the San Francisco Bay provides for a very challenging training ground offering up all sorts of currents, winds, and weather. Because of this, the paddle scene up here in NorCal is considerably smaller than down south. The conditions weed out most people but the ones left are a tight knit, die hard group of paddlers that are some of the nicest and most supportive people I have met. It really feels like a paddle family and everybody knows everyone.
Southern California has a bunch of paddle teams like Paddle Academy, Elite Paddle, and Performance Paddling SUP team but up here there are no youth teams. I am on the Performance Paddling Junior Pro team and try to make it to SoCal practices when I can, but when I am at home I'm almost always paddling by myself. The races here are fun, for me at least. I like going into the wind, paddling near the Golden Gate, Angel Island, Alcatraz, and San Quinten Prison because the varying conditions make it difficult and ultimately make me a better paddler. Plus, the after celebrations are always fun; a good time with great food and laughs.
So we hear you're a puppy raiser for Guide Dogs for the Blind, how awesome! How'd you get into that?
When I was five our family friend introduced us to Guide Dogs for the Blind. We became a volunteer family with the breeding department and got our first dog, Neo, who was a stud for them. After Neo had retired and we decided to keep him, and wanted to stay working with Guide Dogs we decided to become a puppy raiser family. Our first dog completed the program and is currently guiding a blind person in Canada. We are currently on our third dog, Gabrina. It's a great program, they are very supportive and helpful to the puppy raisers. It feels good to do something that feels like just taking care of a puppy knowing it's going to greatly better someone's life. Their motto "Raise a puppy, change a life" is really true. I've also learned a lot about training her everyday, making sure we set her up for success.
You're quite the busy kid — you help raise guide dogs, you're a lifeguard year round, AND you're an excellent student. How do you find the time to squeeze in paddling and how do you balance it all?
Well that's my biggest problem, how do I do it all? I go to Saint Mary's College High School in Berkeley, CA. My school is really great with working with my race schedule and letting me miss days but some races I just can't afford to miss the amount of days it would take. When I travel for races, I'm not penalized, which is great. All the students have iPad's so I can keep in touch with the teachers and my class work. This is my hardest trimester and the reason why I can't race at Carolina is because I'm already committed to the SUP Fiesta and Olukai, so I can't miss that much school. I stay on top of my school work and organize my time well so that I can paddle and work out but sometimes there are days when I just have too much homework so I skip the work out because school comes first.
My coach Jen Fuller gives me work outs for the week but I can choose the days and times I do them giving me flexibility in my schedule. My personal trainer Jess DiBiase (Ice Chamber Fitness) and I work out two days a week also planning the day and time around my schedule that week. I work every Thursday as a lifeguard so that's blacked out for anything else but since I lifeguard I can use the pool so I usually swim after work. The puppies are a handful when they are young but as they get older it becomes a lot easier to manage. My mom splits the training with me and the mandatory weekly meetings. The biggest complication is school.
Where do you see yourself in five years?
In five years I see myself attending college. I haven't decided exactly where yet but I would like it to be some where warm and by the beach, like USD or UCSD. I've been fascinated with the ocean ever since I was little so I want to go into marine biology. I would love to continue being a competitive stand up paddler as well. I know I will still be surfing as I will be for the rest of my life. I would like to be on the WPA tour and be paddling at the elite level.
Where do you want to see the sport in five years?
I want to see that all the big races are still funded and attended. I think there should be equal prize pay out for both genders. To see paddle boarding in the Olympics would be awesome too. The boards keep getting smaller and smaller for SUP surfing and it's awesome to watch people keep pushing what is possible on a SUP and I think it won't be too long until people are pulling air 360's.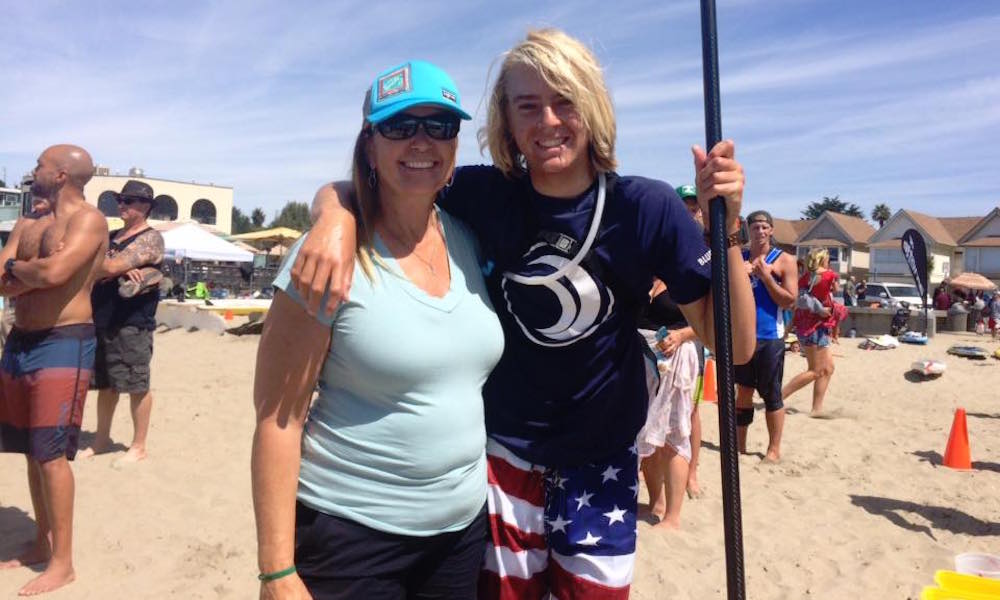 Haakon with one of his biggest supporters, his mom Renee. | Photo: Kali'a Alexiou
Any shout outs?
Steve Pugh and Bluerush Boardsports, Dave and Rhonda Daum and Kings Paddlesports, Jen Fuller-Fuller Fitness, Jess DiBiaise- The Ice Chamber, Onit Pro, Performance Paddling Team, Proteus Clothing…and of course my parents and sister who completely support me and attend races, feed me, give me money and help me keep a balance.
To see more SUP profiles and features, click HERE.
Last modified onFriday, 08 April 2016 17:27

Allie Brown is orginally from Kona, Big Island and, as an islander, her life has been in the water – ocean more precisely. She has been a sponsored competitive surfer, represented the NSSA College National Champions while surfing for San Diego State University, and today remains deeply connected to the watersports lifestyle. Brown is both a shortboarder and a paddleboarder, loving to take out her inflatable SUP for a ride. With a journalism degree from San Diego State University and her passion for the water life, she brings an excellent combination of skill and passion to Supconnect. Twitter: @alliebrown808 / Supconnect Profile
Email

This email address is being protected from spambots. You need JavaScript enabled to view it.