Meet 14-Year-Old Puerto Rican SUP Champion, Dave De Armas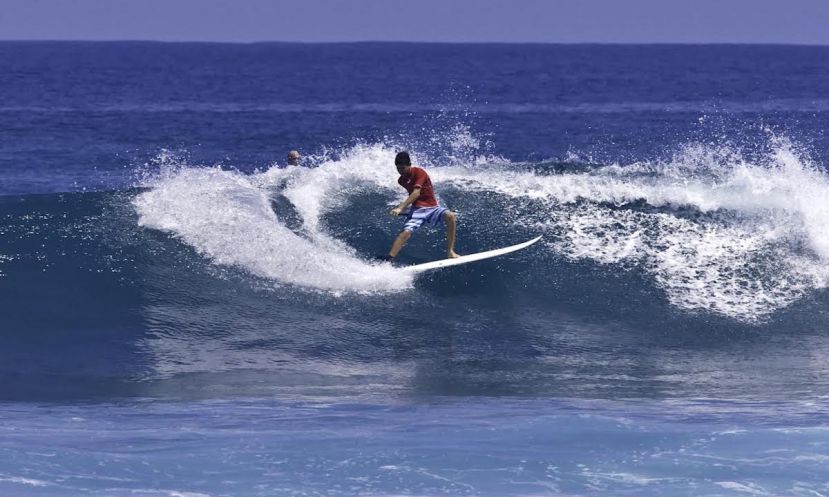 At only 14-years-old, Dave de Armas is already making a name for himself. | Photo: Angel Cordero
AGUADILLA, Puerto Rico - At only 14 years of age, Dave de Armas has a lot to be proud of. Not only is Dave an excellent student but he is bilingual and a world traveler. Oh, and did we mention a two-time National SUP Surf and Race champion in his home country of Puerto Rico? Dave has also been honored with a nomination by the FSPR (Surfing Federation of Puerto Rico) to represent Puerto Rico as a SUP Surf and Race Athlete to compete in the ISA SUP Worlds in Fiji in November, 2016. With aspirations to be SUP World Champ and to have a career as a chiropractor, this kid has a big and bright future.
In order to learn a bit more about this young up and comer from Puerto Rico we reached out to him with a few questions. Have a look:
How long have you been stand up paddling and how'd you first get into it?
I started stand up paddle boarding in 2011 when I was 10. The first time I paddled was with my father and sister at Gilligan's Island, in Guanica, southern Puerto Rico. It is a beautiful mangrove island with clear water, coral, and lots of fish. I really enjoyed exploring and paddling while standing on the water. I had been surfing since I was 3-years-old and that summer I started using my dad's SUP. In 2011 all the boards were huge and there were none for kids my age. I could ride the big boards pretty well so my dad had his shaper make me a custom 7'2" epoxy board that was light and turned fast.
In just a few short years you're now a 2x National SUP Surf and Race Champion in Puerto Rico. What has winning the national championship meant to you?
My first competition was a FSPR (Surfing Federation of Puerto Rico) Open SUP contest, I was 11. I remember clearly because my dad had to tie knots in my jersey because it was so big on me and I was really nervous because I was the only kid competitor. I made it to the semi finals, so I was psyched. When I was 11, in 2012 I went to Hawaii to compete in the Stand Up World Tour (SUWT) Turtle Bay/ Na Kama Kai Youth Contest. The waves were big and offshore and again I was the youngest competitor. I was bummed because I didn't advance but after my heat, I met Kai [Lenny] and Zane [Schweitzer]. They were awesome and made me much feel better. In 2014 I returned to Hawaii for the SUWT youth challenge and this time got 2nd place. Then I got 1st in my division in the SUWT in Huntington beach and 2nd place again in 2015 in Hawaii and Huntington.
The FSPR started a Junior U21 SUP Surf series in 2014. This was a great opportunity for me and the other Jr. SUP surfers. The series held three events in the best surfing spots on the island. In 2015, the FSPR created the SUBWAY SUP Surf & Race Series. It was now five surf and race events with big surf and technical racing. It was really fun because now we were like 40-50 kids competing together and we're all good friends too.
To be the first SUP surf and race champion and to be honored & inducted into the Puerto Rico Sports Hall of Fame was a really special moment for me and my family and one I will always remember.
As both a SUP surfer and SUP racer which of the two disciplines is more of a challenge for you?
SUP racing is more of a challenge for me as far as having fun while training. We're lucky here in Aguadilla because we can downwind and surf the spots on our runs, not just grind the distance. A local shop also has training days so my friends and I try to train hard but usually end up messing around too.
Do you like one discipline more than the other? Why/why not?
SUP surfing is great because I can express myself on the water. When it gets two to three times overhead I get nervous, but it's so sick and intense. My dad is always out there with me, so we're like a team. This winter was another level for me. I got worked hard, but was stoked because all the local big wave surfers were calling me into the bigger sets. The downwind runs and training are cool because the coast has natural beautiful cliffs, clear water, turtles, and flying fish as you paddle by.
Tell us about your training regimen and where your favorite places to paddle are…
I try to surf every morning before and after school. I also play basketball two to three days a week. I am lucky because there are a bunch of good point and reef breaks close to home so depending on the wind and waves I'll surf or paddle. Favorite spots? Overhead - Wilderness, barrels - Middles, and Jobo's for fun. For training I like the Northwest coast Isabela - Aguadilla.
You've been nominated by FSPR (Surfing Federation of Puerto Rico) to represent Puerto Rico as a SUP Surf / Race Athlete to compete in the ISA SUP Worlds in Fiji in November, 2016. At such a young age of 14 this is HUGE! How excited are you?
I am super excited about going to Fiji, but it's Fiji! so I'm a little scared. I've definitely been working on my backside surfing so I can do well at Cloudbreak. But yeah, if I get to go and surf that wave, hopefully not huge with a few guys only, that would be so sick!
What are your goals in the sport and where do you see yourself in five years?
Right now, I am trying to surf and train as much as possible for Rincon Beach Boy Race here in Puerto Rico this April. Then in May I go California for the Paddle Performance Jr. Pro & Youth SUP Fiesta in Bolsa Chica. I want to win the surf and race contest, hopefully see my friends again from the SUWT Huntington Beach event - Aiden Murphy, Marvin Freitas and the Finn brothers. I'm hoping there will be good waves and I get to surf with them and the guys from Infinity SUP.
I think I could be SUP surfing World Champion in the future and want to see if I can do it. It would be sick to be doing what my favorite surfers like Kai [Lenny], Mo [Freitas] & Zane [Schweitzer] get to do. Travel, surf great waves, race in different countries and make a lot of new friends and represent Puerto Rico proudly. I also want to go to University and become a chiropractor. I really enjoy competing in the SUWT (youth) and meeting all the pros and the other kids. Tristin is a cool guy and I hope he can make the tour bigger and better so me and other juniors can have an opportunity to compete worldwide like the pros.
Dave de Armas charging. | Photos: Angel Cordero
Any shout outs?
I want to thank my dad and mom for all the support they have given me throughout the years and for always being there when I need them. Special thanks to Xavier Ley and Ernie Alvarez of the FSPR for working so hard to give us an opportunity to challenge ourselves and to become respected athletes. They always stress to us how important being professional and humble is and that we represent Puerto Rico wherever we are.
Last modified onThursday, 31 March 2016 10:56

Allie Brown is orginally from Kona, Big Island and, as an islander, her life has been in the water – ocean more precisely. She has been a sponsored competitive surfer, represented the NSSA College National Champions while surfing for San Diego State University, and today remains deeply connected to the watersports lifestyle. Brown is both a shortboarder and a paddleboarder, loving to take out her inflatable SUP for a ride. With a journalism degree from San Diego State University and her passion for the water life, she brings an excellent combination of skill and passion to Supconnect. Twitter: @alliebrown808 / Supconnect Profile
Email

This email address is being protected from spambots. You need JavaScript enabled to view it.