Surftech B-1 Stand Up Paddleboard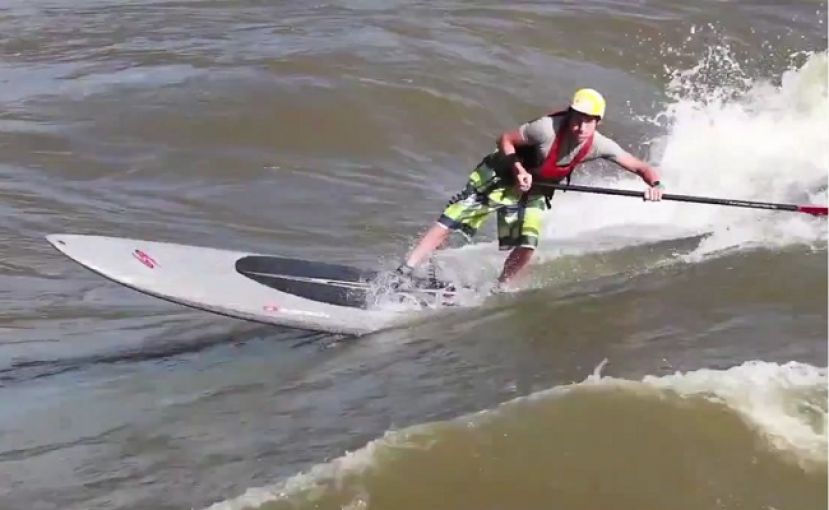 Video

---
Outline

---

Description

---
Made with proprietary Bounce Technology, the B-1 allows riders to take on any body of water regardless of impending dangers to the board. Rocks, tree branches and other hazards are no match for the B-1's near bulletproof construction. Weighing in at approximately 29 lbs., the B-1 is an extremely durable SUP for its weight class and at over 200 liters of volume, is stable enough for larger riders and beginners alike. The B-1 was designed for a complete range of SUP adventures from rushing river rapids to ripping ocean waves and beyond. Surftech team riders, Dane Jackson, Taylor Robertson and Ken "Hobie" Hoeve have rigorously tested the B-1 in rock infested rivers from Colorado to Tennessee.

"The B-1 is sick because its stable for running rivers, strong for hitting the rocks and fast for surfing the waves. It let's you B-1 with your favorite rivers," said 2011 ICF Freestyle Kayak World Champion, Dane Jackson.

Since their entrance into the world of board sports in 1989, Surftech has made a habit of introducing revolutionary new technologies to the market. Following the release of Surftech's premiere lightweight race technology, "Pro-Elite" and their hi-performance surf oriented "ULTRAFLX" construction, Surftech once again brings a new SUP technology to market with "Bounce Technology", their third new construction, in less than three years.
Features

---
Equipment: Stand Up Paddleboard

Equipment Use: Whitewater, Surf and Flatwater

MSRP: $1,395

Length: 10'6

Width: 31.25" at mid.

Weight: Approx. 29 lbs.


Thickness: 4.75"


Fins Included: 10" center fin

Other.1: Center Handle

Other.2: Two Leash Plugs (Front / Back)

Other.3: Traction Pad


Construction: Waterproof foam core, a fused polymer outer shell and "top secret" tech.

Manufacturers: Click Here to Contact
Links

---
Visit the Surftech SUP website at www.surftechsup.com
Check out the Surftech SUP dealer page to see where you can buy this sick board
Notes: Drop a line on what you think about this product or if you've heard any feedback on it. Customer feedback is highly prized by the sup community and your thoughts, concerns, or questions may be in the mind of many of our readers. So, to continue to help us to serve this great stand up paddle community of ours, let us know what you think about this product and encourage your friends and family to get involved and drop their thoughts on the sup gear posted on Supconnect. Thanks a lot, keep paddling and help us to share the sup stoke!
© Copyrighted & Exclusive SupConnect.com Content
.

Last modified onThursday, 13 August 2015 17:39

After spending the first part of her life in Minnesota, Morgan traded in her snow boots for sandals and moved to sunny California. After graduating with a degree in Communication from The University of Southern California, she eventually made her way down south to San Diego and is taking advantage of the living by the best beaches and burritos California has to offer. If it's sunny, you can find her at the beach relaxing, or exploring the calm water in the bay via paddleboards and kayaks.