GoPro Mountain SUP Games: An Athlete's Experience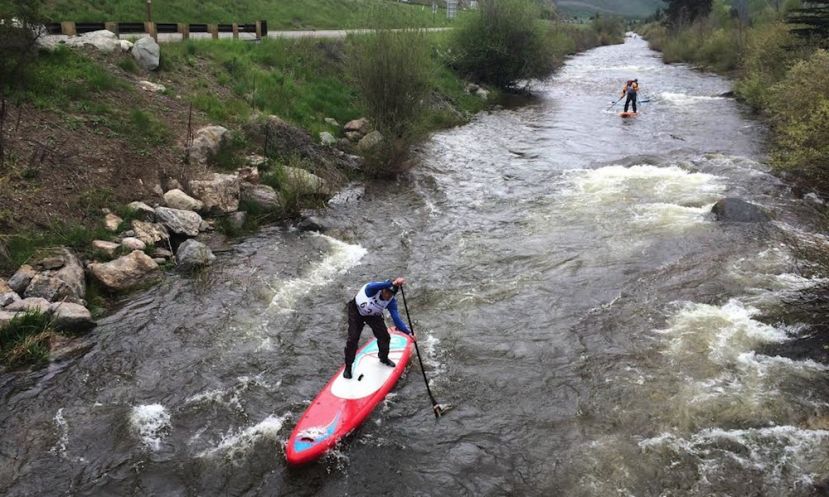 The GoPro Mountain Games always provide for an exciting time for both competitors and spectators.
VAIL, Colorado - Held in Vail Colorado, on Gore Creek, the GoPro Mountain Games has always been an event I look most forward to. I get excited to see what ocean athletes will come to Colorado and get to experience the river SUP lifestyle. I also always try to beat my place and time from the previous year! I look forward to the GoPro Mountain Games every year because of what a great event it is. The two main events are the down river sprint and SUP cross.
Down River Sprint
The down river sprint literally starts above a golf course in someone's backyard. This poses a little bit of a problem because the homeowners on the block do not like the competitors to drive up, park and hang out in front of the houses. The GoPro games do provide a shuttle for you and your board to resolve this issue.
Upstream a little ways is a better put in with public parking. The course is so much fun I would love to see it be a little longer. This would also allow competitors to drive themselves up to the starting line with all their gear.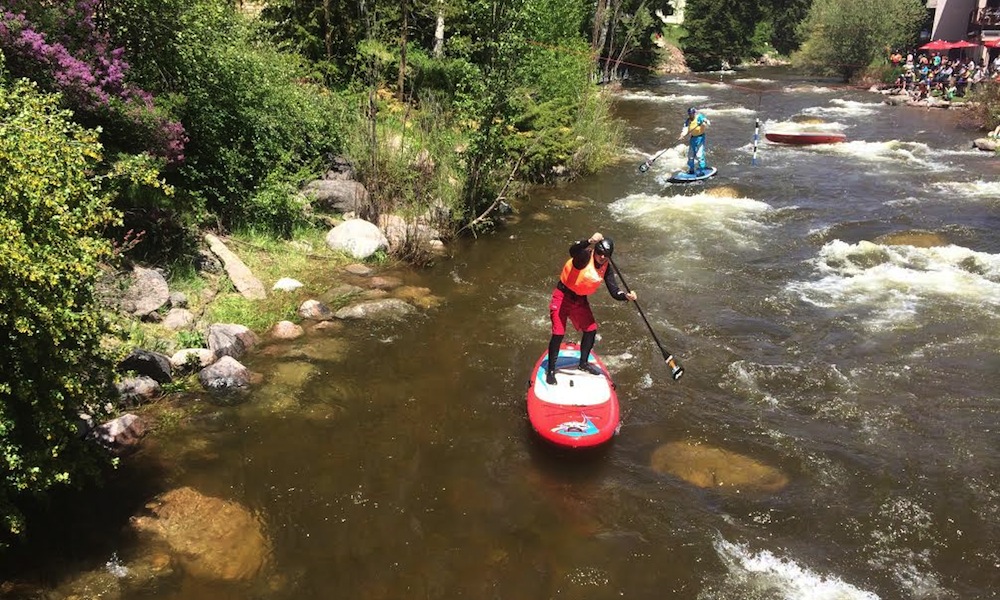 The downriver sprints race is run as a time trial. One racer starts every 30 seconds.
The race is run as a time trial. One racer starts every 30 seconds. The race list is put together in the order competitors sign up for the event. In my opinion 30 seconds isn't enough time between racers. I get that they are trying to get the event finished in a timely manner. I think they should base the start list on competitors places the previous year. That way you don't have fast paddlers mixed up with slower paddlers who end up in the way.
Find a SUP event near you! Check out the Supconnect Events Calendar here.
SUP Cross
The SUP Cross event is a spectator favorite!
This event has always been a favorite with the crowd! Three competitors start at the same time and race through a challenging course downriver. Paddlers have to make gates at eddies much like slalom kayak events. The first two racers to finish move on to the next heat.
Dan Gavere does an excellent job announcing and putting together this event. I do think that more experienced judges should sit at the gates to make sure paddlers follow the rules in place. I also think that all the heats should have the same number of paddlers in them. This year there were a few heats with 4 paddlers because of a losers bracket that is held. The losers bracket races paddlers who were eliminated from heats a second chance to advance. I think once you are eliminated that's that. This way, all heats will have an equal number of paddlers.
S2 SUP
This event was new this year. Two paddlers on one giant board race down a short section of the river in heats to win. I was pretty stoked to see this event because it sounded really fun and exciting but I was really bored watching it and was kinda glad I missed registration for the event.
SUP Cross is still more exciting for spectators. I had a blast at the games and can not wait to paddle next year and best my time and places this year!
Were you at the GoPro Mountain Games this year? Tell us what you though of the event in the comments below!
Want to read more Opinions? Check out our Opinion articles here.
Last modified onWednesday, 10 June 2015 17:39

Alex Mauer is a long-time Colorado resident who since the age of 12 has been riding the local river waves. More recently, he has enjoyed the wonders of stand up paddling and has become one of its most passionate advocates and representatives. Mauer is one of Supconnect's most active contributors and an avid representative of the sport in his area. He can be reached and befriended via his profile page on Supconnect.
Website: /Mauer