The Best Stand Up Paddle Photos Battle in Final Round
The best photos from round 1 and round 2 of the SUP Photo of the Year contest have moved forward into the final round. Check out all the photos on the SUP Connect Facebook page and vote for your favorite now.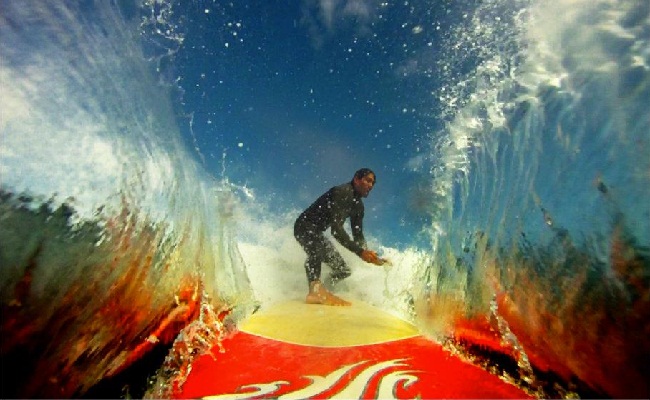 "On Fire" submitted by Grant Hulley Photography
Make sure to cast your vote on the SUP Photo of the Year Contest page on Facebook
SAN DIEGO, California – The ballet boxes have been emptied, the votes have been tallied and the kids have been put to bed – it's time for the final round in the SUP Photo of the Year Contest. After two rounds of intense competition, the stand up paddle photographic field of contestants has been paired down to the best of the best, the cream of the crop, the pick of the litter – the finalists.

The final round of voting will run from Tuesday, November 1st to Sunday, November 6th. The voting process is the same and requires only a simple click to pick your favorite photo – one like, one comment, 1 share, and 1 tweet to @supconnect. Yep, that's up to four votes per pictures if you're counting.

The favorites of the contest so far have been marriage-themed SUP pictures, because who doesn't like a wedding shot on a stand up paddleboard? "Stand By Me" submitted by Rebecca Amber and "Love is a Risk, Do it Anyway" submitted by Brie Crifasi head into the final round of voting as clear favorites.

But the adrenaline-pumping "Face Your Fears" submitted by Michelle Fourie challenges us to choose between SUP matrimony or ohmygodthatwaveisgonnacrushthatguy! Of the 26 finalists in the SUP Photo of the Year Contest, there is not one that doesn't make you wish you were on a stand up paddleboard right now.

Make sure to get to the SUP Photo of the Year Contest page on Facebook and to vote on your favorite photo before November 6th turns into the 7th. Votes will be tallied and the top three photos will be awarded a stylish and highly sought after SUP Connect t-shirt along with bragging rights to last them through the spring.
Make sure to cast your vote on the SUP Photo of the Year Contest page on Facebook
.
Last modified onSunday, 25 January 2015 18:17

After spending the first part of her life in Minnesota, Morgan traded in her snow boots for sandals and moved to sunny California. After graduating with a degree in Communication from The University of Southern California, she eventually made her way down south to San Diego and is taking advantage of the living by the best beaches and burritos California has to offer. If it's sunny, you can find her at the beach relaxing, or exploring the calm water in the bay via paddleboards and kayaks.
Email

This email address is being protected from spambots. You need JavaScript enabled to view it.