SUP 11 City Tour: A Truly Extraordinary Race | Interview With Siri Schubert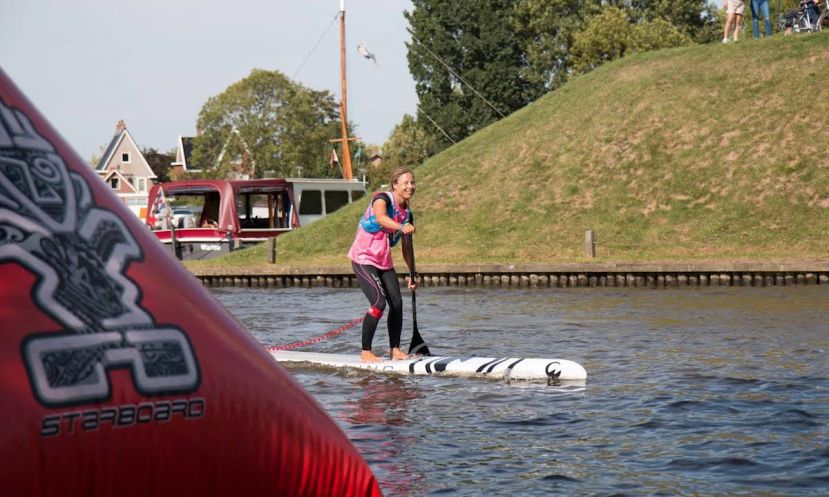 Photo: Edwin Westra and Mayola Dijksma
FRIESLAND, Netherlands - The 11 Cities SUP Tour is such a unique and extraordinary race. Athletes experience the ultimate challenge as they paddle 220 kilometers (136 miles) in five days with weather conditions varying from windless, beautiful and sunny to cold, rainy and stormy. Besides the ultimate challenge the SUP 11-City Tour is also an unique experience. Here, podium finisher Siri Schubert reflects on the race and shares her thoughts in an interview. Check it out!
You just finished the SUP 11 City Tour, a grueling 220 km stage race and came 3rd in the women's competition. What makes the race so special?
It is truly an extraordinary race. I love the atmosphere and the fact that people from 27 nations travel to Friesland to race, compete and celebrate the sport together. It's great because elite racers and weekend warriors all paddle the same distance and everybody goes through highs and lows over the course of five days. It's a really, really hard race but it is also great fun.
What equipment did you use?
I was really lucky. For several reasons, I could not bring my own equipment and the airline broke my paddle on the way to the race. That was really stressful and I was wondering whether I would even make it to the starting line. Fortunately, Alexander Mettes from Aqua Inc. stepped in and provided me with the SuperSonic race board and a paddle. Of course, it's always risky to paddle new equipment in a race but it worked out great. The board is fast and very stable at the same time and I felt immediately comfortable on it. It really allowed me to push my limits and to go for a spot on the podium. The paddle also worked well – after more than 200 km, I had virtually no blisters.
Photos: Edwin Westra and Mayola Dijksma
Why did you choose Aqua Inc.?
I really liked the shape of the SuperSonic and am excited to see the new SuperSonic LV boards. Being a relatively small paddler, I look for boards that work well for my size and weight. I was really impressed with how fast Alexander responded to my initial inquiry and that he immediately offered help when my paddle broke. There was something else that attracted me to Aqua Inc.: I saw a picture of a VW Beetle with an Aqua Inc. board on top. I drive a VW Beetle and immediately thought: That's a perfect fit!
How did you motivate yourself during the 5 days?
I had done the SUP 11 City Tour before in 2013 and I knew from experience that it gets easier during the week. I expected the first day to be the hardest and it was. Seeing Seychelle Hattingh (1st place, USA) and Petronella van Malsen (2nd place, The Netherlands) in front of me pretty much during the whole race was extremely motivating. I constantly pushed myself to narrow the gap.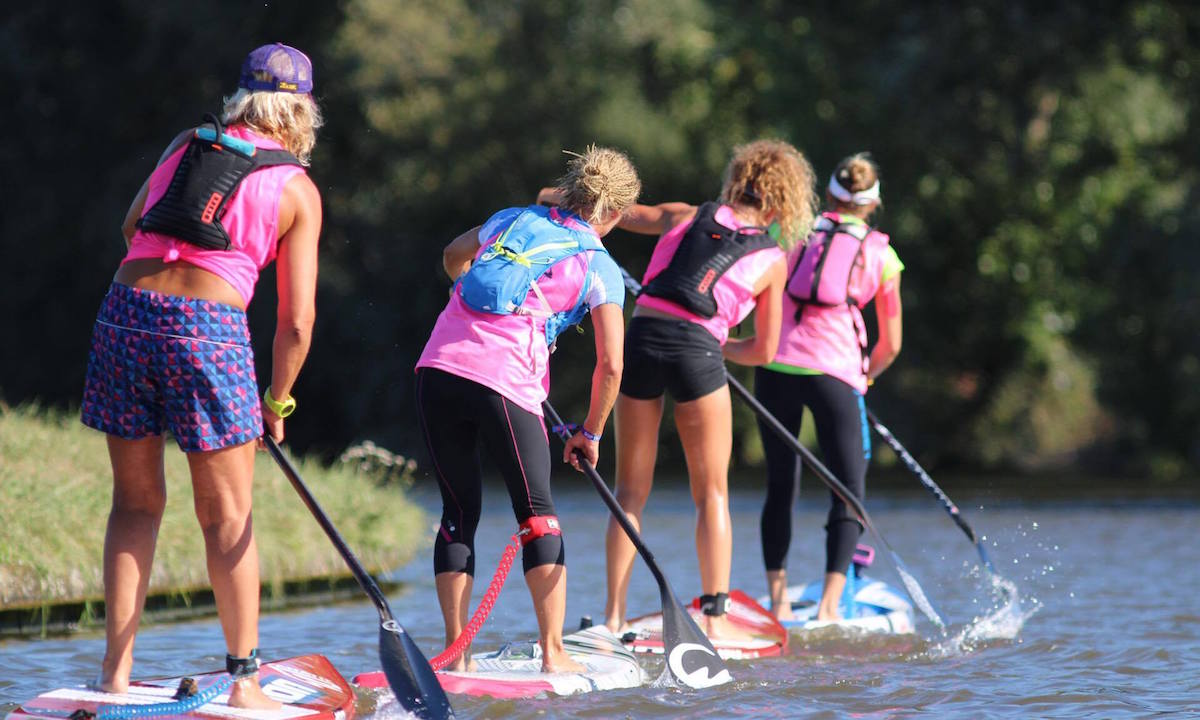 Photos: Edwin Westra and Mayola Dijksma
Can you talk about some highlights of the SUP 11 City Tour?
Absolutely. Going through the canals in the Dutch countryside and in the cities was great. I especially loved day two where you first paddle through a long canal lined with trees that provide shade and a special atmosphere. And the cities were beautiful. There was always something to see so that the long distances didn't feel so long. I also like the fact that there were always people on the bridges and near the canal to cheer us on. We were also exceptionally lucky with the weather. It was warm and sunny during the whole race.
Were there times when you were struggling?
Probably mostly on day four. I was tired, I hadn't slept well the night before and found it hard to keep my head in the game. But luckily there were some fantastic people who encouraged me and motivated me so that I managed to regain my focus and finish strong.
Photos: Edwin Westra and Mayola Dijksma
How did you handle food and nutrition?
That was a bit of a challenge. Luckily SUP Shop 24-7 had provided me with Ox Endurance Formula, which worked great and provided energy for the long stages. Eating was more difficult. It's really important to eat enough to get through many hours of paddling but at times I really didn't feel like eating at all. I had to convince myself to eat another banana or another energy bar. My stomach was pretty upset on two days and eating is hard when you really don't want to.
Did you have a support team with you?
My partner Stefan Munsch couldn't come with me but he is always there for me and supports me throughout the whole journey. I also had wonderful support during the race from so many people. It was fantastic. Alexander from Aqua Inc. of course and his team who supported me with cheers and energy drinks. Albert Grossguth who had done the non-stop race was also a fantastic supporter and knowing that he would be at the rest stops and the finish line gave me extra motivation. NRS also supports me with clothing and gear that add style and comfort to my paddling adventures. There were so many paddlers, and of course, the race organizers and many volunteers that supported me so I felt I had the best support team in the world. I am extremely grateful for all the encouragement and help I received.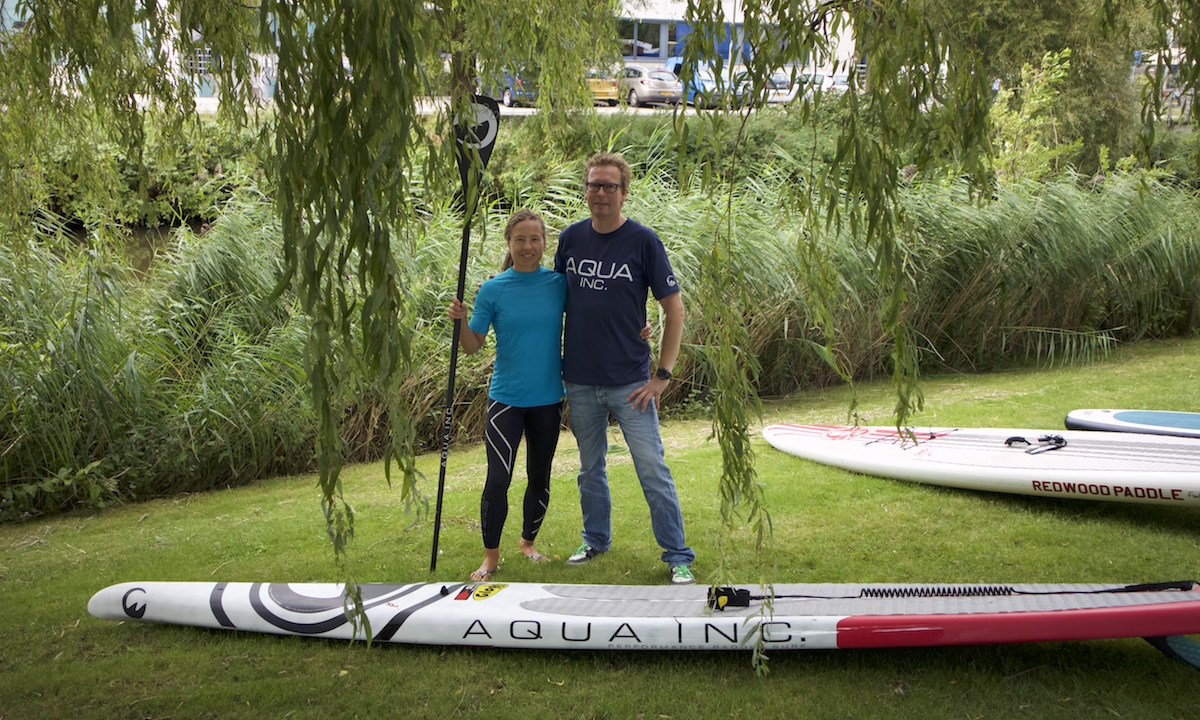 Photos: Edwin Westra and Mayola Dijksma
How did you prepare for the race?
I love paddling long distances. I just enjoy being on the water. I paddled several marathons and half marathons during the year and also competed in the Molokai2Oahu Paddleboard World Championships in July. The M2O and the SUP 11 City Tour are my two favorite races, even though they are entirely different.
How did you deal with logistics?
The race is very well organized. The race directors, the staff and volunteers are extremely hard working but always helpful and cheerful. I was so impressed. I stayed in one of the boats, which was great for meeting people and making new friends but maybe not so great for getting a good night's sleep. Still, I am very happy to have stayed on a boat and met the four fantastic women with whom I shared a room.
You have done many long distance races, you have done the 11 City Tour twice, you have done the M2O three times, you have paddled the length of Lake Geneva and completed several marathons. Why do you paddle?
I love being out on the water and challenging myself - I also love the fact that the water is always different and there is so much to learn and to experience. I enjoy paddling on all kinds of water – the ocean, lakes and rivers.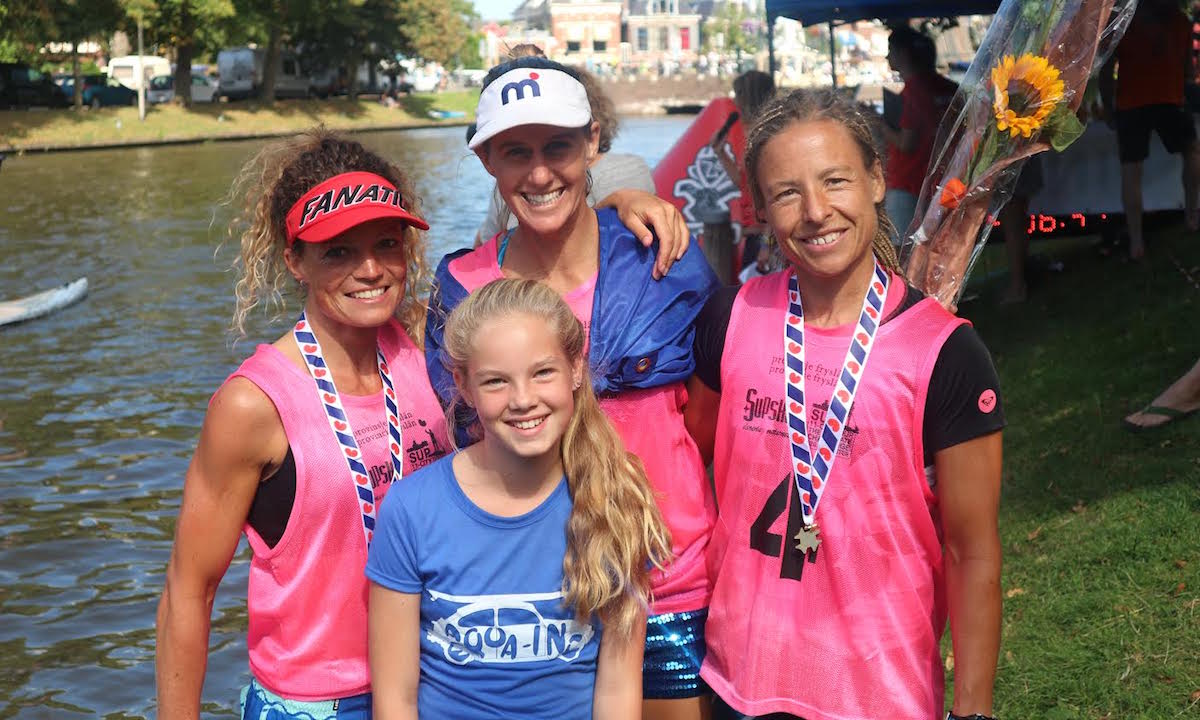 Photos: Edwin Westra and Mayola Dijksma
What are your plans for next year?
I will definitely keep paddling and enjoy being out on the water – on rivers, lakes and the ocean. I will also participate in races and think 2017 is going to be an exciting year with strong paddlers who are dedicated to the sport. I look forward to meeting wonderful people at different events. I love downwind races and long distance races and look forward to some great events. I'd also love to do the 11 City Tour again, even though it's far too early to make a commitment. This race is just so special and so much fun that I wouldn't want to miss it.
To see more SUP Race news, click HERE.
For more info on the 11 City SUP Tour, click HERE.
Last modified onThursday, 22 September 2016 13:57

Submit your news, events, and all SUP info, so we can keep promoting and driving the great lifestyle of stand up paddling, building its community, and introducing people to healthier living.
Website: supconnect.com
Email

This email address is being protected from spambots. You need JavaScript enabled to view it.