Stand Up Paddling in Pensacola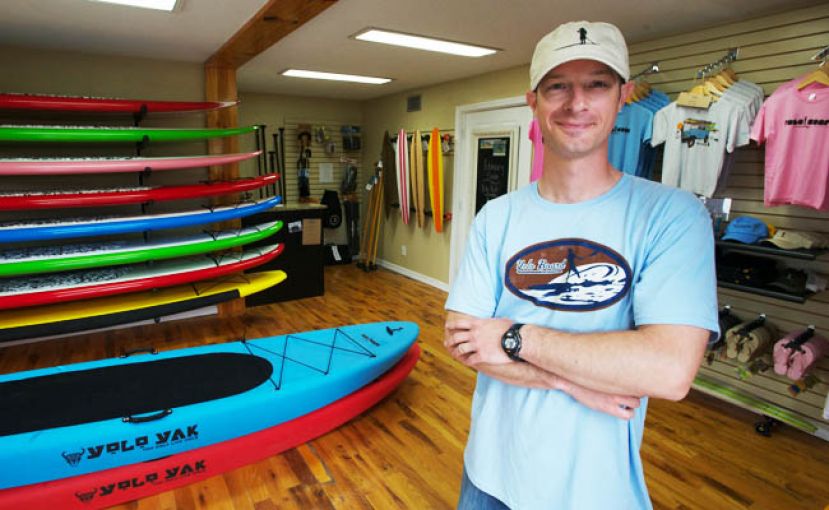 GULF BREEZE, Florida – Coastal Paddle Company is teaming up with YOLO Board to bring the fastest growing watersport of stand up paddle boarding (SUP) to the Gulf Breeze and Pensacola area, offering board rentals and sales, lessons, group excursions and fitness classes.  With roots in Hawaii, SUP entails balancing atop a large surf-like board while propelling across a body of water with a single paddle.  Due to its versatility and ease of learning, SUP is exploding across the nation and has become the hippest way for people of all ages to explore various waterways from rivers to oceans.  Founded by Gulf Breeze resident Kevin Cook, Coastal Paddle Company will provide Pensacola residents the opportunity to experience all that stand up paddleboarding has to offer from family recreation to fitness training.

"My goal for Coastal Paddle Company is to share my passion for the sport of stand up paddleboarding with the community and to provide people the best possible experience on the water," said Cook.  "Having the right gear and instruction greatly affects whether someone will have a positive experience when trying something new.  Coastal Paddle Company offers high quality equipment and has a knowledgeable staff that can address the needs of anyone from a novice to an expert paddler." Cook recently completed Brody Welte's Paddle Fit Certification course in Clearwater, Fla. in January and looks forward to sharing the program's tips and techniques with budding SUP enthusiasts.  In April, he'll be attending Kalama Kamp Costa Rica at Vista Guapa Surf Camp in Jaco Beach – a weeklong SUP adventure with Welte, celebrated waterman Dave Kalama and Vista Guapa co-founder and seven-time Costa Rican national surf champion Alvaro Solano.

The many unique bodies of water found in and around Pensacola provide the perfect setting for stand up paddling, including the Santa Rosa Sound, the Pensacola Bay, the Blackwater River and the Gulf of Mexico.  SUP is a versatile activity that all ages can participate in as it can be modified to be anything from an intense core workout to an inspired surf session to a leisurely family paddle around the bay.  The unique perspective offered from standing above the water gives a paddler the ability to observe aquatic life and appreciate surrounding nature in a completely new manner. "Stand up paddleboarding was the first activity that every member of my family, from my wife to all three of my children wanted to participate in together," explained Cook.  "It truly is an activity for everyone and we're excited to help create a SUP community in this area and expose more people to the wonders of SUP."  

Coastal Paddle Company is a proud partner of YOLO Board and an exclusive retailer of YOLO Board products in the Gulf Breeze and Pensacola area.  Coastal Paddle Company offers hourly and daily rentals, eco tours, Paddle Fit classes, corporate events and group events, as well as sought-after accessories such as Kialoa Paddles, Whiskey Jack Paddles, Kahuna Creation land boards, Havaianas flip flops and Maui Rippers board shorts.  Inventory will soon expand to include Hinano and Tom's brand shoes.  "We're thrilled to welcome Coastal Paddle Company to the YOLO Board family," added Jeff Archer, co-owner of YOLO Board. "Kevin is a great ambassador for SUP and we look forward to helping him grow his business.  We're confident that Coastal Paddle Company will be the 'go-to' location for all things SUP in the Pensacola area."

Coastal Paddle Company is located at 33 Gulf Breeze Parkway in Gulf Breeze, Fla.  For additional information regarding Coastal Paddle Company, please visit www.coastalpaddlecompany.com or call 850.341.3831 or 850.916.1600.
Last modified onMonday, 26 January 2015 12:24
Email

This email address is being protected from spambots. You need JavaScript enabled to view it.