Q&A With Founder Of NOCQUA Adventure Gear
Standup paddling is awesome (duh!) and new SUP crossovers and/or inventions are being introduced to the sport quite frequently. We recently caught up with Billy Rossini, the founder of NOCQUA Adventure Gear, which created an accessory for your SUP allowing for paddling in the dark.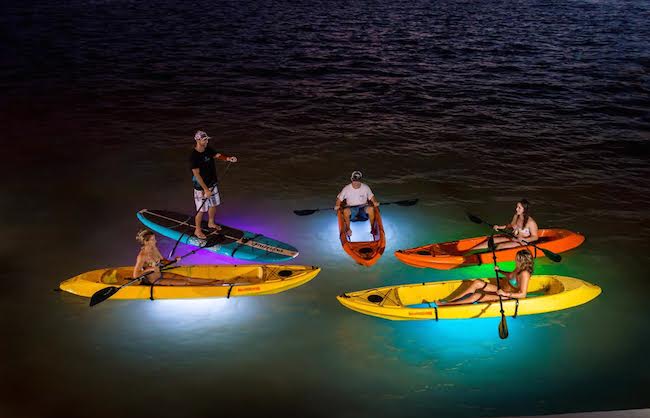 SUPCONNECT - Tell us a little bit about yourself and your background in the SUP/watersports industry.
Billy Rossini - It seems like I've been out on the water my entire life. I began waterskiing when I was four years old, and immediately felt a connection to the water. I guess you could say that I've been feeding my addiction to watersports ever since.
In the early 1990s I finished a woodworking apprenticeship and began a millwork and high-end homebuilding company. At the same time, I was beginning a career in competitive kneeboarding, eventually becoming Men's World Champion in 1995 and National Freestyle Champion and World Record Holder in 1998. In early 2000, my focus shifted from kneeboarding to hydrofoiling, and two years later became the Men's Freestyle World Champion. I also hold the world record in the Guinness Book of World Records for the highest hump/flip on a hydrofoil (23 feet).
I feel very fortunate to be able to take my passion for watersports and turn it into both a competitive career and now, through the work of the team at NOCQUA Adventure Gear, literally be able to introduce a new category – night paddling – to the industry.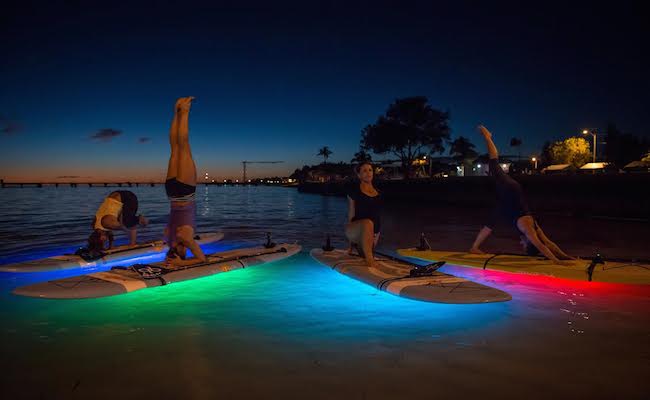 How did the idea of NOCQUA come to fruition? What were your inspirations behind the product?
I'd have to say that I really developed a passion for SUP when I moved to Key West several years ago. I'm most at home on the water, and while in Key West I was introduced to paddleboarding. What blew me away was being on a board and seeing the abundant marine life and calm, clear water at night. That's where the initial spark came to develop a lighting system that would allow watersports enthusiasts to experience their favorite sports, and the nature around them, in a new way.
From there, I began working with different prototypes, and also met Lee French, NOCQUA Adventure Gear's president. In 2013, we formed the company and launched the NOCQUA 2000 and later, the NOCQUA Spectrum, which provides a variety of colors for a unique night paddling experience. What's interesting to me is watching this thing come together over the past year and a half to become a company that has started a trend in SUP, canoeing and kayaking. Lee and I have developed this company from scratch and, really, got this train heading down the tracks through a combination of putting the right people in the right roles and developing a strong strategy around this truly innovative product. We formed this company to be a serious player in the marketplace, and it's been a lot of fun so far watching that vision become a reality.

Tell us a little bit about the product. How is it used, when is it used, best areas/places to use (if any), etc.
NOCQUA Adventure Gear proudly offers two flagship products — the NOCQUA 2000 and NOCQUA Spectrum LED Lighting Systems – the world's first and only underwater LED lighting systems for SUP's, kayaks and canoes. The NOCQUA 2000 produces more than 2,000 lumens of brilliant white light to allow users a unique underwater experience. For users looking for variety, the NOCQUA Spectrum system includes a control switch to easily jump between eight different colors and three different lighting modes, depending on the mood. Each system can provide up to two-and-a-half hours of continuous use on the water through the included and rechargeable lithium ion battery pack, with the ability to extend time on the water to five hours with an additional battery pack.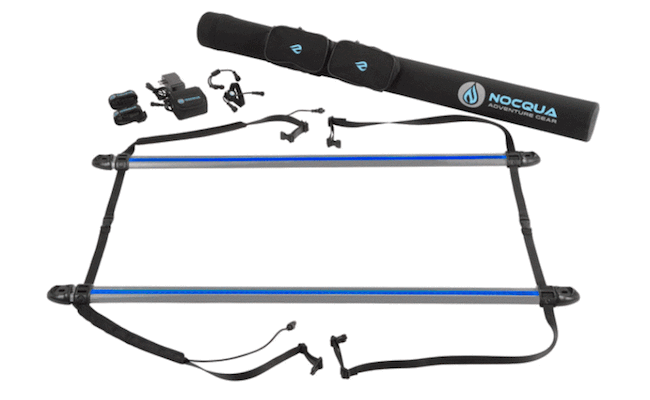 In addition, we also work with our dealers to offer "NOCQUA Night Tours" in cities across the country. These guided tours allow enthusiasts to experience first-hand what happens below the surface of the water after dark in a group setting and observe nature in a serene, unobtrusive manner. Expert tour guides show participants marine life that was unable to be viewed – until now using NOCQUA lighting systems.

We hear you just launched a new Ambassador program...tell us a little bit about it..who can we expect to see rockin' NOCQUA on their SUPs?
Sure. We launched the Team NOCQUA Ambassador program earlier this year as a way to help raise awareness of our products in different watersports categories. As members of Team NOCQUA, each ambassador works to heighten the company's presence at tournaments and events and in traditional and social media channels, while encouraging trial among consumers. Among other activities, team members drive content by providing blog posts and social media updates for NOCQUA Adventure Gear; share their tournament and race results when applicable through company channels including www.nocqua.com and the company's Facebook page; participate in public appearances, company events, and trade shows; and act as the face of NOCQUA Adventure Gear with the general public.
In addition to me, we're proud to have the following as members of Team NOCQUA:
Doug Stoup: Adventurer; expedition leader
Blake Olsen: Adventurer, kite boarder, paddler
Paul McBeth: Adventurer, paddler, pro disc golfer
Gabriel Gray: Adventure, expedition leader, paddler
John Champion : Kayak angler
Butch Newell : Kayak and SUP angler; member: Hobie Regional Fishing Team
Jameson Redding: Kayak angler, videographer
Chris Funk : Kayak angler, photographer
Vanina Walsh: SUP surfer, model, artist
Todd Caranto: SUP racer and surfer, whitewater paddler, board shaper
Jeramie Vaine: SUP racer and yogi
Jodelle Fitzwater: SUP yogi, fitness expert
Kiristen Cousins: SUP yogi, fitness expert
Brett Saguid: SUP racer, Hawaiian waterman
Mitch Bergsma: Videographer, pro wakeboarder, paddler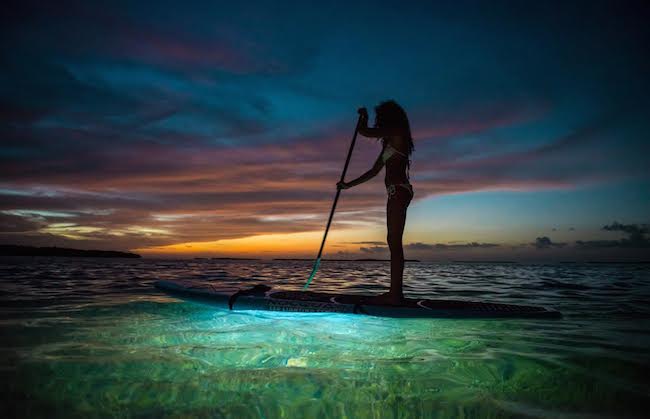 What can we expect to see in the future for NOCQUA products?
I think what's so cool about NOCQUA Adventure Gear is that we've literally created a category that didn't exist before in the industry. What I've been most impressed with is how quickly things have gelled over the past 18 months. I never anticipated NOCQUA Adventure Gear to be at the level we already are, and that is a testament to Lee and the team he's put together to guide this journey. Basically, he has put a company together to "light up" a new category and introduce our products to watersports enthusiasts everywhere.
Our vision for the future is to continue to let people know who NOCQUA Adventure Gear is and to try our products – there really is no other experience like it on the water. Right now we have approximately 130-150 dealers/operators in 35 cities and 35 countries worldwide, and we see that expanding as we move into the future. Our goal is to make NOCQUA Adventure Gear products accessible to more and more people throughout the world so they can experience the water at night!
Where can our audience find your product?
NOCQUA Adventure Gear products and accessories can be found at www.amazon.com, at our website, and through local dealers. People can find a list of dealers by state and country at our web site as well. Local dealers can also be contacted for more information on NOCQUA Night Tours.
Rad! Well thanks for the chat, and we can't wait to get out on the water and test it out! 
Last modified onThursday, 22 January 2015 13:44

Submit your news, events, and all SUP info, so we can keep promoting and driving the great lifestyle of stand up paddling, building its community, and introducing people to healthier living.
Website: supconnect.com
Email

This email address is being protected from spambots. You need JavaScript enabled to view it.