Fiona Wylde Recaps St. Ives Celtic Cup While On Euro SUP Tour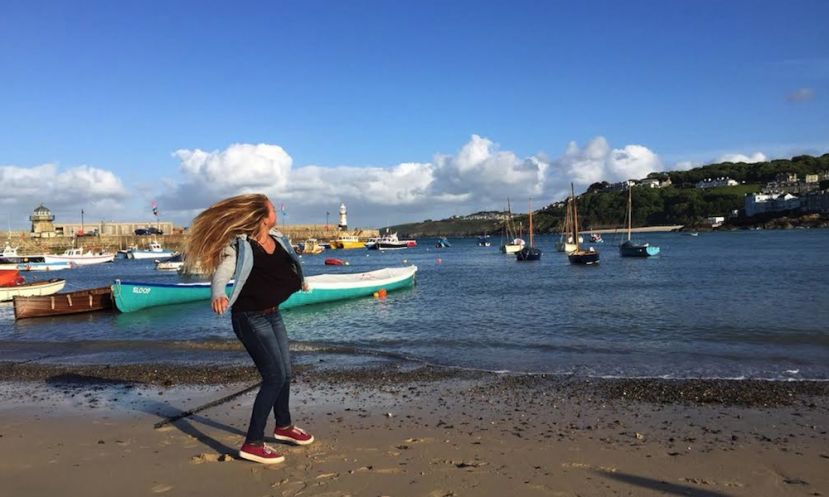 Fiona Wylde recaps her time in England during the St. Ives Celtic Cup.
ST. IVES, England - I'm sitting in a St. Ives cafe looking out across a picturesque harbor with boats bobbing up and down in the strong sea breeze. I'm in awe sitting here, it all seems too perfect to be true. But I'm here not only to look from land out to the sea, but to look from the sea back to the land. I'm here for the St. Ives Celtic Cup, which is part of the Euro SUP Tour.
Saturday, May 30th started off with brilliant blue sky and a light breeze. I went down to the beach about 10am and was greeted by a group of ladies so eager to learn about stand up paddle boarding, it fueled me up for the entire day and really got me excited, not only about the event, but about how much SUP is growing and how accessible SUP is becoming! 12 ladies participated in my clinic and we talked about stroke, racing, starts, and then tested all out new found skills with a paddle around Carbis Bay. We finished the clinic with some beach starts to get everybody ready for the race later that afternoon! I am really impressed with ladies improvement and many went on to race for their first time in the cruiser class of the St. Ives Celtic Cup!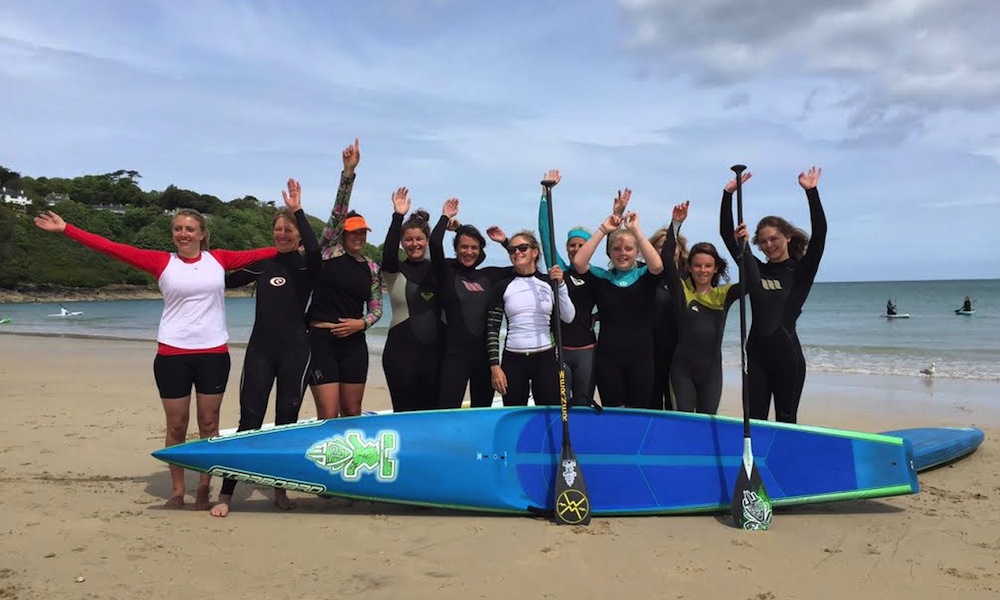 While in St. Ives, Fiona hosted a race clinic with a few of the local ladies.
The Elite Distance Race started at 15:30 and by that time the weather had moved in, making it a bit chilly. Apparently it's unusual, but the wind was coming from the south, the exact opposite of the normal wind direction. Glenn Eldridge of St. Ives Ocean Sports Center did an amazing job of setting a really fun 12k course with upwind, downwind, and cross wind. We did three laps of 4k each, and encountered every weather type around... Rain, sun, wind and cold, we had it all!
I started my race pretty strong, but on the first upwind leg, the strong UK racer, Marie Buchanan, was by my side. I decided that I wanted to get a gap from the beginning and be the first lady to round the upwind mark so I could lengthen the gap on the first downwind leg. I put the hammer down and by the time I rounded the mark, I had about two board lengths. From there, I wanted to maintain my gap and extend it. I was able to do exactly that and come away with the win! I really enjoyed this course because we had challenging upwind and fun downwind, which are my two favorite racing conditions!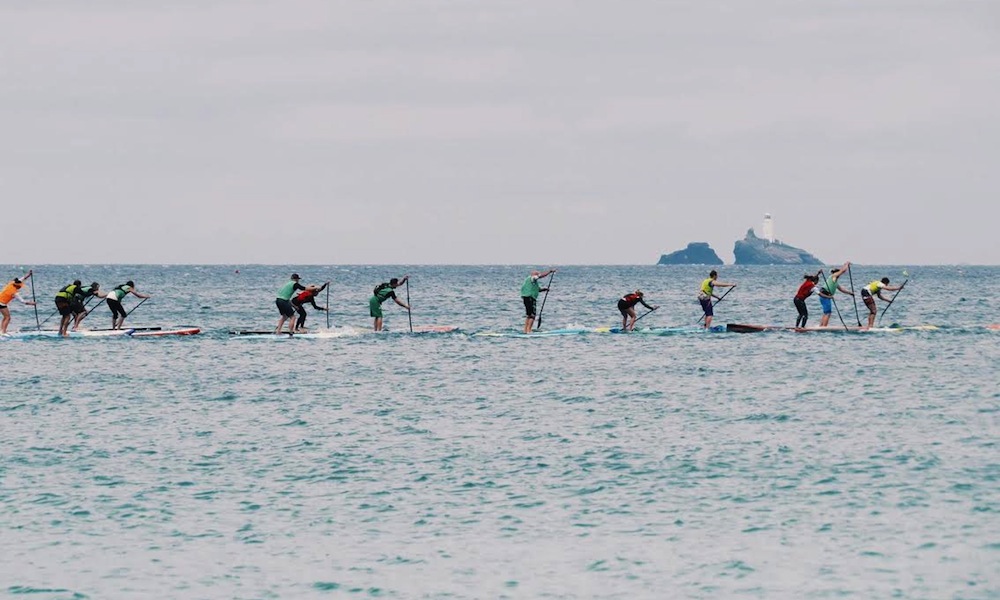 Fiona in the pack on the first upwind leg of the Elite Distance Race.
On Sunday, Glenn set a survivor course, a series a of rapid-fire sprints, eliminating 5 people out of every round until we're left with only 5 for a final. There was a total of 5 heats to get to the final and the girls were mixed in with the guys. Once again, Marie and I got to battle it out and really pushed each other. We were both at the back of the pack on the third heat, knowing we weren't going to make the cut to to move onto the fourth, so this was it... the deciding race for us to see who would win the sprints. I was out ahead, and leading until the top buoy when I got hung up with a couple of the guys. Marie came up right on the inside and now we were even on the downwind leg to the finish. Marie was ahead, I was ahead, then Marie again. It was only about 200 meters to the finish, so I pushed hard and got half a board length when we both caught a little bump. I sprinted right onto the sand then jumped and ran up through the finish to take the win just seconds before Marie. I want to say congrats to Marie, a fellow Starboard rider, for making this weekend really fun!
A big thanks need to go out to Glenn and Jill Eldridge of The Ocean Sports Center for putting this event on and making it a complete success! Also, thank you so much Starboard UK for providing the very fast 14' x 23" Allstar and making my traveling so much more enjoyable!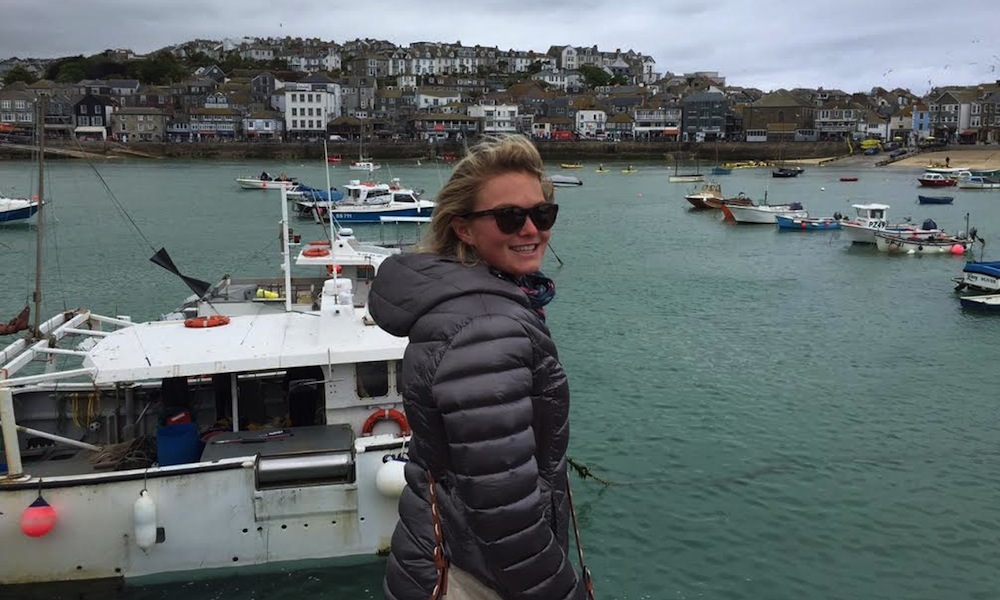 Fiona exploring St.Ives and enjoying the warmth of her puffy coat.
I'm about done with my tea now and looking at a map with my dad planning our next adventure to Lost Mills, Germany. England was incredible, and I wish I could artistically explain what it's like being here, but it's a feeling and I don't know how to write about that. In the mean time, I'll hold the memories close, as those are the best to travel with.
To see more news from team Starboard, check out the Starboard Hub here.
Last modified onMonday, 01 June 2015 12:47

Hood River, Oregon - Fiona Wylde comes from the American capital of wind and kite surfing. So (no surprise!) she is into both of those sports. But more interestingly, she comes from one of the greatest kids SUP programs, hosted by Steve Gates, owner of Big Winds. Wylde's raw talent and discipline found a catalyst in that venue and group, catapulting her into the world stage and the top of the stand up paddle competitive scene. After graduation, she was diagnosed with Type 1 Diabetes. But that has not stopped her. Instead, Wylde is now becoming all the more of an inspiration for the millions of people who face that challenge while aiming to continue to live that outdoors athletic life.
Website: www.fionawylde.com/
Email

This email address is being protected from spambots. You need JavaScript enabled to view it.