Paddle Boarding The Mighty 790-Mile Ottawa River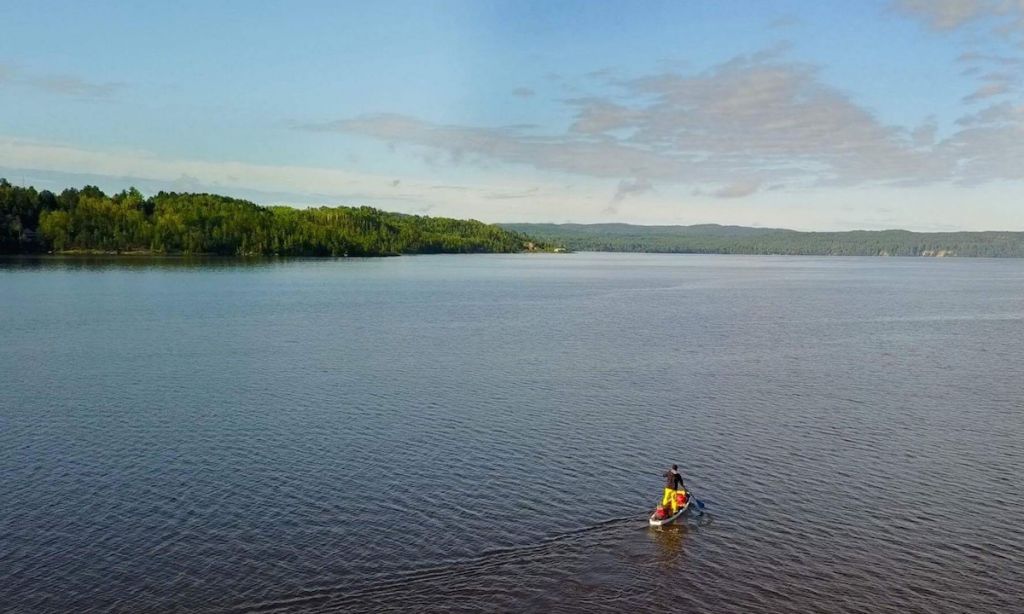 Paul Gauvreau alone on the Ottawa. | Photo via Paul Gauvreau
Paul Gauvreau tells his story of becoming the first to paddle board the 790-mile mighty Ottawa River. With 14 hydro-electric dams, over 60 rapids and waterfalls, 45+ portages (mostly through untracked bush) his tent, dry food, survival kit and stand up paddle board is all he needed. See his story below:
The first Canadian highway. The road to the interior of the great white north. I wanted to do this. Like generations before me, including my family, I wanted to explore, understand and live on the mighty Ottawa River. For 42 days I did just that. To show our youth the importance of staying true to oneself, love and accept yourself, living your dreams and respecting your limits. Showing by example that age is an asset.
My grandfather worked on this river, up north, in the logging camps. He found a place, where fish are abundant and Moose and Bears ruled the forest. He returned and talked of the journey, the portages, the days it took to get there. I wanted to live this but with a twist: on a SUP.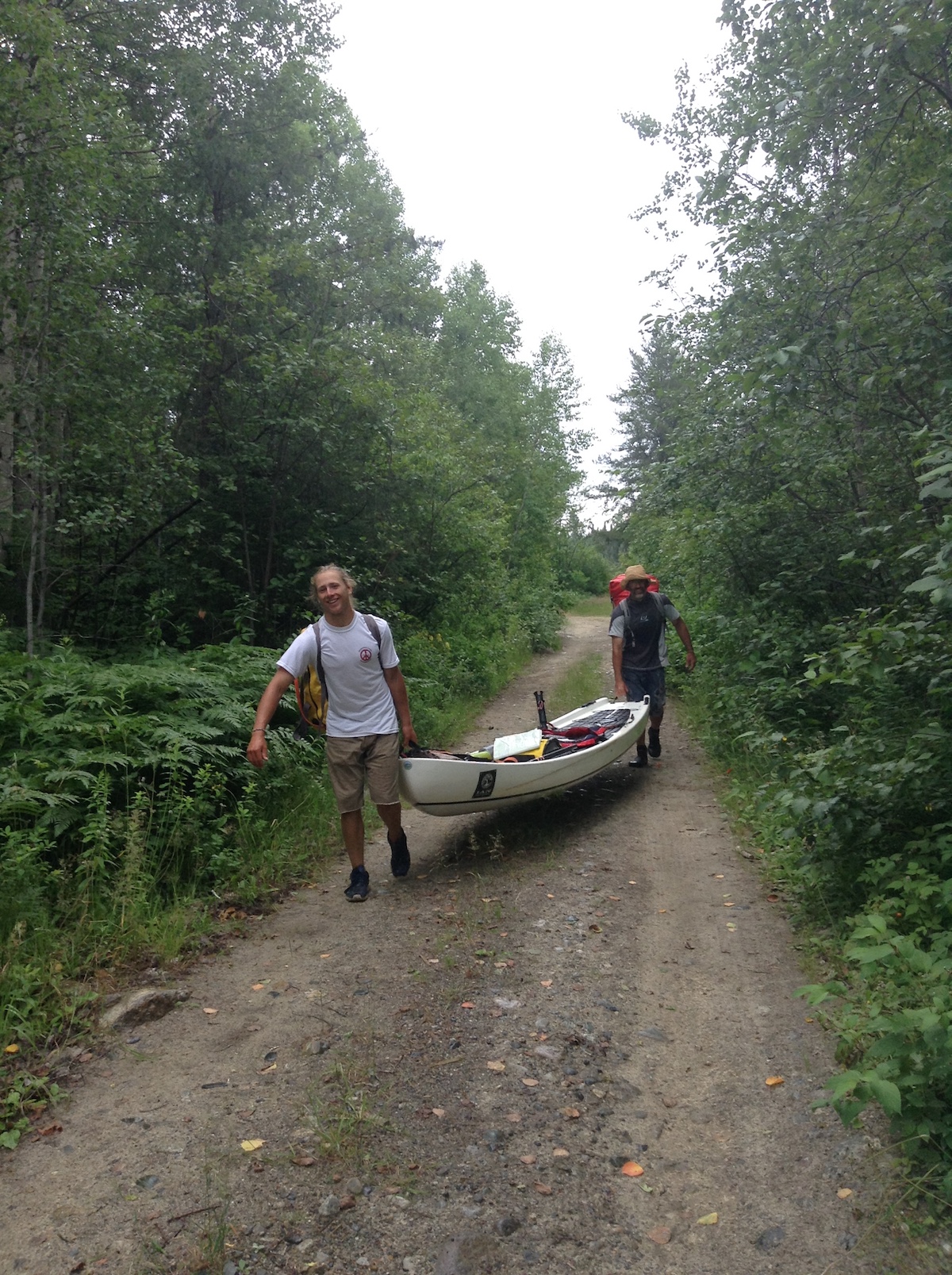 The trip began July 11th on Lac des Outaouais, the head waters, where everything starts. With my son Joaquim, soon to be 16, we paddled the first 325 km (200 miles) to the family camp together. The camp was built in 1979 and is a log cabin to replace the original that was built in 1946 by my father and grandfather. There, my wife, parents and family were waiting to bring Joaquim back home. Then, after a short break of 2 days I continued solo the remaining 950 km (590 miles).
What a journey. The first ten days with my son were a true test. There were no trails for the portages and the river was fast and raw. Our first day without a portage was day six. All we wanted to do was ride, glide and paddle but the reality here is that nothing is easy. We told ourselves after day two (five portages) not to expect anything anymore. We had just completed 8 km (five miles) on what was supposed to be a 30 km (18.5 miles) average. So we thought "from now on we do one mile at a time, one portage at a time and enjoy the trip" and we did just that. What my son accomplished was pure cool. Something that will never be forgotten.
The second part of the trip I was solo but not alone because I had many followers pushing me on with their positive vibes and support. I never felt alone. I had time to think but in the boreal forest you have to constantly concentrate to stay safe, navigate and stay on course. Then on day 19, I slipped in the rapids while looking for a way through and was still two days deep from the nearest village. It didn't feel good. I regrouped to look at my wrist. It was not good. I put everything in place but the pain was still there. With bandages, splints and tape I had to complete the portage to get out of the deep. In just about 9 kms (5.5 miles) paddle time I found an old hunting camp. I figured I would wait it out till the swelling went down to check the damage. My brother found me with the help of a guide and brought me the proper support for my wrist. I was there for three nights and on the fourth day I set back out on my journey. Upon returning home I would find out that I had paddled 800 kms (500 miles) with a double fracture of my radius bone. It would have been harder for me to stop then to continue on, so I did just that.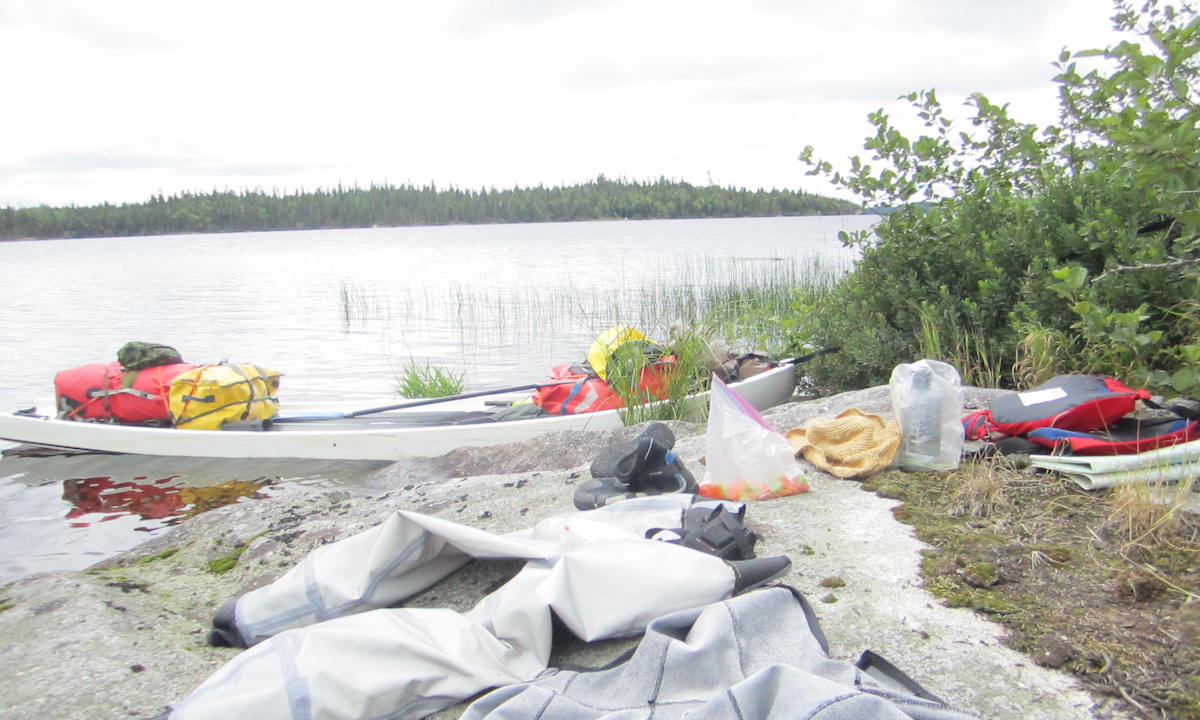 Camp setup. | Photo via Paul Gauvreau
I ended the trip where the river stops and flows into The St Laurence Seaway on August 22nd. I have so many stories from this journey. From encounters with bears and moose and mother nature at her best, it was a joy experiencing the extreme generosity of our people and world. This was a good one with pure stoke and happiness. The ups are downs and vice versa a confirmation that stoke is where you find it.
The mighty Ottawa River at 1271 km (790 miles) has 14 hydro electric dams, over 60 rapids and waterfalls, and 45+ portages which are mostly through untracked bush. My tent, dry food, survival kit and stand up paddle board is all I needed. No hotels or hot showers, my bed was moss and pine needles and the great outdoors. I'm proud to be the first to descend the Ottawa River in its entirety on a SUP!
And what a SUP it was. The "Bateau" as its creator Ian Balding called it. By chance and a returned email, we met over 3 years ago through ESM Magazine. I am a land locked river surfer and SUP traveler. I needed a surfboard that could take the beatings that the Ottawa river was ready to give. The Ottowa has ice flows during the spring thaw, logs and rocks, class II, III and IV rapids. Ian came though with a bomb-proof surf vessel, his modified to river surfing specs Tuna model. Two years later I was still searching for the SUP that would bring me back home from this one of a kind voyage. He came though. The Bateau, a mix of EPS foam, carbon fiber and innegra, high density foam and master craftsmanship.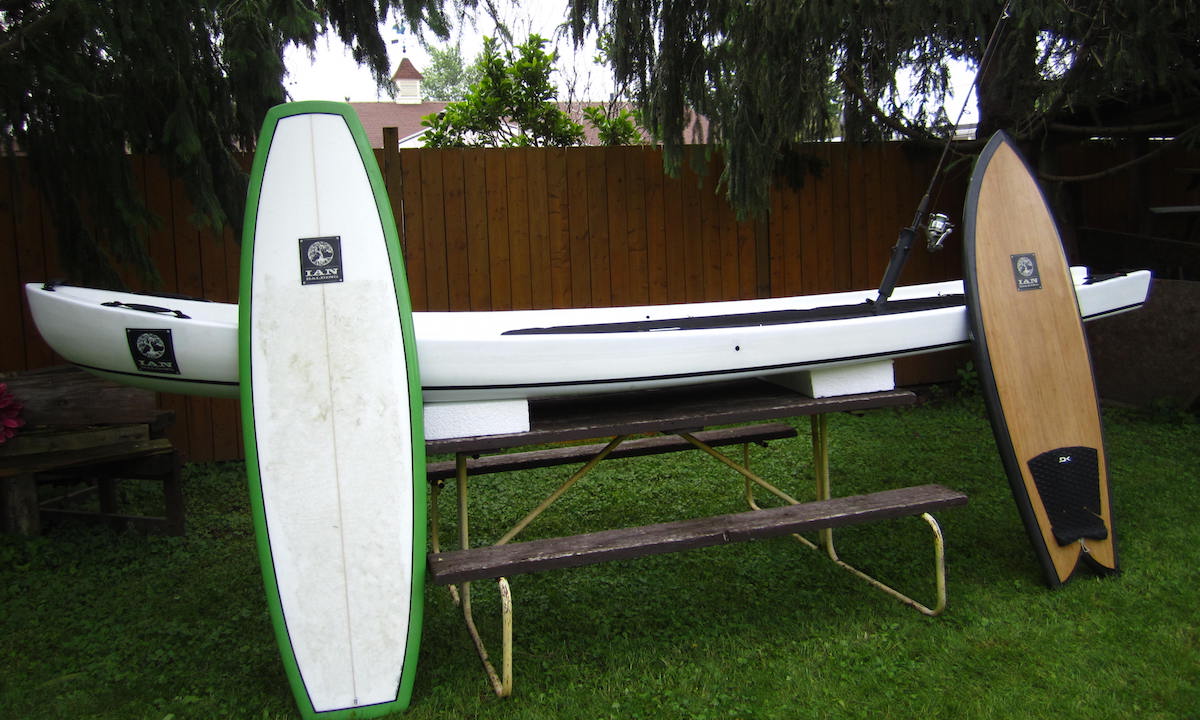 Paul's board for the trip along with two others he got from his shaper Ian Balding. | Photo via Paul Gauvreau
For more SUP Journeys click HERE.
Do you have a journey worth sharing? Send us an email and tell us all about it!
Last modified onWednesday, 08 November 2017 14:54

Submit your news, events, and all SUP info, so we can keep promoting and driving the great lifestyle of stand up paddling, building its community, and introducing people to healthier living.
Website: supconnect.com
Email

This email address is being protected from spambots. You need JavaScript enabled to view it.