Paddle Boarders Complete 40 Mile Crossing Of Lake Geneva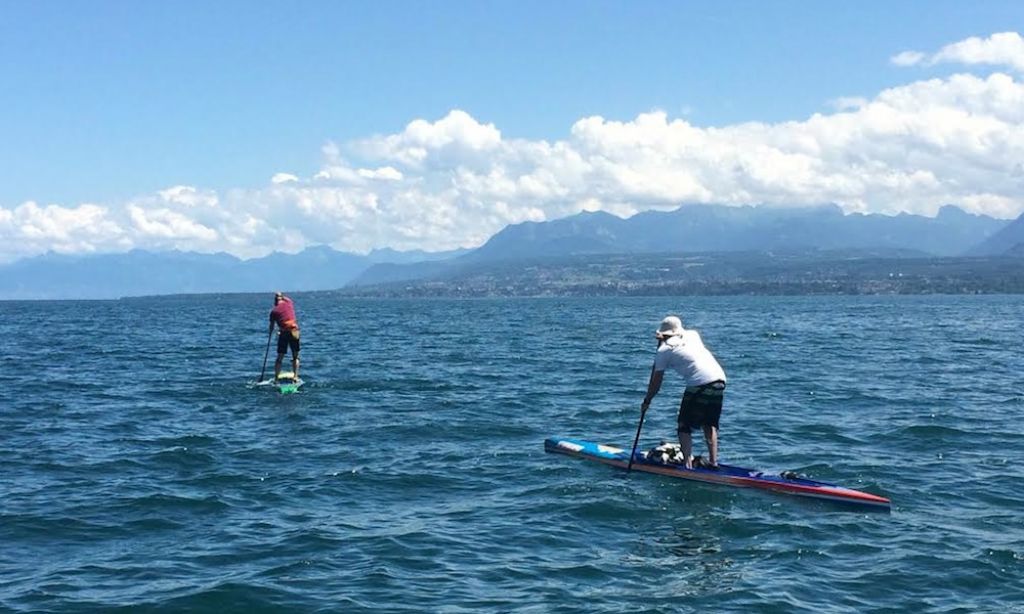 Steeve Fleury and Robert Etienne paddle on lake Léman.
LAKE GENEVA, France - Steeve Fleury, Swiss SUP Champ, and Robert Etienne, ASSUP President (Association Swiss Stand Up Paddle), went on a inspiring SUP expedition Saturday June 13th 2015. They crossed the line of the Bol d'Or (largest closed waterway regatta) with some 500 sailboats to make through an epic day on lake Leman, marked by many challenges. They were greeted with gusty headwinds, motorboat waves, aches, doubts, a storm, and hunger to finally make it to the end of the lake (barge Bouveret) and half way mark of the Bol d'Or in 09h54 for Steeve (30) and 12h10 for Robert (54). Here is Robert's account of the expedition:
I've been very fortunate to live close to lakes all my life, first on lake Michigan, on the outskirts of Chicago where I was born, then lake Zurich when we moved to Switzerland in the 60's and later Lake Geneva where my family and I have been living for the past 48 years.
SUP has given my life a fascinating and quite addictive "wide discovery angle." I often get up on the weekends and contemplate the splendor of the lake view and start imagining where my next SUP journey will take me. I love to pack my watertight bag and go out on discovery SUP Safaris on the many lakes and inland waterways around the alps. Lake Geneva is the largest lake in Europe. It has so many facets and if added to the seasonal changes, it offers endless varieties of shades and colors, not to mention that it is often crystal clear as it flows from the Rhone glacier.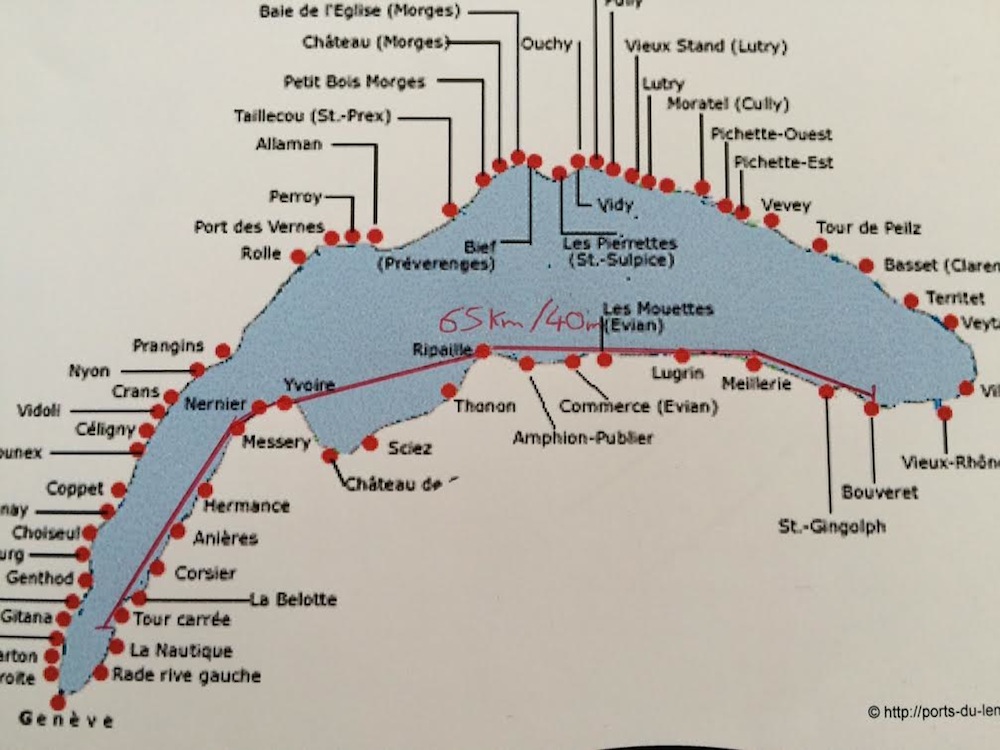 Fleury and Etienne's route on Lake Geneva.
Preparation
My background is windsurfing, I love to check out the amazing technology-filled racing catamarans that sail on lake Geneva, which is home to winning the America Cup which is quite a feat for a small nation with no coastal access.
To practice, I started to take part of Yachting races "on the side" on my SUP some 5 years ago to test the different aspects of endurance. Over the years, I was able to gain a lot of experience through trial and error; Hydration being the most complex as not only is it vital to be continuously well hydrated, but the logistics are complicated as it is really cumbersome and heavy to carry too many liters (quarts..) on a SUP and for me, I don't like the shoulder friction when carrying liquid in a backpack hydration system, I much prefer a hip pack with a well adjusted sipping nozzle. Over the years, I increased the distances little by little and finally felt ready for the full length lake Geneva 40 miles challenge.
Read more SUP Expeditions here.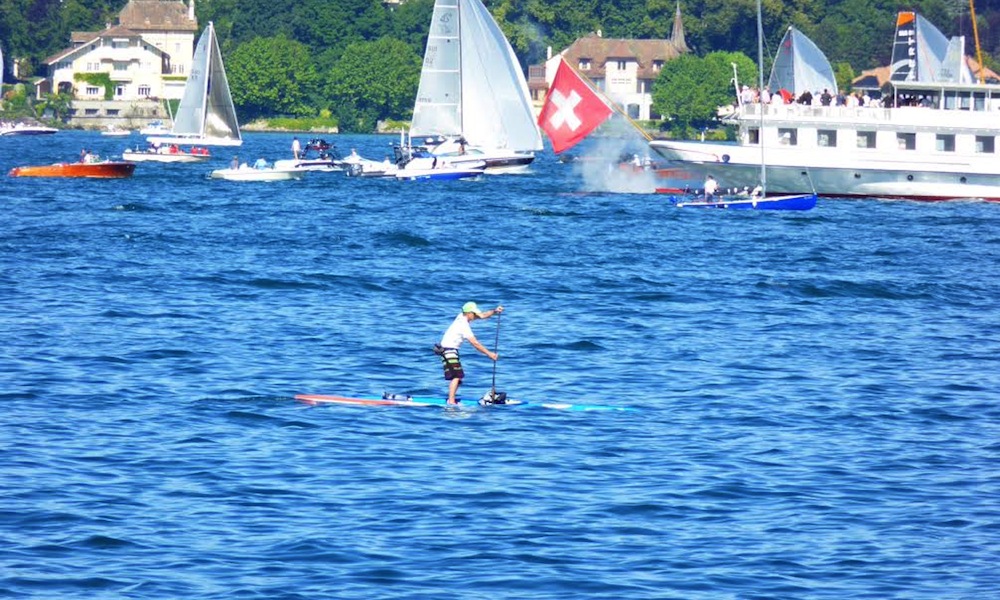 Chaos from the boating nearby caused a lot of difficulty in paddling the 40miles.
Difficulties
There were many difficulties, but one for me was loosing sight of my friend Steeve Fleury (Swiss SUP Champion) with whom I did the crossing with amongst all the commotion when the gunshot went off at 10am and some 500 sailing yachts took the start of the worlds largest race. It was almost impossible in these conditions to look back on a 23" wide board. He later passed me 20 kilometers (13 miles) further as the wind picked up. We then rode together, stopped and sat on our boards to rest and eat after three hours of paddling. After about an hours rest, we then took off together but soon I had to come to the reality that I was slowing him down and finally told him to take off!Seeing Steeve slowly disappear into the horizon as he went off with his high cadence was rough.
Another challenge I faced was keeping my head down at the start and concentrating despite the cheering of friends and other passer byers on the lakeside, as it's so important to get out in front before all the motorboats chase the fastest yachts at the start. Also, there was almost non-stop headwinds all the way up to the top of the lake. I think there must have been less than 2 miles of calm waters, so all-in-all far from ideal conditions to be on a 17'6 board.
There was also the challenge of having to manage my way through a thunder storm 3 kilometers from the finish and wondering if the fierce winds would let off a little to allow me to finish. It's not so much the distance that is challenging, but rather constantly managing and making sure not to be in the way of hundreds of sailboats, but worst of all the multi-direction motorboat chop.

Gear
The most essential part of the equipment is not the board or paddle, but the hydration device!! To start, since the water of lake Geneva is pretty clean, I opted for a Katadyn vario (450gr) water purifier. With that I could easily pump water from the lake and transfer it into my camelback. It is vital in a scaled 9UV day with 10 hours of constant sun to be continually well hydrated. (I kept sipping most of the way and drank over 7 liters of water) with one high starch drink after becoming quite worn out after 10 hours on the water.
I also had a lot of sun protection SPF50 and obviously missed one small part of my body (calves) that were nice and burned when I staggered to bed at 1am. I also wore a FCS surf safari hat with a wide brim and ear flaps, that I had not used since the long distance race at the 2012 inaugural ISA SUP World Championships in Peru.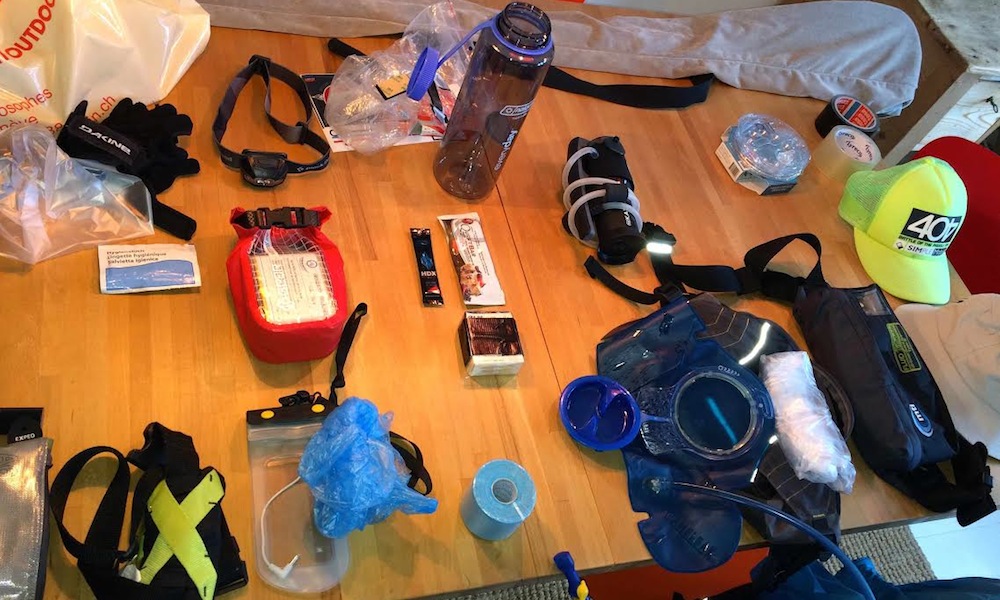 A snapshot of the gear used during the expedition.
Equipment on hand was:
Katadyn vario Water purifier /
C4 Crosswing paddle (not too stiff, on the shoulders on a 12h distance paddle..
Bananas as many as possible taped to the hull..
Protein bar
Mixed dried fruit and nuts in easy access portion bags
Dakine Hip 1.5 liter Camel back
First Aid Kit
Various sizes of drybags

Mentality
Warm water and nice weather without being scorching hot (it was around 24° (75°F) at midday / water temp was around 22° (71°F). I was really focused about staying concentrated through each episode and even at the start when people called to encourage me. I just kept on saying to myself "keep looking ahead and focus on the end of the lake goal." It also helped knowing that I was not just blindly going into a distance filled with many uncertainties, but that I had trained for this by increasing the lengths of the testing period which was really helpful to gain confidence.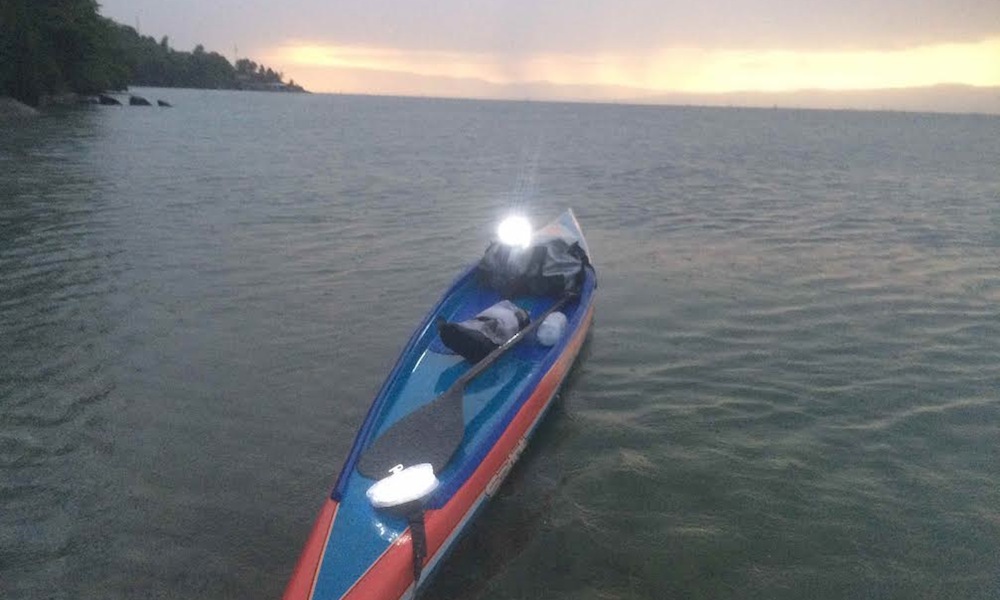 Although it was a hard day's paddle, Etienne says he'd do it again.
Again?
When we finished, Steeve and I commented that it was too hard to be in the middle of such a jungle ride with all the frenzy and crazy people with their arrogant powerboats. After the 30th one passing full blast some 20 feet in front of you, it gets a little nerve wracking. But, on the other hand, the beauty of such varied landscapes and breathtaking mountains all around is so amazing to experience from the water, that after a few weeks, I'm ready to do it again and why not try a relay with some team of two, to go the full 80 mile circle. It could be an interesting format for a future race…
To check out more SUP Journeys, click here.
Have you taken part in a SUP expedition or journey? Share your story with us in the comments below!

©Robert Etienne 2015
Last modified onWednesday, 05 August 2015 12:12

Email

This email address is being protected from spambots. You need JavaScript enabled to view it.