Alex Linnell Breaks SUP Distance Record
On day 59 Alex Linnell broke the SUP distance record recently held by Mike Simpson and Will Rich. He has just over 500 miles before cementing himself as the first person to SUP the Mississippi.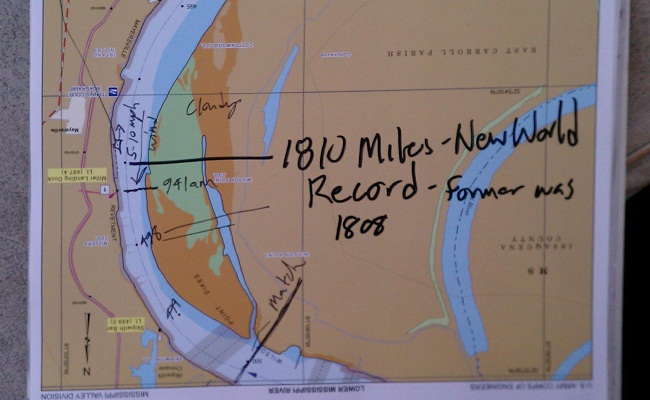 Countless paddles come rain or shine has brought Alex to almost 2,000 miles on his stand up paddle board. Photo: www.alexlinnell.com
Check the original article about Alex's SUP Journey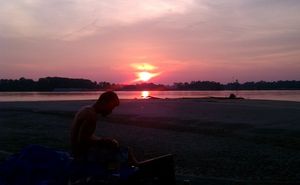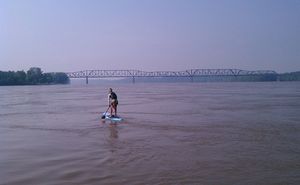 JACKSON, Louisiana - Where the river blurs between Mississippi and Louisiana, on its lazy swirl towards the Gulf of Mexico, Alex Linnell has reached a milestone. When you have been paddling for almost 2 months straight, every day is a milestone but on July 29th, 59 days into his SUP journey, Alex inked his name alongside Tom Jones, Mike Simpson and Will Rich.

On June 1st, Alex set out from Lake Itasca in Minnesota with the goal of being the first person to navigate the entire length of the Mississippi river on a stand up paddle board. While many people he has come across during his trip have thought him insane, Alex's journey is not without a heart. Paddling to raise awareness and funds for the American Red Cross' relief efforts on the flood drenched banks of the Mississippi, he has called attention to both a fading natural resource and a surging outdoor activity.

On July 29th, Alex crossed the 1,808 mile mark on his paddle down the mighty river, a record breaking mileage total once held by Mike Simpson and Will Rich. When asked how he was feeling after passing such a momentous mark in his journey, Alex modestly says, "I'm excited to have reached this milestone, it's slowly setting in. All that I have accomplished so far is a little hard to wrap my head around."

Looking ahead to the completion of his trip, Alex adds, "The next couple weeks will be a lot of hard work but I am excited to see it all come together. A huge thanks to everyone who has helped me get to this point."

With just over 500 miles left to paddle, Alex is making his way towards the Gulf of Mexico and into the record books.
Go to the SUP-porting the Mississippi website.
Are you planning to cheer on Alex as he finishes his journey?
.
Last modified onWednesday, 28 January 2015 13:23

After spending the first part of her life in Minnesota, Morgan traded in her snow boots for sandals and moved to sunny California. After graduating with a degree in Communication from The University of Southern California, she eventually made her way down south to San Diego and is taking advantage of the living by the best beaches and burritos California has to offer. If it's sunny, you can find her at the beach relaxing, or exploring the calm water in the bay via paddleboards and kayaks.
Email

This email address is being protected from spambots. You need JavaScript enabled to view it.