Paddle Boarding Puget Sound, Seattle
Written by Rob Casey
From calm bays with metropolitan backdrops to tide-swollen rivers with surfable waves, the waterways surrounding the jewel of the Pacific Northwest offer something for every level of stand up paddler.
A stand up paddler glides across Elliott Bay with the Seattle skyline as backdrop. Photo credit: Rob Casey
Introduction
Locals joke that the Puget Sound region has two seasons - winter and summer. The area is known for both its grey skies and rain. But it's the grey skies which are mostly prominent and drives many residents nuts, particularly in late spring when it feels like it will never change. Northwest'ies are senstive to their weather and usually only venture out on sunny days, thus leaving the waterways empty of other paddlers and boaters throughout much of the year.
Summary

---
| | |
| --- | --- |
| 1 | The summer months offer the warmest weather but yields the most crowds |
| 2 | Head over to Alki Beach for SUP rentals and great views of the city |
| 3 | Venture into the rougher waters of Deception Pass State Park with a leash equipped |
| 4 | Test your mettle against fall's cold past September and be rewarded with peaceful solo paddles |
Seasons
The Space Needle dominates the Seattle skyline

---
Autumn is usually sunny and warm in early October, slowly leading to crisp cold air later in the month announcing the coming of winter. Average temperatures range from 60F to 45F. Most paddlers disappear around late September.

Winter is a colder version of autumn. Air temperatures may dip into the 20's, but usually stays in the mid 30's to upper 40's. Water temperatures in the Sound dip to 45F and slightly less on the coast. Spring comes late in the Pacific Northwest usually in April as the leaves begin to come back and a few sunny days bring the water temperature up to 50F. Air temps can rise to 60F but usually stay in the 40-50's.

Summer traditionally starts after July 4th in Seattle. Temps can get up to 90F for a few days ending the cycle with a thunderstorm. Water temps rise to a balmy 55F in most areas while protected inlets in the South Sound and Hood Canal can rise to 70F in places. (Join Destination Group.)
Remember

---
| | |
| --- | --- |
| 1 | Grey weather usually means lakes and waterways empty of other paddlers |
| 2 | Do not get caught off guard by afternoon winds in the summertime |
| 3 | Stay on the water past September and beat the crowds |
Hot Spots
Seattle - Alki Beach, Duwamish River & Elliot Bay

---
Compete in the Alki Beach Summer SUP Race Series

---
---
Alki Beach

Rent a SUP from Alki Kayaks at the Seacrest Boathouse just west of Salty's. Well stocked with all arounder and race boards, the shop also offers lessons and tours. Paddle west along Alki Beach to the historic lighthouse and enjoy a sunset over Puget Sound.

Duwamish River

During summer months, you can surf ferry waves on Duwamish Head during a +1 tide. This point break creates fun waist high waves from both directions with long rides if the wind is low. Paddle east into the Duwamish River to see the heavy industrial sights of large ships, tugs, factories, and eclectic river front homes and marinas. Yield to boating traffic especially the large coastal tugs and barges.

Elliott Bay

For a longer paddle, head into Elliott Bay along the city's downtown waterfront. Stay clear of ferries coming and going. Rest areas include the Bell Harbor Pier, The Jack Perry Memorial Access Park, and the restored sandy beaches along the Myrtle Edwards Park on the north end of the bay.
HIGHLIGHTS

| | |
| --- | --- |
| 1 | Rent a SUP from Alki Kayaks at the Seacrest Boathouse |
| 2 | Surf ferry waves on Duwamish Head during a +1 tide |
| 3 | Always yield to boating traffic |
Deception Pass State Park

---
Canoe Pass offers clean eddy lines

---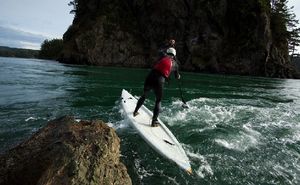 ---
1.5 hours north of Seattle is one of the state's most spectacular natural areas. Deception Pass State Park has many personalities from raging whitewater to calm protected bays. Its tidal rapids are a result of large bays emptying through a narrow canyon during tidal exchanges, making this a great training area for those wanting to build their skills. (Join Destination Group.)

Canoe Pass

Currents can get up to 8 knots in the pass with the flood cycle being the strongest. Canoe Pass, the smaller of the two channels, has cleaner eddy lines and large eddies to rest in. For the ebb, launch from Bowman Bay and cross the sand isthmus to the south of the bay to avoid a long paddle against current around Reservation Head. Make sure to wear a leash around your waist on a quick release belt or PFD release system. A helmet is a good idea as the eddies are shallow and sometimes bumpy in wind or if boats pass.

Bowman Bay

Other parts of the park offer calm water on days of little wind. Bowman Bay is a beautiful bay with interesting rocky shorelines and a few sandy beaches. Paddle to the north around the entrance to the bay over huge kelp beds while enjoying views of the Olympic Mountains to the southwest.
HIGHLIGHTS

| | |
| --- | --- |
| 1 | Step up your SUP skills with a trip to Deception Pass State Park |
| 2 | Time the tide right to enjoy a challenging paddle on Canoe Pass |
| 3 | Take in the Olympic Mountains from Bowman Bay |
Other Paddlers
Meetup.com has a few local clubs which have become a great way for paddlers to connect. Corey Dolan of Dolan's Watersports has a SUP trailer at Owens Beach in Tacoma. He offers weekly get-togethers paired with his rentals. The Alpine Paddle Surf Club in Bellevue, WA is another group based in the Seattle area. Racing is a great way to meet similarly minded paddlers. In summer, several paddle shops offer weekly SUP races in Seattle such as Alki Kayaks and Urban Surf.

Join other paddlers on the Puget Sound waterways


---

---

 

Contacts


---

 
About the Author

---
Rob Casey is the author of "Stand Up Paddling Flat Water to Rivers and Surf" by Mountaineers Books. He also recently revised the 3rd edition of "60 Trips, Kayaking Puget Sound, the San Juans, and Gulf Islands" also by the Mountaineers to be released in summer 2012. He contributes regularly to the Stand Up Journal. Rob is based in Seattle and teaches SUP through his business, Salmonbaypaddle.com.
More Photos
On the Map
© Copyrighted & Exclusive SupConnect.com Content
All images courtesy of Rob Casey - www.robcasey.net

Last modified onThursday, 22 January 2015 15:06

After spending the first part of her life in Minnesota, Morgan traded in her snow boots for sandals and moved to sunny California. After graduating with a degree in Communication from The University of Southern California, she eventually made her way down south to San Diego and is taking advantage of the living by the best beaches and burritos California has to offer. If it's sunny, you can find her at the beach relaxing, or exploring the calm water in the bay via paddleboards and kayaks.
Email

This email address is being protected from spambots. You need JavaScript enabled to view it.