10 Reasons You'll Love Paddleboarding Les Îles de la Madeleine, Quebec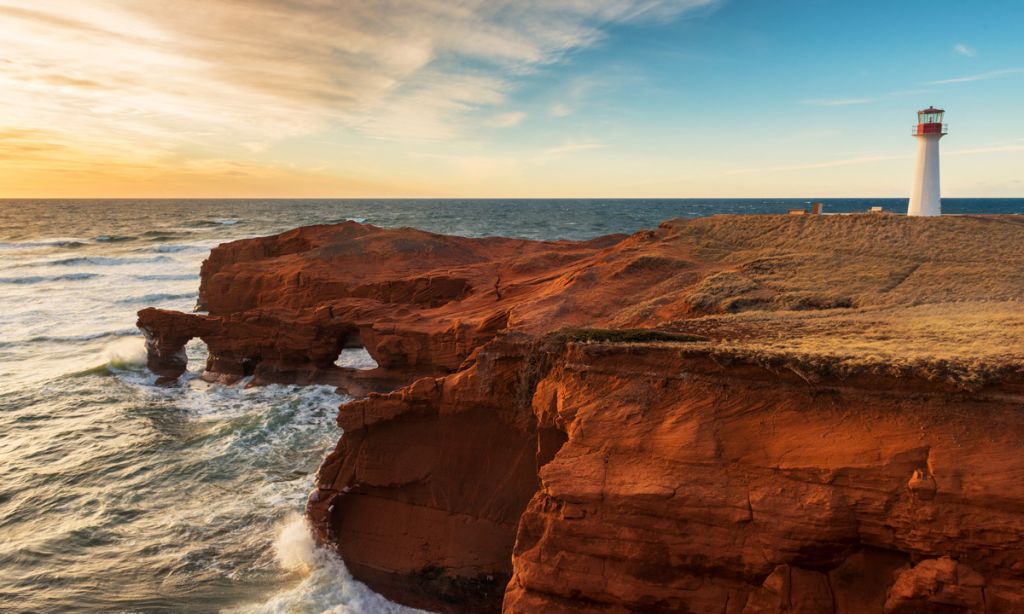 The Borgot lighthouse and the beautiful red cliffs. | Photo: Shutterstock
Get ready for an exciting adventure! It's time to grab your paddleboard and slide into the crystal-clear waters of Les Îles de la Madeleine in Quebec, Canada. These stunning islands provide the perfect playground for adventurers of all levels who are looking for an unforgettable experience. Whether you're a pro or a beginner, the beauty of the beaches and landscapes will leave you spellbound as you explore the hidden coves and bays on your paddleboard.
This article will highlight the top 10 reasons why paddleboarding on Les Îles de la Madeleine is an absolute blast, from encountering a diverse range of marine life to basking in the sun and feeling the cool sea breeze in your hair. So, get ready for an adventure of a lifetime!
1. Warm Shallow Waters
Experience the inviting warm shallow waters, which provide the perfect location for both beginners and advanced paddleboarders to improve their skills in the calm sanctuary of La Petite Baie. Enjoy the effortless tranquility of paddleboarding during sunrise and sunset, and take in the stunning natural beauty that surrounds you. Click here to see more Magdalen Island beaches.
2. Friendly locals
Les Îles de la Madeleine is known for its friendly and welcoming locals who are passionate about their island's culture, traditions, and natural surroundings. Visitors can expect to experience delicious seafood cuisine, participate in eco-tourism activities, and learn about the unique ecosystem of the island while being warmly welcomed by the locals.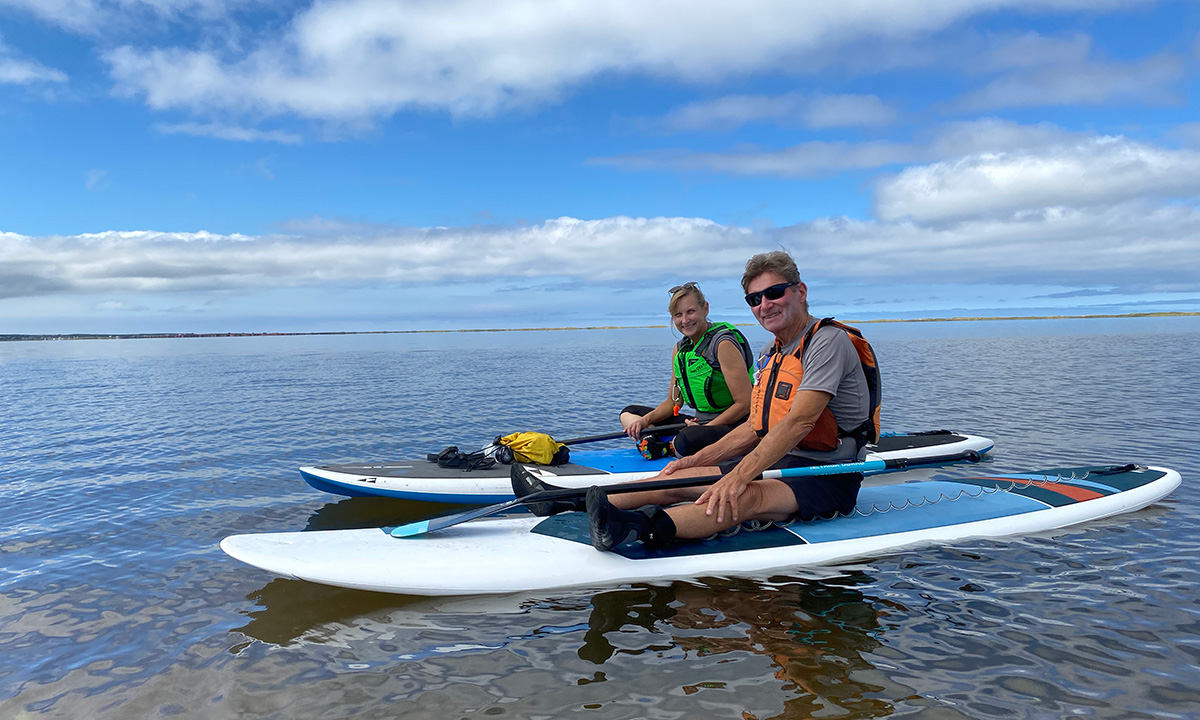 Photo courtesy: Pam Martin
3. Down Wind Paddling
Experience the exhilaration of downwind paddling as you glide along the stunning red cliffs, fully immersed in the natural elements. This fast-paced adventure includes stops at picturesque beaches for picnics and rest breaks, making it an unforgettable journey that will leave you feeling invigorated and connected to the breathtaking surroundings.
4. Bird Paradise
Les Îles de la Madeleine is a bird lover's paradise with over 300 species of both migratory and local birds, including many aquatic fowl that can be easily identified from your paddleboard. As a marine biologist with a passion for birdwatching, I recommend bringing a pair of waterproof binoculars like the Pentax AD 8x25 WP to enhance your experience. Even as an adult, I still cherish my Audubon or Roger Tory Peterson guide from when I was a child. Get ready for an incredible adventure as you paddle along and spot these beautiful birds in their natural habitat.

Photo courtesy: Pam Martin
5. Paddle through Beautiful Rock Formations
As you paddle through Les Îles de la Madeleine's stunning rock formations, you'll witness nature's artistry at its finest, sculpted over thousands of years by the forces of time and tide. Keep an eye out for the iconic "Miche à Pic," a rock formation that resembles a giant mushroom rising out of the water.
The "Trou de la Grotte," or "cave hole," is another must-see sight, a natural arch that has been carved out of the red cliffs. And don't miss the "Porte d'Enfer," a striking formation that features two towering sea stacks rising out of the water, resembling a grand entrance to the underworld. These breathtaking rock formations are just a few examples of the incredible sights waiting for you on your paddleboarding adventure.

Come look and some other beautiful sites to see on Madeleine islands.
6. Romantic Settings
The Les Îles de la Madeleine is known for its romantic and ethereal setting, with breathtaking sunsets, stunning natural landscapes, and serene atmosphere that make it a perfect destination for couples. Imagine paddling through the crystal-clear waters, surrounded by the red and gray rock cliffs etched with fascinating formations, while the sun sets on the horizon, casting a golden glow over the sea. The calmness of the water and the beauty of the scenery create an atmosphere of intimacy and tranquility, perfect for a romantic paddle with your significant other. And when the day comes to an end, you can enjoy a cozy dinner by the beach bonfire under the starry sky, savoring the moment and creating memories that will last a lifetime.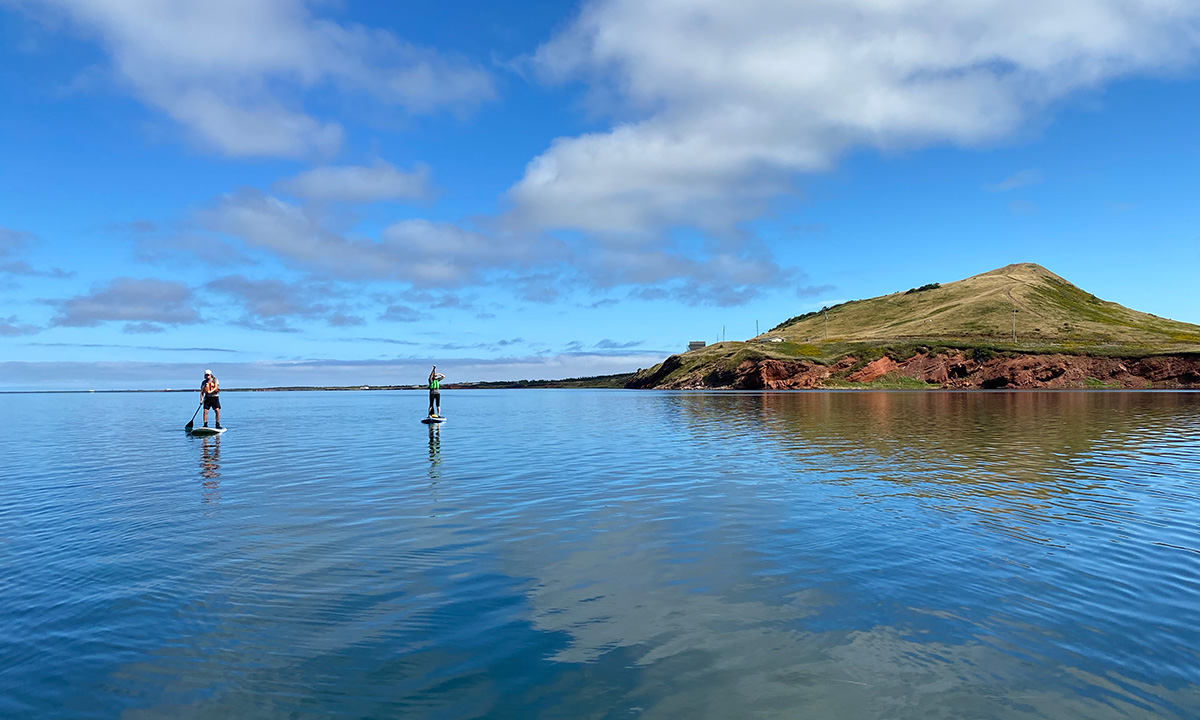 Photo courtesy: Pam Martin
7. Incredible sunsets
Experience the ultimate adventure with our sunset paddle, complete with a beach bonfire, live local music, and a gourmet dinner under the stars. Immerse yourself in the tranquil surroundings as you paddle into the sunset with a hot cup of tea or coffee in hand, or start your day off right with a breakfast picnic onboard while enjoying a breathtaking sunrise. What more could you ask for?
8. Lobster boarding
Experience the thrill of lobster boarding as you spot these crustaceans from your board using snorkels in the picturesque harbor of La Grave. After your adventure, head over to our favorite cafe in the historic village for a delicious serving of poutine, live music, and a warming hot toddy.
9. SUP Surfing
Experience the thrill of SUP surfing in some of Les Îles de la Madeleine's hidden and secluded beaches, where the turquoise waters will take your breath away. The beauty of these beaches lies in their untouched and secluded nature, allowing you to enjoy the waves without having to wait for your turn. These secret spots are perfect for those seeking a unique and exhilarating experience on their paddleboard.
10. Taste the Magdalen Island's Circuit de Saveurs (Food Trail)
Taste the Magdalen Island's Circuit de Saveurs (Food Trail), and indulge in the freshest delicacies at local cheese shops, pastry shops, microbreweries, and bistros. Gather goodies to bring back to your accommodation or dine in at one of the many local restaurants. On the islands, local products reign supreme.
The unique taste of local products is derived from the natural resources available on the land and sea. Don't miss the chance to taste some of the specialties of the Islands, such as lobster, Pommes de pré, smoked herring, clam chowder, Pot-en-pot (seafood pie), and salted meat stew. Get ready for a culinary adventure that will tantalize your taste buds!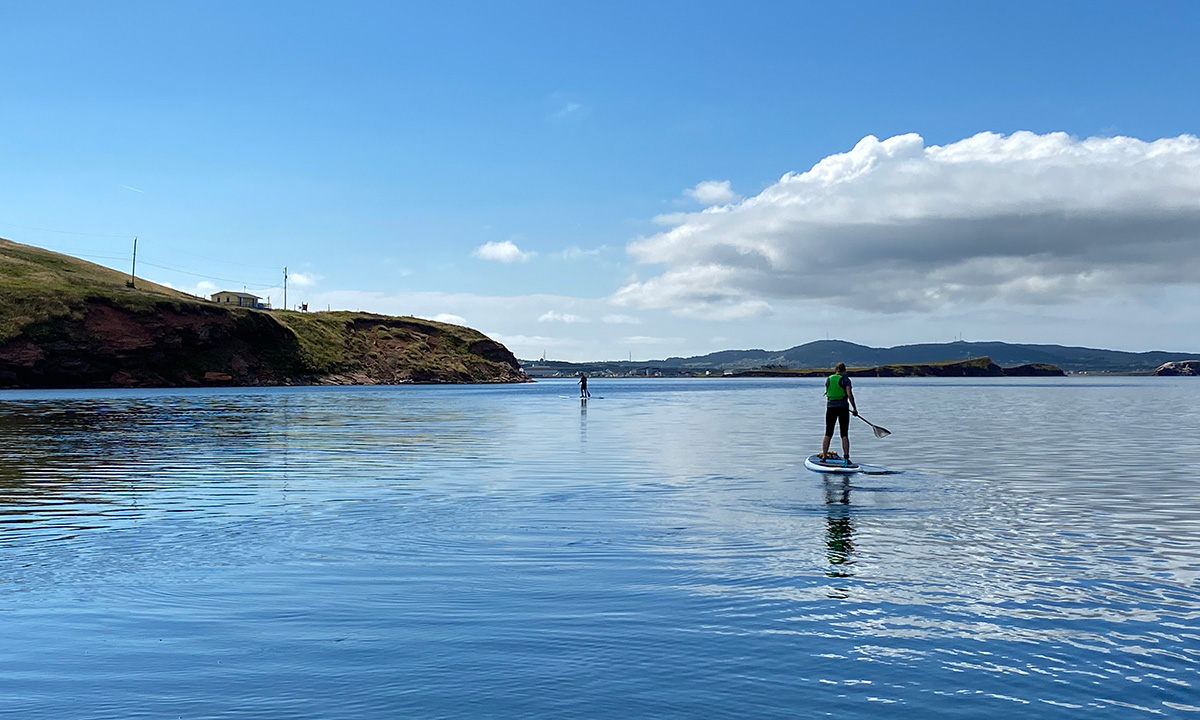 Photo courtesy: Pam Martin
Seasons
Les Îles de la Madeleine sit in the Gulf of the St.Lawrence, north of Prince Edward island. There are four distinct seasons with summer (June-September) being the warmest time and the best for standup paddle boarding. Summer highs are 25C and low average 10C. It can be a windy place, so bring layers to cut the wind and be prepared for days on land.
Other Paddlers
Paddleboard rentals, lesson, and day tours are available through Cindy Hook Adventures.
Join a group of likeminded paddlers on amultiday SUP journey with Blue Jellyfish SUP Adventures.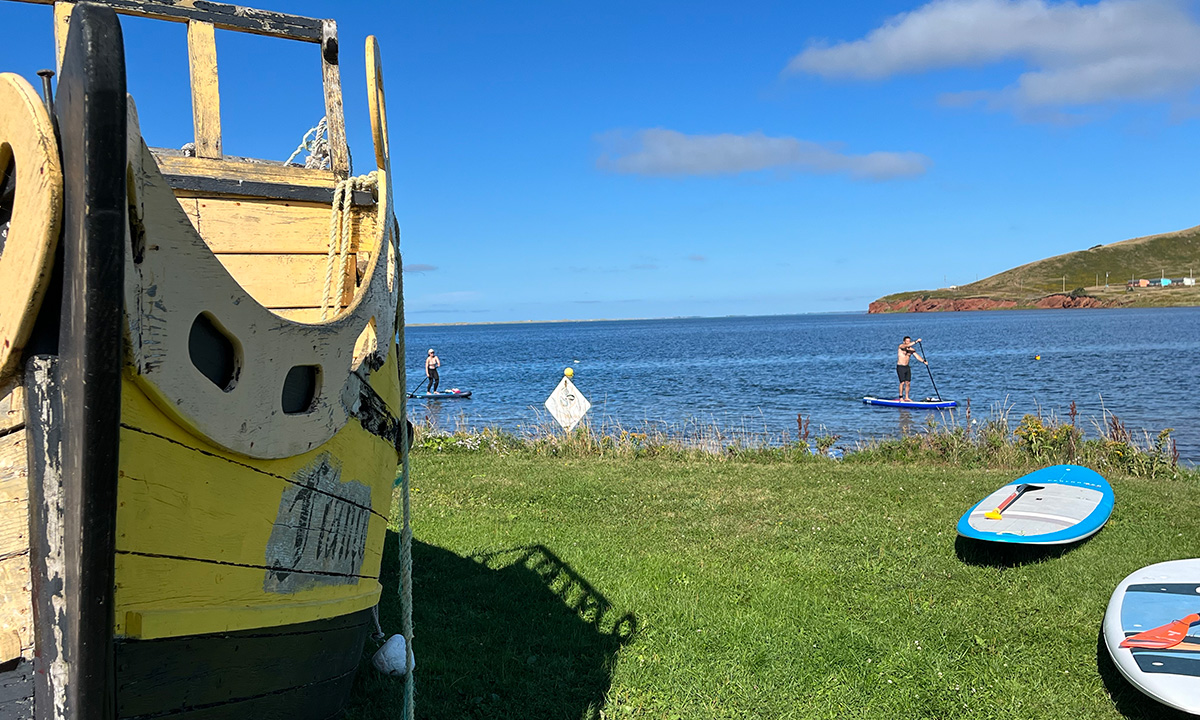 Photo courtesy: Pam Martin
In summary, exploring Les Îles de la Madeleine on a paddleboard is an extraordinary way to discover the region's breathtaking landscapes while enjoying a mix of excitement and serenity. With its unique attractions, friendly locals, and excellent food, it's a destination that should be on every paddleboarder's bucket list.
To explore more SUP destinations, click HERE.
Last modified onTuesday, 11 April 2023 13:18

Pam is a certified Paddle Canada SUP Flatwater Instructor, as well as a Coastal Touring 1 Instructor. She studied Marine Biology at the University of Guelph & Commercial Photography at Sheridan College. Her love of the water has led her to many aquatic pursuits - canoeing as a child, competitive sailing, sprint canoe/kayak racing and long-distance Outrigger Canoe racing before discovering the sport of Stand Up Paddleboarding. This love for the water has led to her starting Blue Jellyfish SUP Adventures with the hopes to share her knowledge and passion for the ocean with as many people as possible.
Website: https://www.bluejellyfishsup.ca/
Email

This email address is being protected from spambots. You need JavaScript enabled to view it.