10 Tips on How to Keep SUP Fresh & Fun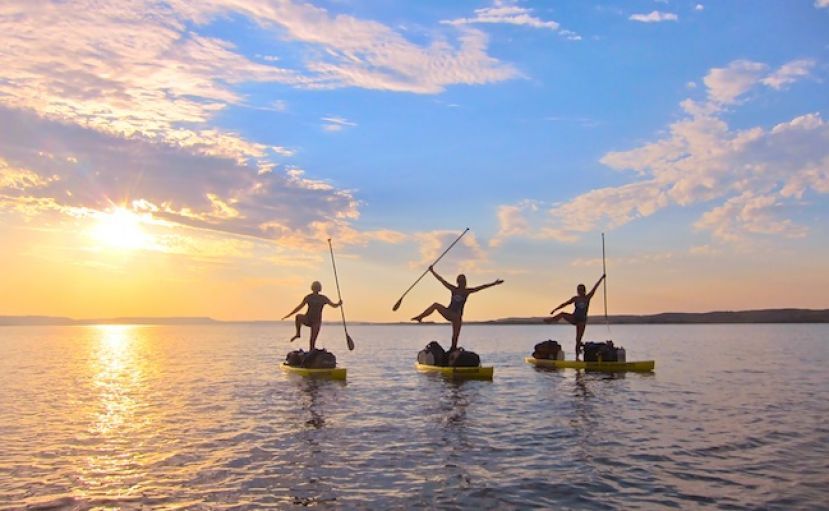 Some stand up paddlers definitely know how to keep SUP fresh and fun! Photo Submitted by Ness Knight in the Supconnect Photo Contest.
SAN DIEGO, California - Do you remember the first time you felt the glide of a stand up paddleboard? ·Whether you were alone or hitching a ride on another persons board, there was almost certainly a moment when you thought it was just about one of the greatest experiences you have ever had!·From that moment forward, all you could do was think about what you needed to do to somehow get your hands on your first board and paddle. ·You swore you'd be on the water every day and that stand up paddle would be a priority in your life.
Somehow, however, the past few months have resulted in less time on the water than desired.  Life gets busy and making time to get out and stand up can sometimes seem difficult.  Perhaps you don't want to paddle alone, or your equipment has become damaged.  Sometimes less paddling just means that the weather has been cold and you're waiting for 10 more degrees to show up on the thermometer.  Or maybe, just maybe, your enthusiasm has actually wained a little bit.  If this is the case then here are some tips that might just help you fall in love with SUP all over again!
10. Try a new local location:
You might just be board with the same old paddling place.  Try somewhere new!
9. Paddle with another person:
Paddling alone can get old so invite someone to come along.  There are many groups that are always looking for a new members to paddle with.
8. Rent or borrow a different board:
Sometimes it's fun and exciting to try different equipment.  Stand Up Paddleboards are definitely not all made equally and you may really prefer one board to another.
7. Set a goal:
Sometimes training and preparing for a race or SUP surf competition can add an extra fun factor to paddling.
6. Take a class:
There are all types of stand up paddle classes, from SUP exercise and yoga classes to racing clinics, you can find valuable information that will help make your paddling less frustrating and more rewarding.
5. Plan a trip:
Almost weekly Supconnect hears about another opportunity for people to join a stand up paddle journey or trip to an exotic location.  Through these SUP destination opportunities, people find peace and serenity and opportunities to hone in their SUP skills.
4. Attend a paddleboard event:
SUP is becoming so popular that there are events happening all across the world every weekend!  Find a local event and tap in to the fun and buzz.
3. Have a conversation with another stand up paddler:
Sometimes it's nice to find out what others are doing and where they enjoy going for a paddle.  Experienced SUPers can also really help with answers to the who, what, when, where, why and how questions that we all have at times.
2. Try a different genre of stand up paddle:
If you have primarily done flat water paddling, try some surf.  What about river sup?  This can be a blast.  There is also SUP Yoga.  Even some of the best SUP surfers in the world know the value in a good SUP yoga workout.  Variety in SUP genres will definitely keep things fresh!
1. Teach someone and share the stoke:
With safety in place, take someone on the water who has never tried SUP.  Watch them fall in love with stand up paddling and at the same time you will feel the "stoke" all over again!
What other tips do you have for keeping stand up paddle fresh and exciting?
.
Last modified onSaturday, 24 January 2015 15:02
Email

This email address is being protected from spambots. You need JavaScript enabled to view it.